This year, Australian design brought a collective exhibition to Milan Design Week for the first time. The main aim of the 12 designers united in a platform called "Local Design" was to explore their Australian identity in a world where intercultural boundaries are fading or being crossed. They presented designs that spanned furniture, lighting, textiles and objet d'art production at the Teatro Arsenale, in the 5 Vie district.
Aided once again by Big Data, Local-genic #3: Sydney seeks a clearer understanding of what is happening in Australia's design sector. Working with VOICES from the Blogs, a Milan University spin-off, we analysed more than 1.1 million posts made on Australian soil between 1 April 2015 and 31 March 2016, and specifically discussing design. A whole year scanned and interpreted showed – simply by the volume of data – just how close this issue is to Australian hearts.
It has a global but also a local perspective because, looking into the comments, we see that people talk primarily about design in relation to Australia with 15 out of 20 comments mentioning local production while Italian design has to make do with just 2 comments every 20.
Where, across the nation, do they talk most about design? The data show that the Australian design capital is also the country's largest city, Sydney. Over the past year, 42% of all posts linked to design came from Sydney, exactly twice as many as the total for the Australian population. This confirms Sydney's strong vocation for design. Next comes Melbourne with 31% of mentions and then there is a large gap before Brisbane (11%), Perth (8%) and Adelaide (6%).
Geographic origin aside, what do people talk about when discussing design in Australia? Analysis of the daily comment trend reveals several peaks, nearly all centred on the same phenomenon. The Australian audience seems to post, read and share all and anything linked to competitions. They discuss the competition announcements, they act when these are officially presented, they talk about the outcomes and, finally, they are interested in the exhibitions showing the winning designs. These data on design seem to suggest that Australia is fertile terrain about to blossom, packed with initiatives and incentives, where the self-made designer is actually a concrete phenomenon. However, without yielding to false illusions, Australia is also a context that primarily promotes itself and is well aware of geographical boundaries.

Read the rules of the competitions – such as VIVID Vibrant Visions in Design, Good Design Australia, the Premier's Design Awards, the Australian Furniture Design Awards and the Australian Timber Design Award – and you will discover that the great majority of awards and competitions are directed at Australian citizens, those living abroad included, and only foreigners living in the country. Basically, you must be there to fully exploit these opportunities.
The second significant trend is a desire to test themselves against the great international traditions but always with an eye on the local. This is clear in the strong focus placed on the new Australian pavilion opened in May last year at the Venice Art Biennale and the new MPavilion initiative. Founded in 2014, MPavilion is vaguely reminiscent of the Serpentine Gallery Pavilion in London and promises to become a must-see for the world of design and architecture.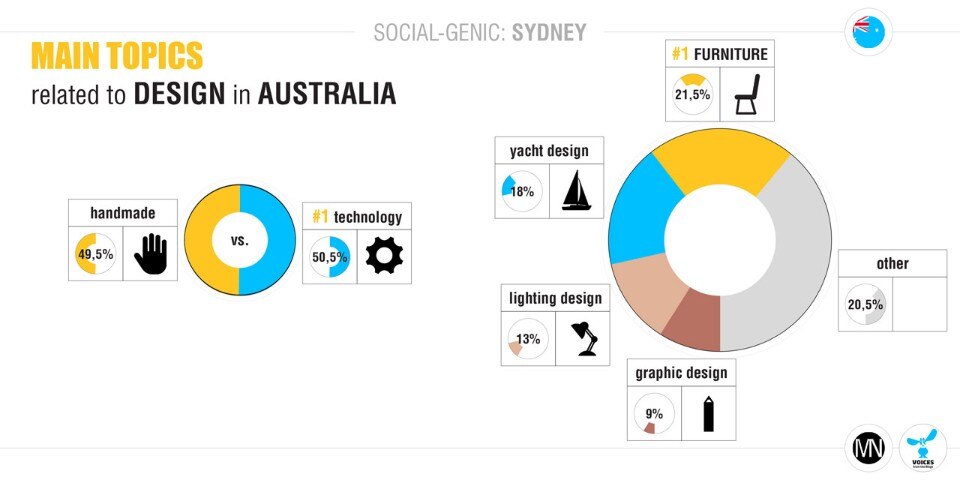 What about design in Australia? The data highlight the fact that the "new" avant-gardes prefer the technological dimension, albeit without forgetting manual production methods. A direct comparison of the two extremes of "craft tradition" and "technological innovation" shows that posts mentioning additive manufacturing, 3D printers, CNC machines and other new production methods strongly exceed those linked to anything low-tech.
Another surprise comes from the design focus. Furnishing in general (21.5%) takes first place on the list of "what" is designed in Australia (at least according to online discussions) but second place goes to another far from predictable sector, yet one that can again be interpreted as "local", and this is yachting design (18%). More precisely, there is (much) talk about the design of everything that moves in the water, from yachts to sailing boats and kayaks.
Despite being seen by many as a (very) distant and almost unknown world, Australia is actually a continent where, in the design sector, "things" happen and fast – with, if you like, a strongly "glocal" focus in which the mix between self-reference and the global scale opens up an immense geography. Packed your suitcase yet?