DP Architects and UNStudio's design scheme reflects SUTD's – Singapore's latest public funded university, established in collaboration with MIT – new pedagogic model of inter-disciplinary and collaborative learning.
The academic campus design offers an opportunity to embrace innovation and creativity through a non-linear connective relationship between students, faculty, professionals and the spaces they interact with.
The institution's academic facilities are connected through a seamless network of organised spaces and paths. Faculties within the SUTD campus are not housed within individual buildings, but distributed and overlapped through each block of the site. Classrooms, laboratories and meeting rooms are spread over the various connecting blocks.
These help to amplify moments of interaction between disciplines. With boundaries blurred, the campus architecture becomes an incubator for communication, creativity and innovation.
To support the university's focus on sustainable design and to ensure a comfortable learning environment, environmental sustainability was built into the design for the SUTD academic campus, particularly through passive building design. Building geometries carve a wind corridor for ideal wind flow through the outdoor gathering spaces such as internal courtyards. Tree shaded walkways also serve as the external circulation route around SUTD to encourage a walkable, low carbon campus.
Landscape design, with low water consuming native landscape species, weave through the external areas into the building fabric through pockets of planters along corridors and on the sky gardens and green roofs, reducing the urban heat island effect in the overall campus. Building orientation, inter-block shading as well as shading by corridors kept the building space cooling energy requirements low, while solar analysis and daylighting simulation tools were employed to achieve the ideal balance between daylighting qualities and shade to minimise heat gain from the windows. These translated into the design for effective shading devices and glass performance.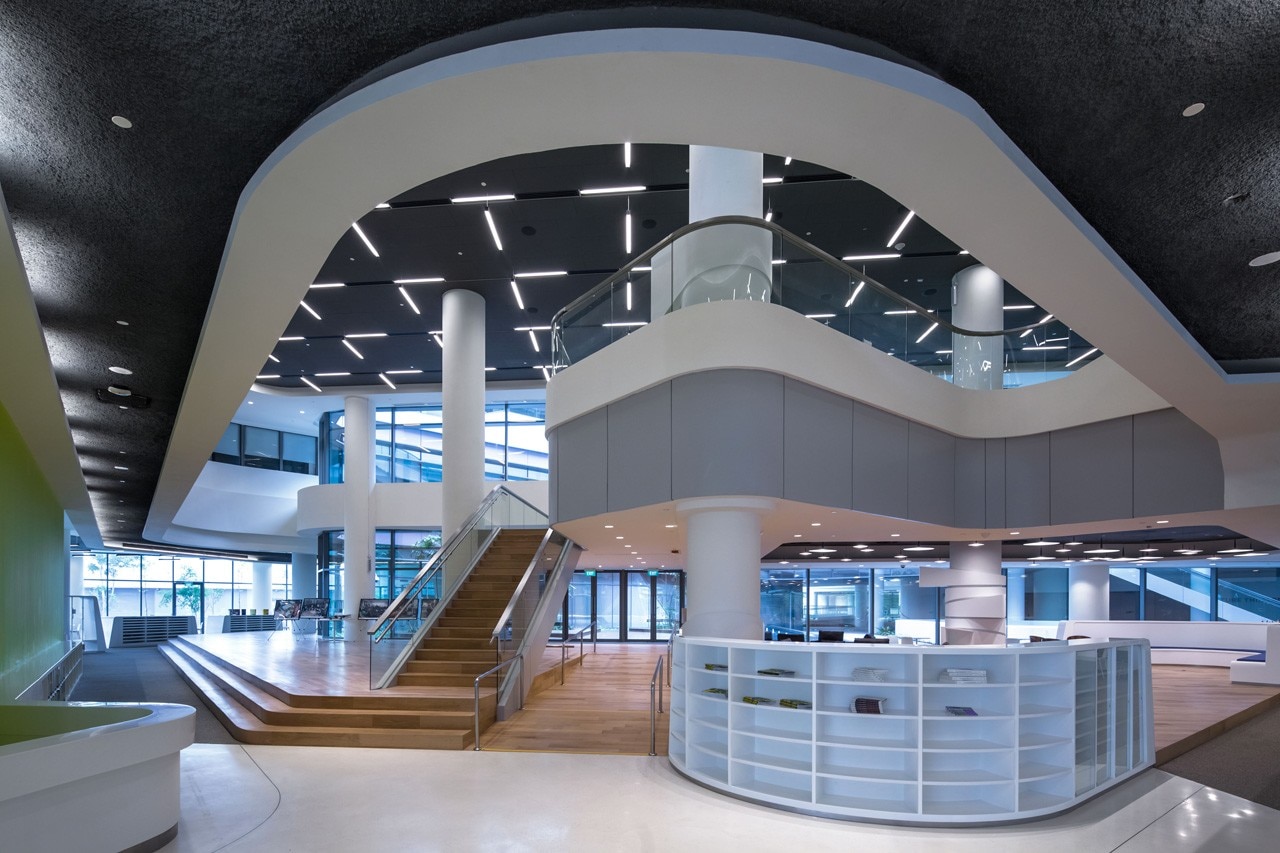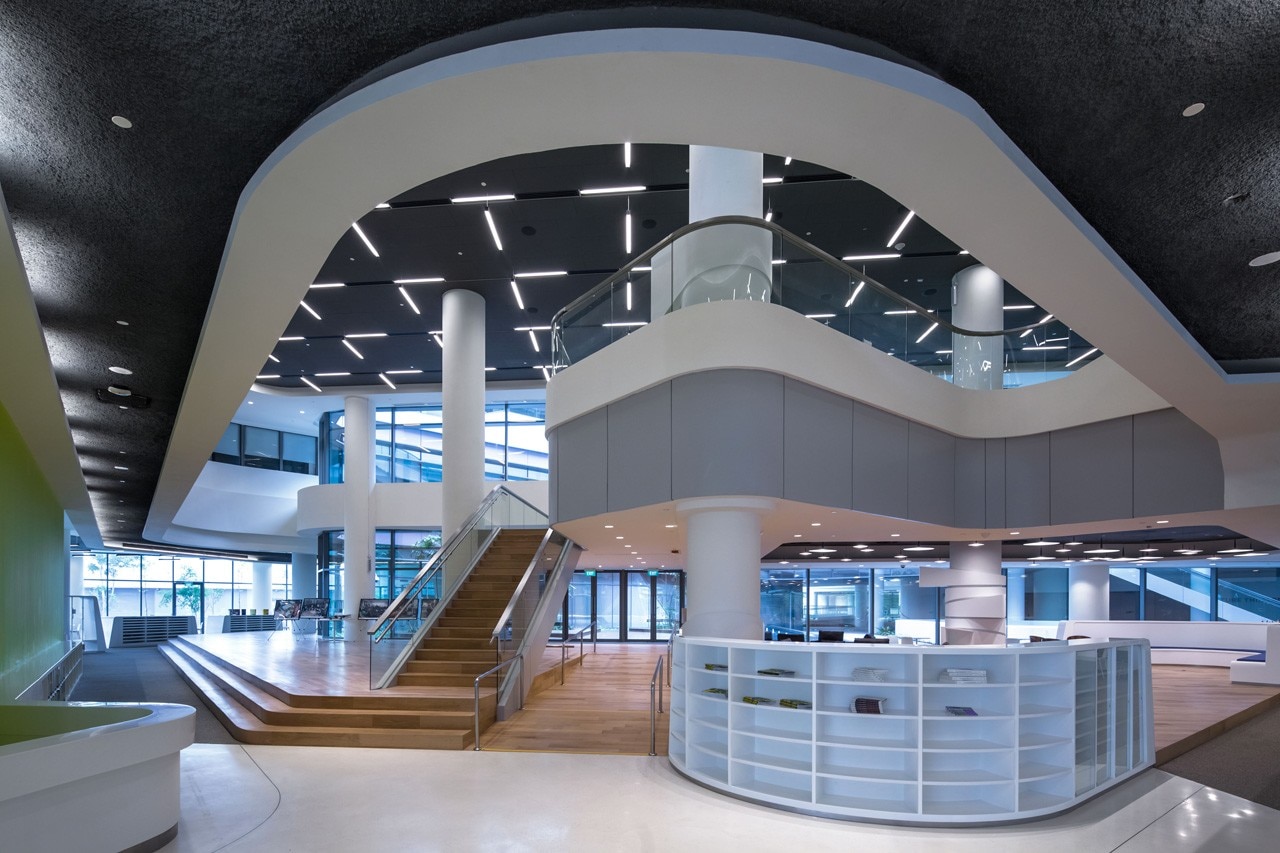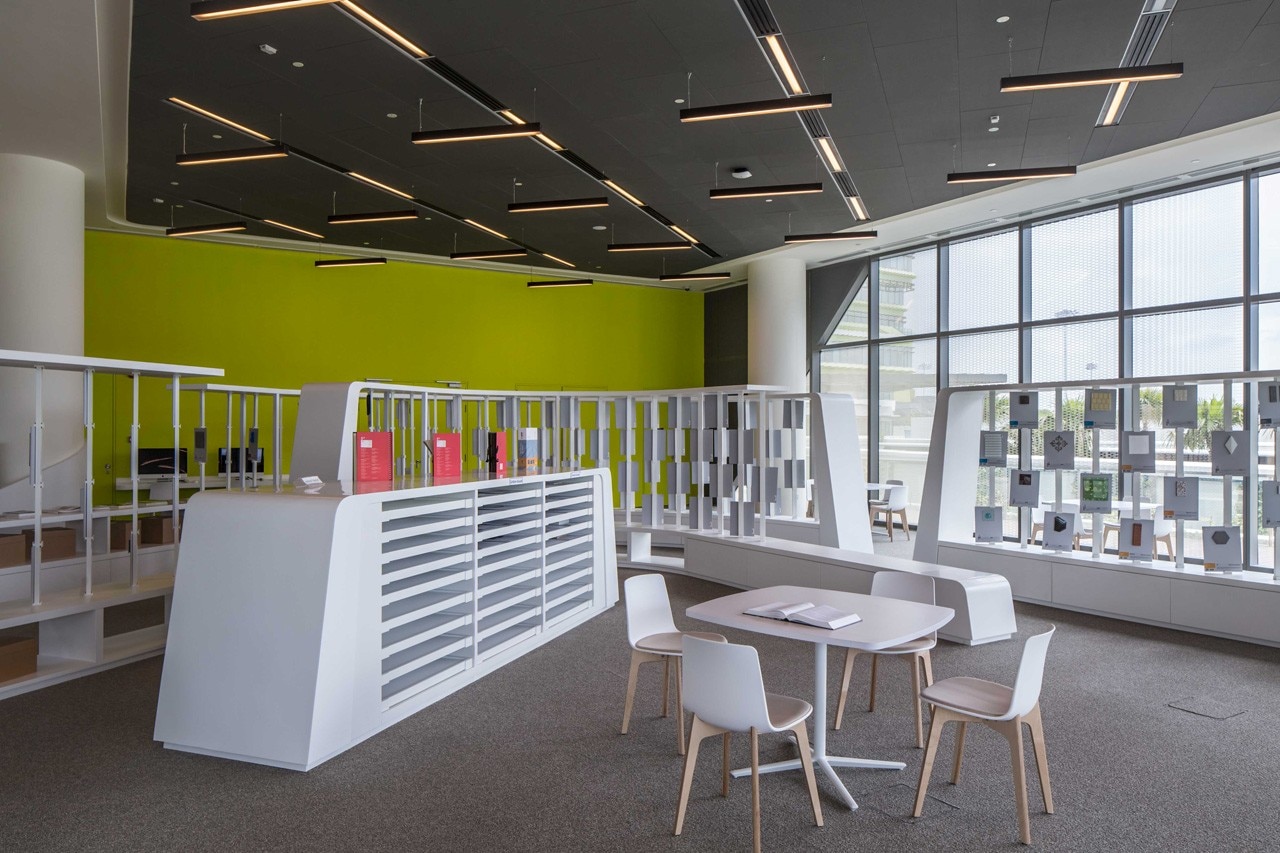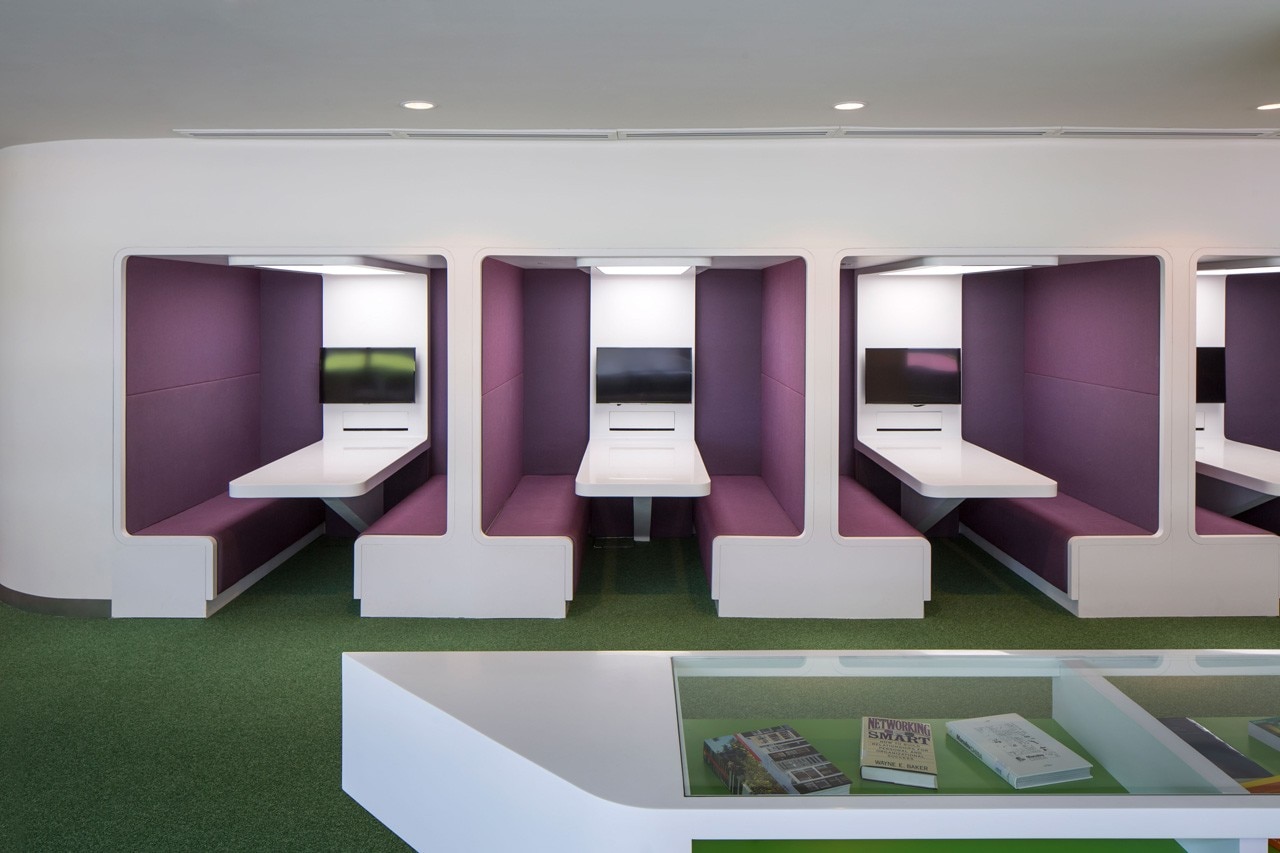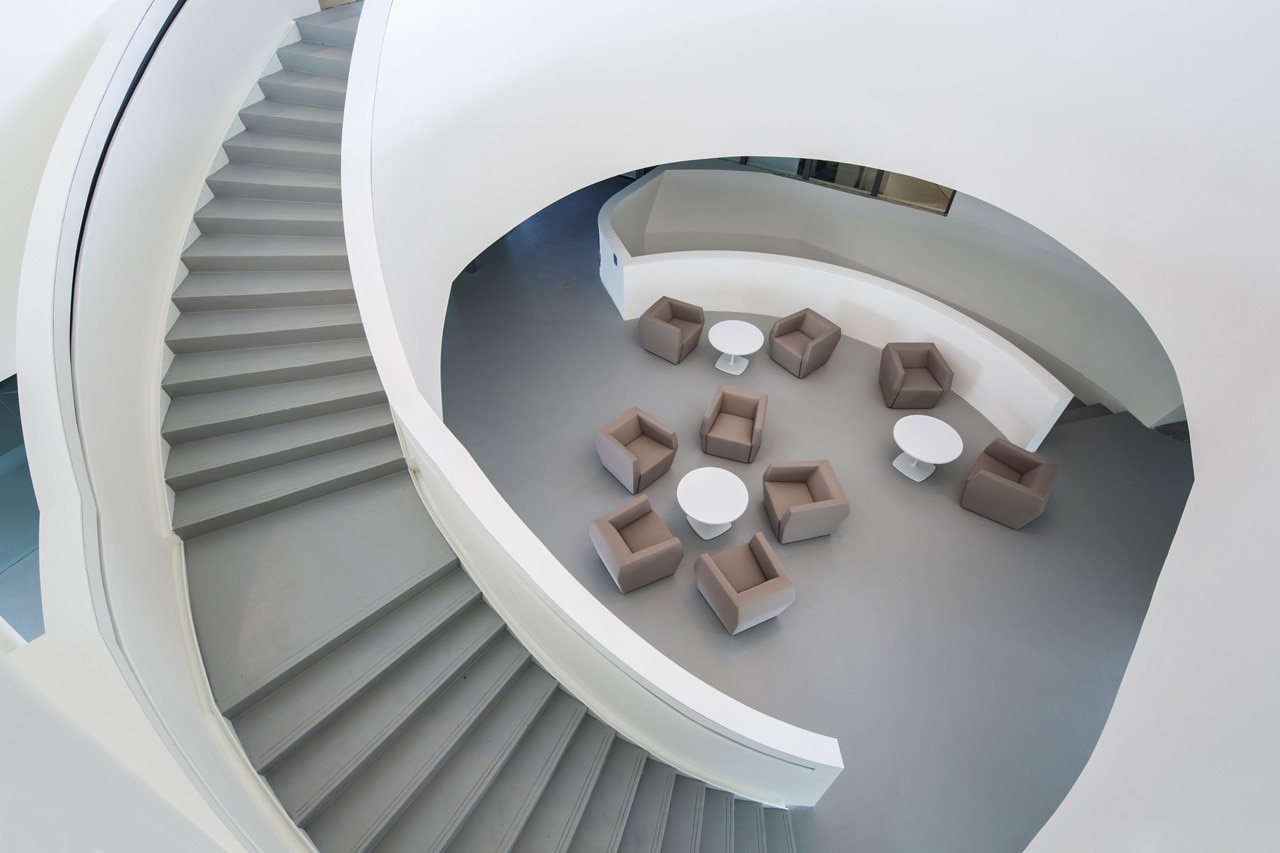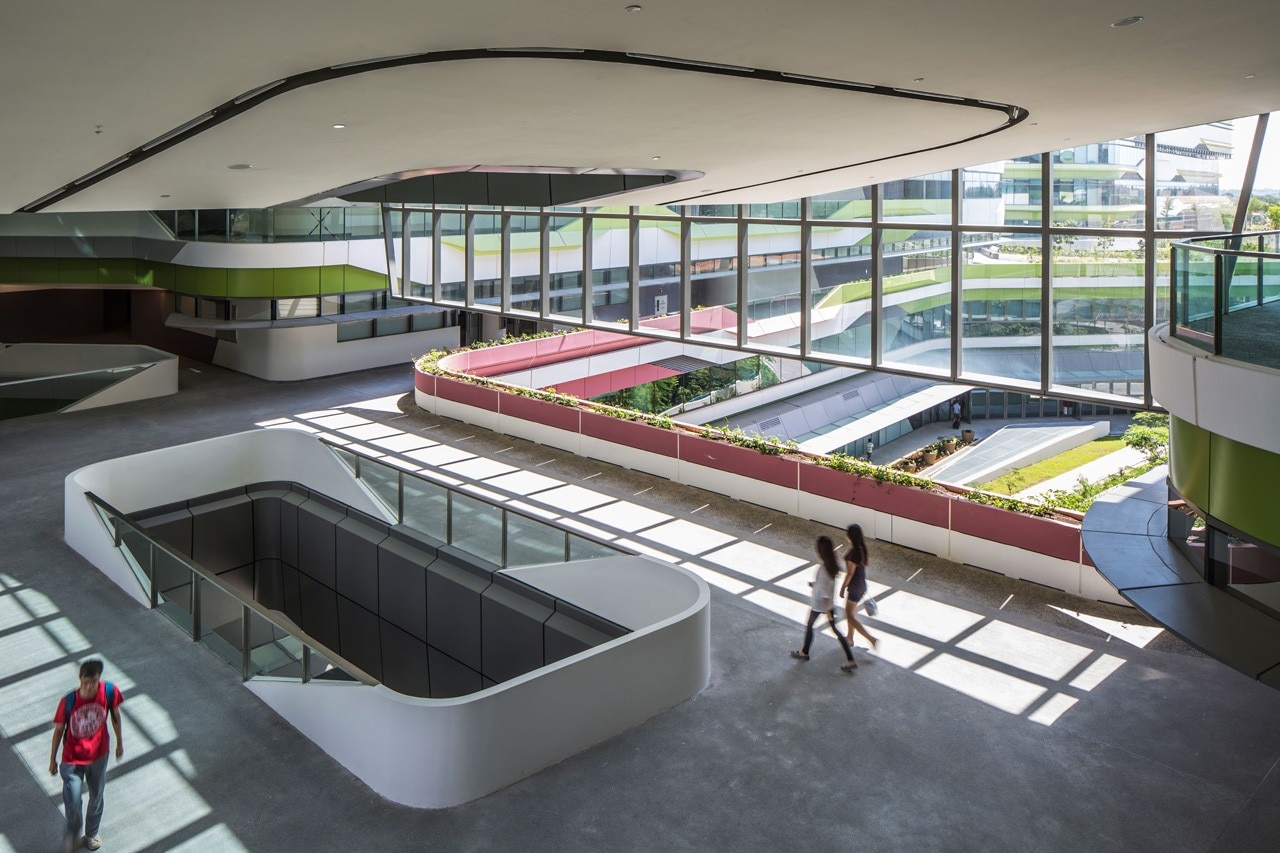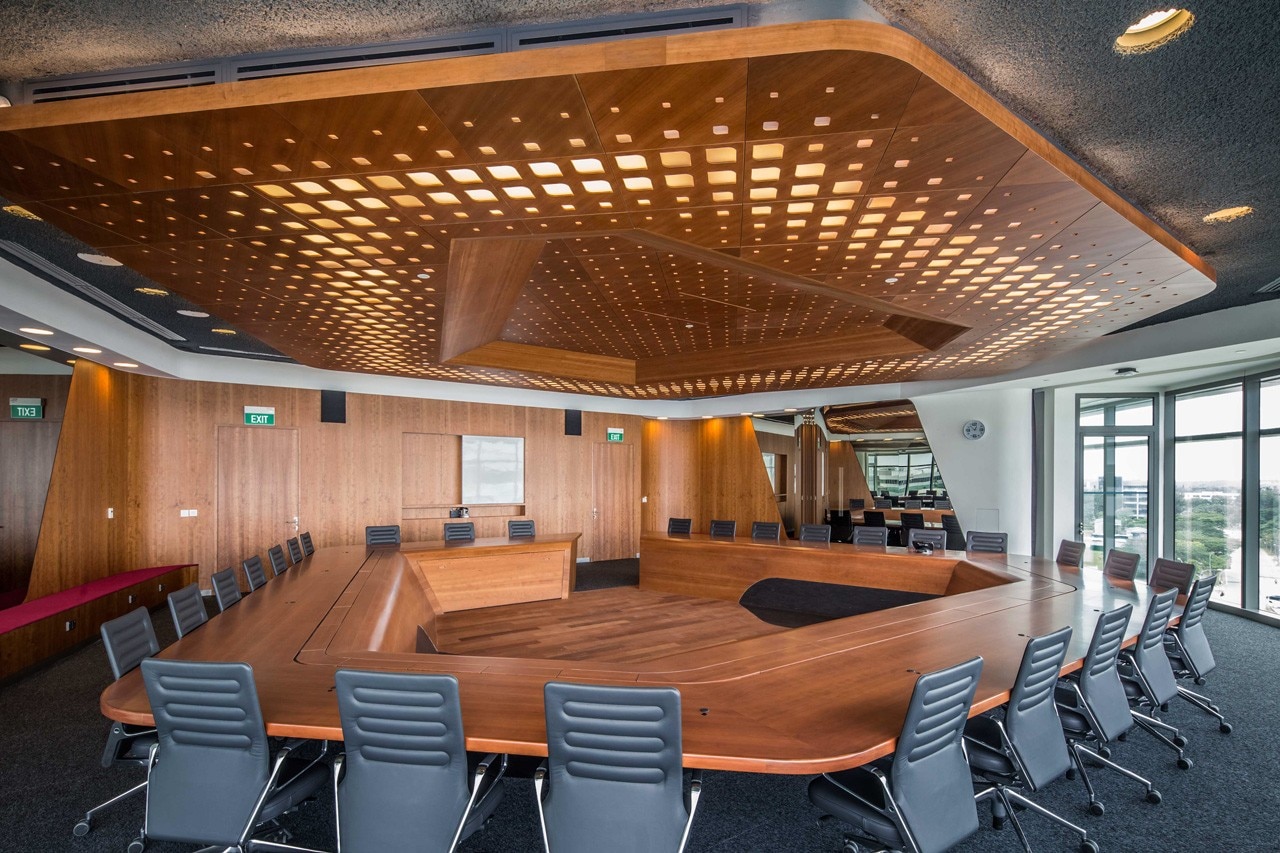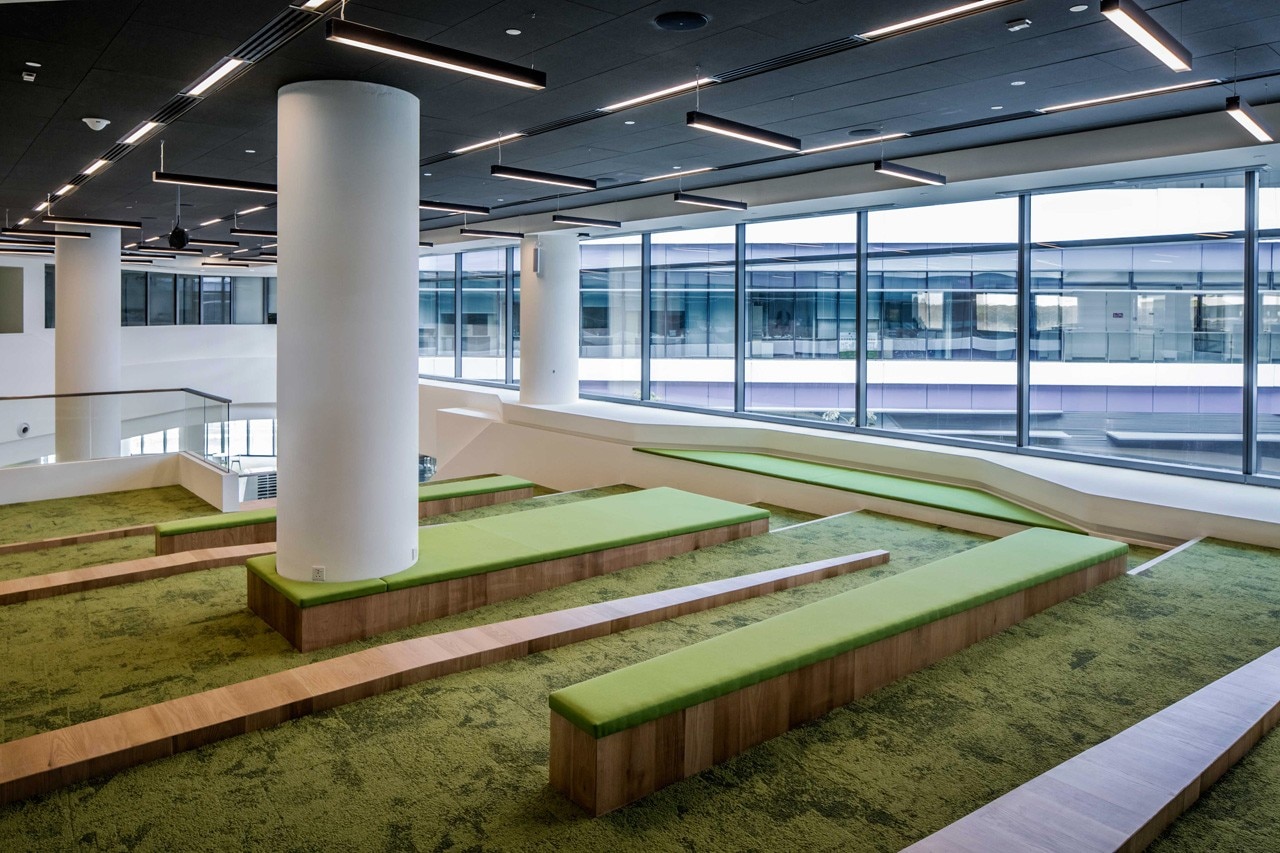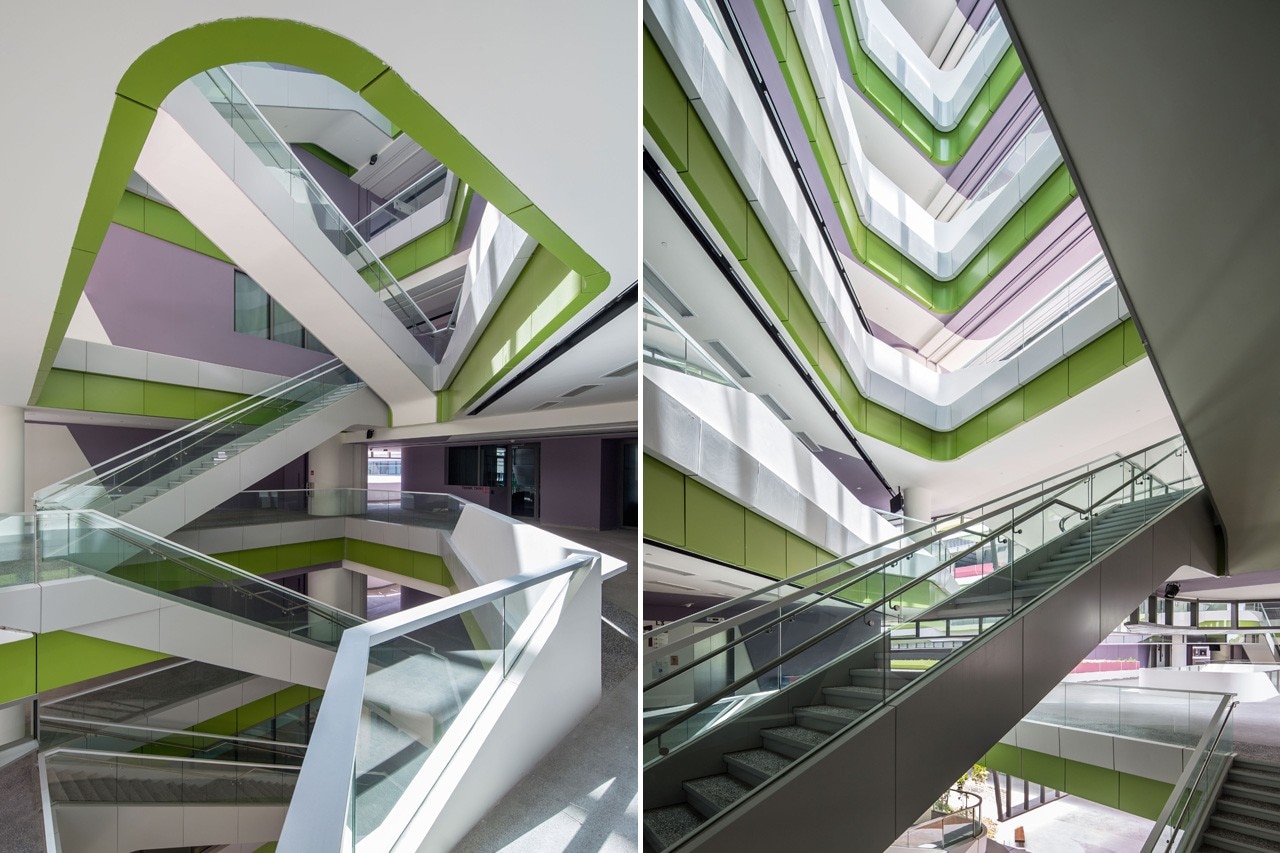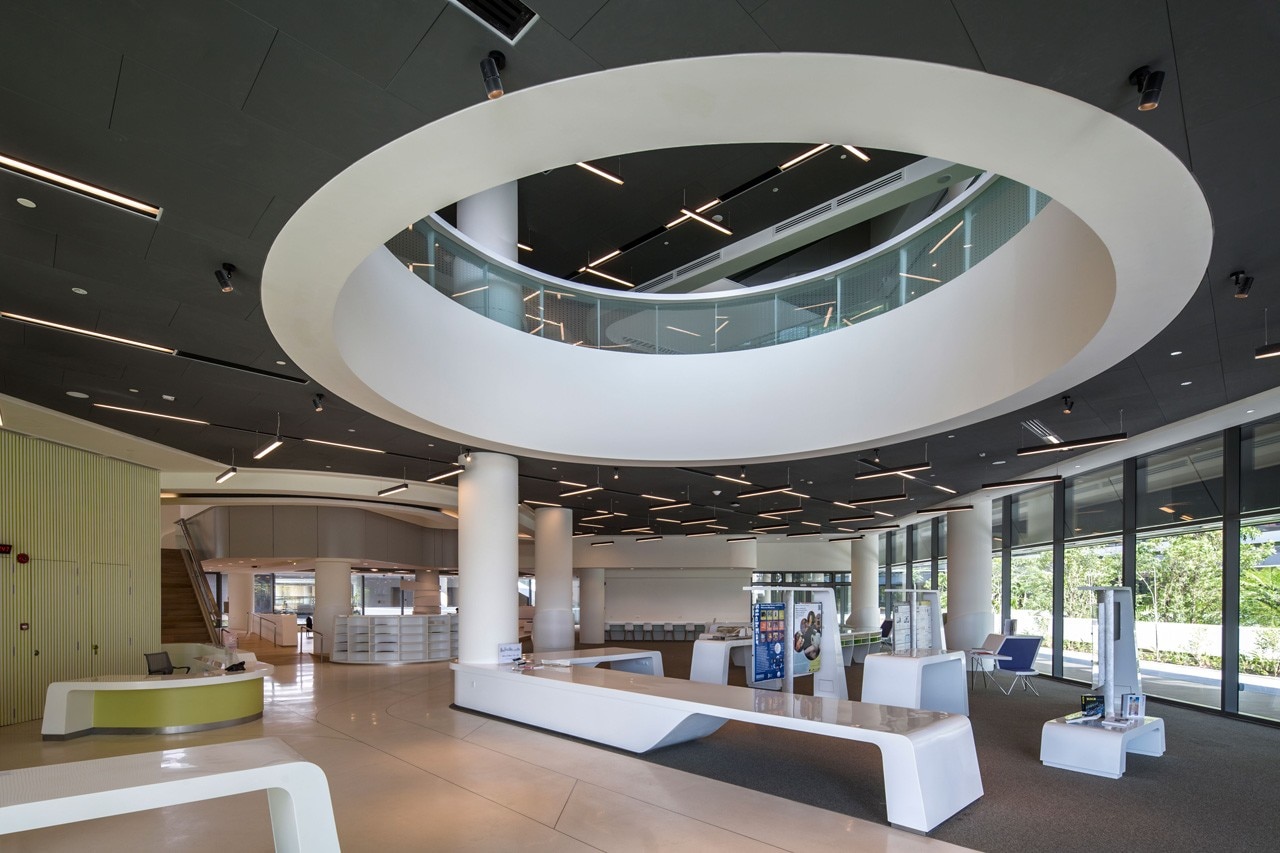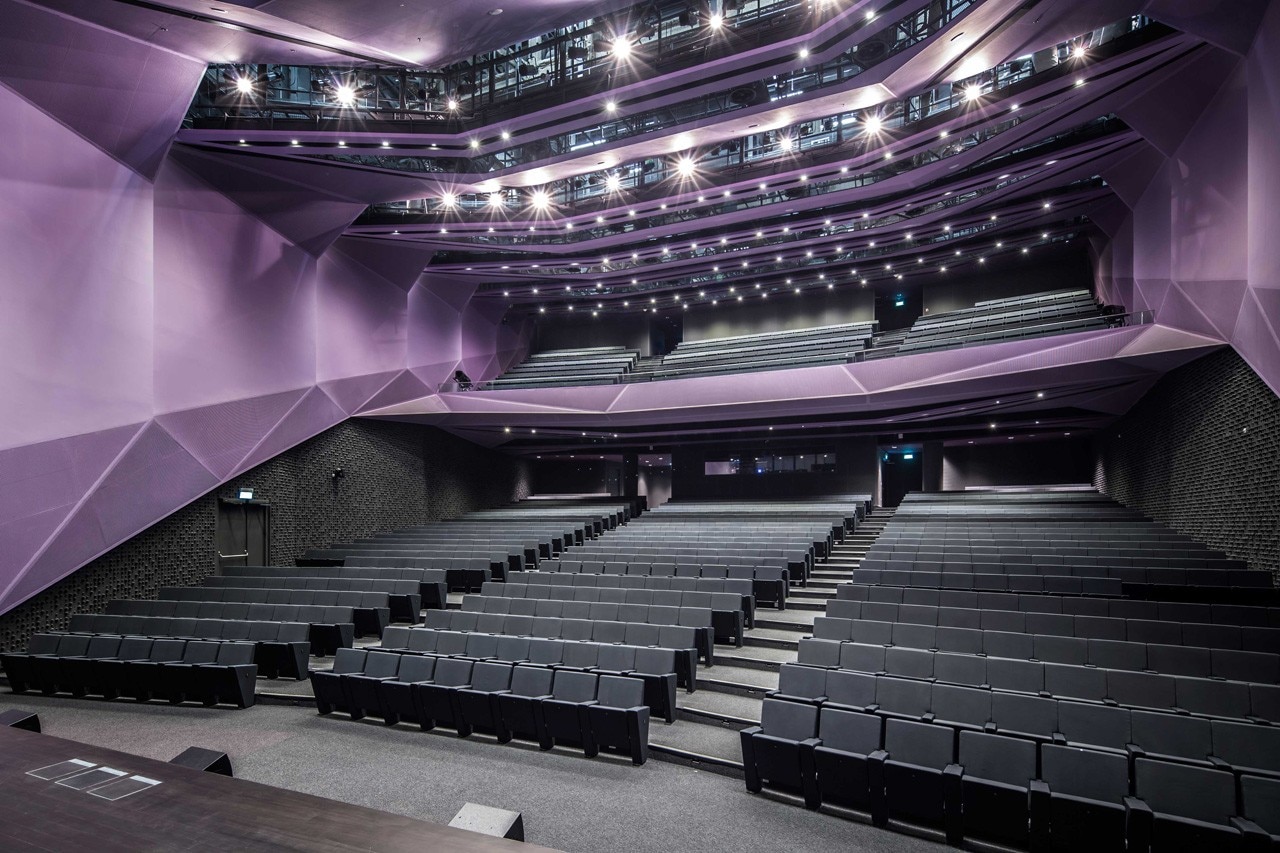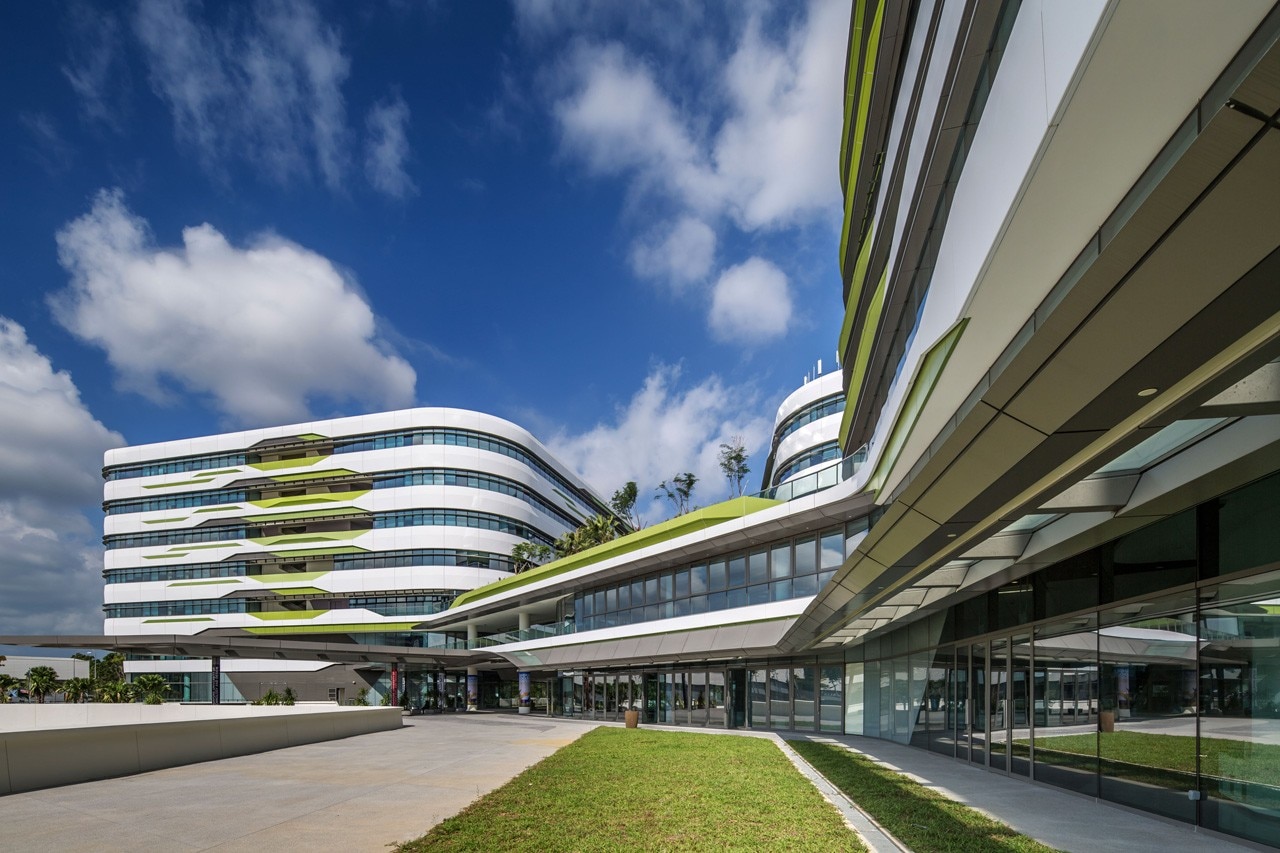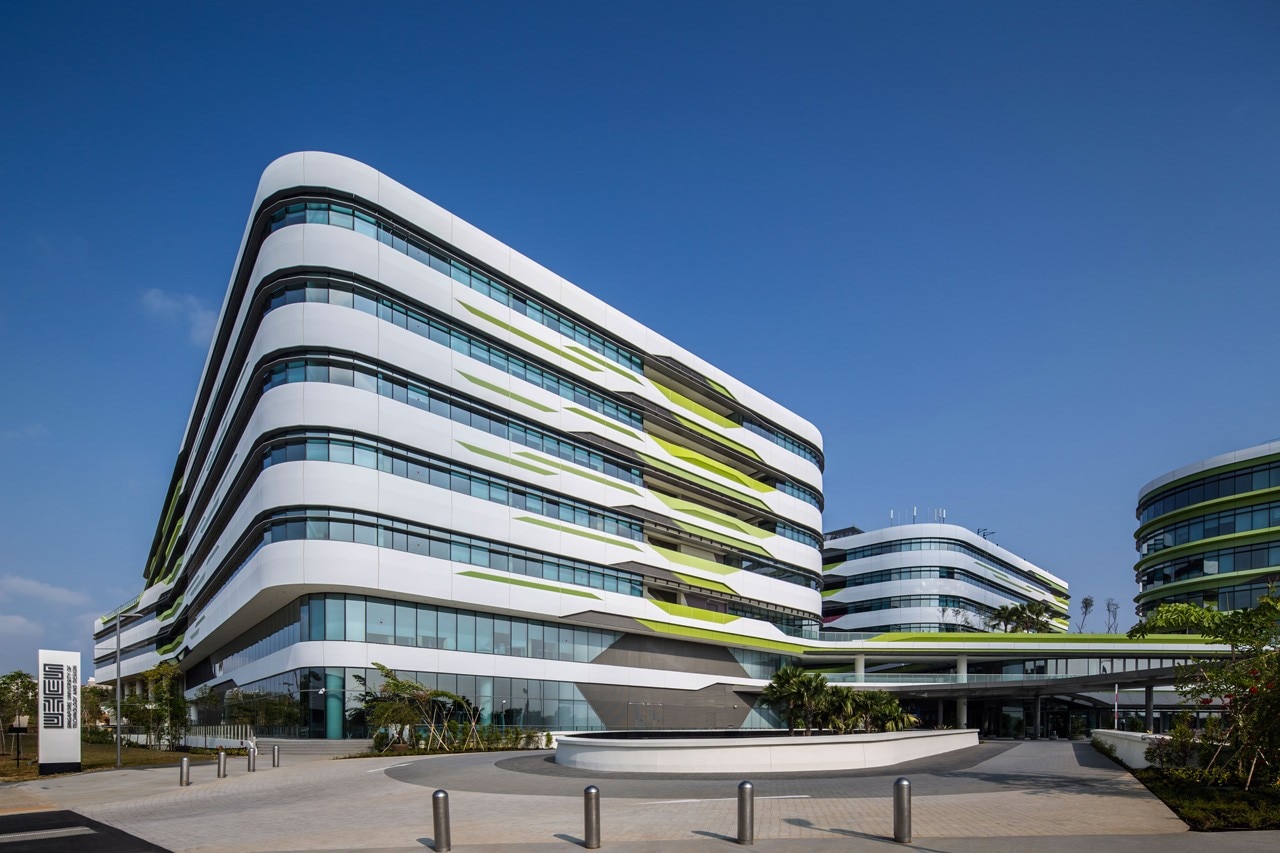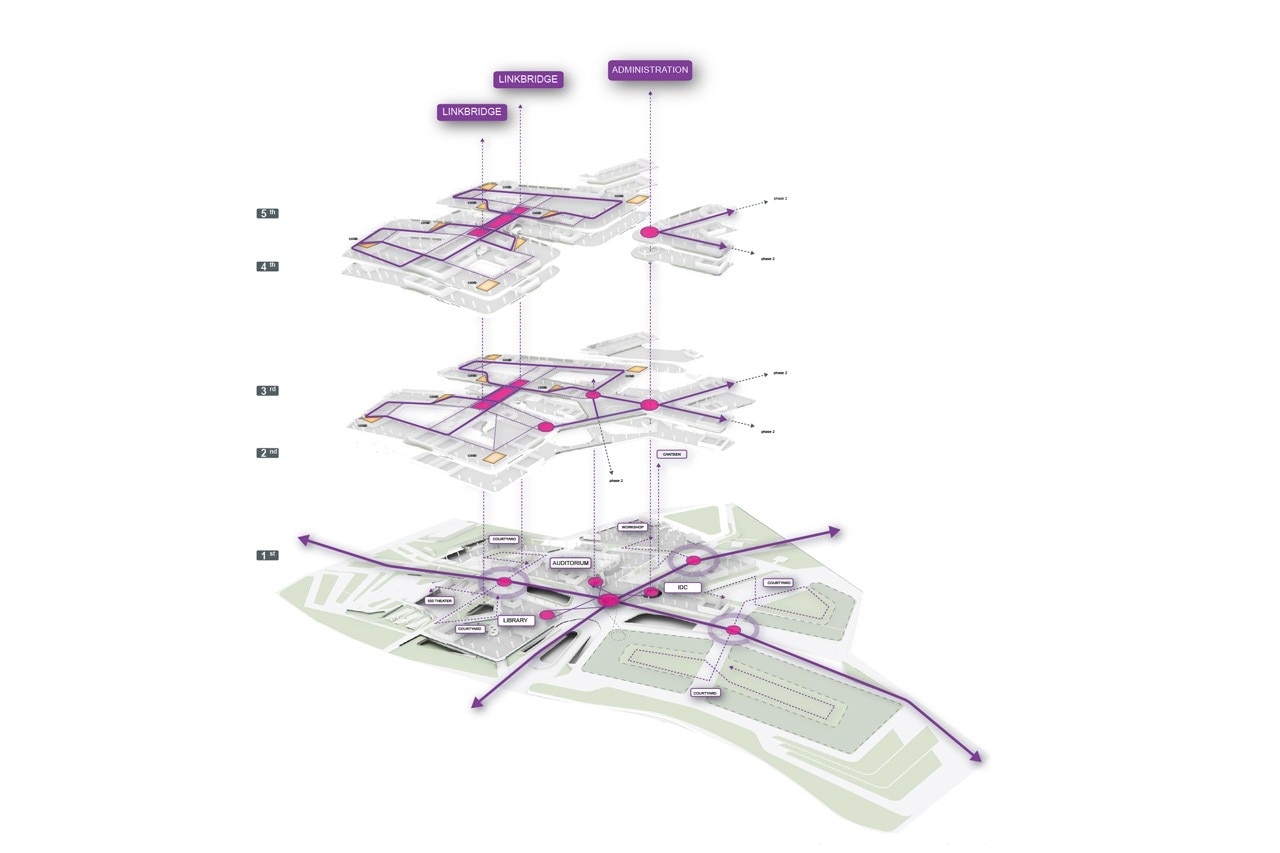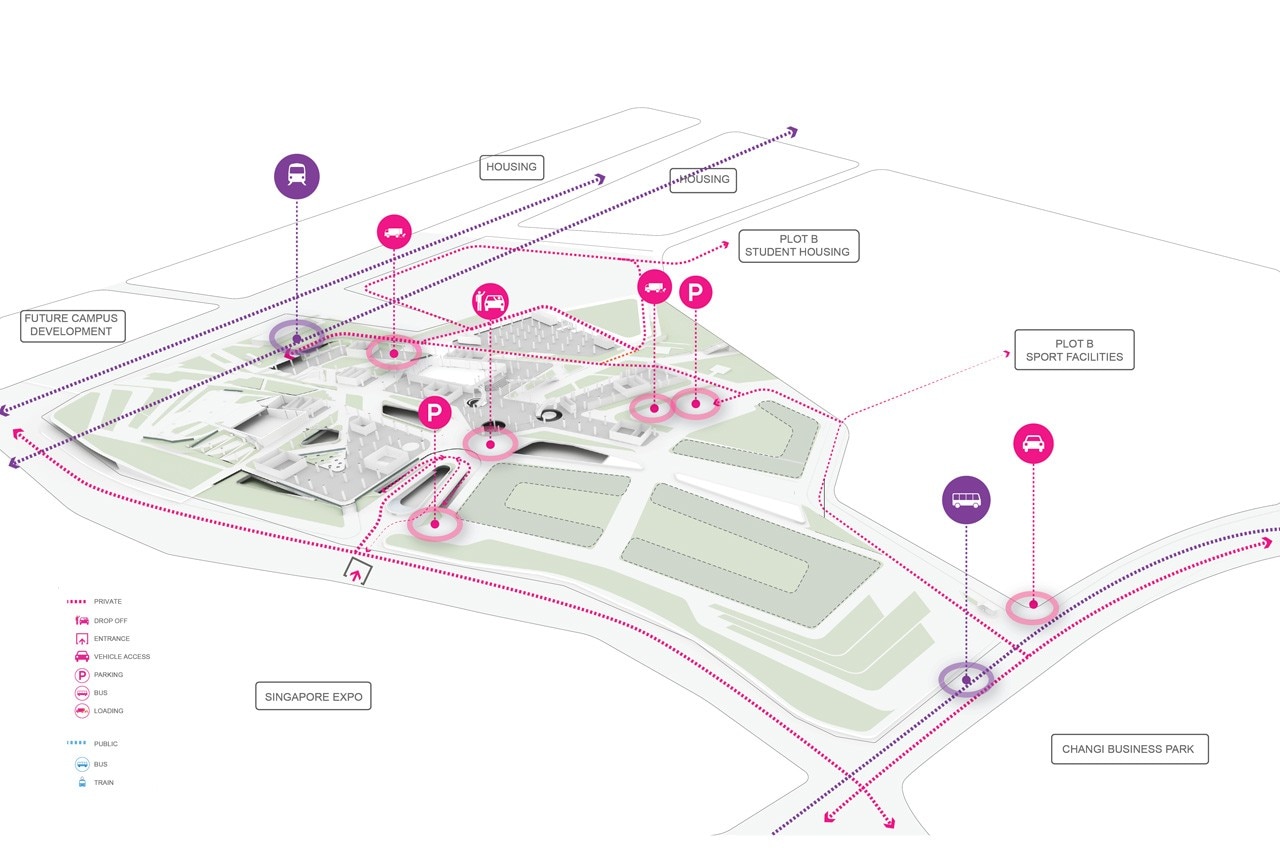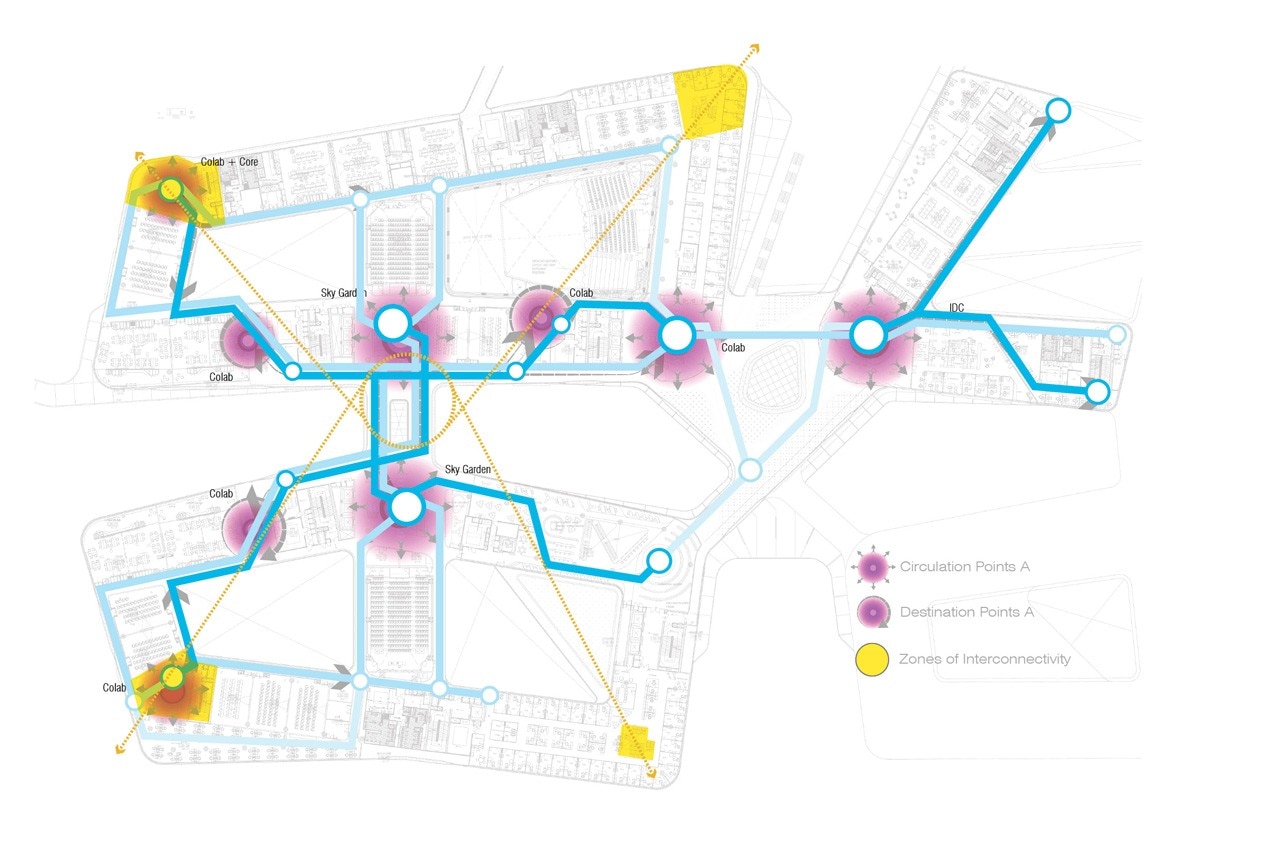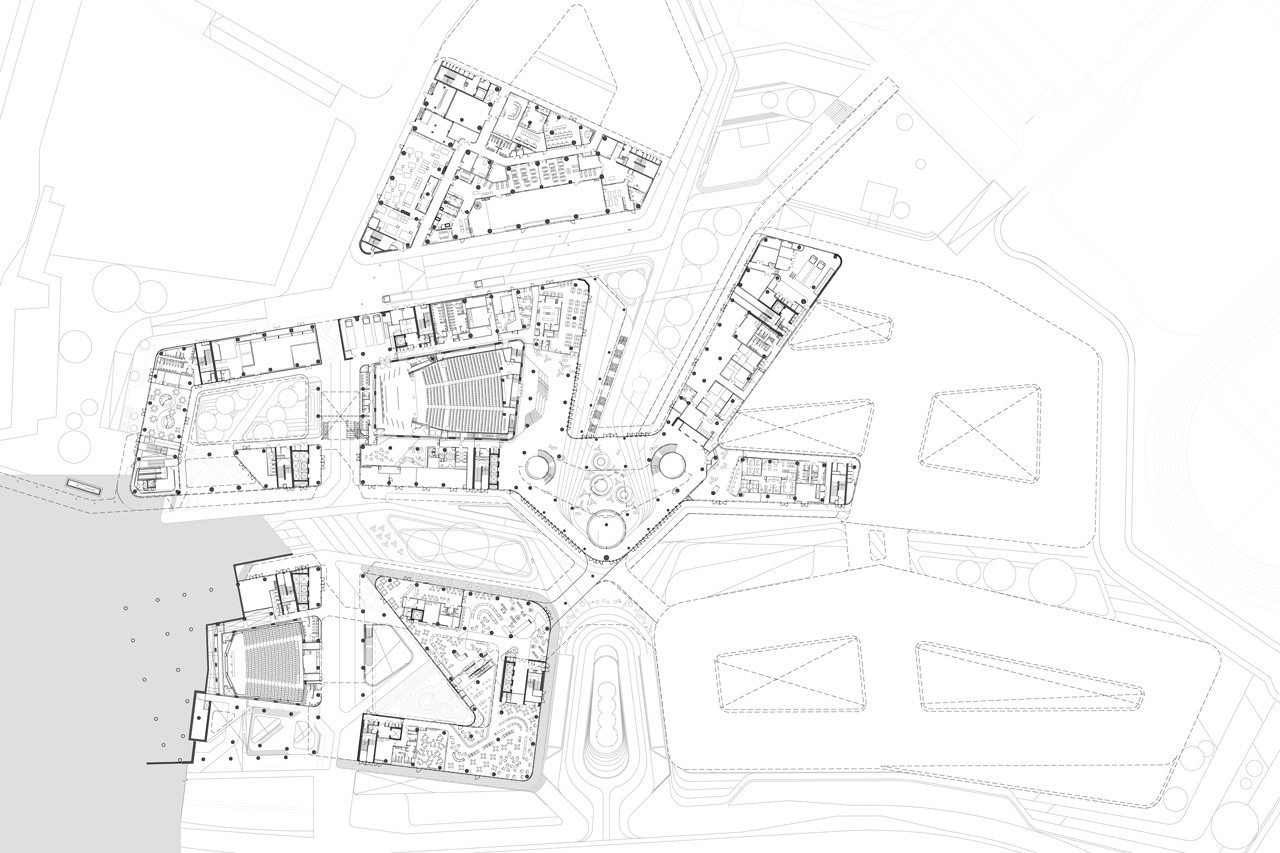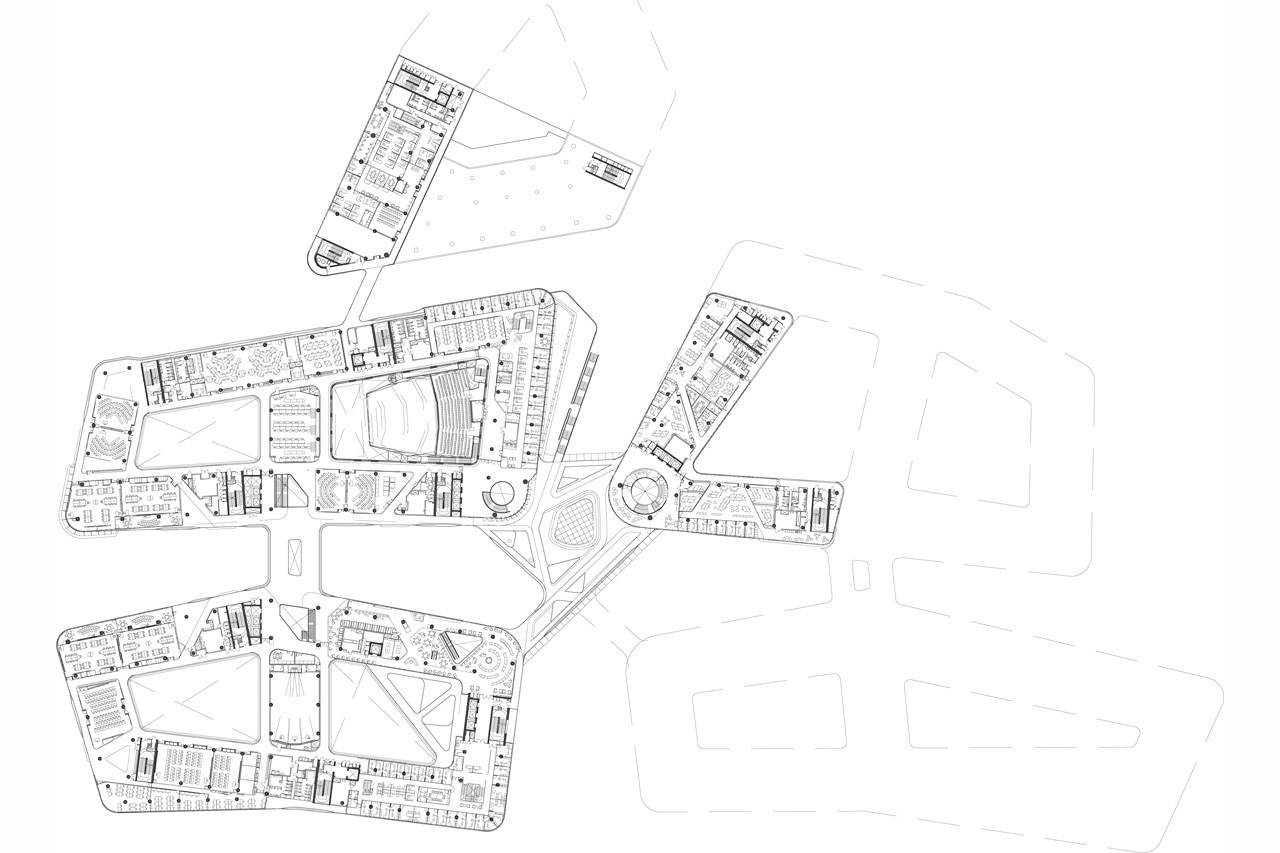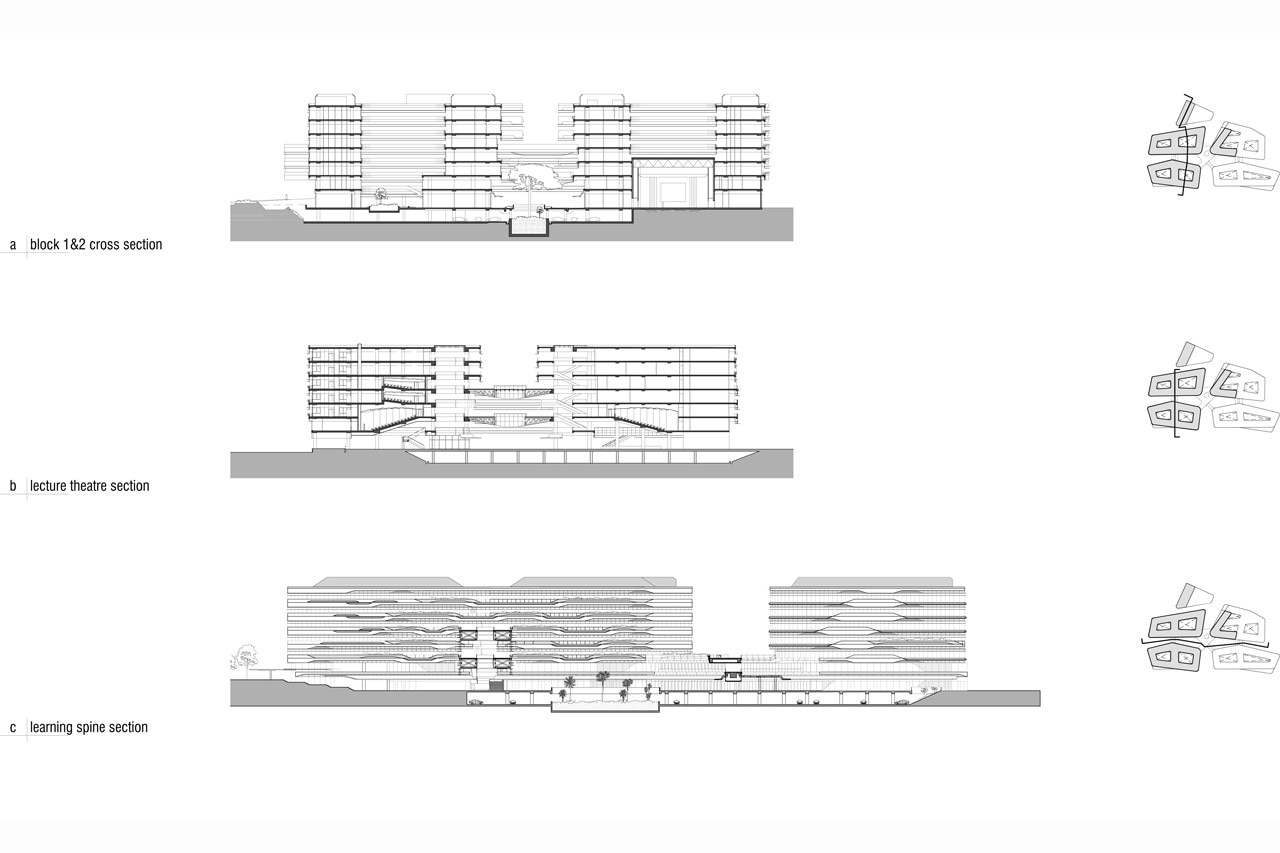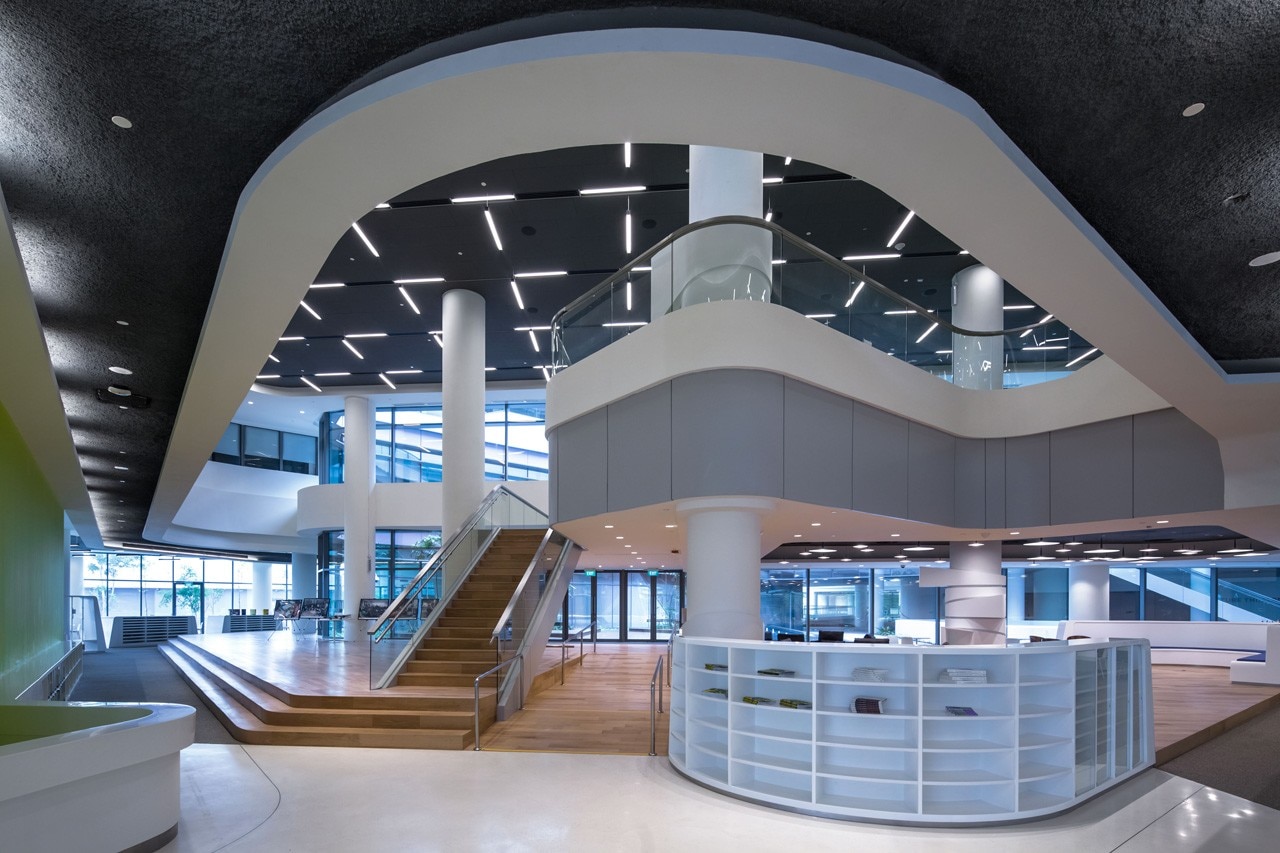 SUTD
DP Architects and UNStudio, Singapore University of Technology and Design's academic campus, Singapore. Elements in the library's ceiling play a key role in achieving the sequencing of vertical and lateral visual connections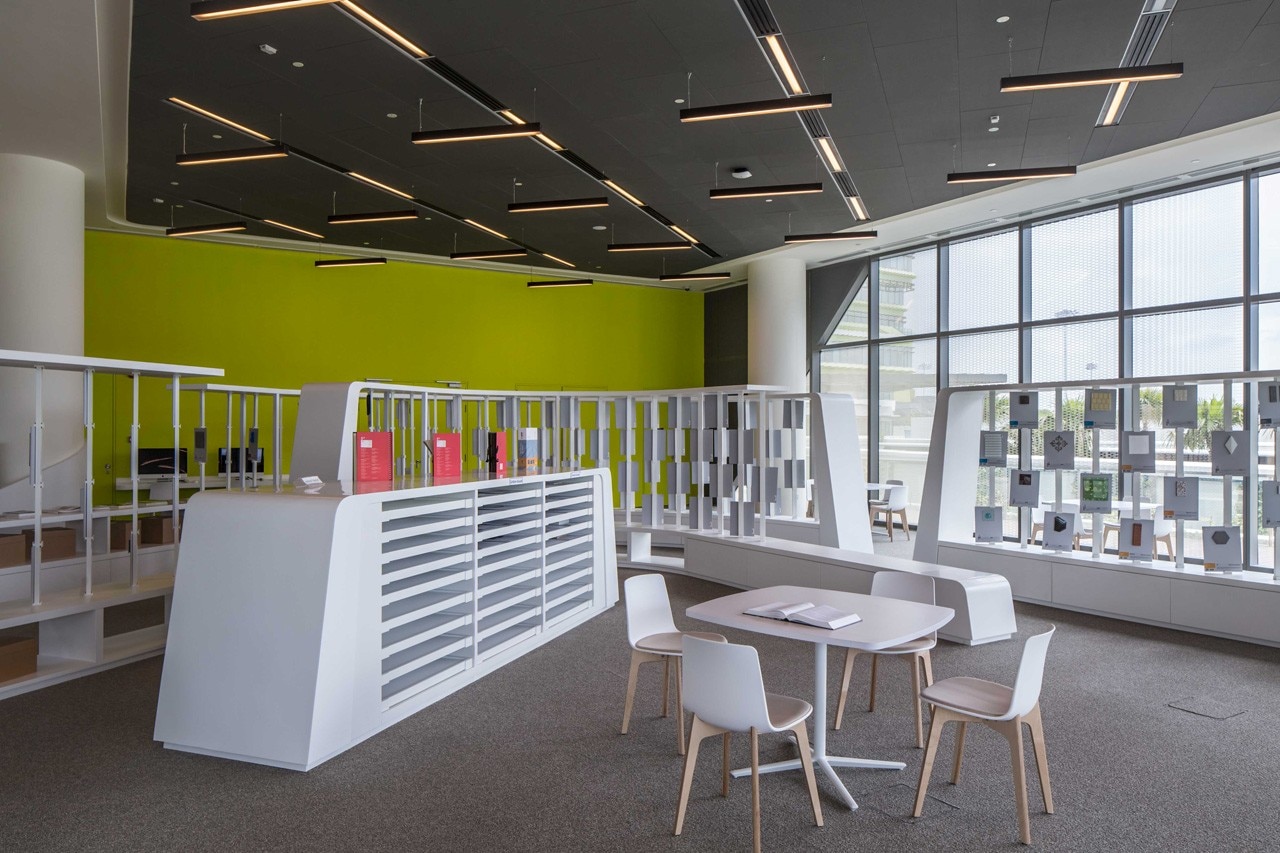 SUTD
DP Architects and UNStudio, Singapore University of Technology and Design's academic campus, Singapore. Space within the library is no longer defined by four walls, but is an experientially contiguous awareness from the centre to the periphery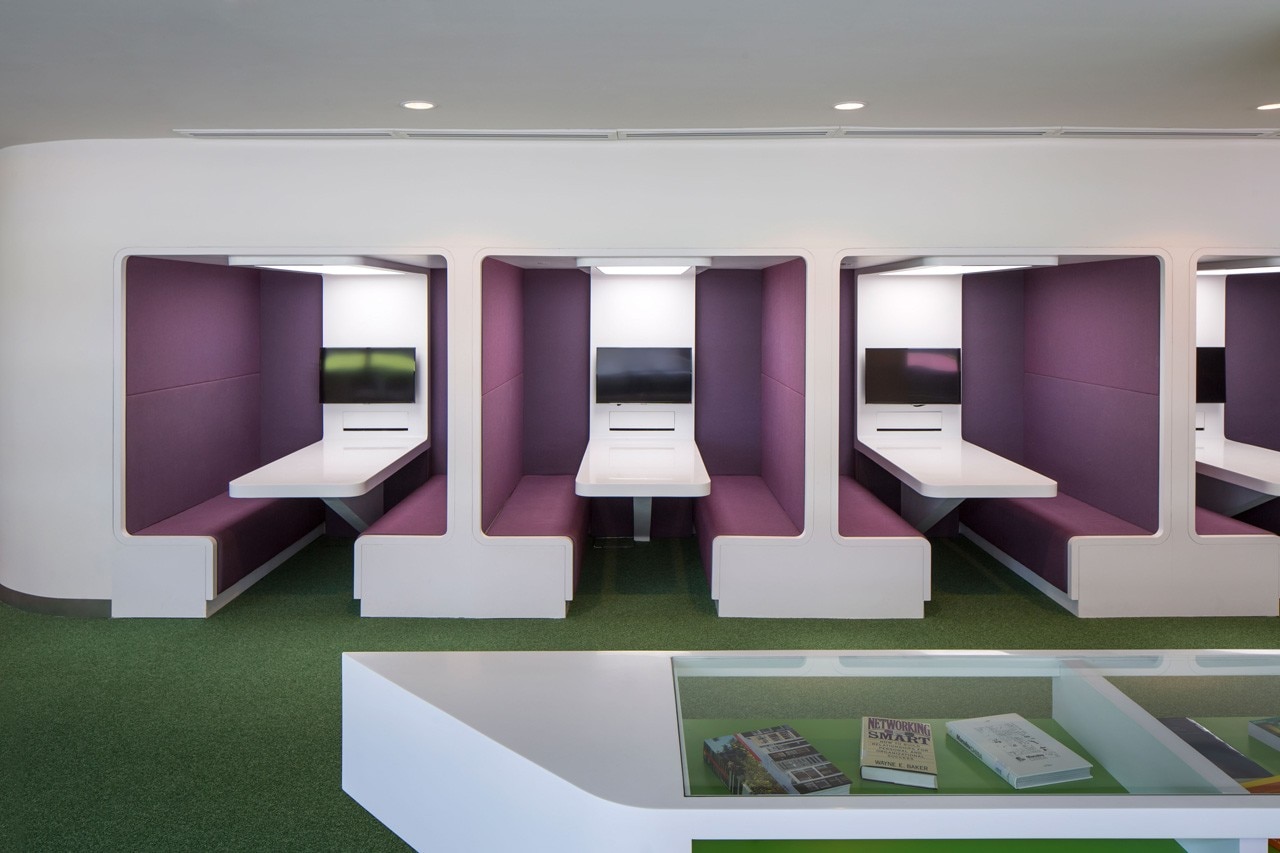 SUTD
DP Architects and UNStudio, Singapore University of Technology and Design's academic campus, Singapore. Study and discussion booths add to the range of spaces that facilitate focused and small group learning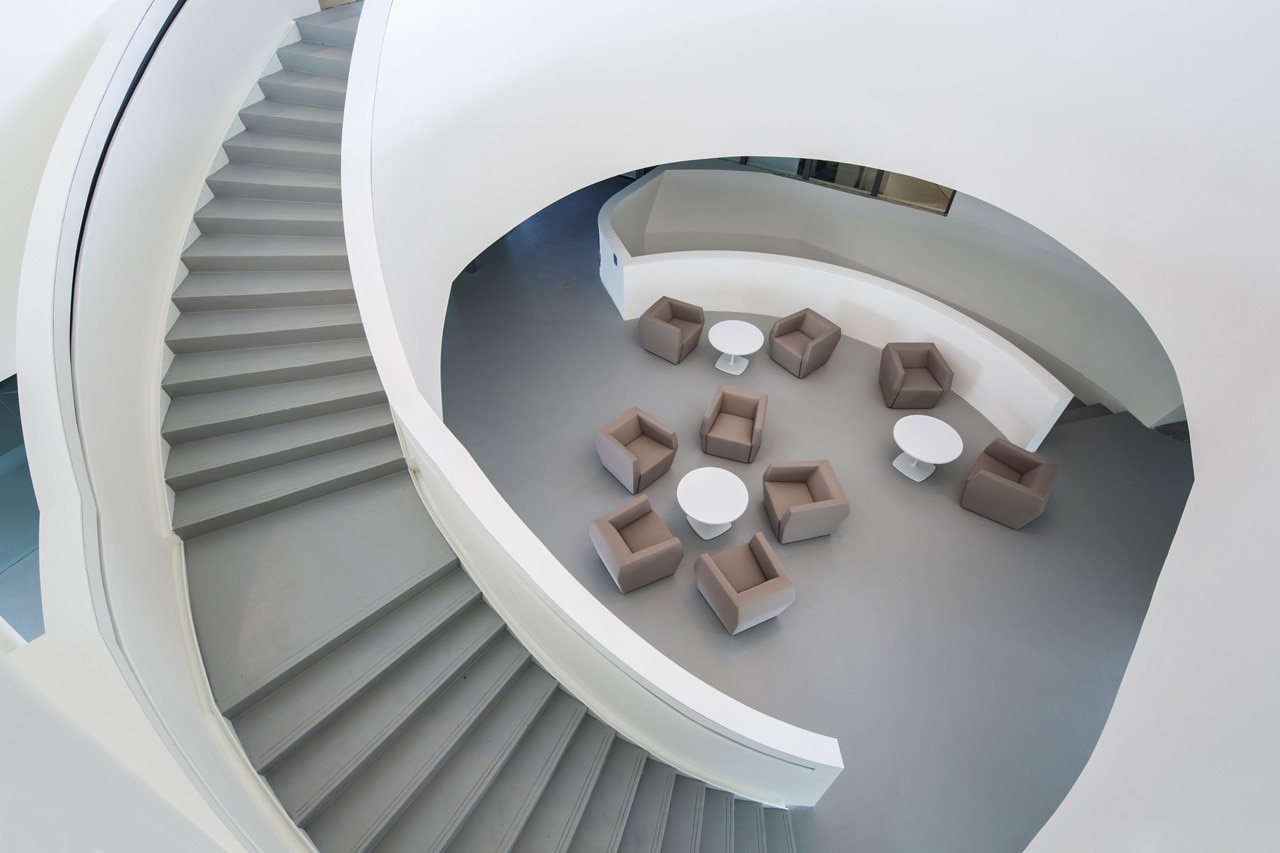 SUTD
DP Architects and UNStudio, Singapore University of Technology and Design's academic campus, Singapore. The Campus Centre is the key node of connection across all academic blocks and is a light-filled, multi-purpose space of chance encounters and exchanges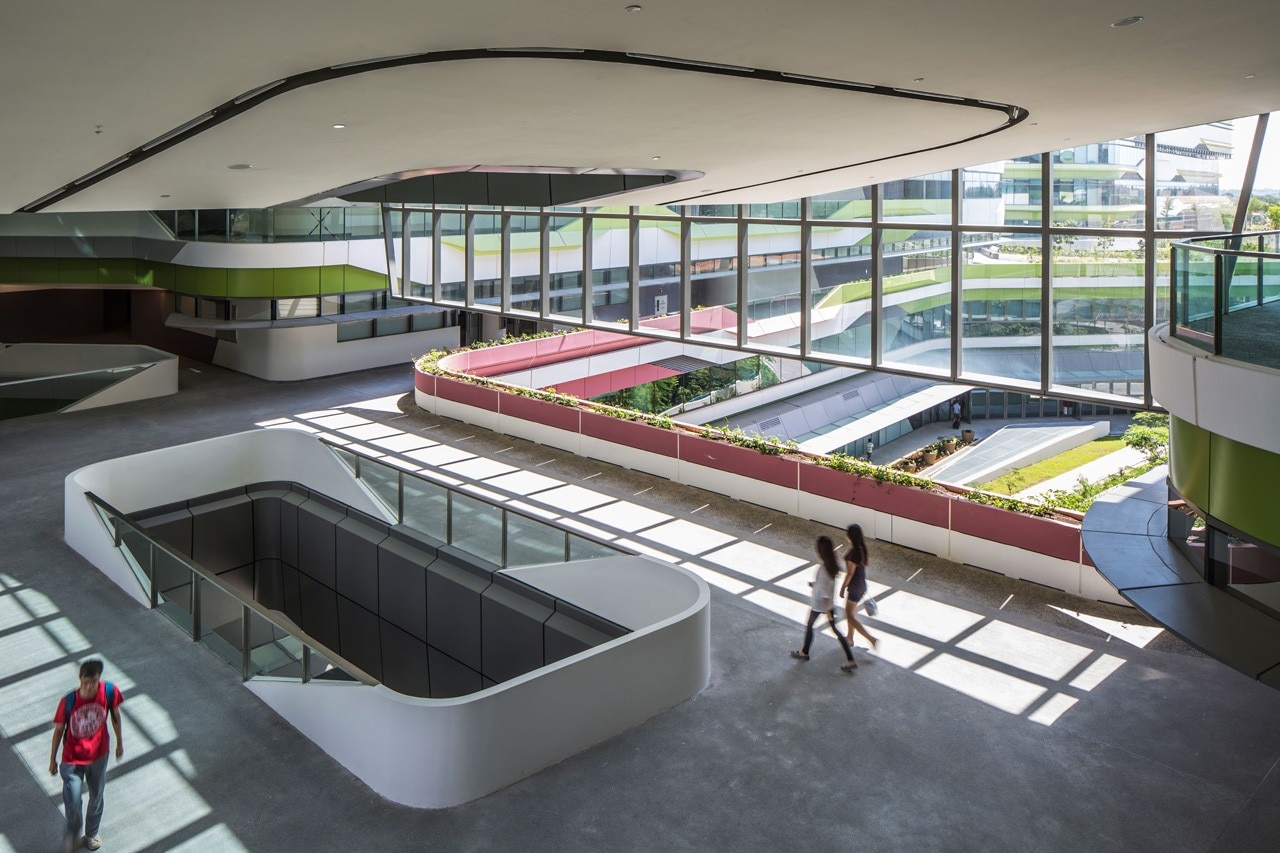 SUTD
DP Architects and UNStudio, Singapore University of Technology and Design's academic campus, Singapore. The campus enables open interaction between students and staff from the four academic pillars, through meetings at various collaborative spaces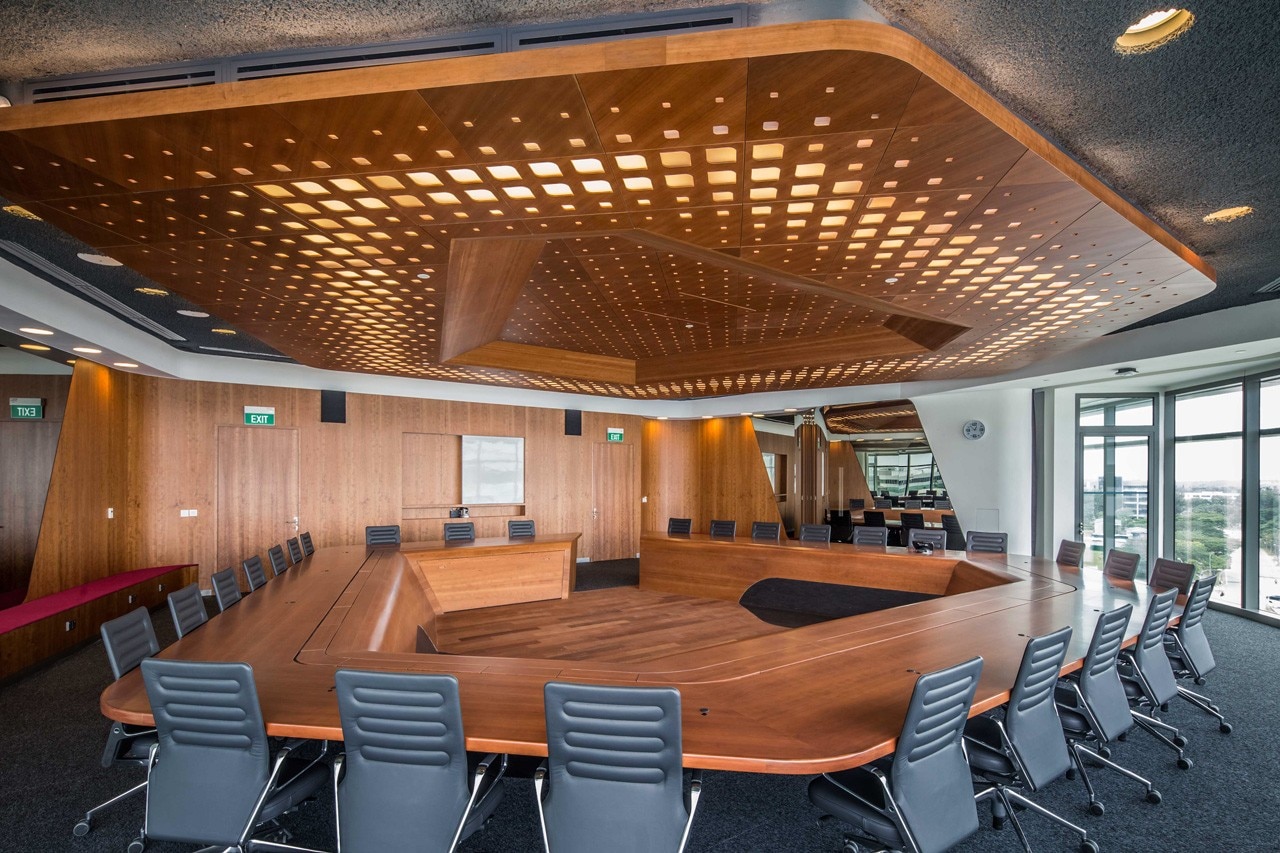 SUTD
DP Architects and UNStudio, Singapore University of Technology and Design's academic campus, Singapore. The geometry of the boardroom table, with its corresponding ceiling, is derived from the panoramic potential of the space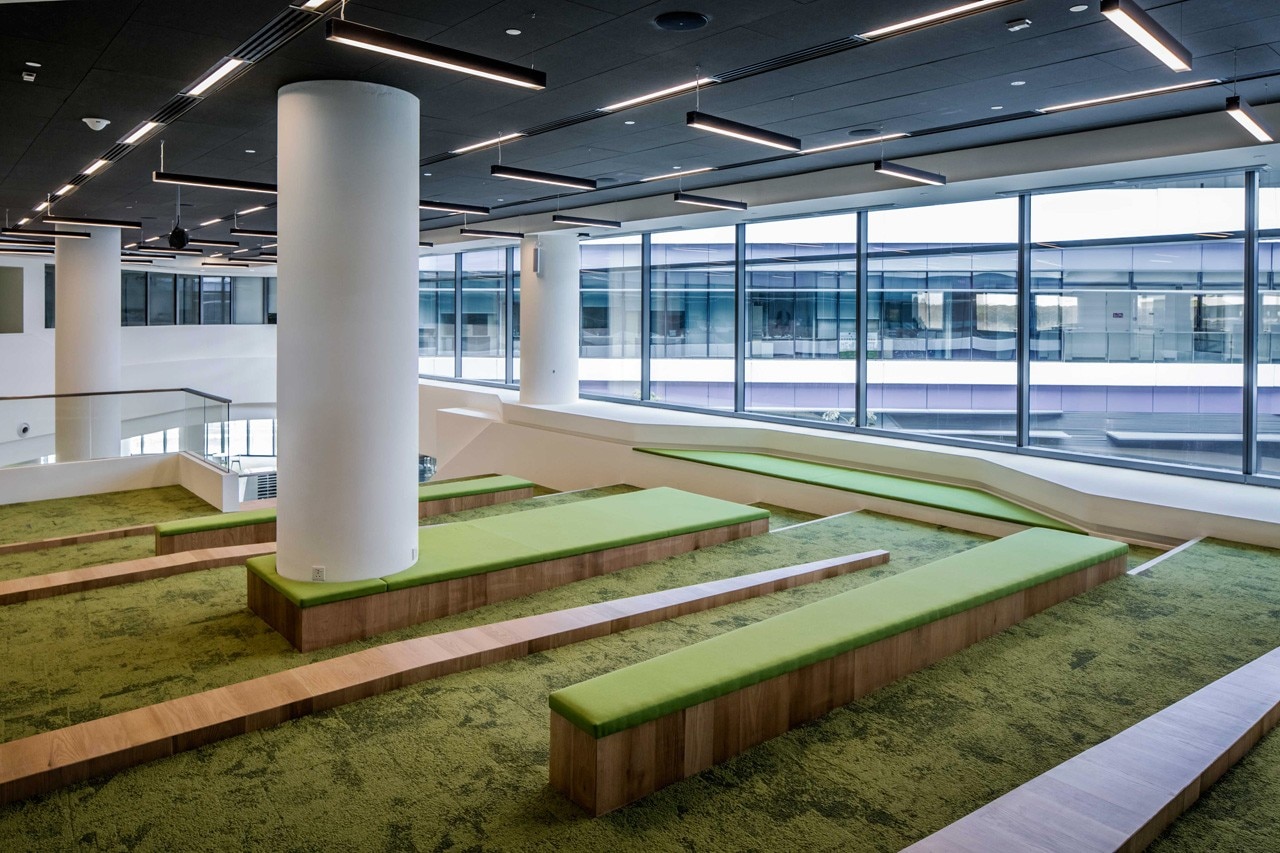 SUTD
DP Architects and UNStudio, Singapore University of Technology and Design's academic campus, Singapore. The inclined 'parkscape' on the 2nd storey of the library peels away from the floor plate to reveal multiple perceptions and viewpoints of connections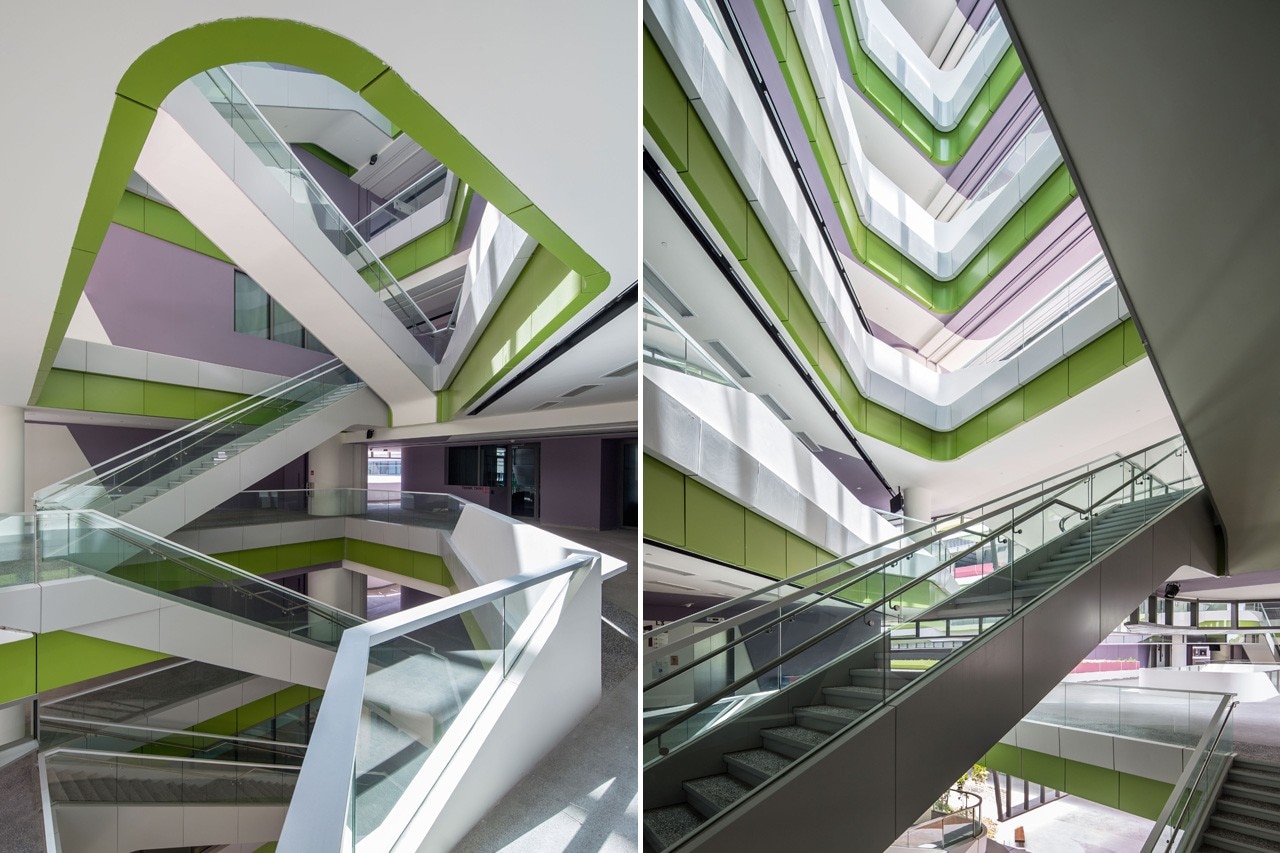 SUTD
DP Architects and UNStudio, Singapore University of Technology and Design's academic campus, Singapore. The internal space corresponding to the idea of the university as a vertical, interlaced kampung (local Malay word for "village")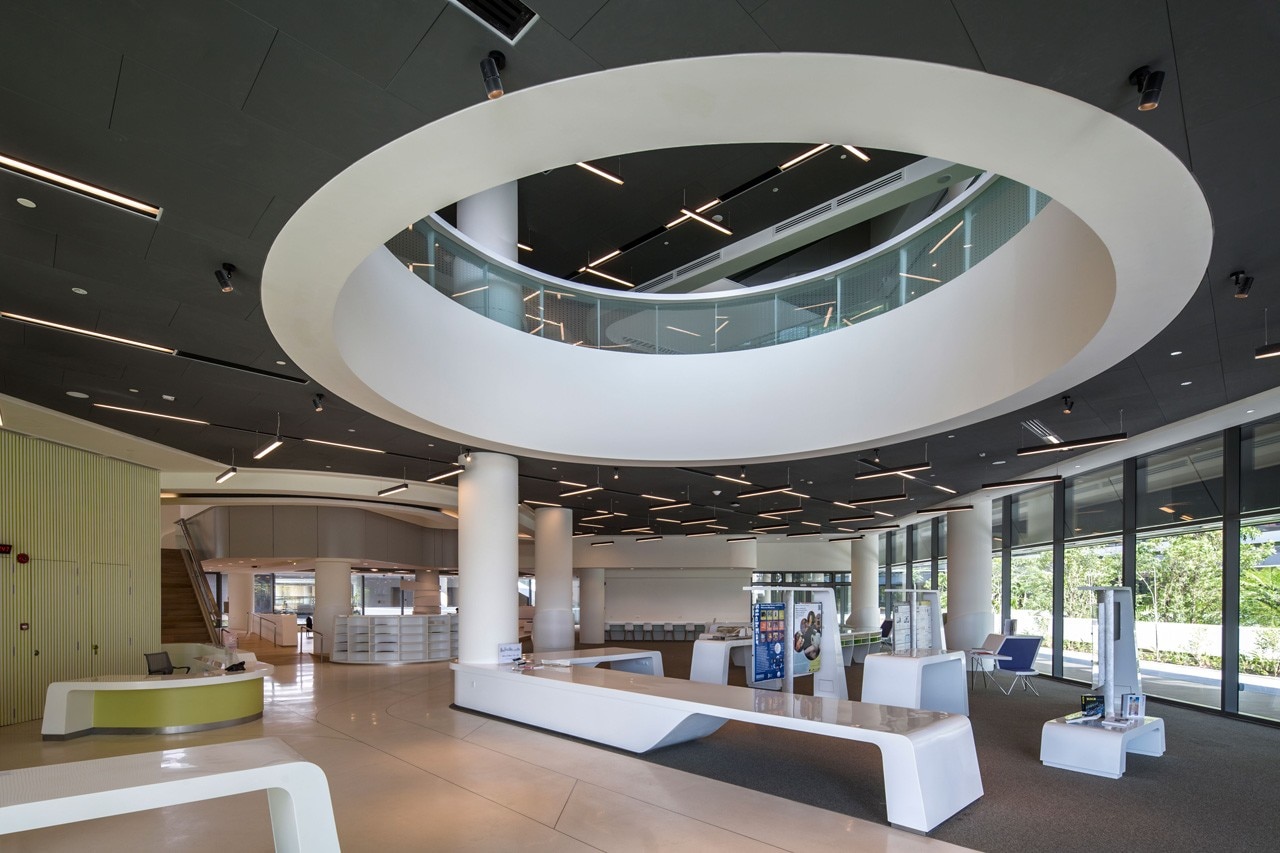 SUTD
DP Architects and UNStudio, Singapore University of Technology and Design's academic campus, Singapore. The library is designed to be a dynamic and fluid space, with cosy areas for the vibrant exchange of ideas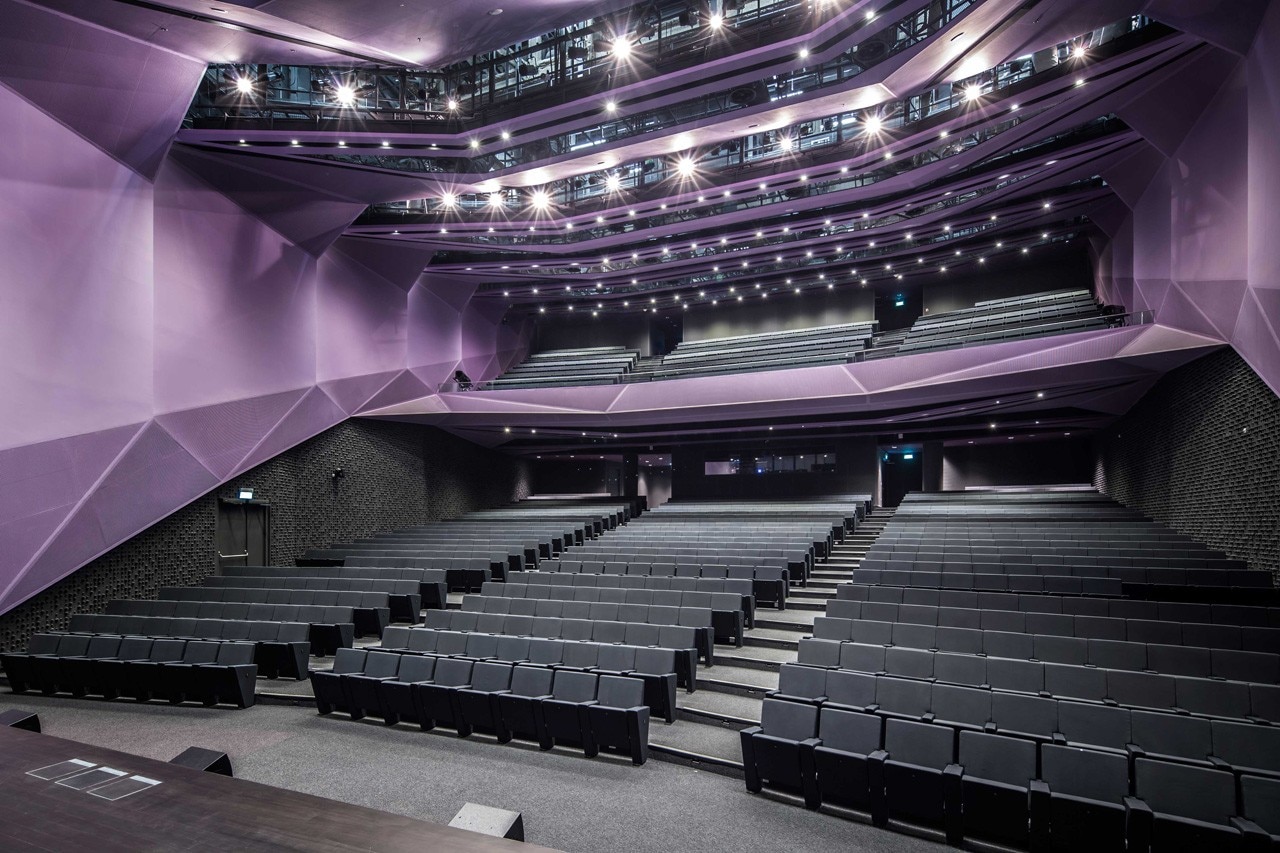 SUTD
DP Architects and UNStudio, Singapore University of Technology and Design's academic campus, Singapore. The use of gradation in colour, receding wall and ceiling modules in the Auditorium enhances its directional quality in an otherwise fairly static space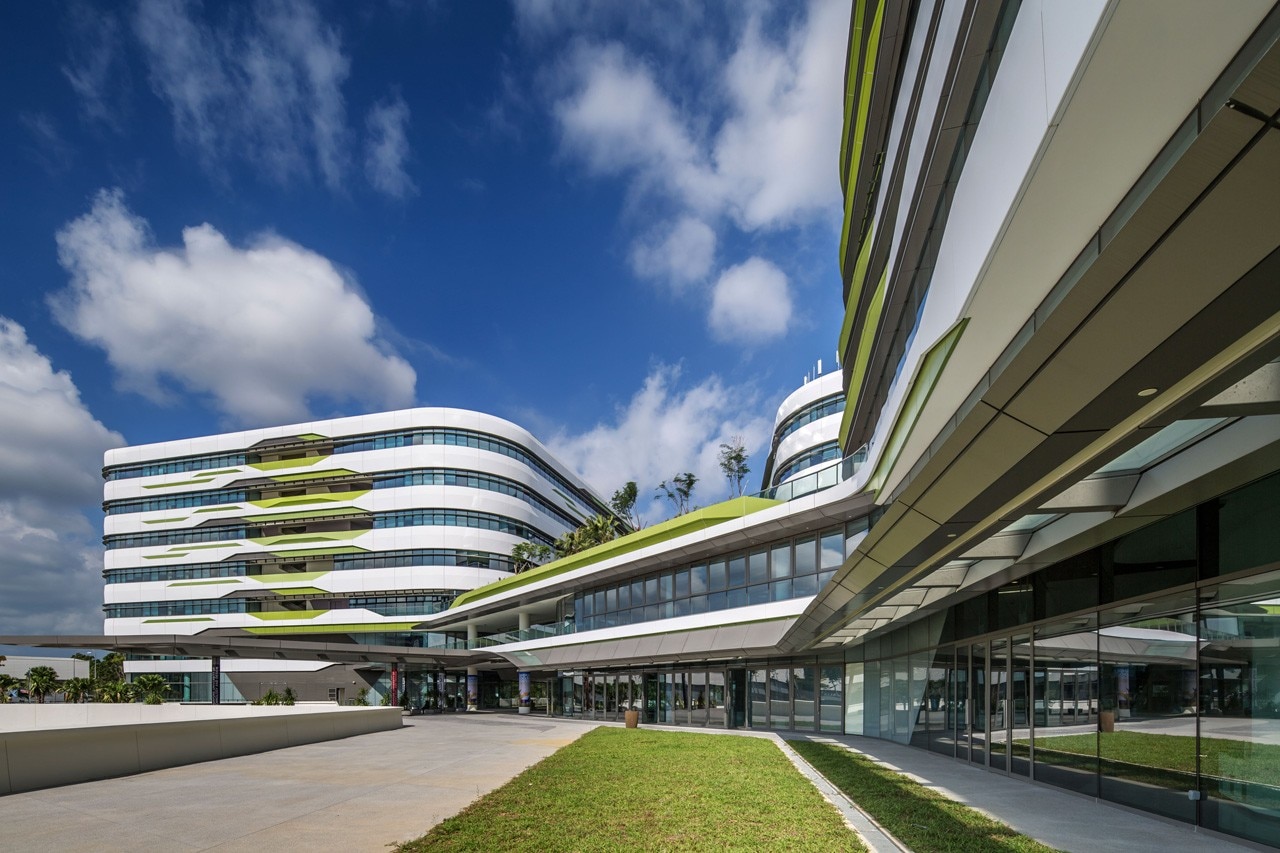 SUTD
DP Architects and UNStudio, Singapore University of Technology and Design's academic campus, Singapore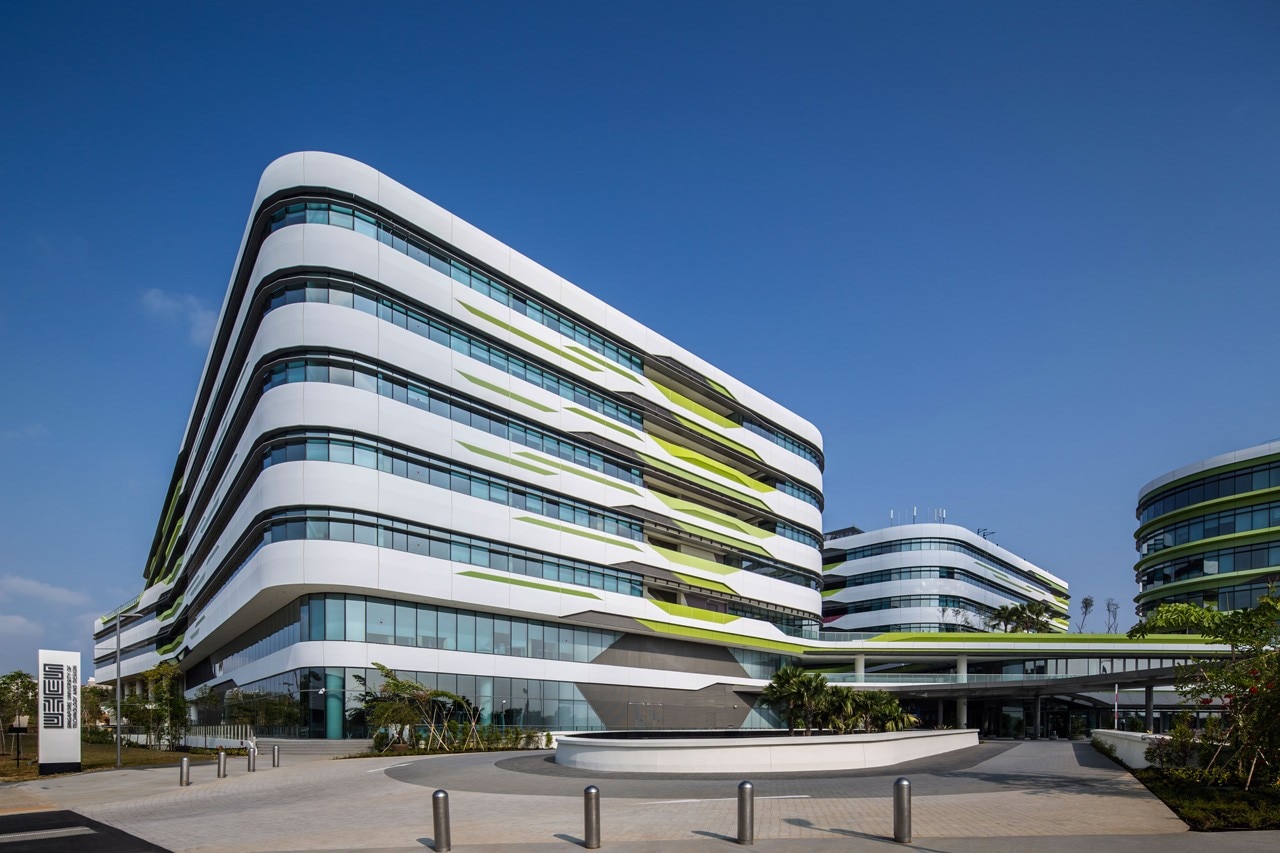 SUTD
DP Architects and UNStudio, Singapore University of Technology and Design's academic campus, Singapore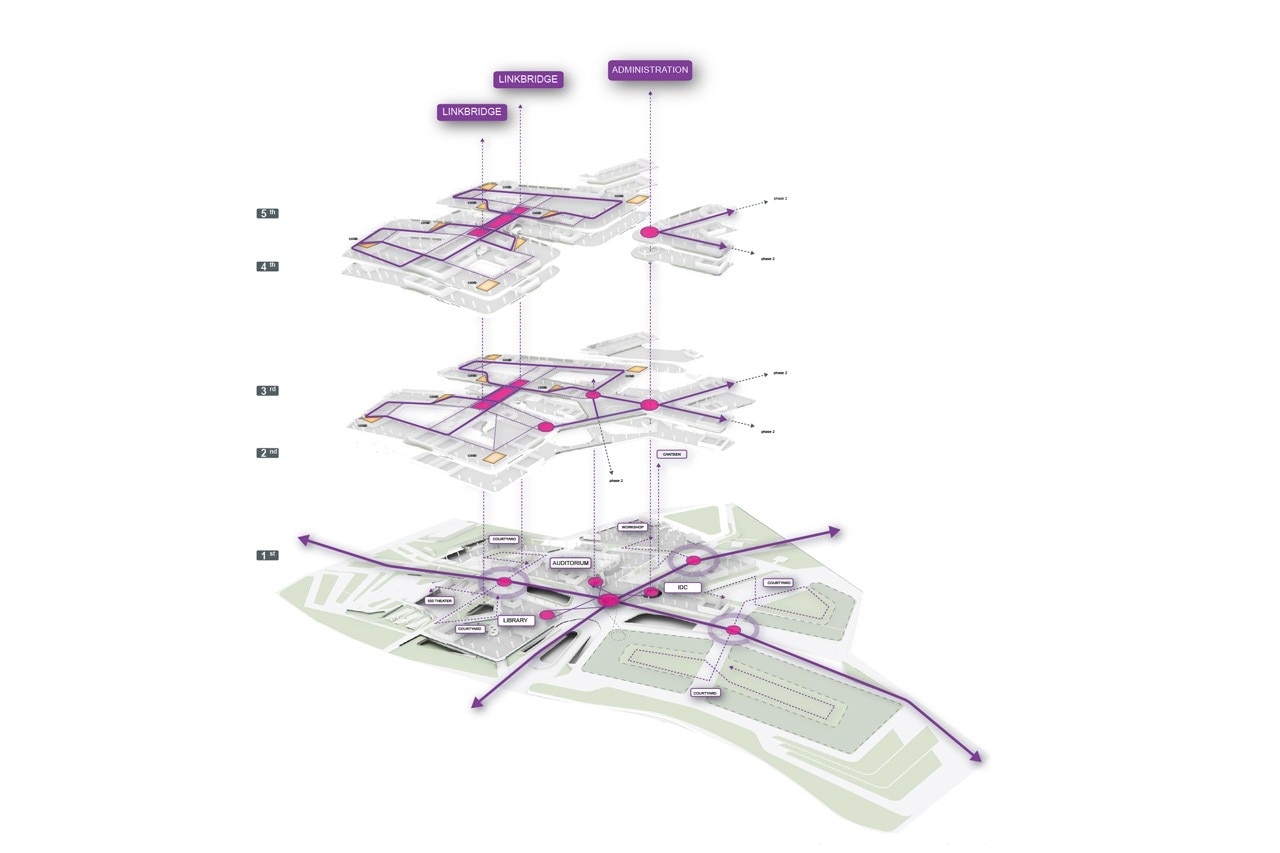 DP Architects and UNStudio, Singapore University of Technology and Design's academic campus, Singapore. Functional scheme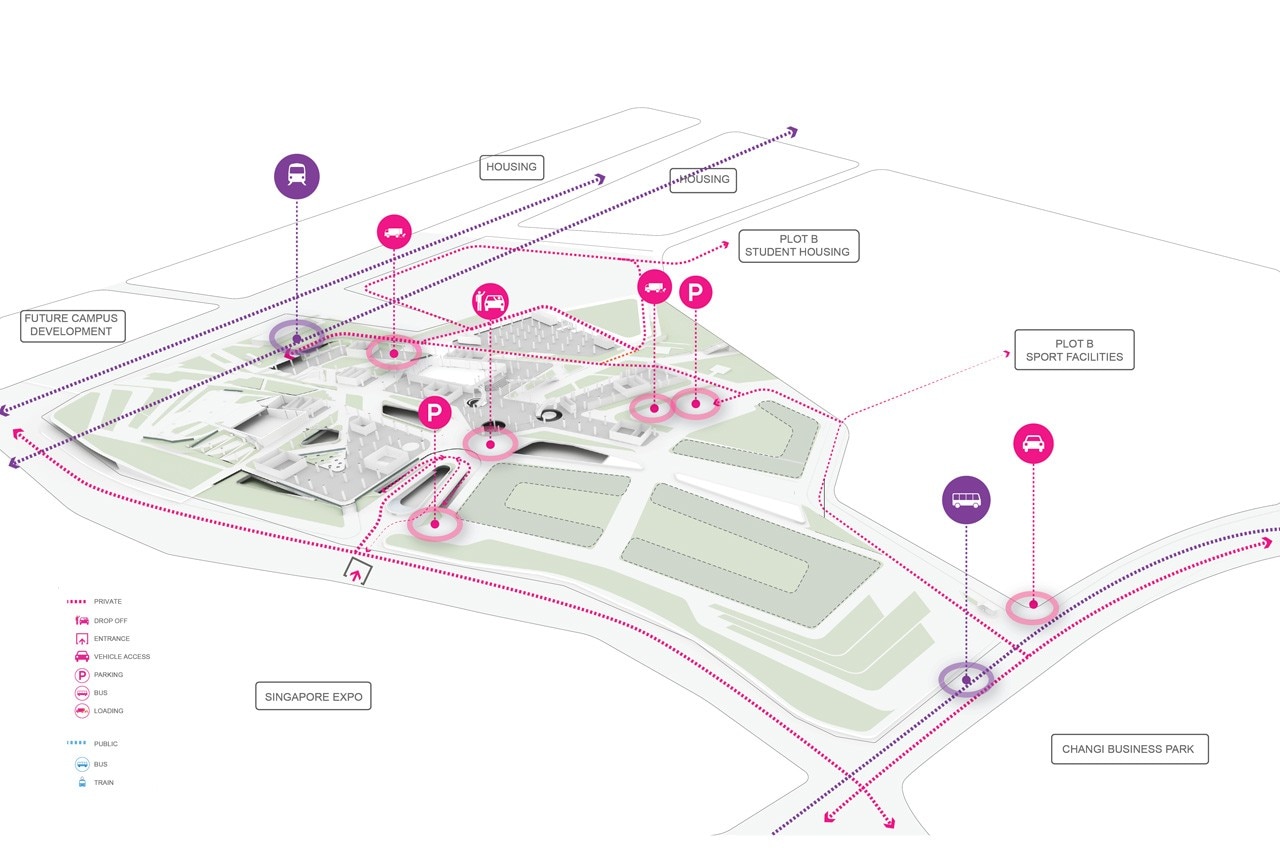 DP Architects and UNStudio, Singapore University of Technology and Design's academic campus, Singapore. Access scheme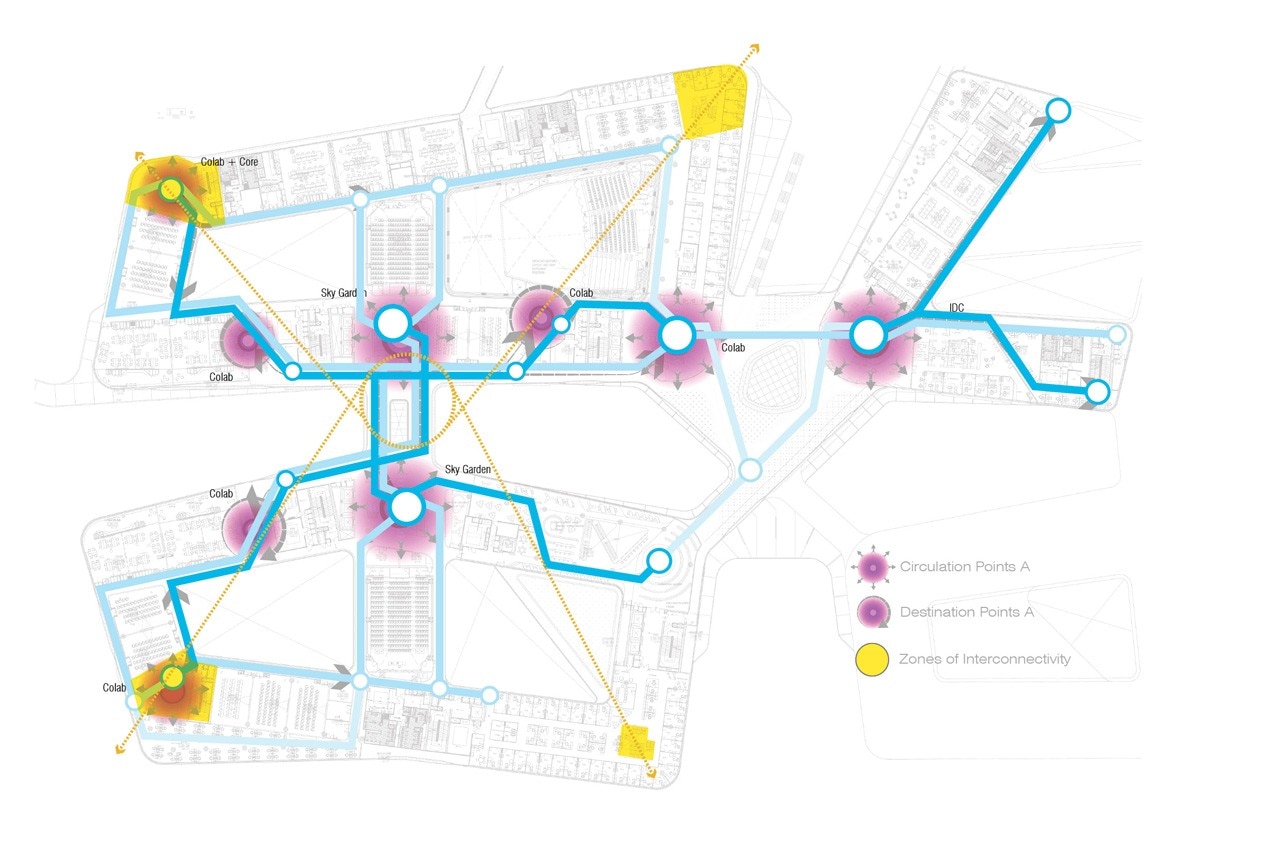 DP Architects and UNStudio, Singapore University of Technology and Design's academic campus, Singapore. Interconnectivity scheme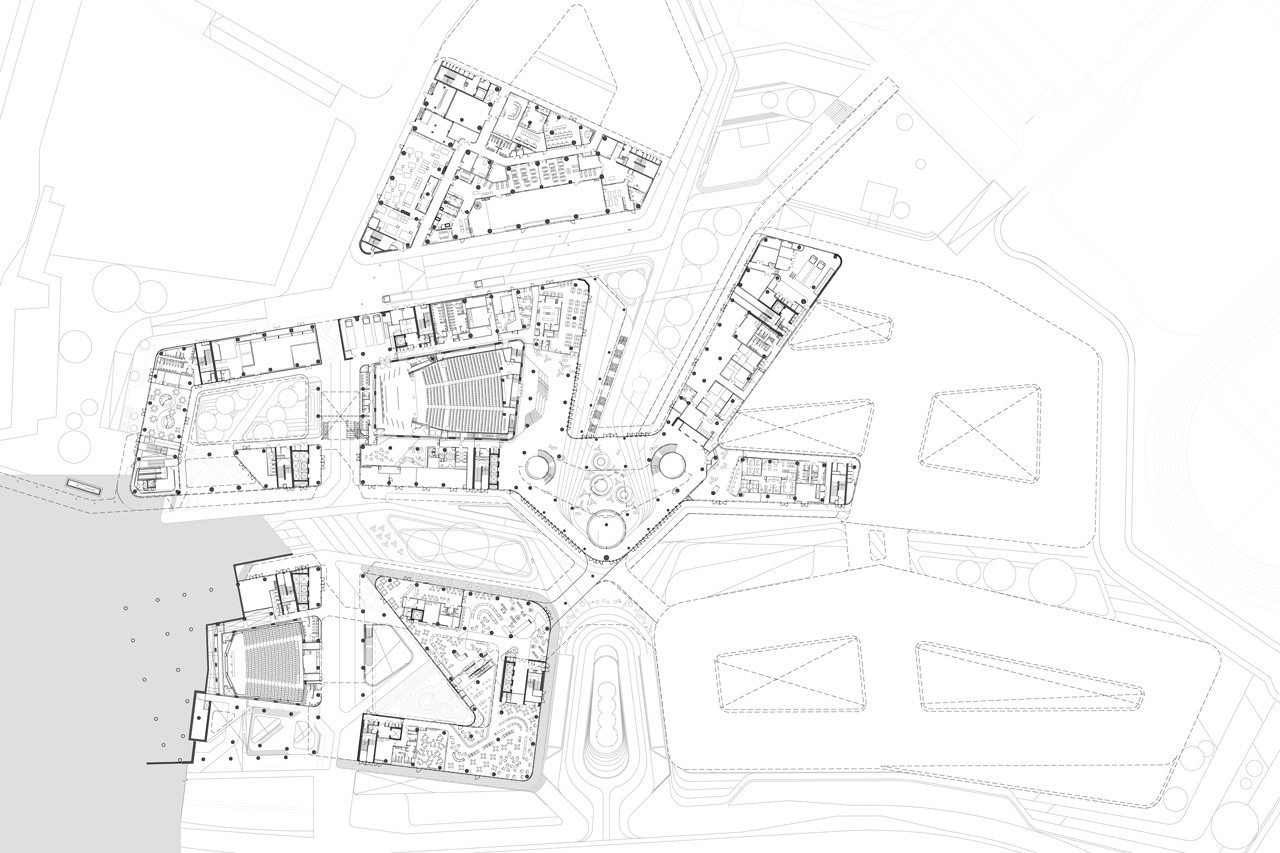 1st storey plan A3
DP Architects and UNStudio, Singapore University of Technology and Design's academic campus, Singapore. First floor plan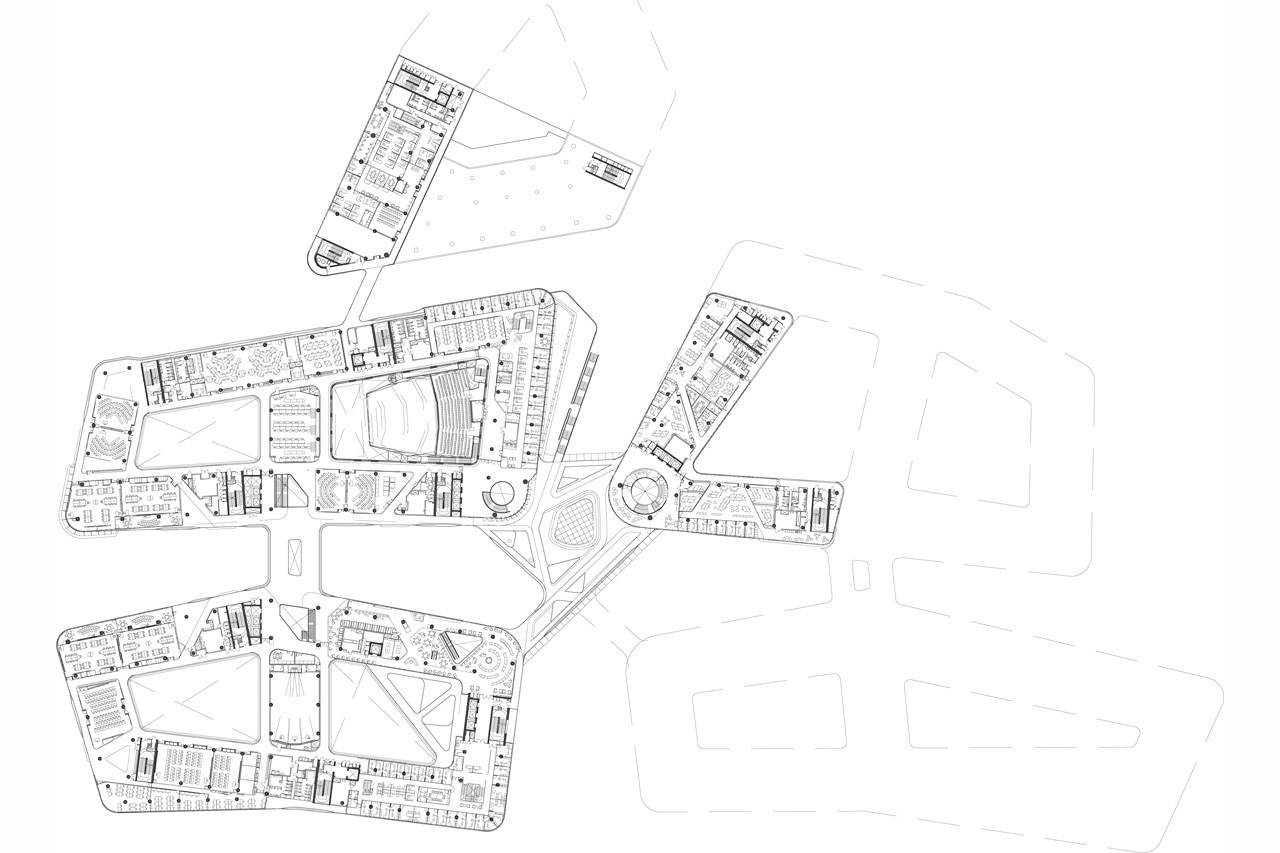 1st storey plan A3
DP Architects and UNStudio, Singapore University of Technology and Design's academic campus, Singapore. Third floor plan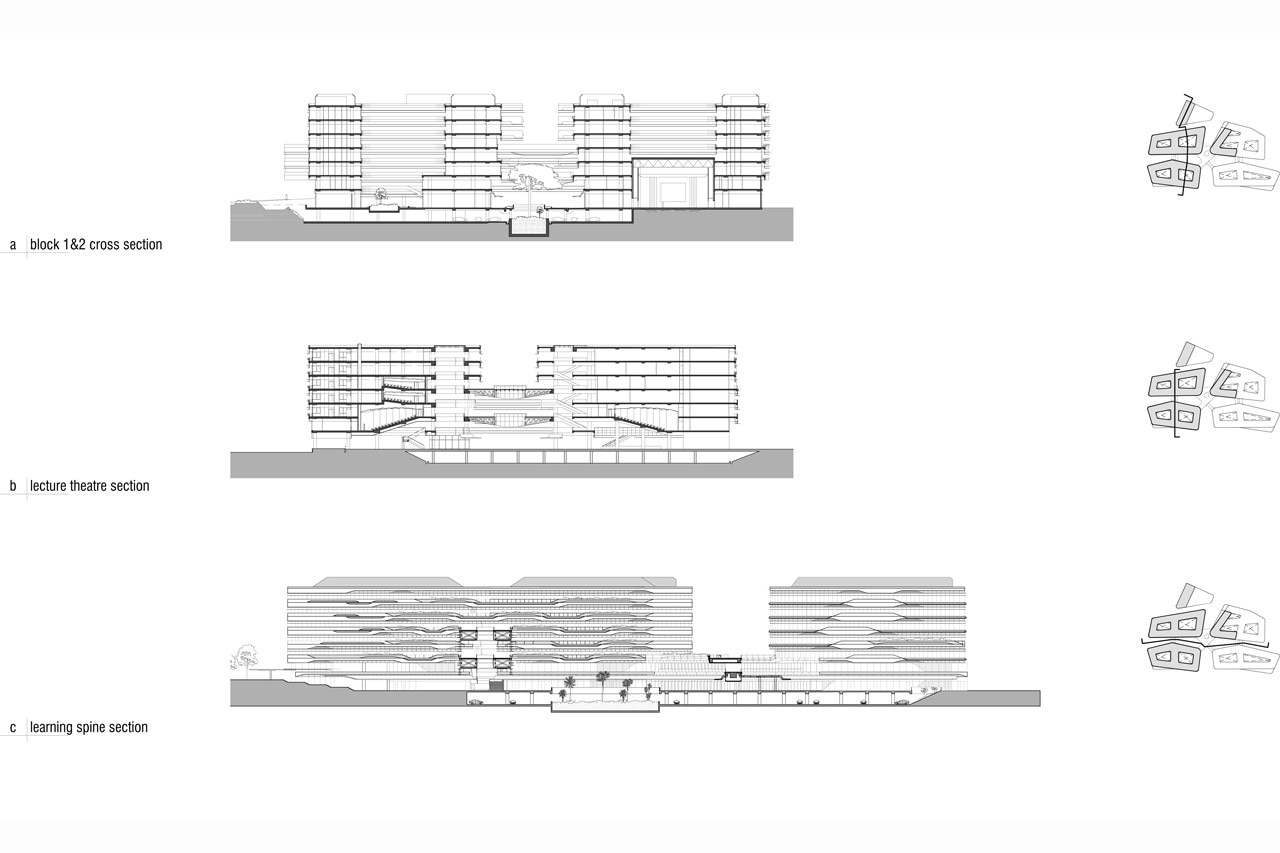 SECTIONS
DP Architects and UNStudio, Singapore University of Technology and Design's academic campus, Singapore. Sections

Singapore University of Technology and Design's academic campus, Singapore
Program: university campus
Architects: UNStudio and DP Architects
Structural Engineer: Parsons Brinckerhoff Pte Ltd
M&E Engineer: CPG Consultants Pte Ltd
Quantity Surveyor: CPG Consultants Pte Ltd
Landscape Consultant: Surbana International Consultants Pte Ltd
ESD Consultant: DP Sustainable Design Pte Ltd
Acoustics Consultant: Acviron Acoustics Consultants Pte Ltd
Client: Singapore University of Technology and Design
Area: 83,000 sqm
Completion: 2015