On the occasion of the current edition of the Art Basel and Design Miami/ Basel fairs, a new element has been introduced to the Vitra Campus in Weil am Rhein. On a hill between the VitraHaus and the Dome, Italian architect Renzo Piano and the Renzo Piano Building Workshop (RPBW) have developed the Diogene cabin, which to date is Vitra's smallest building.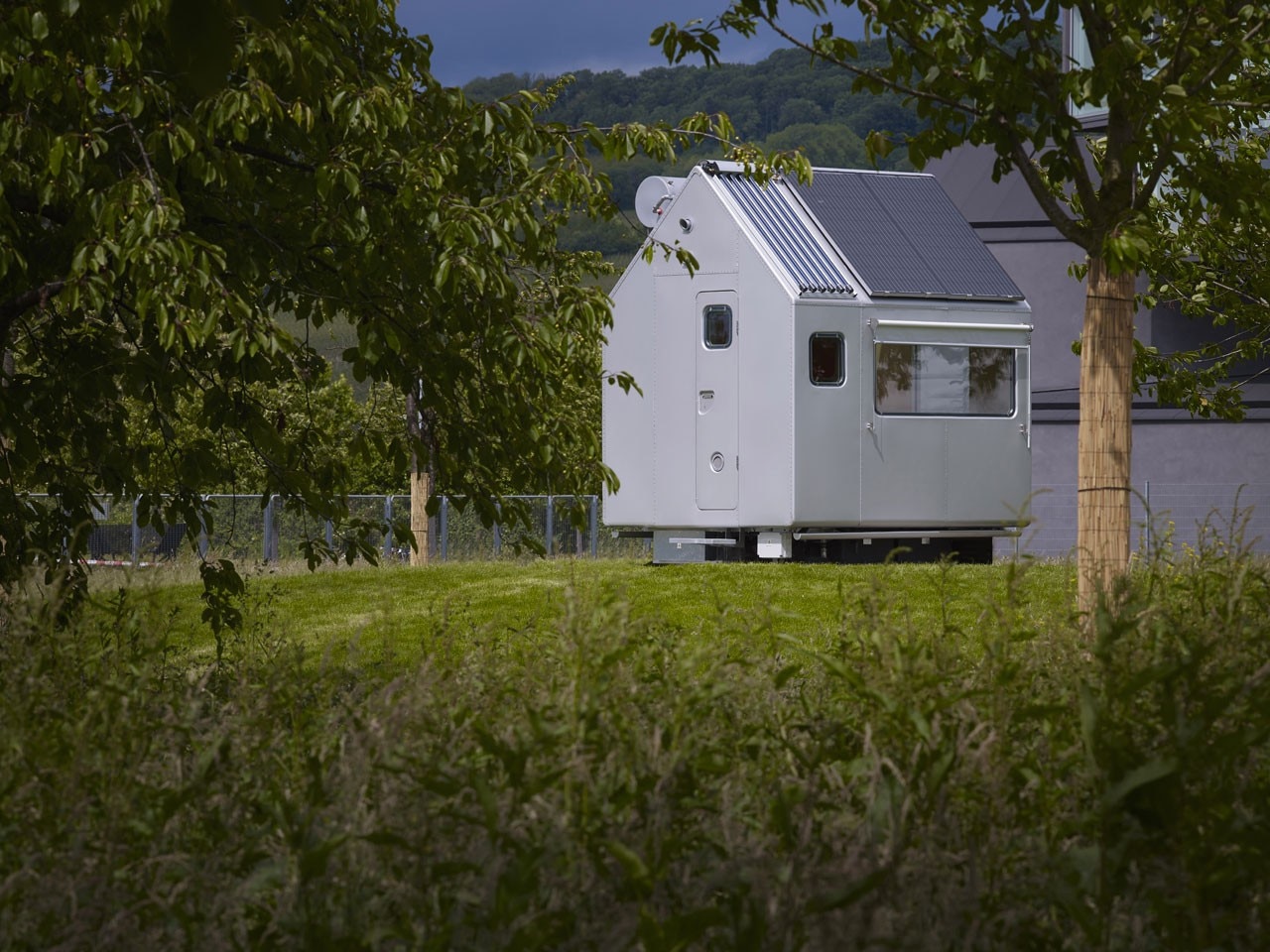 For Renzo Piano, the ideal of minimalist housing has been a consideration since student days. A living space of two by two by two metres — just enough space for a bed, a chair and a small table — is a dream many architecture students share. About ten years ago, of his own volition and without a specific client, Renzo Piano began developing a minimalist house. Various prototypes were developed in Genoa — from plywood, concrete and, finally, from wood. The final version of the project, which Piano dubbed Diogene, was a wooden saddle-roofed house with a 2,4 x 2,4-metre surface area, a ridge height of 2,3 metres and a weight of 1,2 tonnes. Chairman of Vitra AG Rolf Fehlbaum read about the project and immediately felt attracted to Renzo Piano's ideas. After three years of development work, a new Diogene prototype is now being presented at the Vitra Campus on the lawn opposite the VitraHaus. It is not a finished project, but an experimental arrangement enabling Vitra to test the potential of the minimalist house. While usually only products which are ready for series production are presented to the public, Vitra decided to let the public take part in the testing of Diogene due to the complexity of Renzo Piano's project. The further development of the project and whether it will go into series production will be decided on at a later date.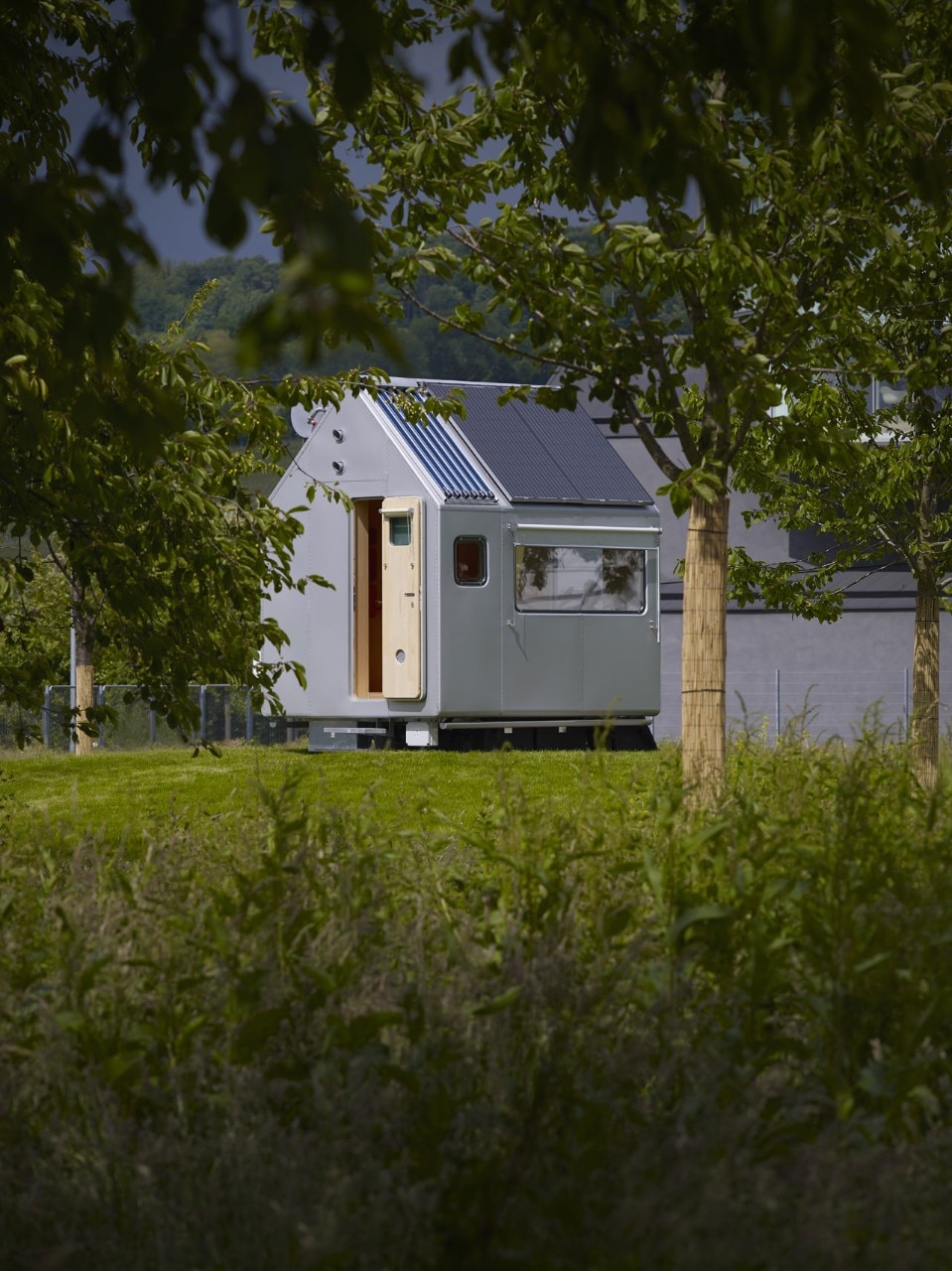 Diogene is not an emergency accommodation, but a voluntary place of retreat. It is supposed to function in various climate conditions, independent of the existing infrastructure, as a self-sufficient system. The required water is collected by the house itself, cleaned and reused. The house supplies its own power and the necessary platform is minimised. Renzo Piano emphasises its aspect of "spiritual silence". "Diogene provides you with what you really need and no more," Piano states.
As architectural references, Piano lists the Cabanon, which Le Corbusier constructed at the beginning of the 1950s in Cap-Martin in the Côte d'Azur, the prefabricated house structures of Charlotte Perriand, and the Nakagin Capsule Tower, which Kisho Kurokawa erected in Tokyo in 1972. The late 1960s and early 1970s in London were very formative years for Piano: In the interview, he mentions one particularly important influence during this era as being Cedric Price with his "Fun Palace" and the hippie movement.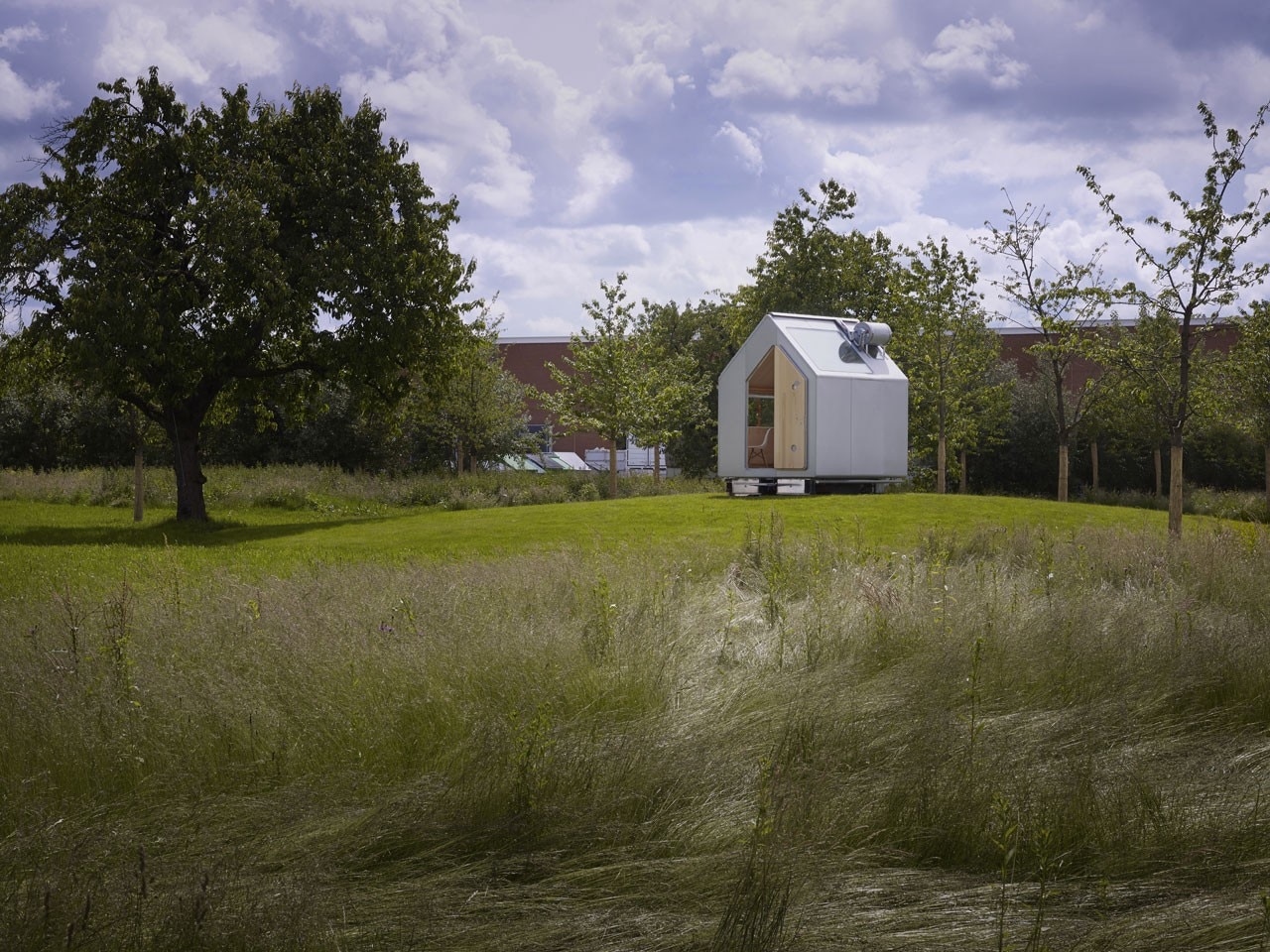 Named after philosopher Diogenes — who is said to have lived in a barrel because he considered wordly luxuries superfluous—, Renzo Piano's Diogene is a minimalist living unit which functions completely autonomously as a self-contained system and is thus independent of its environment. With a surface area of 2,5 x 3 metres when fully assembled and furnished, it can be loaded onto a lorry and transported anywhere. Whereas Diogene's exterior corresponds to the image of a simple house, it is in truth a highly complex technical structure, equipped with various installations and technical systems that are necessary to guarantee its self-sufficiency and independence from the local infrastructure: Photovoltaic cells and solar modules, a rainwater tank, a biological toilet, natural ventilation, triple glazing. To optimise the house's energy, Renzo Piano is working with Matthias Schuler from Transsolar, while Maurizio Milan is responsible for static equilibrium.
This little house is the final result of a long, long journey partially driven by desires and dreams, but also by technicality and a scientific approach
Diogene is equipped with everything needed for living. The front part serves as a living room: on one side, there is a pull-out sofa; on the other, a folding table under the window. Behind a partition, there are a shower and toilet as well as a kitchen, which has also been reduced to the necessary. The house and furnishings form a single unit. The house is constructed from wood with a warm character, which also defines the interior. For weather protection, the exterior is coated with aluminium paneling. The overall shape and saddle roof resemble the archetype of a house, but its rounded-off corners and the all-over façade materials also give the impression of a contemporary product. It is no simple hut, but instead a technically perfect and aesthetically attractive refuge. The great challenge lies in planning the complex product so that it is suitable for industrial series production. "This little house is the final result of a long, long journey partially driven by desires and dreams, but also by technicality and a scientific approach," explains Renzo Piano.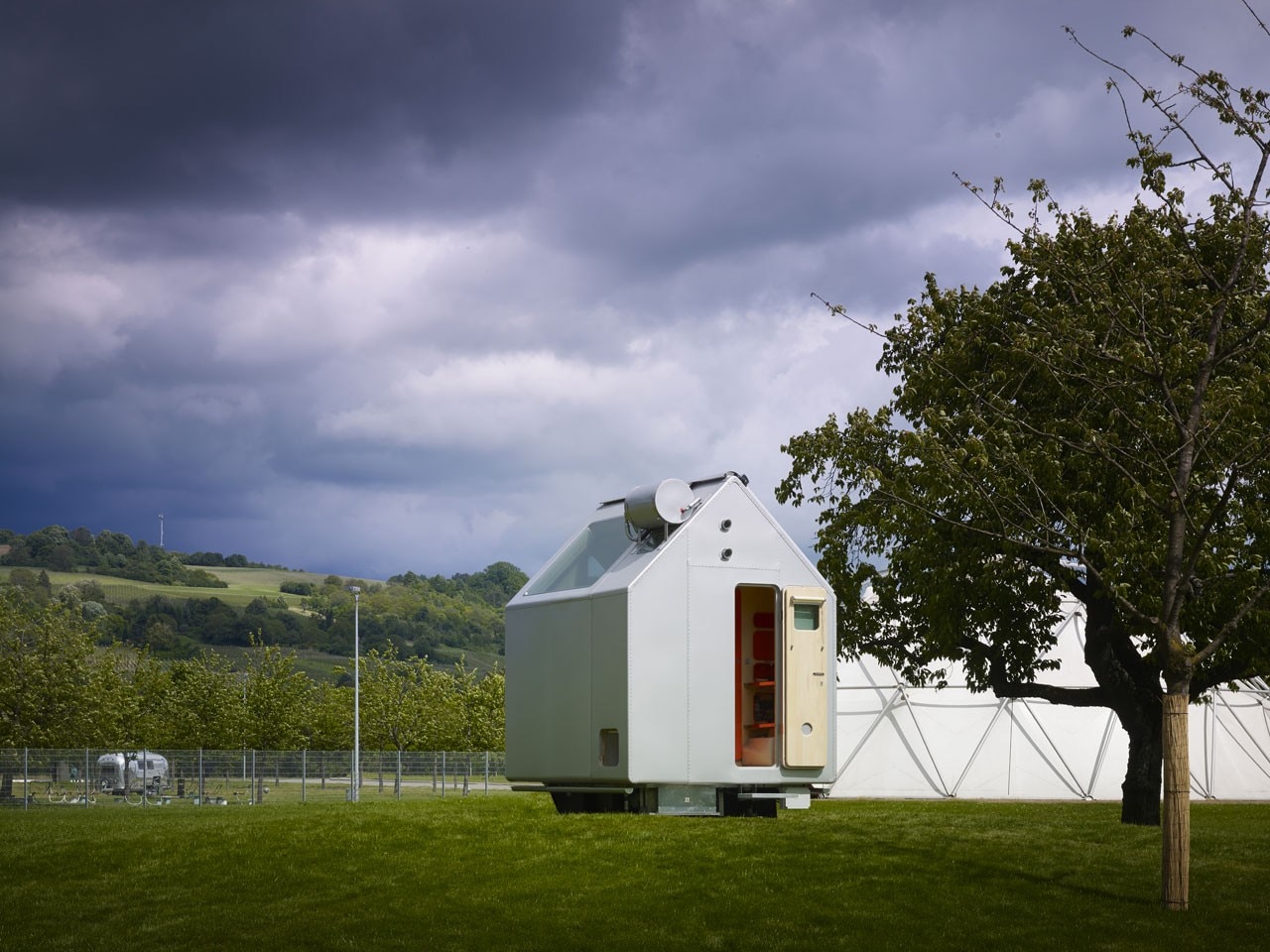 Diogene has several possible uses: as a little weekend house, a "studiolo", a small office. It can be placed freely in nature, but also right next to one's workplace, or even as a simplified version in the middle of an open space office. However, it is also conceivable to erect groups of houses, as an informal hotel or guest house. Diogene is so small that it functions as the ideal retreat, but purposely does not cater for all needs to the same extent. Communication, for instance, will take place elsewhere — and thus Diogene seeks to prompt a redefinition of the relationship between the individual and society.