Housing in New York City is not easy to find. That is no secret. The city's population is at its highest and steadily increasing. In the next 20 years, the population is expected to grow by roughly 600,000 people, and yet housing conditions are already compromised. Many New Yorkers are living in illegal and often unsafe shared and informal arrangements. But what will happen when more people must squeeze in? Where will they live? How will the city make room?

These are the questions that Making Room: New Models for Housing New Yorkers, an exhibition at the Museum of the City of New York, sets out to investigate and answer. A partnership between the Citizens Housing & Planning Council and the Architectural League of New York, the project attempts to disrupt New York's present housing situation by exposing the regulations that make finding safe and agreeable housing difficult, along with those policies that make building new housing models nearly impossible. Many of the city's housing codes, instituted throughout the 20th century, are outmoded and counterproductive — misrepresenting the city's current demographics and urban fabric. The result is a discrepancy between the homes that people need and those they can find.

The Making Room project began with a Design Challenge in the Fall of 2011. Five architect teams were tasked with designing new building types and domestic models. The projects, lead by architects Stan Allen and Rafi Segal, Deborah Gans, Team R8, Ted Smith, and a team of young designers mentored by Peter Gluck, envisioned scenarios in which homes could accommodate the contemporary New York household — these, as it turns out, are not the nuclear households of our past, which many building codes tend to favour. Only 18 per cent of the city's housing is occupied by the so-called nuclear family; that is, two parents and children under the age of 25. In fact, the majority of households are increasingly made of singles, couples with no children, single parent families and a number of other diverse arrangements.
Upon entering the exhibition, you first encounter an array of data and infographics — situating the project historically, politically and analytically. These describe the key housing regulations in question and reinforce the ambition to produce real and tangible change. The walls of the main gallery display the Design Challenge proposals with architectural models at various scales dotted throughout the space. Some models suggest general building form and massing, while others, like those of the Gluck and Team R8 teams, depict detailed scenes of interior activity and use. The back of the gallery is devoted to a survey of micro-housing built in cities across the world, including Tokyo, San Francisco, and Seattle, while the centre of the room is occupied by a full-scale mock-up of a 30-square-metre studio apartment with transformable furniture. The overall exhibition layout can be quite crowded and tight, potentially an intended pun by the exhibition designers to augment the city's densification. Although the full-scale apartment gives an excellent sense for how one might live in a small space, the design proposals provide detailed investigations into a variety of unit types as well as how they might arrange with each other and within the urban fabric.
Each team established provocations by challenging a selection of housing policies. For instance, architects Stan Allen and Rafi Segal proposed modifying three regulations — occupancy, minimum room and unit size, and live/work. These current restrictions limit the number of unrelated adults that can live together to three, set the minimum unit size to 37 square metres, and restrict live/work spaces to certain neighbourhoods. Their project Block/Tower: Elements of a Vertical Neighbourhood, converts an obsolete midtown office tower into a mix of commercial, retail, residential, and common spaces. Taking advantage of large floor plates and ceiling heights, they experiment with a variety of unit types that cleverly interlock around a functional core.
While specific designs are suggested, the point is that by making a few updates in policy and recalibrating our perception of the contemporary home, we can extend the possibilities for housing New York City's growing and diverse population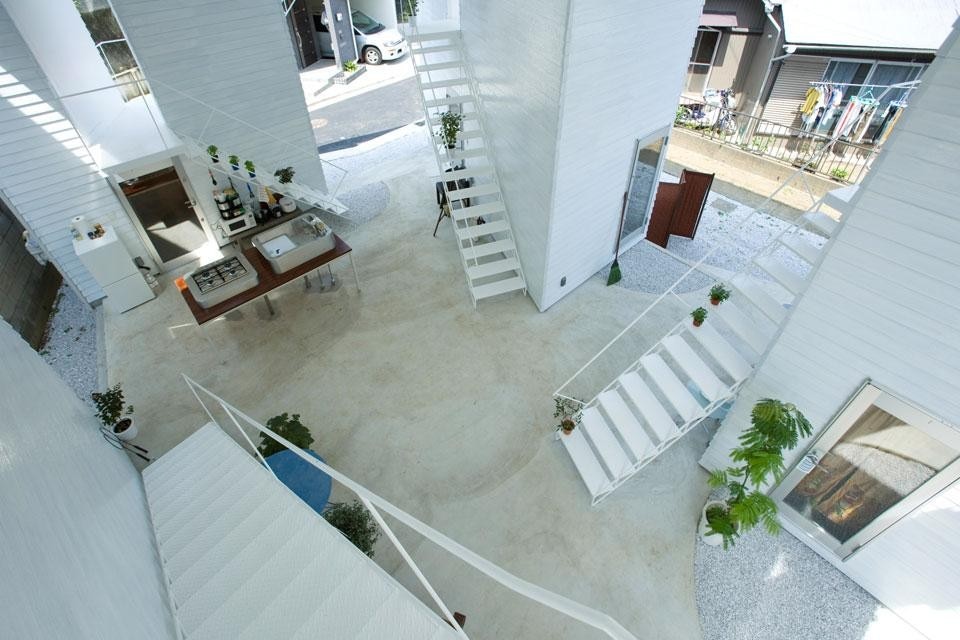 Deborah Gans' proposal Local Addition depicts the single-family home transforming in stages to accommodate a household's changing needs. Additions and insertions make room for growing families, visitors, and renters — making the use of Accessory Dwelling Units legal in places they are otherwise forbidden. The overall effect is a harmonious addition to the neighbourhood fabric, as the home grows, contracts and ages alongside the family.
A Home of One's Own, by Peter Gluck, Terri Chiao, Deborah Grossberg Katz, Joseph Vidich, and Leigha Dennis — a project I know more intimately, because in full disclosure, I am in this group — doubles the density of the ubiquitous New York City townhouse lot by arranging micro-lofts along a thin side-yard. 4,5 metre ceiling heights and large mezzanines are used to express a sense of openness in an otherwise small space. By exchanging elevators for common spaces and arranging units along the length of the building, one can build more units more affordably — giving the growing constituency of singles, elderly and small families the option to live roommate-less without sacrificing amenities like private bathrooms and kitchens.
Team R8, an interdisciplinary group of architects, landscape architects and developers lead by Jonathan Kirschenfield, Karen Kubey, Nancy Owens, Susanne Schinder, Brian Schulman, Erin Shnier and Margaret Tobin, proposed The City as a Living Room: Single and Shared Living in the Bronx, which points out that if the same regulations presently used for Supportive Housing were applied to a wide variety of sites, we could already be producing mid-rise dense housing throughout the city—particularly in R8 zones. Sited in the Bronx's Grand Concourse, their proposal transforms the street into a lively public space — an extension of the adjacent housing that provides an array of unit types from micro-studios to flexible shared apartments.
While specific designs are suggested, the point is that by making a few updates in policy and recalibrating our perception of the contemporary home, we can extend the possibilities for housing New York City's growing and diverse population. The intention of the Making Room project is not to glorify the design process, but rather to intervene and reconcile issues in policy. It acknowledges that the city is already growing and urges architects, developers and administrators to plan ahead accordingly. Last year Mayor Bloomberg initiated the AdAPT NYC design and development competition, in which the city has agreed to suspend its current housing codes on a lot in Kips Bay — allowing the construction of a building made entirely of units less than 27 square metres. The final proposals are exhibited in Making Room, including the winning project My Micro NY by nArchitects with developers Monadnack and the Actors Fund HD. Their proposal for nine stories of pre-fabricated modular units is slated for completion in 2015, and assures that alternatives for housing are quite possible in New York City's near future. Leigha Dennis (@spare_ohs)