"Soviet Modernism" is a polarising term, either regarded with nostalgic glorification or profound contempt. Since the fall of the iron curtain enough time has passed for a more objective approach to the architectural heritage of the former Soviet Union, and at the Architekturzentrum Wien, the Soviet Modernism 1955 – 1991. Unknown stories exhibition starts a serious effort to do so. It shows clearly that planning and building in the former Soviet Union was neither centralist nor uniform, but a very diverse, complex and regionally specific phenomenon. The curators — Katharina Ritter, Ekaterina Shapiro-Obermair and Alexandra Wachter — travelled several times to Eastern Europe, the Baltic States, the Caucasus and Central Asia to investigate in the region. They visited buildings, talked to local architects, consulted with experts and conducted research in several archives. This work unveiled some remarkable pieces of architecture, interesting planning personalities and many unknown stories about building culture and practice in the former Soviet Union.

It is absolutely recommended to listen to the interviews with local architects and town planners displayed on some screens in the exhibition, designed by Six & Petritsch in a very simple manner. The show presents an overview on the second modernism behind the iron curtain after the Second World War, from 1955 – 1991. A selection of buildings from fourteen different countries, all republics of the former USSR, is shown distributed in panels — one for each country. With full awareness Russia was left out, as it would simply have gone beyond the scope, and making it easier to concentrate on the fourteen other republics. Each of them developed its specific strategy of dealing with the Gosstroy, the highest building authority, allowing architects and project institutes to create their regional form of "Soviet Modernism".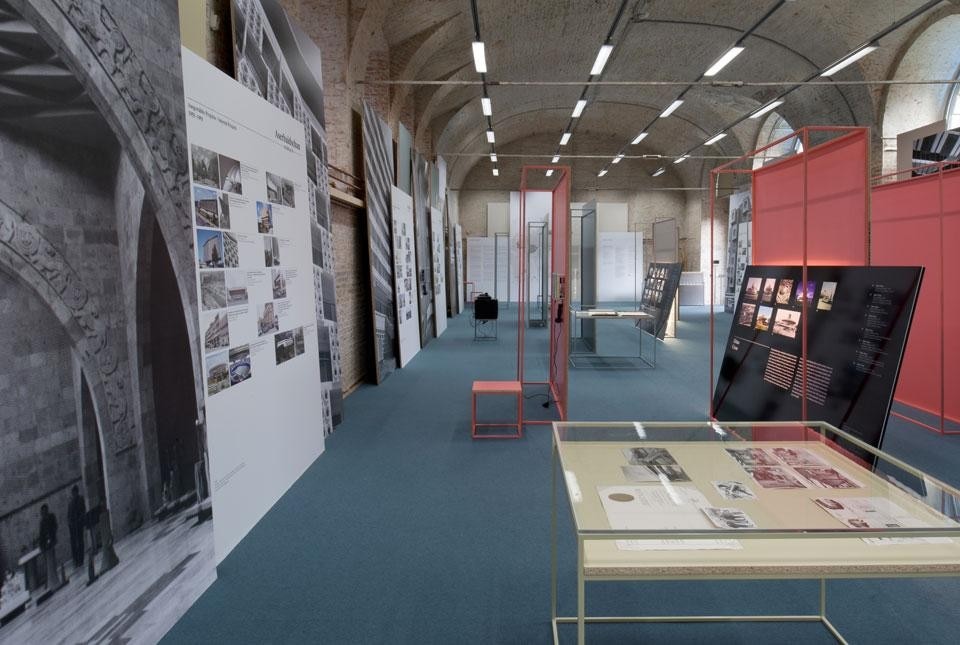 It is interesting to observe how particularly the Baltic States — Estonia, Latvia, Lithuania — were regarded as very European and popular holiday-destinations. Architecture in these countries is obviously influenced by Finland and Scandinavia. In Tallinn one could find nice cafés, in the Estonian capital it was even possible to build single-family-houses. They became a field for experimentation for emerging talents. The house planned by architect Raine Karp for himself seems to be very inspired by Arne Jacobsen. Remarkably expressive is the layout of Tourist, a shop for foreign currencies built in the early 1980s by Peep Jänes and Henno Seppmann. The cultural climate was open for western influences, and in the 1970s the Talinn School brought up a very self-contained group of architects. Toomas Rein, Vejo Kaasik, Leonhard Lapin, Vilen Künnapu, Jüri Okas, Avo-Himm Looveer, Ain Padrik, Jaan Ollik, Tiit Kaljundi and Ignar Fjuk dared to criticise the soviet way of planning for the masses and produced many utopian "paper-projects".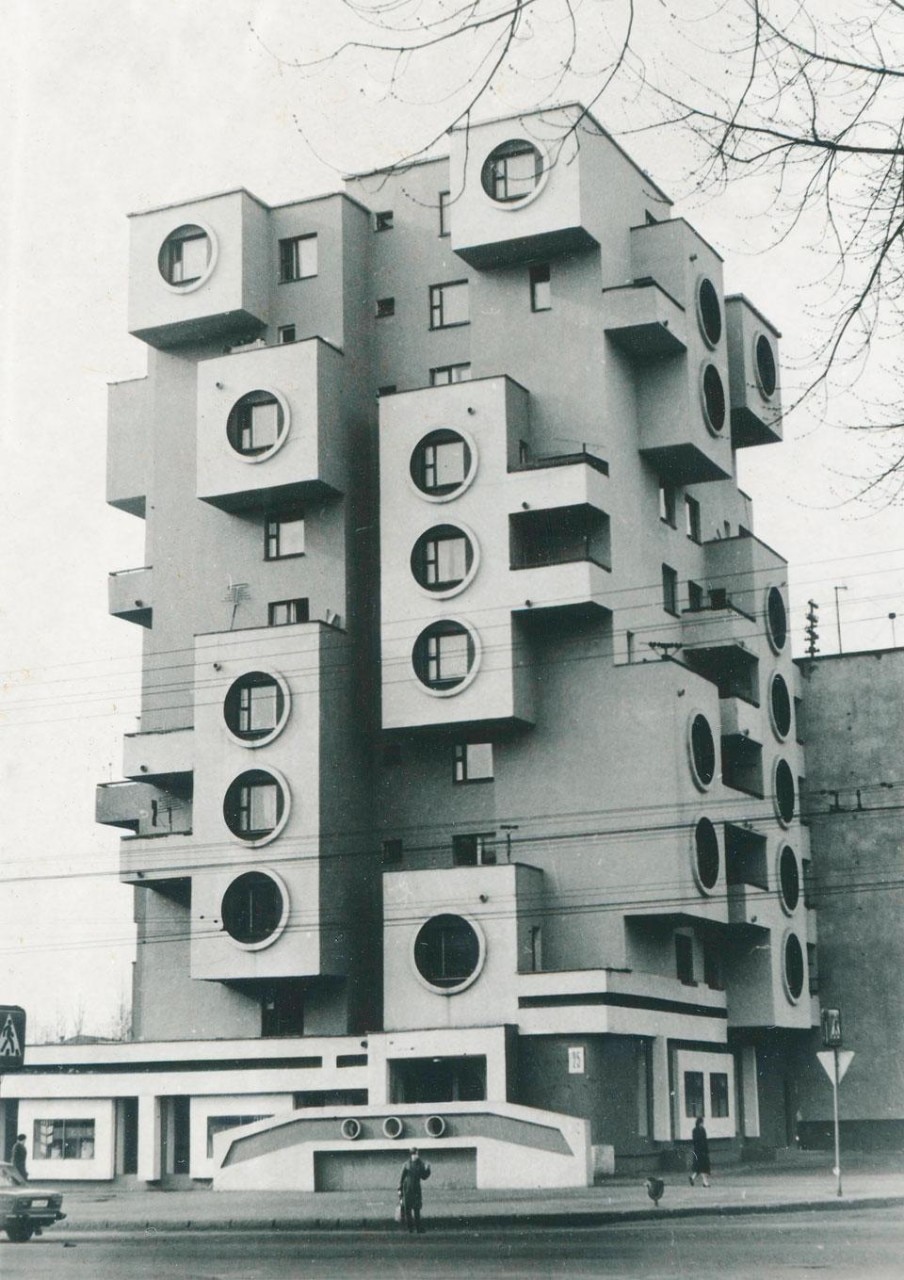 In Armenia, Soviet Modernism often materialised with the help of white marble and red tuff. The ethnological museum in Armavir — which was planned by Rafael Israelyan with a great number of arches — is a good example, evoking local tradition. In contrast the impressive holiday resort for writers, designed by Gevorg Kochar, looks as if it had escaped from a science fiction film. It is situated at a lake and seems to fly over the landscape. Alongside it, Zhanna Mesheryakova's house for chess-players in Yerevan is a great piece of modern architecture.
Each of these fourteen republics developed its specific strategy of dealing with the Gosstroy, allowing architects and project institutes to create their regional form of Soviet Modernism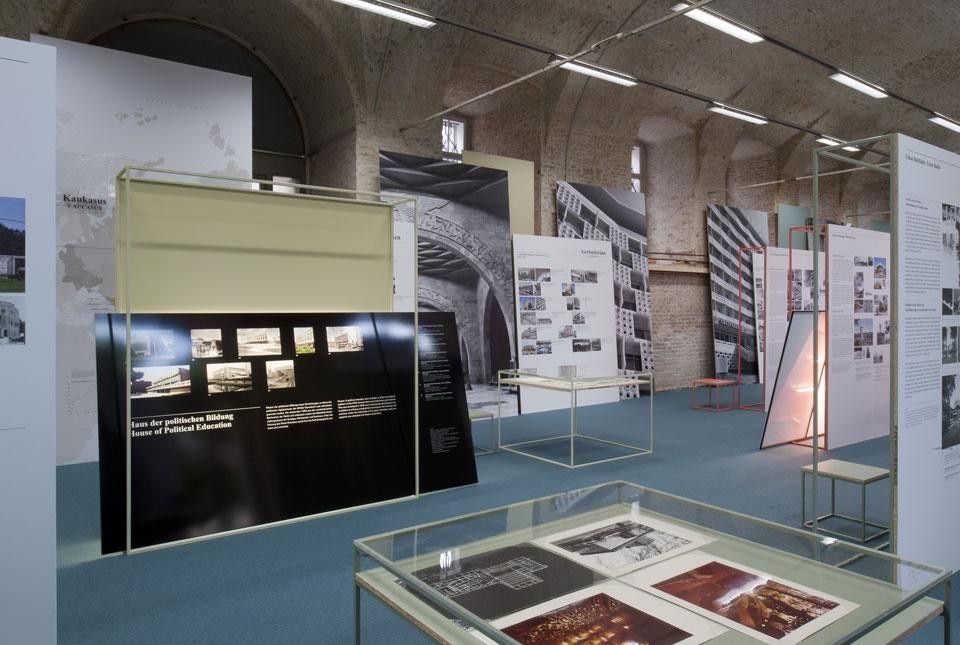 Even mass living units were built in different ways. In Uzbekistan, for example, brothers Pyotr and Nikolay Zharski invented their own method for producing mosaic displays on the precast concrete slabs of housing blocks. It took them one week to finish the ornament of eight slabs, which usually were sufficient for one floor. On many buildings in Tashkent you can find the decorative mosaic ornaments of the Zharski brothers.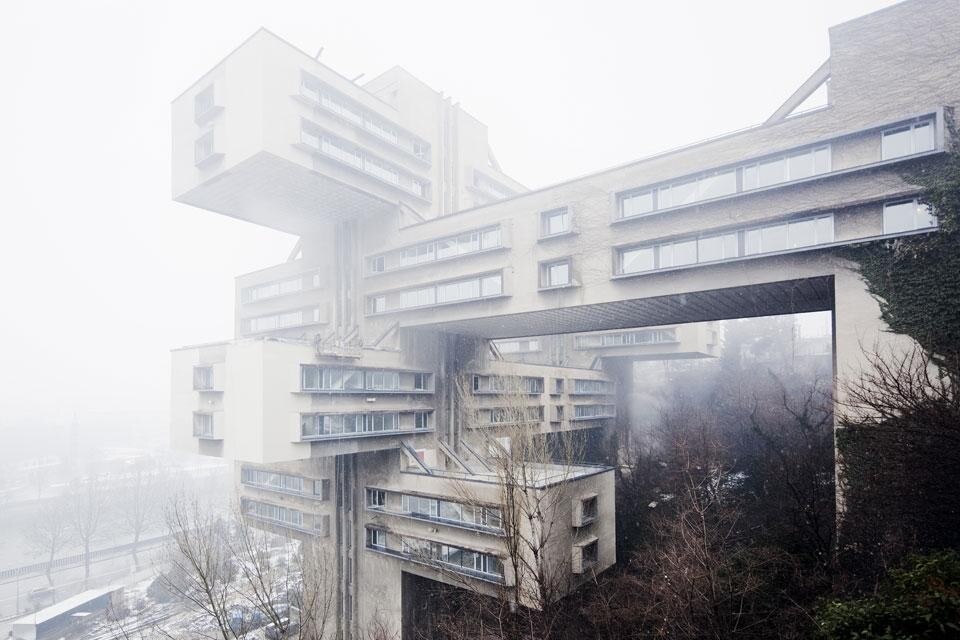 The exhibition also introduces some principle types of building that where promoted by the communist system and could be found throughout the whole Soviet Union. Circuses were regarded as high-quality alternative to the theatre. Artists were educated and trained in special schools, and for architects the winter-circus was a challenging task. It brought out many beautiful buildings with concrete domes like the one in Tashkent, which was planned by Genrikh Aleksandrovich and Gennady Masyagin. The influence by Pier Luigi Nervi is obvious. The circus in Almaty by Vladimir Katsev and I. Slonov is very impressive. In a similar way huge market halls were built; one of the most original interpretations can be found in Baku, where Uruzmag Revazov and P. Yarinowsky added many domes of different sizes to one big roof with some roof lights covering the market.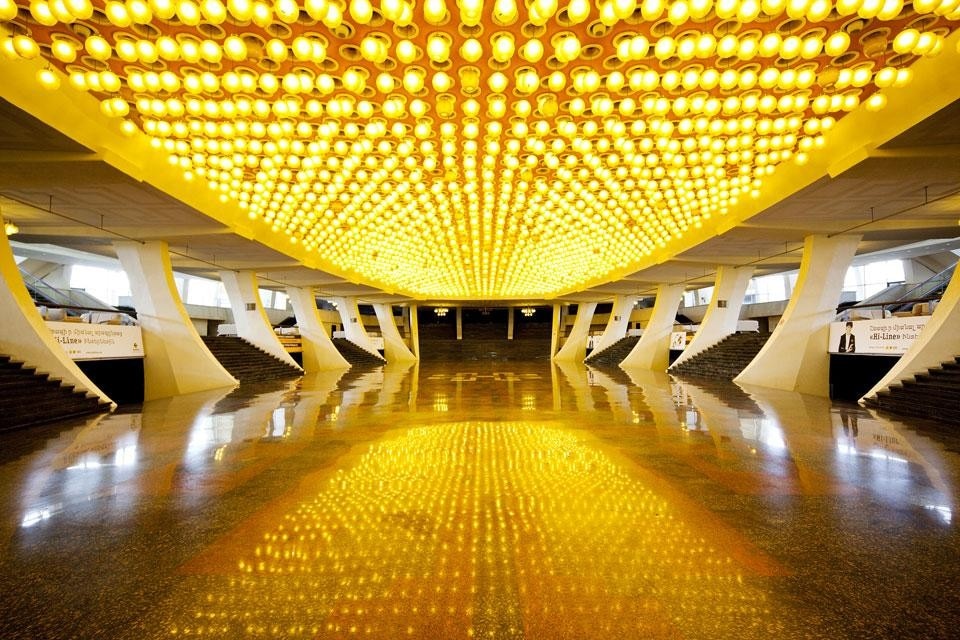 Another very typical form were buildings for collective remembering and mourning: monuments for victims from fascism, soldiers from the second world war or other patriotic heroes could be found all over the former Soviet Union. Their architectural language is sometimes quite pathetic and sculptural. A third very important topic addressed by the exhibition is the erection of kindergartens, schools and camps for youngsters. As compensation for churches the system also invented "palaces for wedding".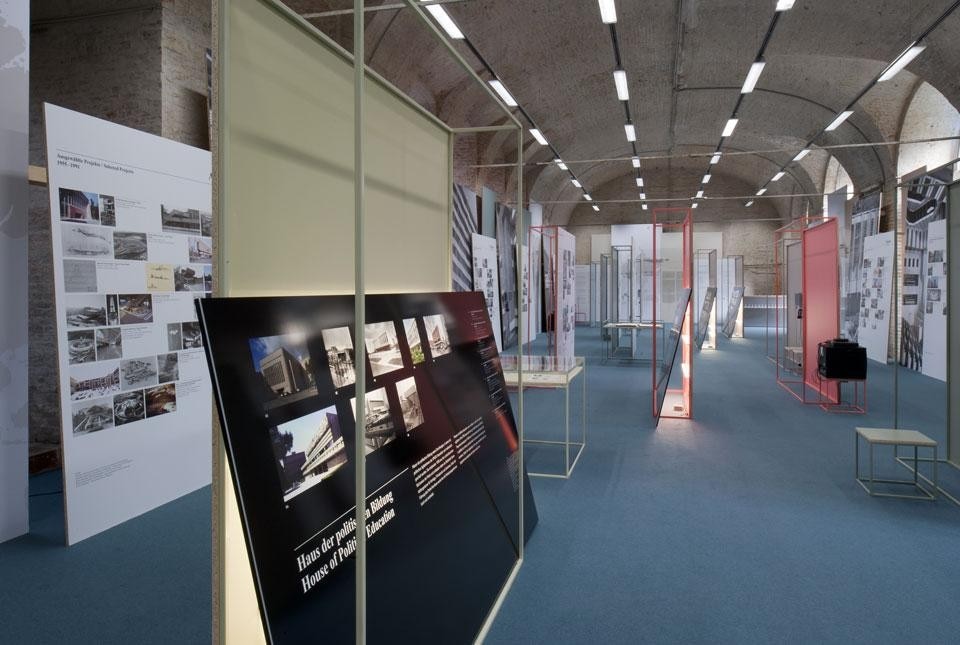 Obviously the iron curtain was quite permeable to western influences. Frank Lloyd Wright, Le Corbusier, Oscar Niemeyer, Kenzo Tange and Alvar Aalto were important references in Soviet modern architecture. "We want to make buildings visible, which represent a certain time in history and are endangered to disappear", the exhibition's curators remark, pointing out how the modern heritage of the former Soviet Union is slowly vanishing. Either the lack of money for restoration leads to the decay of the buildings or they are renovated in a destructive way. Some of them could hardly be recognised by the curatorial team, because their appearance suffered from new marble façades. The exhibition thus becomes, also, a very important exercise in documentation. Isabella Marboe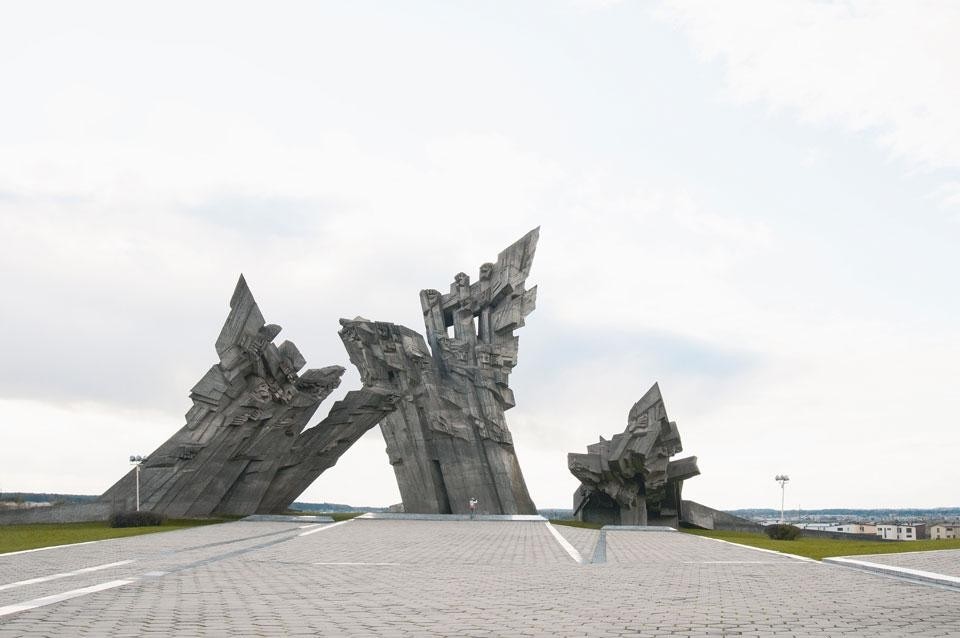 Through 25 February 2012
Soviet Modernism 1955-1991. Unknown Stories
Architekturzentrum Wien
Museumsplatz 1, Vienna