Storefront for Art and Architecture was founded in 1982 as a non-profit organization dedicated to the advancement of architecture and the built environment. Ten years after its opening, artist Vito Acconci and architect Steven Holl were commissioned to rethink and redesign the façade of Storefront's narrow, wedge-shaped exhibition space. Their solution, a façade with 12 puzzle-like rotating panels, gave the organization a striking new identity and the Kenmare St. gallery quickly became a New York City architectural landmark. It has now been twenty years since Holl and Acconci's porous façade first dissolved the boundary between street and gallery, and Storefront has once again commissioned artists and architects to rethink their space. Aesthetics/Anesthetics is an exhibition of 30 architectural drawings depicting Storefront's gallery created by an international coterie of emerging and established professionals, including Teddy Cruz, Sam Jacob, Jimenez Lai, Luis Callejas, MOS, Interboro Partners, Perry Kulper, Jorge Otero-Pailos, LTL, and many others.

Though the gallery itself is the subject of the exhibition, the content of the drawings address a larger question about architectural representation: "What is it that an architectural drawing does and how does it do it?" This question was prompted by what Storefront identified as a concerning preponderance of new representational clichés that serve only to obfuscate architecture with a variety of utopian — or, at the very least, idyllic — embellishments. These crutches can be found on every blog and in every magazine; they include images of birds soaring through impossibly beautiful skies, children running with balloons, and mysterious patches of "green" that presumably represent the anticipated development of an architecturally-perfect plant. Storefront plastered their interior with these carefully manicured renderings in a chaotic interpretation of the "Post No Bills" wheatpaste aesthetic prevalent in New York City — an appropriate gesture considering that, like the posters adorning the city's scaffolding, these trope-filled images are little more than advertisements. With drawings covering even the gallery floor, visitors literally walk all over them.
On the wall opposite these poisonous images are the 30 commissioned antidotal interpretations of Storefront. They're beautiful. And they're incredibly diverse, with nearly impenetrable abstractions of the space, such as Jorge Otero-Pailos's Soiled S and MOS's Drift, Screen Capture No.33., hanging alongside poetic expressions, like that of Productora's Figure 1 to 3: on Scale, Orientation and Geometry, a shadowy, de Chirico-esque re-imagining of Storefront as both temple and tower.

The iconic rotating panels proved an irresistible lure for many of the invited artists. Jimenez Lai's storefront back of house, drawn in his characteristic comic style, is, even as a single piece, more interesting than Bjarke Ingels's superficial appropriation of the comics aesthetic, Yes is More (Speech bubbles, it should be mentioned, are another of the New Tropes). But Lai's comic is silent. The panels of the gallery façade are transformed into the panels of a comic that tell a story of hidden treasure in Storefront's rarely visited basement archive.
Some of the invited architects were more introspective, embracing the inherently reflexive exhibition as an opportunity to further develop their own project. Teddy Cruz's submission, Storefront: (de)Border Threshold (Cultural Coyote), is a clear homage to Guy Debord's psychogeographical map of Paris — a détournement of a détournement that invites the viewer to navigate Storefront's porous façade via the porous fencing along the America-Mexico border — a familiar boundary in Cruz's work. Sam Jacob's entry reflects some of his recent work exploring the role of repetition in architecture. In 660 Storefronts Jacob flips and mirrors Storefront's triangular plan, abstracting it into a repeating pattern. The use of repetition transforms one of the most recognizable buildings in New York into a generic wallpaper. It's an interesting counterpoint to Aziza Chaouni's Google Google on the net, Who's the fairest of them yet? Chaouni repurposes the publicly-downloadable elevation drawing of 97 Kenmare St., extending the panelled façade with an infill of Google image search results for the term "storefront for art and architecture." Each of the rotating panels, which collectively give Storefront its identity, become a miniature representation of the entire gallery. The repetition here is not one of identical forms, as in 660 Storefronts, but it still communicates a generic perception of Storefront through a collective, populist representation.
Aesthetics/Anesthetics proves that renderings can — and perhaps should — be operative. They could potentially communicate more complex ideas. Perhaps they can even encourage the creation of a new architecture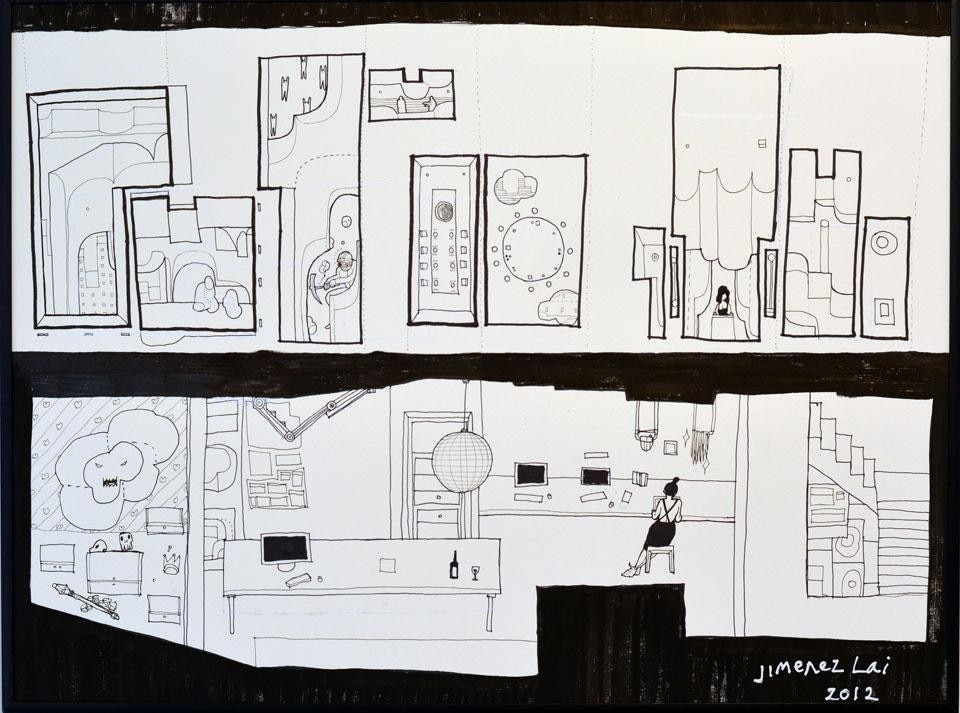 Chaouni's work was not the only to utilize Google ready-mades. Julien de Smedt's NOFRONT FOR ART & ARCHITECTURE is a hand-drawn recreation of 97 Kenmare St. as seen in Google Maps street view, with one noticeable change — the removal of the Storefront for Art and Architecture. Storefront outside, the submission from Meyer-Grohbrügge & Chermayeff, also removed Storefront from a Google Maps street view, isolating the volume of the gallery and filling it with an extracted, distorted image of Kenmare St., thereby inverting the relationship between interior and exterior so that street becomes space.

In a room collecting such radically subjective representations of a single space, these Google-influenced portrayals are especially poignant. Today, meaning, like understanding, is born through repetition. And for better or worse Google's images are shaping public perception of the built environment as it becomes increasingly easy to upload, share, and aggregate digital images. It's right that they should be subverted or challenged because the Google image matrix is becoming as dangerous a trope as any bird, child, or speech bubble.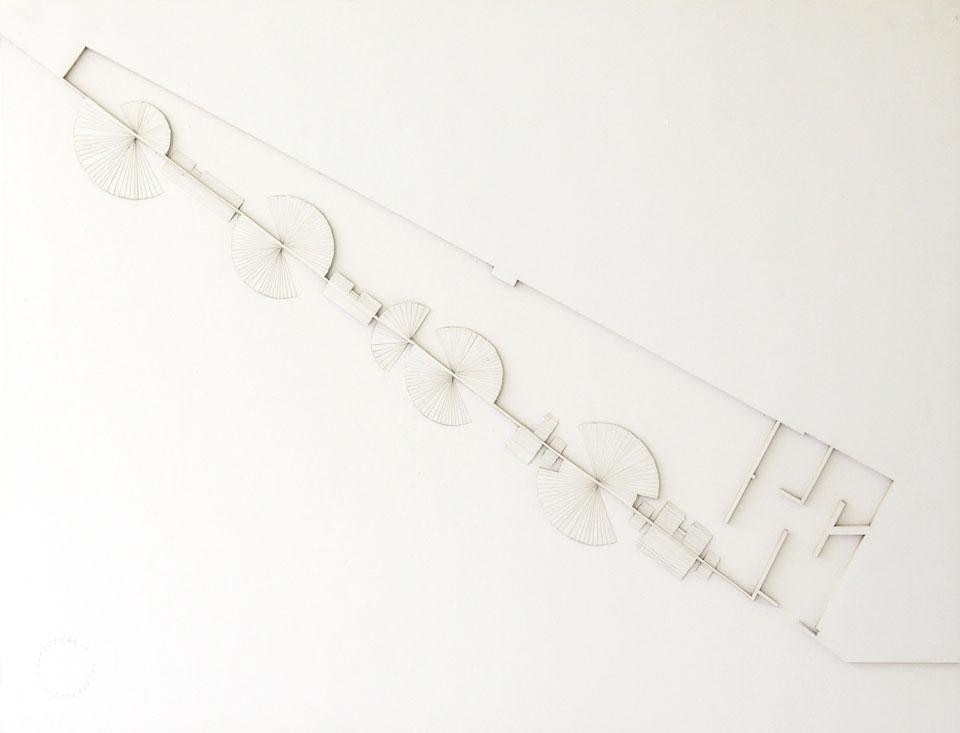 The numbing tropes and clichés of search engine results and contemporary renderings too often result in a static, idealized vision of architecture. Architecture, like life, is neither static nor idealized. To represent a building as an ideal moment is to represent nothing less than pure fiction. Architectural space has latent qualities, uses, and meaning that can't be captured by a straightforward notation or commercial rendering. When considered as a whole, Storefront's 30 commissioned drawings make one thing clear: culture, context, and communication define a building as much as plan, section, and elevation. Aesthetics/Anesthetics challenged its participants to create drawings designed to provoke rather than to be consumed. The drawings, in turn, challenge the viewer to decipher them and, in so doing, gain a new understanding of architecture. Aesthetics/Anesthetics proves that renderings can — and perhaps should — be operative. They could potentially communicate more complex ideas. Perhaps they can even encourage the creation of a new architecture.
On a sunny summer day, when the gallery is empty and its panels are open, an aspect of Storefront is revealed that can't be captured in a single photo or rendering. Like an uninitiated passerby attracted by the strange façade, the city itself is drawn into the gallery. Fragments of Kenmare St., shaped by Storefront's rotating panels, are reflected in the glass fronts of the 30 drawings, becoming an urban palimpsest that anchors the renderings, no matter how abstract, in the context of New York City. In any other exhibition space, these reflections would be incredibly distracting. But it feels appropriate at Storefront, a gallery whose very identity is based on improbable perspectives, indeterminate boundaries, and the city itself — birds, children, balloons, and all.

Aesthetics/Anesthetics will be on exhibit until 28 July 2012. At its conclusion, the thirty works of art will be auctioned off, with prices starting at $300. All proceeds will be put toward Storefront's programs and exhibitions. Jimmy Stamp (@lifesansbldgs) writes about architecture from New Haven, CT.