The Sportni Park Stožice is a dual stadium — stadium plus arena — and already an icon that has changed the skyline of Ljubljana, the capital of Slovenia, a young former Yugoslavian Republic which completed 20 years last summer. Stožice is a dual stadium and a dual gamble; it is a hybrid where public and private mix. The arena and football stadium double up as a venue for rock concerts and cultural events. Sitting beneath grass and a city park, they are "closed" by a private shopping centre still under construction. The objective was to create a new pole of attraction while revitalising and changing what was a city suburb with small architectural prodigies, just like Manhattan's High Line and the Guggenheim in Bilbao.

"The dual stadium is also a dual architectural sign: female/male, open/closed, heavy/light, Yin/Yang", declare Boštjan Vuga and Jurij Sadar, the architects. "The dual definition also applies to the floating arena and sunken stadium. We tried not to create identical twins but two different identities that dialogue with each other. The external and visible arena — which the locals have already nicknamed the scallop after the shell — has been integrated into the skyline but the stadium is like a crater, excavated in the park". They do, however, have an intentionally common trait, explains Sadar, "Both structures have the same roof: aluminium scales in two colours, silver and gold."

The dual stadium is already a landmark. So much so, that it was chosen to be featured on the cover of Sadar+Vuga: A Review, the book celebrating the practice's first 15 years. Published by Berlin's Hatje Kantz, contributing architects to the volume travelled especially to Slovenia from all over the world — America, Holland and Germany.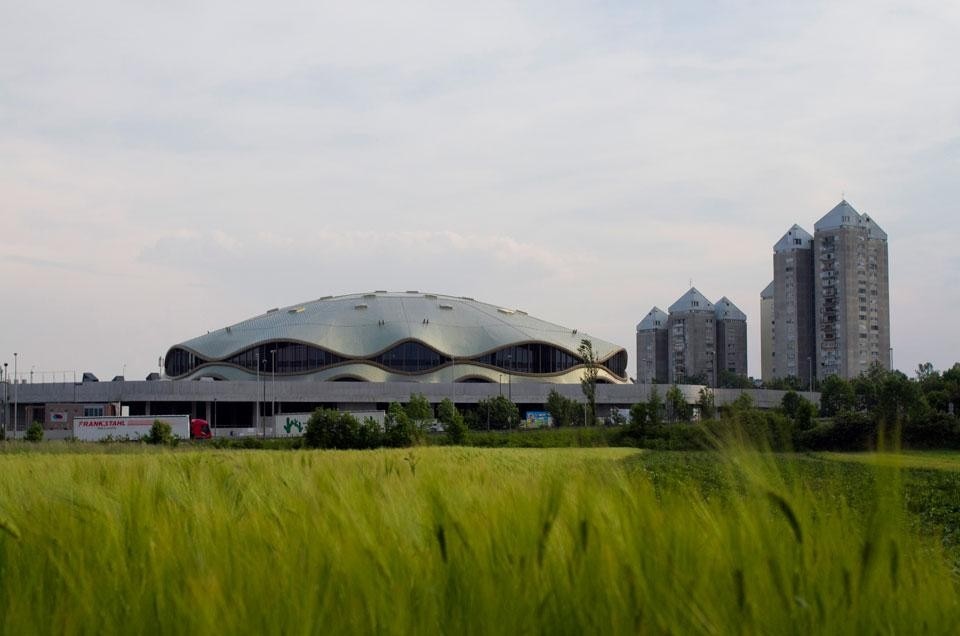 Sadar+Vuga was established by Boštjan Vuga and Jurij Sadar in 1996. "We were lucky", they admit "because, just out of university, we won two competitions one after the other for two large projects in Ljubljana: the Chamber of Commerce and the extension of the Narodna Galerija, the national gallery. They were our springboard. We haven't stopped since then. 90% of what we have built so far is in Slovenia. It is typically national, but not nationalistic architecture. It is a case history on how architecture can influence the territory and generate social change. We only provided the hardware."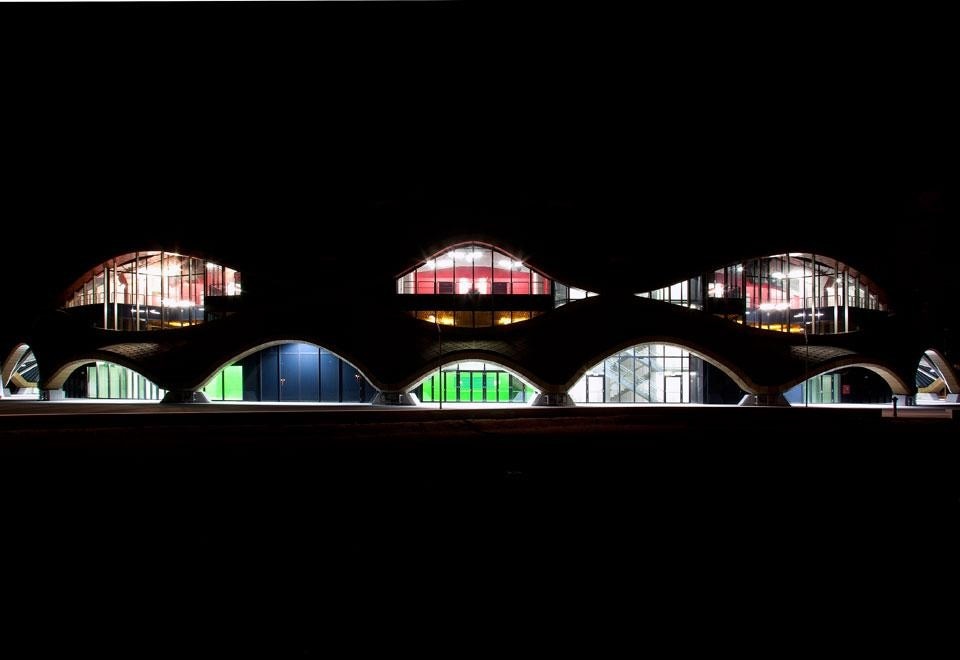 Little is known about new eastern European architecture. How would you describe your style? "I would say Glam Socialism", replies Boštjan Vuga. Glam Socialism is an oxymoron. Are you being provocative? "No. I would describe Glam Socialism with three parameters. One: the buildings must reveal the national ambition. Architecture as a sculptural object, or rather sculpture as an added value to the architecture. Then, it must have mass, to last; this is not light architecture, it is made to stay, to endure. Last comes seriousness. There are, of course, playful elements but Glam Socialism is primarily austere." Could Glam Socialism be exported? It would seem so, since, apart from the first Slovenian design hotel due to open in Ljubljana at the beginning of July — named Vander, overlooking the river that flows through the city—, Sadar Vuga's latest projects include a soon to be commenced construction in Ghent, Belgium, where the architects have designed a university campus.
The external and visible arena — which the locals have already nicknamed the "scallop" after the shell — has been integrated into the skyline but the stadium is like a crater, excavated in the park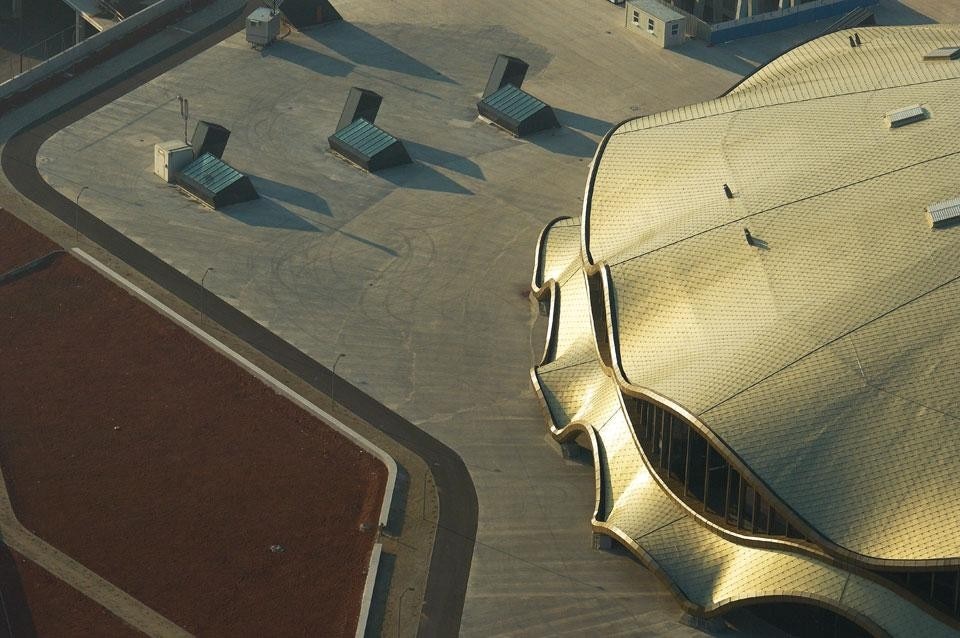 Austerity but also irony. "Because as an architect I feel like a masochist", says Vuga. "In architecture too, pain can become pleasure. A wrongly sized and scaled feature, a poor detail or a wrong colour… initially annoys and even hurts you but then it almost brings pleasure as a stimulus for your next project."

Should we believe him? Nonetheless, future projects include one close by, in Trieste, Italy, just an hour from Ljubljana. "It takes just 55 minutes to drive from Ljubljana to Trieste", says Vuga. "That is the time it takes to go from one London district to another, not even in the rush hour. Here, in 55 minutes you can change country, climate, culture and language. What an extraordinary wealth. Trieste has huge potential. It is the oldest city in Italy with a high quality of life and a huge space to rethink: the Porto Vecchio [Old Port], currently abandoned."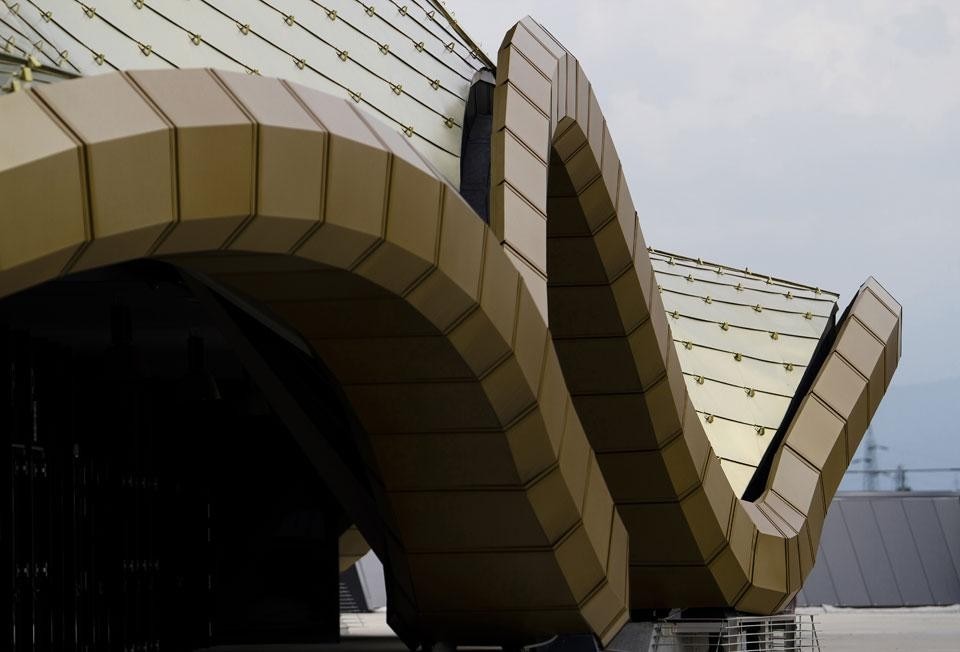 Vuga is focusing on Trieste at Berlin's Technische Universität, where he teaches. "I came up with a workshop in which German and foreign students on the Master course have identified seven Place Activators." What are those? "Seven places in the Porto Vecchio and on the city's waterfront to reinvent, from which to start activating the city. The days of drastic action as seen in London's Docks are long gone. We need what I call blending — inserting something new into the old or, to use a concept closer to the marine world, we have to develop architectural and urban porosity. The port must first be opened up to the city; we have to allow people to enter and reclaim it. Then just refurbish a few buildings, maybe open a design hotel and a restaurant among the empty dilapidated warehouses." Who knows? The wind of Glam Socialism might just arrive in Europe from the East, passing via the port of Trieste!
Sadar+Vuga: Sportni Park Stožice
Architects: Sadar+Vuga (project leaders); KSS, London (sports architecture cunsultants)
Landscape design: AKKA, Ljubljana
Structure: ELEA iC; Gradis; Atelier One, London; ELEA iC
Mechanical engineering: Lenassi; Jelen & Zaveršnik
Electrical Engineering: Elprojekt; UTRIS; Genera
Anti-fire system: EKOsystem
Circulation: LUZ
Construction supervisor: LUZ
Site area: 182,600 square metres
Building area: stadium: 24,600 square metres; multifunctional arena: 14,100 square metres; park: 143,970 square metres
Total area: stadium: 33,700 square metres; multifunctional arena: 35,500 square metres; shopping mall: 91,000 square metres (completed in a second stage); underground parking: 134,000 square metres; park: 143,970 square metres
Capacity: stadium: 16,038 seats; multifunctional arena: 12,484 seats; parking: 1,111 parking units + 62 bus parking units (first stage), 2,503 parking units (second stage)