The NA House, designed by Sou Fujimoto, is located on a small side street in a very lively, "hip" part of the city. Full of eccentric, off-the-wall little shops, this neighbourhood's intense social life is associated with a human-scale ambience made of low houses and mostly pedestrian and bicycle traffic.

Fujimoto's NA House appears to be the most fully realised example along his obsessive path of trying to create an entirely inhabitable contoured environment. This characteristic is evident in many of his works: from the pavilion of wood logs in Kumamoto (Final Wooden House or Log House) to House H, and to the conceptual maquette for Primitive Future Houses, developed in 2001 and presented at Kazuyo Sejima's invitation at the 2010 Venice Biennale. The building is based on a thin, split-level steel frame and represents a fully realised version of a home without stairs.(In truth, there is still a group of steps, which has been treated as a piece of "furniture" that can be moved about and repositioned elsewhere, effectively creating the illusion of multiple interior pathways). As a result, every horizontal plane becomes a generic surface. Without a specifically defined function, they can be used as a desk, shelf, bed, chair, etc., extolling the Japanese custom of sitting and sleeping on the floor in a manner that is so pervasive and clear that, while requiring no lengthy description, gives free reign to the imagination.

All of these projects, but with a greater intensity in the two domestic structures, represent proposals for addressing basic spatial needs, the bare minimum needed for the occupants, yet are indifferent to their surroundings. Transparency and visual continuity are traits shared by these buildings in which facades are non-existent and floor-to-ceiling windows and curtains reign supreme. The fact that no special attention has been given to climate controls, and that both of the domestic examples make use of simple air conditioners, confirms the impression that these houses are abstract, or better, render their context abstract. Is this exhibitionist indifference a result of their verticality? A negative response would be suggested by a comparison with the extremely vertical home-studio of Atelier Bow-Wow—the result of careful observation of its surroundings, in which cladding and windows are arranged so as not to conflict with neighbouring buildings and to maximise the few views available in the dense city blocks of downtown Tokyo. Rather, the Atelier Bow-Wow example shows how these buildings, in particular the domestic ones, are representative statements about the programme and intended to be understood as genuine radical manifestos.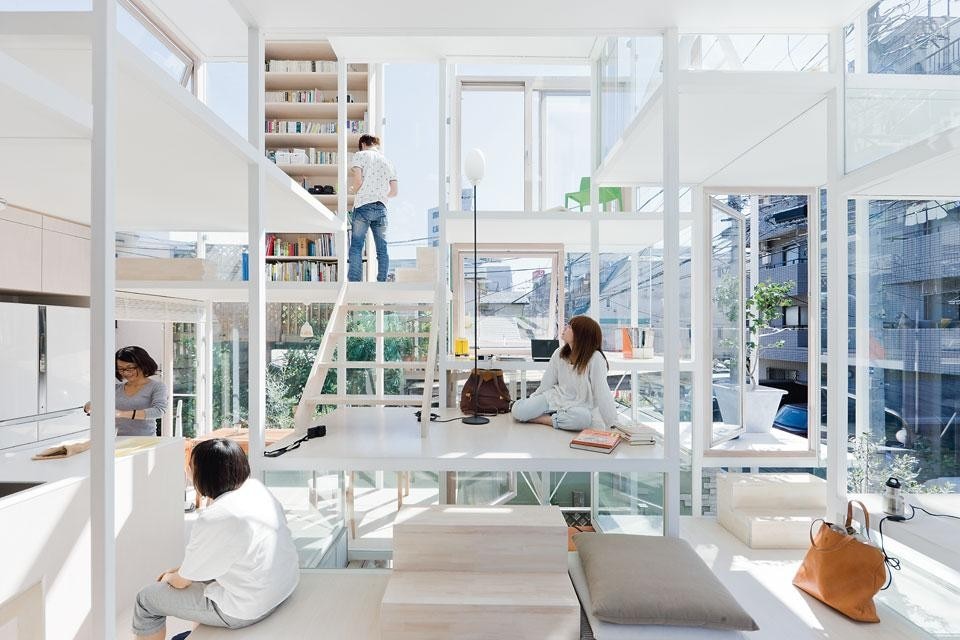 It is well known that Dr. Edith Farnsworth found her own pavilion uncomfortable. Isolated in the Illinois countryside and effectively without any climate control, she suffered the adverse consequences of humidity due to saturated soil. For this reason it was elevated off the ground, although today that solution has proven less than effective as protection from the rising, muddy waters of the Fox River, perhaps an inevitable consequence of global warming. Those who commissioned these rather uncomfortable houses seem to be in search of something a little extreme, even at the expense of destroying their intimacy and accepting the X-ray-like exposure of their solitude and individualism to the metropolis around them, even if that decision involves an entire family. Everything is turned into a plan libre! After removing the cladding, it is not so much the space that remains (an "illusory" and "programmatic" concept, visual rather than tactile, that emerges from the influence of Einfühlung on modern architecture), as much as it is a representation of "extreme living", which extends to every square centimetre of every floor in these buildings.

The kind of "extreme living" present in such projects is likely to be accompanied by a number of "tricks" for getting around the limitations imposed by building codes and safety regulations, yet staying within legal boundaries, even if barely. Frequently used in Japanese buildings, these boundary-pushing techniques are permitted in private homes thanks to regulations that shift the sole responsibility for the project from the designer to the owners upon final acceptance. At this point, it would be interesting to compare our two domestic examples with the famous Roof House by Tezuka, where the architects inclined the roof-top terrace slightly so that it would be considered a proper "roof", allowing them to avoid having to install parapets while respecting the law. We shall skirt the issue for the sake of the architects and owners, and readers can form their own opinion about whether the placement of vases and parapets are up to code, or whether certain windows placed near property lines facing adjacent buildings are shatterproof.
In the context of Japan's extremely dense capital, verticality means above all extremely close. Local building codes (nearly) do not impose a minimum set-back distance, but require only that the buildings not be in contact with each other. Naturally, it follows that the space between two buildings might be less than half a metre. With these proximities, the gap cannot be used to collect light, but only to guarantee a minimum of ventilation (even though Kazuyo Sejima's solution for the rear of the building, as it nears the stairs and the adjacent building's courtyard, is exemplary).
Filled with design ploys, these projects present themselves as simple and essential structures.
One of film director Akira Kurosawa's masterpieces, Tengoku to jigoku (1963)—known in America as High and Low, but more accurately translated as Heaven and Hell—represents, with an effectiveness rarely replicated in cinema, the importance attributed to modern architecture as a social indicator in postwar Japan. Either filmed heroically from below, or depicted through the luxurious elegance of its modernist interior, the home of the industrialist Gondo incites such an intense hatred in the film's antagonist, who lives in a dark and airless hovel in the city's slums, that it drives him to crime and the kidnapping of a child.
Today, a similar contrast is perhaps far too simplistic, only feasible in a hazy, macroscopic view of the current situation, noting that in Tokyo, as elsewhere, there is a total disconnection between the "contemporary project" and contemporary housing. However expensive and inaccessible to the general public, these two houses represent choices made by elites, offering unique contents, no longer only in terms of class, but of specific choices made by specific individuals, as eccentric as they may be. Taken together, these buildings serve to test a principle that is far from being urban (the plan libre as living space, as dreamed of by Farnsworth), definitively "lowering" it from modern paradise to the collective level of the city. What these structures can teach us not only concerns the overlapping of parallel lives, but also one of the many possible solutions for trying to live together, and not only in Tokyo. This is the gift that density, especially faced with a future of ever-increasing numbers and climatic changes, has given to the architect. It's up to us to learn to deal with it, rather than fleeing from it.
House NA, Tokyo
Design: Sou Fujimoto
Design Team: Takahiro Hata, Keisuke Kiri, Masaki Iwata
Structural Engineering: Jun Sato Structural Engineering
Construction Supervision: HEISEI construction
Built area: 66.03 m.
Design: 01.2007–01.2010
Construction phase: 01.2010—04.2011