In the context of contemporary societies wracked by mass performative acts, what does performance mean today? When a multitude of people takes over the streets as has happened this year during the Arab Spring and beyond, their voices are heard by millions of people abroad, thanks to the global possibilities engine of the internet. Manifesting desire into reality is performance, and nowadays it is one of the most powerful tools people have with which to achieve their goals. The streets of North African countries in the last year have become the stage of an incredible social and political performance with a plot based on the dissatisfaction with the political panorama. Taking over the streets is not just a slogan taken from the May '68 cultural movements, it is a right of every citizen, a way of expressing disagreement with whatever situation. In the Arab Spring every landmark and every monument has been transformed into a speakers' corner [1] to express disappointed opposition to the preestablished regime. Urban architecture, whose symbolic support has always due to its symbolism based on religious and political facts takes on special importance as physical support for these social movements.

Art has already taken advantage of these situations since the eighties, and urban art has almost become institutionalized. But is architecture claiming these tools to practice? This ambiance leads me to claim that architects must indeed go swiftly back to the streets [2]. If architects design cities, urban spaces and therefore the very city's streets , shouldn't architects be the most qualified people to perform there? In this context and going by the title Performance & Architecture, a set of actions and exhibition were held in Madrid's Tabacalera Building, a former cigarette factory now used for cultural purposes. The artists, curators, architects and critics who participated in this forum included Didier Faustino & Richard Siegal, Pilar Echezarreta, Luis Úrculo, Martin Huberman, Darya von Berner, Andrés Jaque, Héctor Zamora, Bestué – Vives, Pedro Gadanho, Theo Lorenz, Iván López Munuera, Selina Blasco, Carson Chan and Ruth Estevez.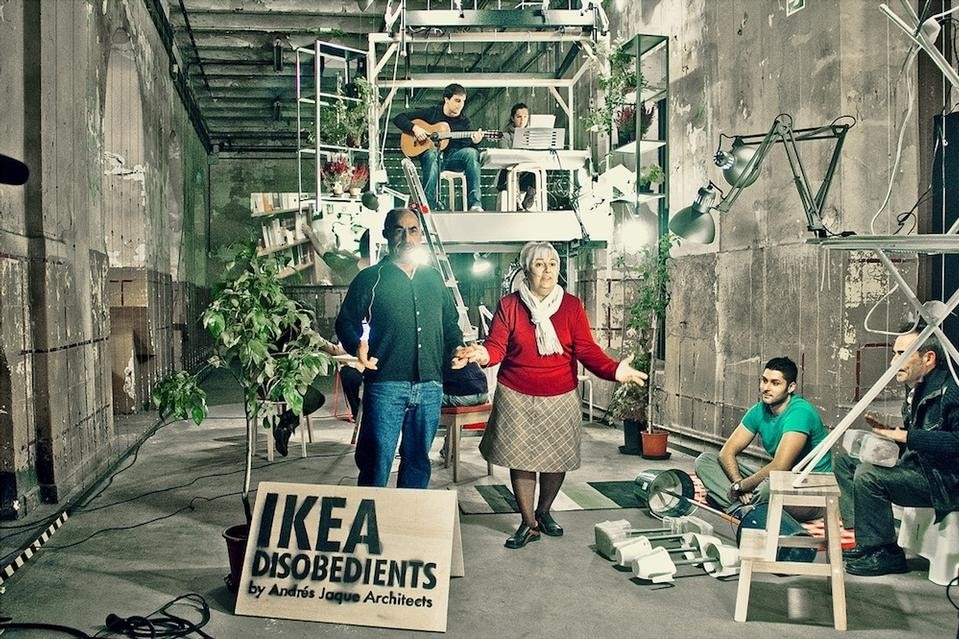 As with other transdisciplinary convergences, the artists and architects who participated in Performance & Architecture are working at the limits of their disciplines in order to blur the borders between them and reflect on the architectonic aspirations of art, and the artistic aspirations of architecture. They work on very different project scales but all use performance as the interface to their research. Focusing on subjects such as the city, space, the body, and memory, they tackle their disciplines "speaking about art from architecture and about architecture from art."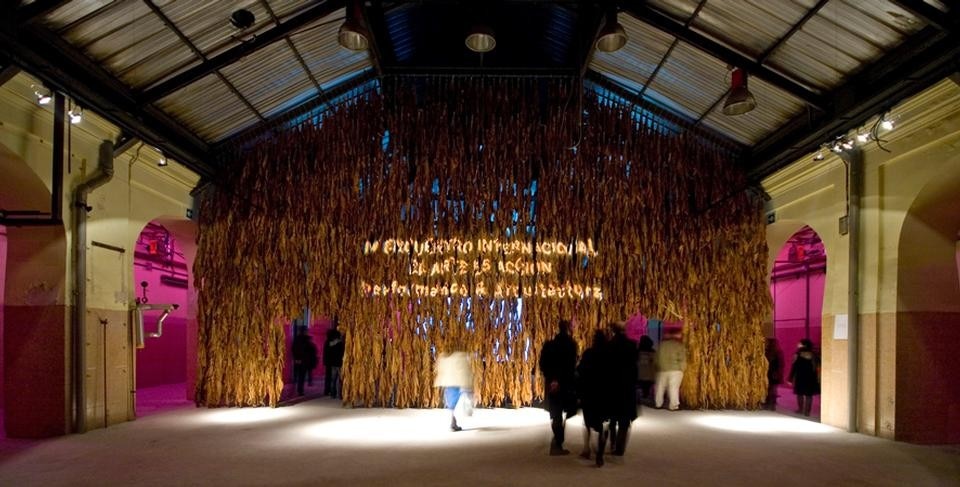 As of the first day, each artist and architect was allocated a specific space in which to carry out his or her performance, action or installation. They staged their actions and developed their performances in sequence, garnering an avid audience reception as they progressed. About 900 people attended the event, almost unheard of in the Tabacalera Building. On the second day the Performance & Architecture Lab took place, a forum in which successive artists, architects and international curators presented their work, followed by discussion and reflection on the rise of performance in architecture as well as on the use of spatial practices by contemporary artists to colonize vacant plots.



(Nu) in Segway by Darya Von Berner.

Some of the participants showed performances that interacted with the building itself, taking advantage of the conditions of the space. For example, the piece called (Nu) in Segway, by artist Darya Von Berner occupied a wall with a huge 3D screen, amplifying local space to the infinite. This project illustrated simultaneously the difference between real and virtual body-spaces, linking the video screened on the wall with a live performance.



Covers by Luis Úrculo from Luis Úrculo.

Architect Luis Úrculo and artist Cristina Blanco collaboratively sought to represent the most well-known architectural landmarks with daily domestic objects. Their video project Covers includes these quotidian devices, translating them into ensemble of popular objects, like a stack of plates or a few Hi-Fi systems. During the performance, Úrculo and Blanco demonstrated that the Guggenheim Museum New York is personified in our kitchens every day.
Focusing on subjects such as the city, space, the body, and memory, they tackle their disciplines 'speaking about art from architecture and about architecture from art.'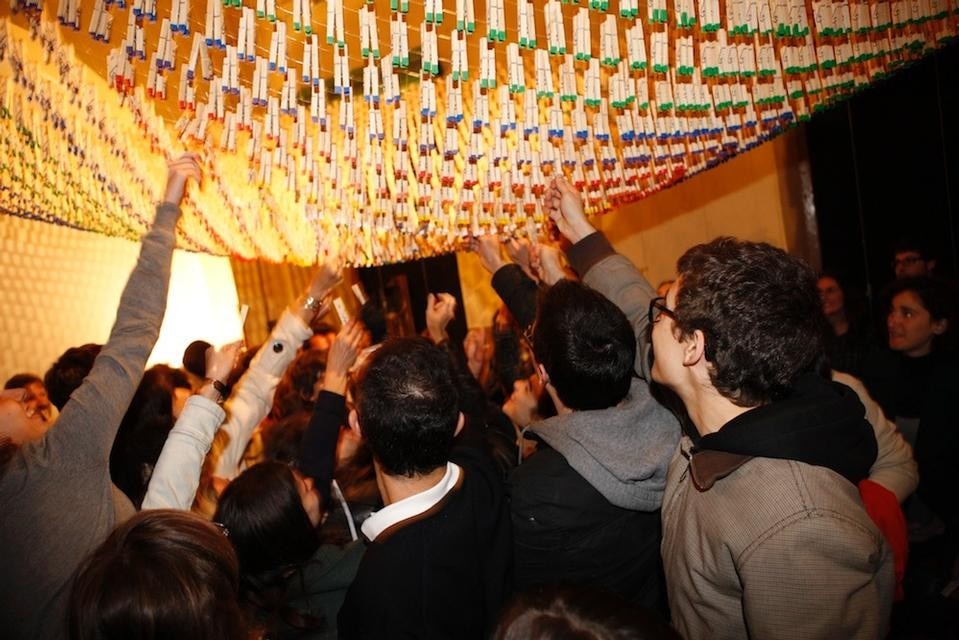 Other proposals chose to focus on the analysis of the domestic space. Ikea disobedients is the name of the project showed by Andrés Jaque, presenting scenarios where all those people whose domestic habits do not fit with the stereotyped lifestyles shown in the Ikea catalogues. This architectural experiment is carried out after a team of different professionals in very diverse disciplines—sociologists, architects, photographers—carried out very precise fieldwork.



IKEA DISOBEDIENTS. Los que desobedecen a Ikea from Andrés Jaque.
Agencement with air by Pilar Echezarreta created a magical instant, with a low-cost inflatable structure where a musician played a violin concert inside while the audience, in voyeuristic mode, spied upon her through the gaps of the structure. Martín Huberman or Héctor Zamora proposed the insertion of foreign bodies in different contexts, with the aim to activate the space. Huberman used a daily object, the clothes pegs for hanging out the clothes, to create a performance where all the audience is involved to create a piece of art. This created one of the most participatory moments of the event, the audience had to wait until an alarm sound indicated everybody has to jump to hang their clothes pegs in a net placed on the ceiling. Finally, Didier Faustino and Richard Siegal raised the interaction between art and architecture from the body scale by means of a carpet that was transforming to build a space of paradoxical intimacy.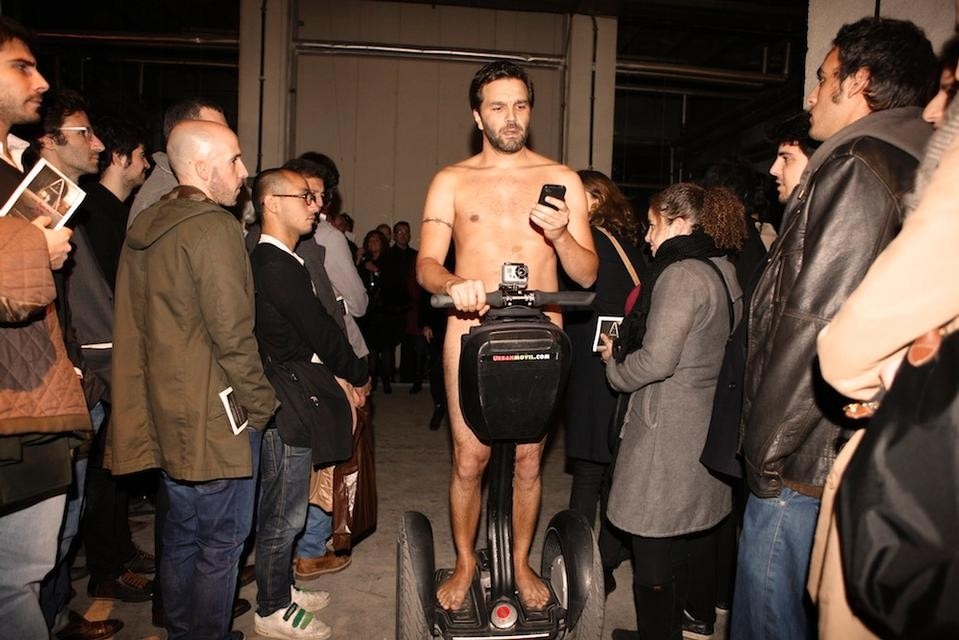 The exhibition displayed these works carried out during the development of the performances through a making of video, an installation, action or element that is a symbolic reminder of what happened there, as well as two video installations by artists, one about the city by Héctor Zamora and the other about domestic space by Bestué and Vives. Zamora explored the repercussions of the installation of a strange element into urban space. Like Andrés Jaque, David Bestué and Marc Vives worked on the domestic scale, with their video Acciones en casa (2006)that showed themselves developing nearly 100 small actions that happened in a common house.

The program finished off with a forum for critical thought on art and architecture, which was held at the Ministry of Culture Auditorium. Participants in this forum analyzed the different complex affairs between the architects and how they appropriate of art performance methods, and vice versa, how artists use architectural contexts to work within. The event forms part of the international forum Art is Action, now in its fourth year, organized by the Ministry of Culture of Spain. Performance & Architecture was curated by Ariadna Cantis, an independent architectural curator who divides her activities between spreading architectural advocacy, research and curating, with the aim of generating critical opinion on architecture and contemporary culture. The entrance space was designed by C+ Arquitectos, headed by Nerea Calvillo, who transformed the already marvelous hall with a wall made of sun-dried tobacco leaves.
Performance & Architecture signifies a risky curatorial project never seen before in Spain, but which was highly successful due to Cantis' expert management. Here's hoping it will be the first one in a long list of events related to this research between performance and architecture.
NOTES
[1] Speakers' corner placed in Hyde Park in London is the most noted one. This concept has been explored and reviewed by several artists as Michel François in 2005.
[2] Pedro Gadanho, Back to the Streets: The Rise of Performance Architecture.
[The authors extend special thanks to curator Ariadna Cantis for providing critical information for this report.]