There are formal boundaries drawn from history, and there are ideally defined boundaries drawn from belonging to a certain world and from shared traditions, habits and ways of life. This is the case in Madesimo, a town in Valchiavenna in the province of Sondrio. With about six hundred inhabitants, this mountain village is located 1,550 meters above sea level and is only five kilometers from Splügenpass, the pass that connects the valley with the Italian Swiss Confederation. The steep road that connects Madesimo to the valley is a metaphor: this community is most certainly tied more to its perception of the Alps as a supranational context than to its official nationality.

This leit-motif can also be found in Enrico Scaramellini's work. Born in 1969 in Madesimo, Scaramellini experienced the benefits and difficulties of growing up in a mountain community. After primary and secondary schools in Madesimo, like many of his peers, he 'migrated' to continue his studies. He attended boarding school and then, in Milan, the Polytechnic School of Architecture. In approaching his profession, he returned to his origins; his cultural references are located, in fact, beyond the Splügenpass in the Grisons Canton. He refers to the work of Valentin Bearth and Andrea Deplazes , Kurt and Mierta Lazzarini , or Armando Ruinelli .

This is not high altitude snobbery as much as an awareness that the Swiss can teach us a great deal. First, that contemporary architecture is a cultural resource that can have positive economic effects (one need only look to the development of the village of Vals after the construction of the Spa by Peter Zumthor to realize this). And then, to build respecting a certain formal and material quality is to defend the landscape—a substantial fact in areas that now make their living only from tourism.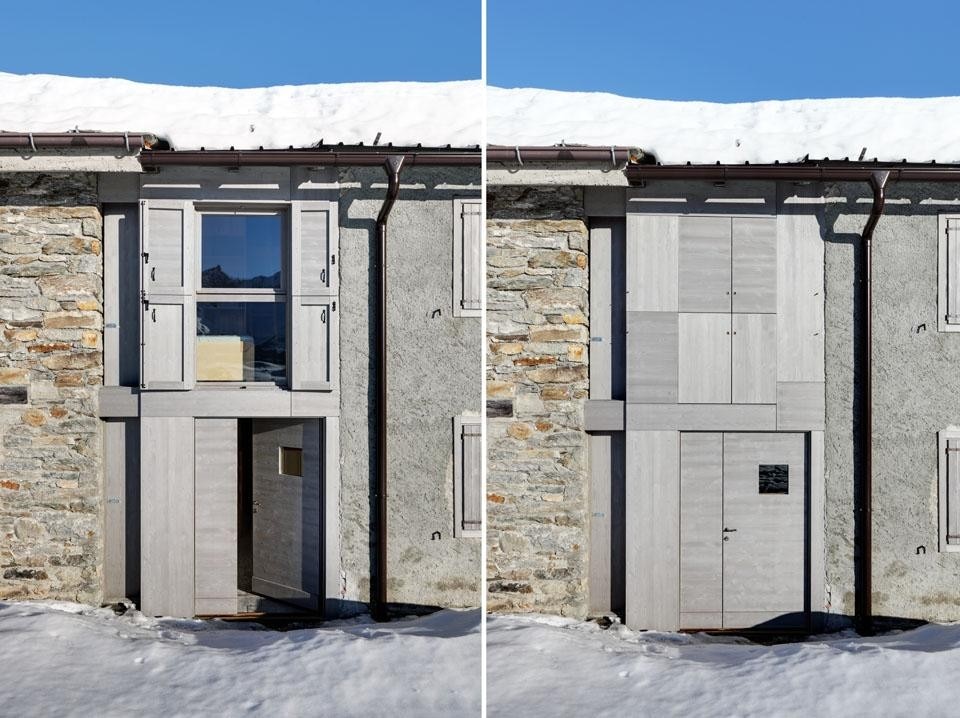 Scaramellini supports a contemporary approach to alpine architecture but every day has run-ins with supporters of the vernacular tradition. In support of his approach, he cites the examples of two illuminating works: the hydroelectric plants in Isola di Madesimo and Prestone di Campoldolcino, built by Gio Ponti in 1960 and 1950 respectively. In Madesimo, the Milanese architect did not attempt any "contamination" by the local architecture.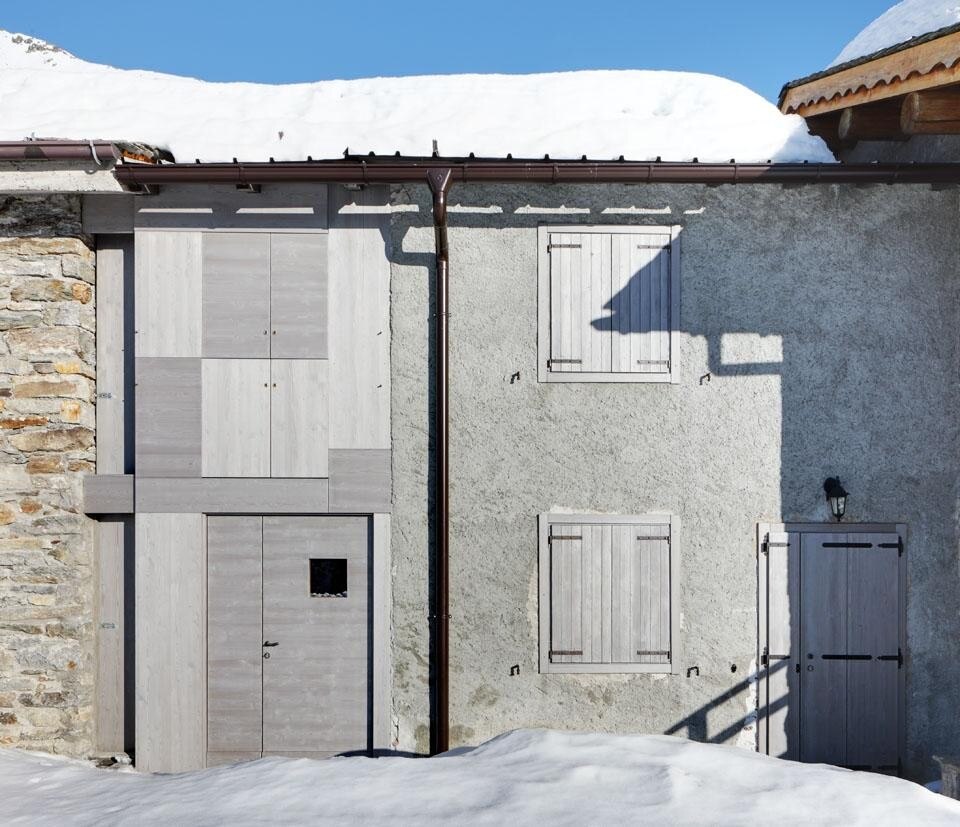 Modern architects in the mountains have always had a hard life. Carlo Mollino was also challenged by the inhabitants of Breuil when he built the Casa del Sole. Scaramellini fights against stereotypes but also against the law. In fact, Madesimo is subject to the restrictions imposed by the Superintendence for Architectural Heritage and Landscape of the Lombardy Region. In his latest project—a micro-cabin above the village of Madesimo—Scaramellini handles these constraints by adopting an approach similar to that of a designer.

He englobes within a portion of a hut–a linear building belonging to different members of the same family group and located in the middle of the ski slopes–a sort of wooden box of 35 square meters. Its facade is made of inlaid wood panels like a chessboard but which opens to reveal a large window overlooking the mountain landscape. Scaramellini defines the micro-cabin as "a wardrobe in the landscape."
A weekend micro-cabin. A place for contemplation. An escape from the hectic urban condition.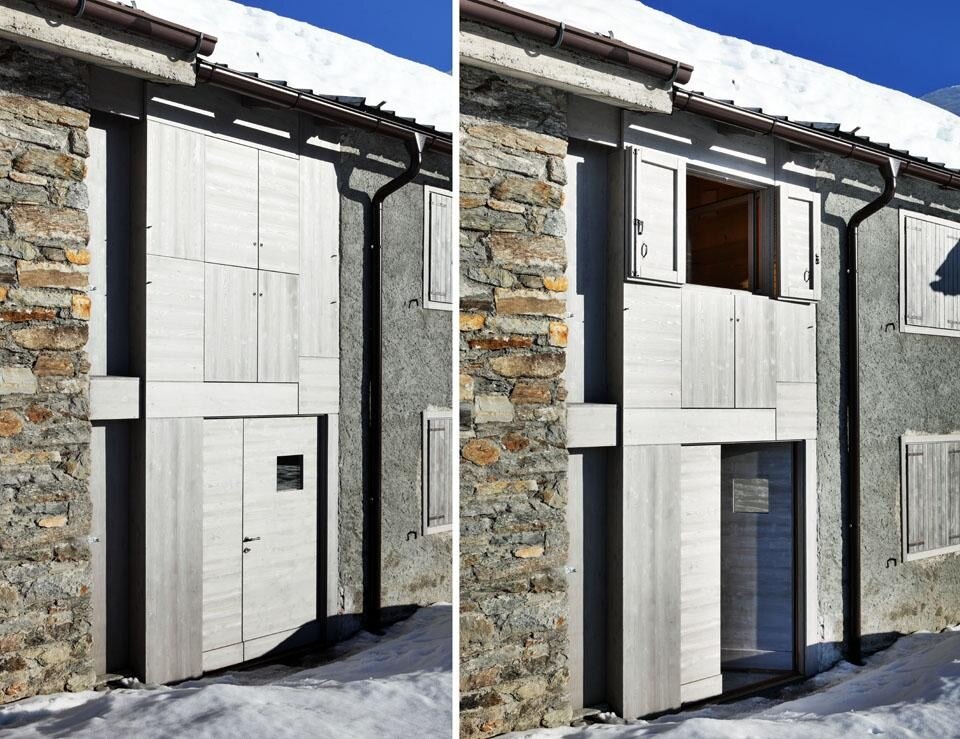 The architect from Madesimo met a client with an uncommon mentality. A dentist with origins in the town who, in the winter, can reach the micro-cabin retreat only by snowmobile and against the opinion of his family, agreed to treat the elevation with a silver finish—an abstract composition whose aspect changes in relation to different weather conditions.
Laura Bossi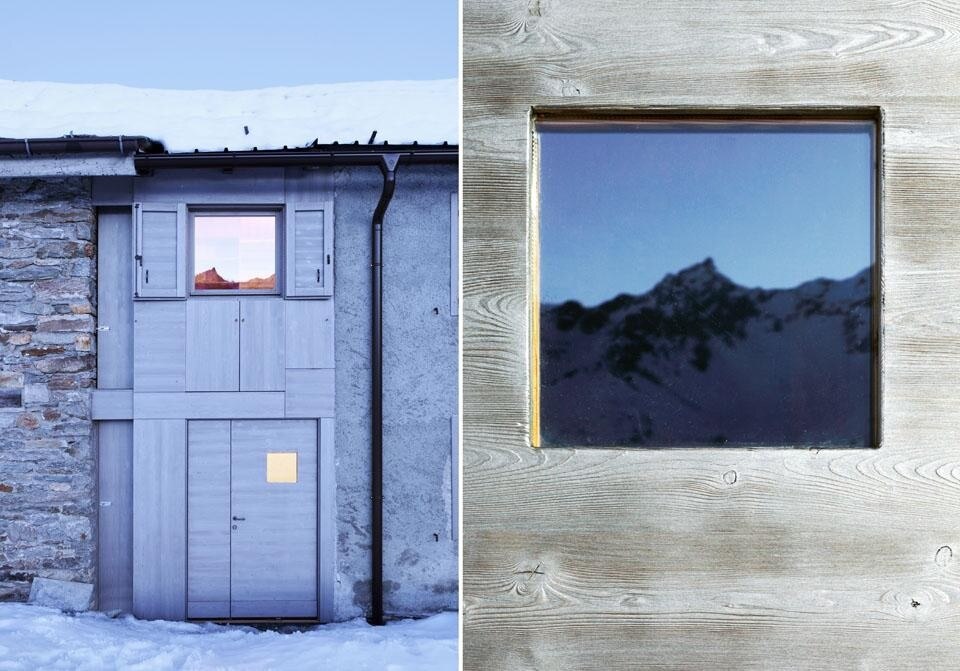 Alpine micro-cabin, Madesimo, Sondrio, Italy
Architects: ES-arch – Enrico Scaramellini architect
Design team: Cristina Pusterla, Luca Trussoni
Structural Engineering: Studio Bianco & Mastai, Chiavenna
Construction supervision: Enrico Scaramellini
Built area: 35 sqm
Cost: € 25,00
Design: January–February 2010
Construction: July–September 2010