How many lives does architecture have? If it is contemporary, and is a construction with an intelligence of its own that might still prove useful, why not rescue it from oblivion by dismantling and reassembling it elsewhere? A lesson to be borne in mind in Milan, too, where every year thousands of euros are spent on the Furniture Show, to construct installations and minor structures often of considerable architectural quality, that are subsequently demolished. Some of these could on the other hand be salvaged and recycled to serve different purposes.

In Medellín, Colombia, Felipe and Federico Mesa (plan:b) have made this their mission. They are well aware in fact, of the profound social differences that divide their country. Having designed with JPRCR Arquitectos the Orquideorama and with Giancarlo Mazzanti the Coliseum, they have indeed been part of the process of renovation that has revolutionised their city in recent years.

The plan was devised by Sergio Fajardo, a truly many-sided figure—a professor of mathematics, son of one of Colombia's best-known architects and former Mayor of Medellín from 2004 to 2007; a political leader. It included the grafting of community structures (libraries, museums, parks and gardens, sports facilities, urban transport systems…) into the urban fabric with the aid of high quality design. There was one proviso however: Fajardo decided to operate primarily in the city's poorest districts. Thus when in 2010 plan:b were asked to design a provisional installation for a building trade fair, they envisaged a "second life" for their project and discussed with the client a number of indispensable conditions. Firstly, this temporary pavilion had to be constructed with different materials, all of them donated by companies exhibiting at the fair. With the same dimension, the panels were then to be distributed on the facades of the building in relation to the sun's orientation.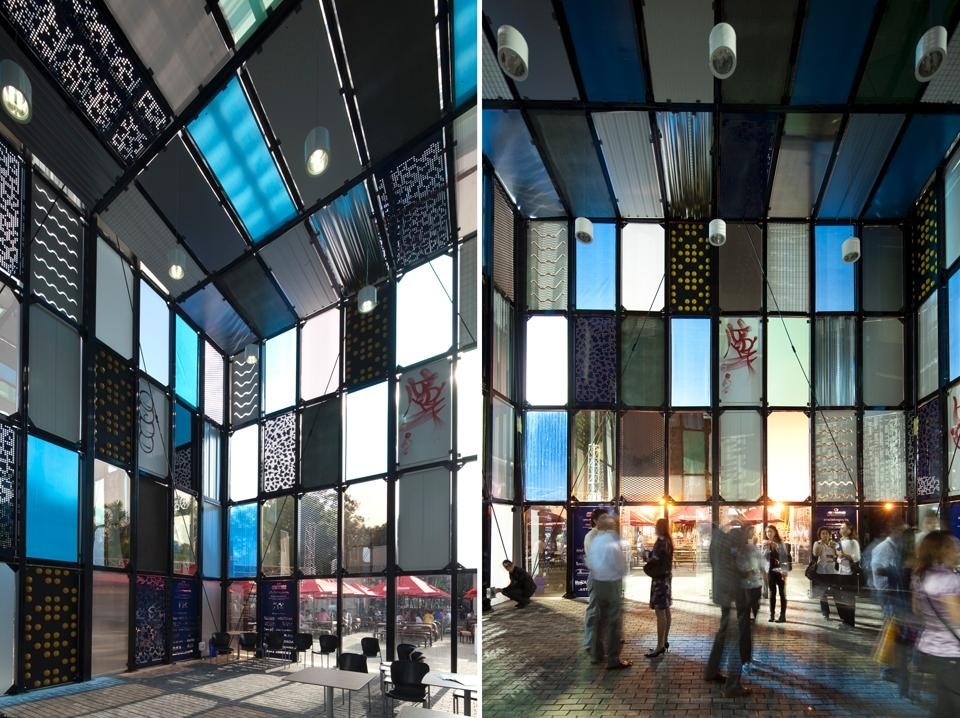 Secondly, the materials had to be sustainable and inexpensive. The pavilion furthermore had to be permeable, so as to allow its natural ventilation and to avoid the need for air conditioning. What really made the difference was this final condition: that after having performed its task, the pavilion could be moved elsewhere, thus being preserved. The Pabellón desconectado, demolished and reassembled, is now at Parajito, a poor quarter of Medellín that clings to the sides of the Aburra valley. And to the great satisfaction of the kids living there, it is now in use as a sort of community centre.

Originally created for advertising purposes, the structure has thus since acquired a social character. Felipe and Federico Mesa maintain that "the interior of this pavilion is ambiguous and flexible. In the future it can be used as an open space for religious ceremonies, political meetings and community activities".