At what point is a building complete? Is it when construction ends? When users move in? And how does one factor in the contributions of its occupants when assessing a building? Does an apparent conflict between the architects' vision and the residents' tastes indicate a failure? An opportunity? An inevitability?

The Giant Interactive Group headquarters is a big, complicated Morphosis building plopped down in the middle of a big, empty field. It is long and lean and low-rise, equal parts opaque and transparent, with an undulating green roof that provides welcome topographical variety to its flat, former swampland site. The headquarters is located in Songjiang, an ancient town now incorporated into greater Shanghai. Giant Group's campus is to be the centrepiece of Songjiang's new "civilized industrial area," but at the moment it stands largely alone.

A newly paved, traffic-free road splits the campus and elegantly divides its program into "business" (offices, meeting rooms, etc.) to the east and "pleasure" (gym and pool, clubhouse, restaurant and bar, etc.) to the west. Due to the remoteness of its location, the campus should be all-inclusive and both client and architect have gone to lengths to provide a wealth of work and play possibilities to Giant's employees, many of whom now live on site but are accustomed to the hustle and bustle of Shanghai. Throughout the campus one finds an abundance of shared spaces – large and small, in and outdoor, defined and ambiguous. There is a library and an auditorium, there are meeting rooms and smoking nooks; there are sunlit walkways and shaded corners, there is the vast, scalable roof and a narrow jetty that stretches into a tiny, tree-lined lake. These thoughtful "third places" comprise one of the campus's defining features and suggest the existence of a soft, compassionate core beneath the headquarters' hard exterior.

But, of course, badminton matches, moonlight cuddles, and coffee breaks do not a global corporation make. Just to the east of the jetty, hovering above the lake, is the campus's most dramatic feature, a crumpled, cantilevered shoebox that houses a combination conference room, office, and chill-out lounge for Giant Group's larger than life boss Shi Yuzhu. Mr. Shi is a fascinating figure. A self-made man, he has built Giant Group into one of China's most profitable companies. Part inventor, part gambler, part wise man, part pitchman, his is one of the iconic profiles of post-reform China. He has invested large amounts of both money and faith in his American architects' proposal and on a few crucial occasions overruled his subordinates so that the building could be achieved according to their wishes. As a result, the Giant Group headquarters is an impressively coherent piece of work, indisputably Morphosis. And this, perhaps, is the problem. The Giant campus bears all the marks of its designers: it is formally complex and futuristic; it's chromatically subdued and materially restrained. It is a total design environment, from undulating roof to elongated ashtray, and the effect is simultaneously over and underwhelming. Mr. Shi's executive box is a good example. The interior is conventional but not simple. At its furthest point is the boardroom, a luminous, largely transparent space that feels like it's collapsing on itself. Everything is white: the ceiling is gypsum board and the walls are Swisspearl. The floor is glass – a common enough trick these days, but very powerful in this case, as the visitor has no choice but to consider the murky lake over which meetings are suspended.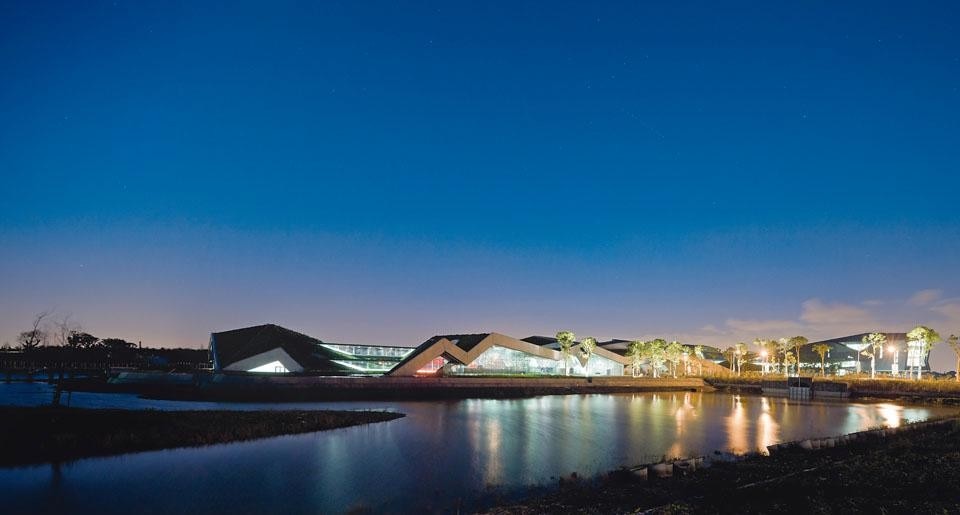 Above the boardroom are Mr. Shi's private quarters. These are arranged on two platforms, which ascend in intimacy from sitting to living to bedroom. As elsewhere in the campus, the interiors play straight man to the building's flamboyant structure. The material and colour pallets are narrow and the furniture is basic, but the walls pitch and the roof slants, and the mesh ceiling and glass facade reveal a dizzying number of structural elements. As a space it feels simultaneously extravagant and bare bones: part hotel, part waiting room; part funhouse, part warehouse.

Across campus is the Shi suite's stylistic counterpart, a room of basins and pools that softens some of the headquarters' hard edges. To reach it, one walks an elevated corridor that provides the building's main circulation and one of its most attractive features. To the right are workspaces: these are sunlit and open, and the atmosphere inside is business-casual. One has the sense that the architects designed an element of Californian corporate horizontality into their first Chinese building: all workers, including company directors, sit together, with only VPs and their secretaries sequestered in private offices.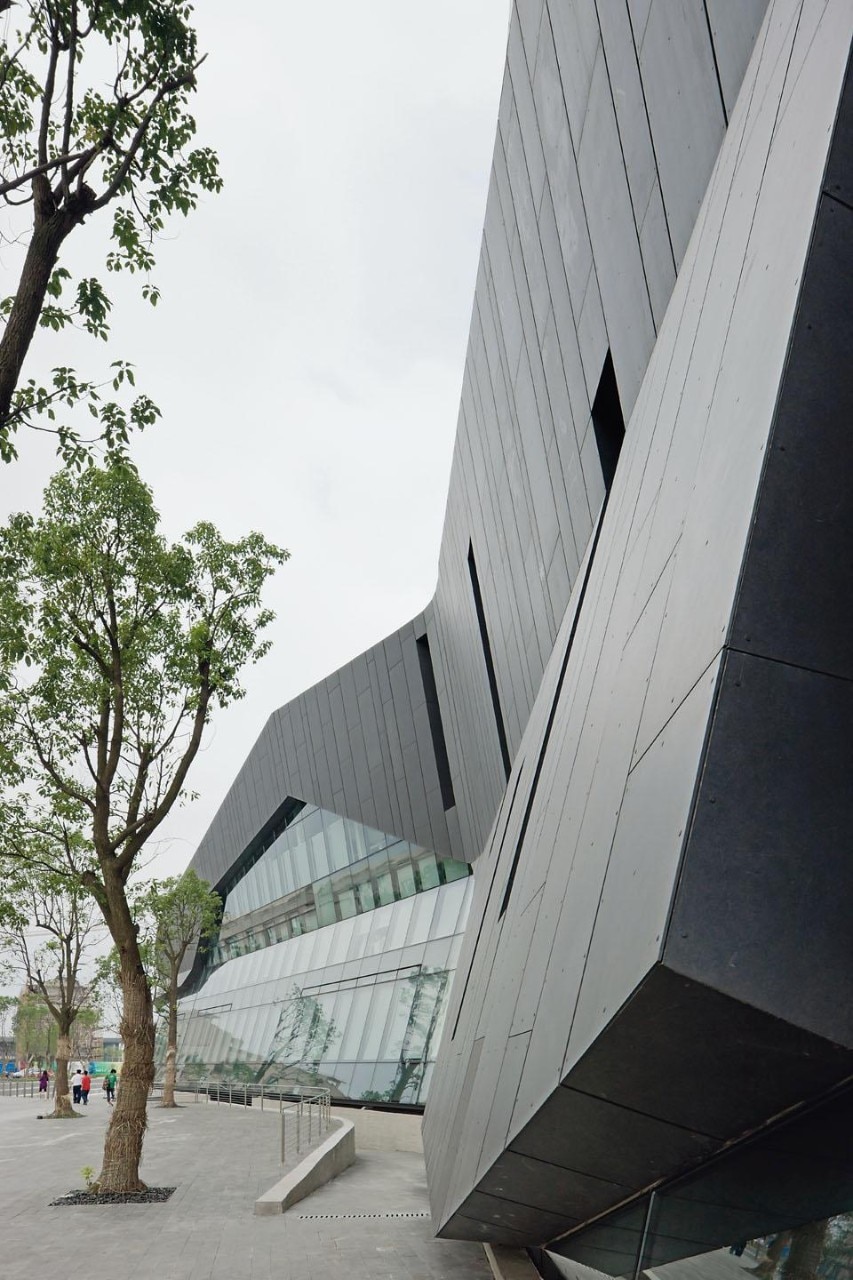 After crossing the street, the corridor submerges beneath the headquarters' green roof. Thus one enters the campus's rec centre, a complex that includes billiards, multi-function sports courts, and the aforementioned swimming pools. The pool room is special, partly because it feels soft. The jagged edges and acute angles of Mr. Shi's office are replaced with gentle slopes, swooshes and oblong arcs. An enormous egg-shaped skylight brightens the space. A speckled blob droops from the ceiling. This last feature is not ornamental: it's a clever hideout for columns, ducts, pipes, and it recurs throughout the building. But it fits best by the pool and it was there that I gave it a good look and realised what bothers me about the Giant Group headquarters.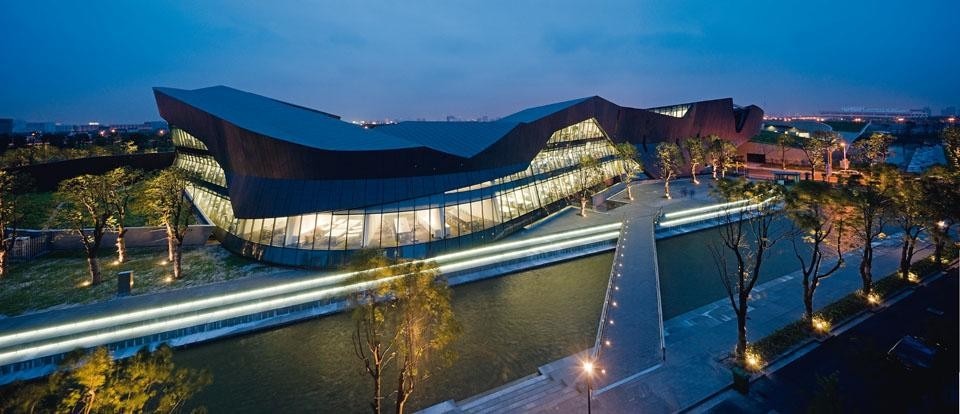 As architecture it is expressive but somehow bloodless. The design is intelligent and rigorous in its own way, but cold: a kind of tectonic equivalent to techno music. This is partly down to colour: the entire thing is greyscale, with a couple of cheeky pixels of lava red or tennis-ball yellow scattered here and there. The polka dotted blobs, referred to as 'cones' by their creators, should be fun. They vaguely resemble candy. But like everything else they are black and white and grey and one can only imagine them having the bitter taste of chalk and salty liquorice. Limiting colour doesn't guarantee cheerlessness, of course. There are many examples of black and white environments that manage to be simultaneously serious and fun. But this requires a certain acceptance of ornamentation that Morphosis's design just does not allow. The auditorium is a case in point. For acoustical reasons, the walls are covered in tiles of felt: a warm, tactile fabric with strong childhood connotations. But here too an opportunity for youthful cheer is shushed by the design's emphatic neutrality. Looking around the room one sees only grey: grey felt, grey steel, grey floor. After a while even the white chairs start to look grey.

But in this same room, and elsewhere around campus, I found specks of cheerfulness that indicate a brighter future for the headquarters. From the ceiling's mesh panels someone had hung an assortment of pink, purple and yellow party balloons. Outside, they'd lined the building's concrete walls with potted flowers in the same shades. Against Morphosis's mechanical architecture, these gentle reminders of human conviviality felt soothing, almost therapeutic. In many ways, the Giant Group campus is the antithesis of contemporary Chinese corporate tastes: its entrance is understated, almost unnoticeable; its details are stripped down and its profile is modest, with almost no skyline appeal. To the extent that Chinese leaders' preference for big, blatant expressions of power has come to define the country's cities, Morphosis's design provides a valuable counterpoint. But I can't help feeling that it could use a bit of the passion and pride that even Shanghai's dumbest architecture exudes. And I suppose it makes sense that it falls on the headquarters' occupants to provide this – to make this alien their own, dress it up, and put flesh on its bones. Brendan McGetrick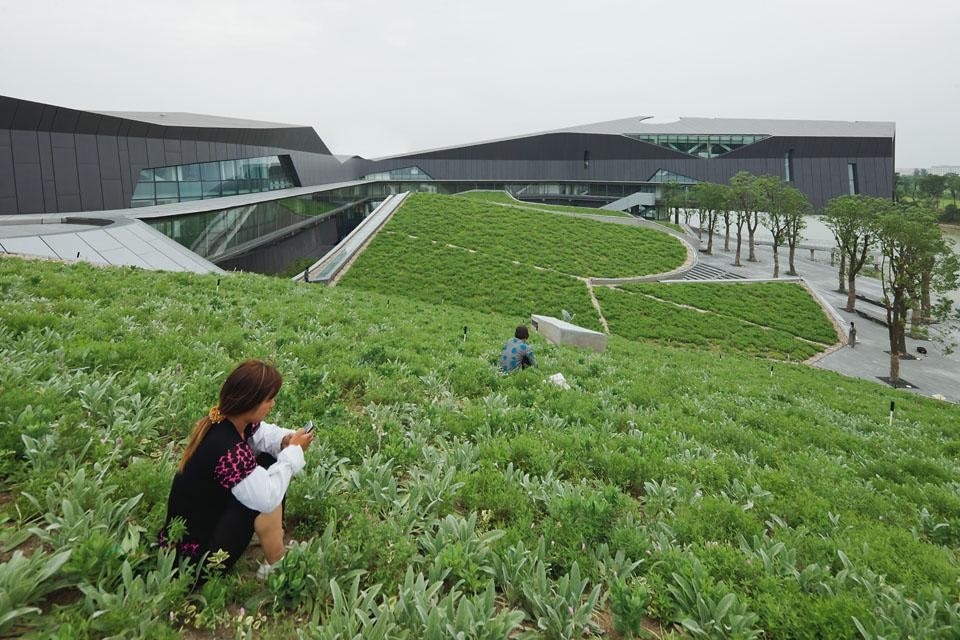 Born in 1944 in Waterbury, Connecticut, Thom Mayne studied architecture at the University of Southern California, specialising at the Harvard Graduate School of Design in 1978. In 1971 he founded Morphosis with Livio Santini, James Stafford and Michael Brickler, who were joined in 1975 by Michael Rotondi. In 2005 Thom Mayne received the Pritzker Prize.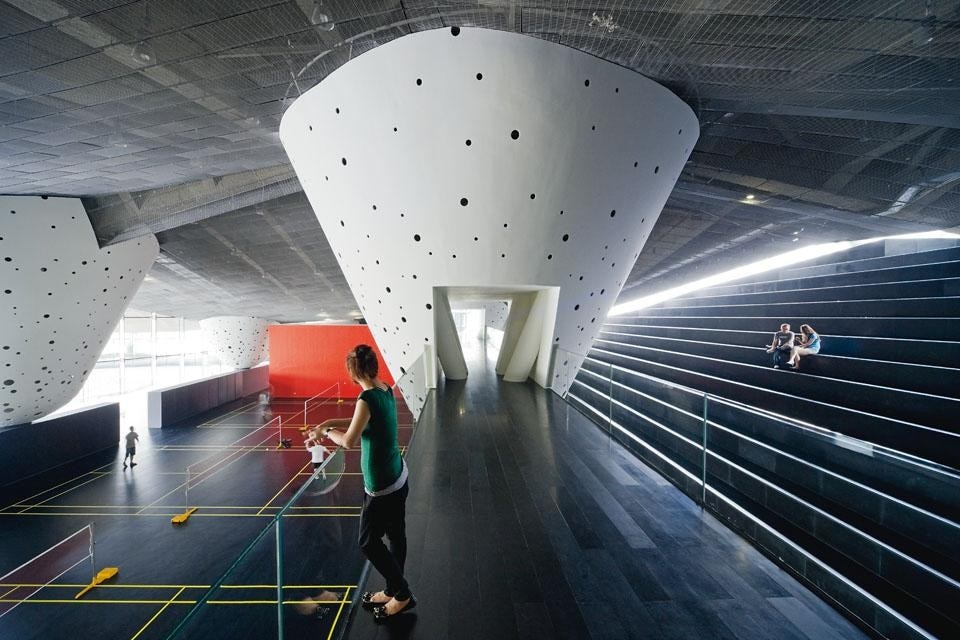 Giant Group Campus
Shanghai, China

Architects: Morphosis Architects
Design Director: Thom Mayne
Project Manager: Tim Christ, Paul Gonzales
Project Architects: Hann-Shiuh Chen, Mario Cipresso, Ted Kane
Project Designer: Leonore Daum
Project Team: Patrick Dunn-Baker with Andrew Batay-Csorba, Marty Doscher, Graham Ferrier, Chris Herring, Debbie Lin, Kristina Loock, Yichen Lu, Scott Severson, Mohamed Sharif, Suzanne Tanascaux, Chris Warren
Project Assistants: Adam Bressler, Soohyun Chang, Guiomar Contreras, Laura Foxman, Joe Justus, Michelle Siu Lee, Hugo Martinez, Mark McPhie with Kyle Coburn, Brock Hinze, Sunnie Lau, Greg Neudorf, Christin To, Jose Vargas, Dana Viquez, Mike Patterson, Nutthawut Piriyaprakob, Aleksander Tamm-Seitz
Structural Engineering: Bao Ye, MAA Engineers, Thornton Tomasetti Group, Inc.
Design Institute: Moh and Associates Inc.
Electrical Engineering: IBE Consulting Engineers, MAA Engineers
Mechanical Engineering: IBE Consulting Engineers, MAA Engineers
Interior Design: Morphosis
Landscape Design: SWA Group
Contractor: China Construction Third Engineering Bureau
Local Architect: SURV
Client: Giant Interactive Group
Built area: 23,996 m² (gross)
Design phase: 2005 – 2006
Construction phase: 2006 – 2010