An entirely underwater bicycle parking facility has recently been completed at Amsterdam Central Station. Designed by Dutch firm VenhoevenCS Architecture + Urbanism, IJboulevard provides space for about 4,000 bicycles, connected to an aboveground pedestrian walkway with panoramic views of the IJ River. Created on direct commission from the City of Amsterdam, the project was born out of the intention to tidy up the layout of the public areas around the station, to protect it from water traffic, and to promote biodiversity along the shoreline.
The underwater architecture was structurally prefabricated off-site, allowing the train station to continue its operations optimally during the construction process. The three prefabricated hollow elements were then transported to the site via river and placed on 72 concrete piles to form the interior spaces and the walkway above.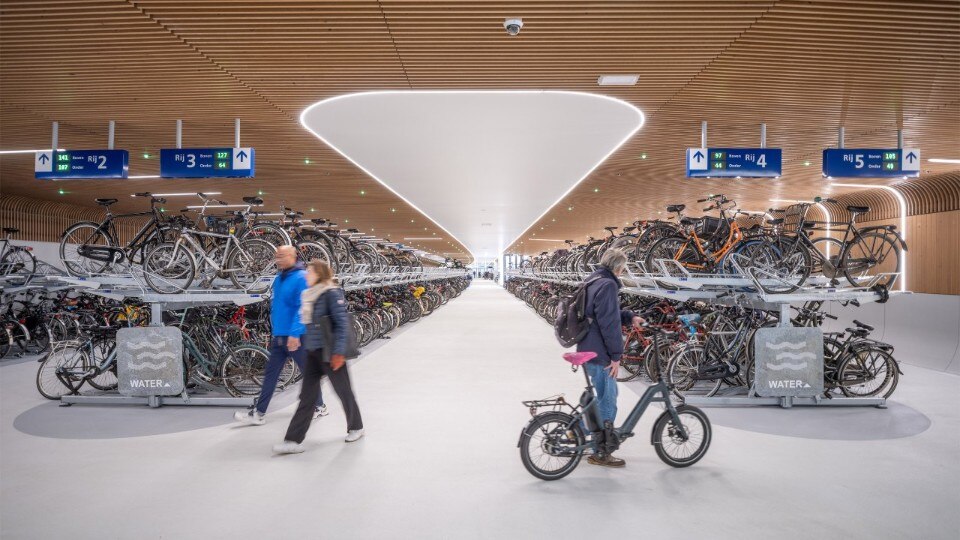 Visitors can access the hub directly by bicycle via ramps on the east and west sides of the building, or alternatively via stairs to the center. The large glass surfaces around the stairs allow natural light to filter in and offer a view of the parking lot from above, providing a sense of safety for users of the building. Finally, the symmetrical layout of the vast, column-free spaces features slatted wood ceilings and walls and bright white floors.

VenhoevenCS Architecture + Urbanism's design also incorporates elements that aim to mimic natural habitats to promote biodiversity and support aquatic life. These include bio-huts – artificial fish nurseries – and porous concrete between underwater pilings, which provide surfaces for aquatic plants to cling and grow.