Circular Economy Manufacturing has built on Governors Island – an island within the New York borough of Manhattan – a small factory that uses solar energy to convert plastic waste into household items and city infrastructure. Called MicroFactory, the facility was built inside a 20-by-7.5-foot container and then directly installed on site.
The container's shell was designed for ease of installation on the island and possible future transportation. It was painted white to absorb less heat and keep the equipment cool, while a transparent garage door and windows were installed on the main facade to allow passersby to see the equipment inside at work.

A cluster of 25 photovoltaic panels, with a total energy capacity of ten kilowatts, was placed on the roof of the structure, allowing the factory to be powered by 100 percent solar energy.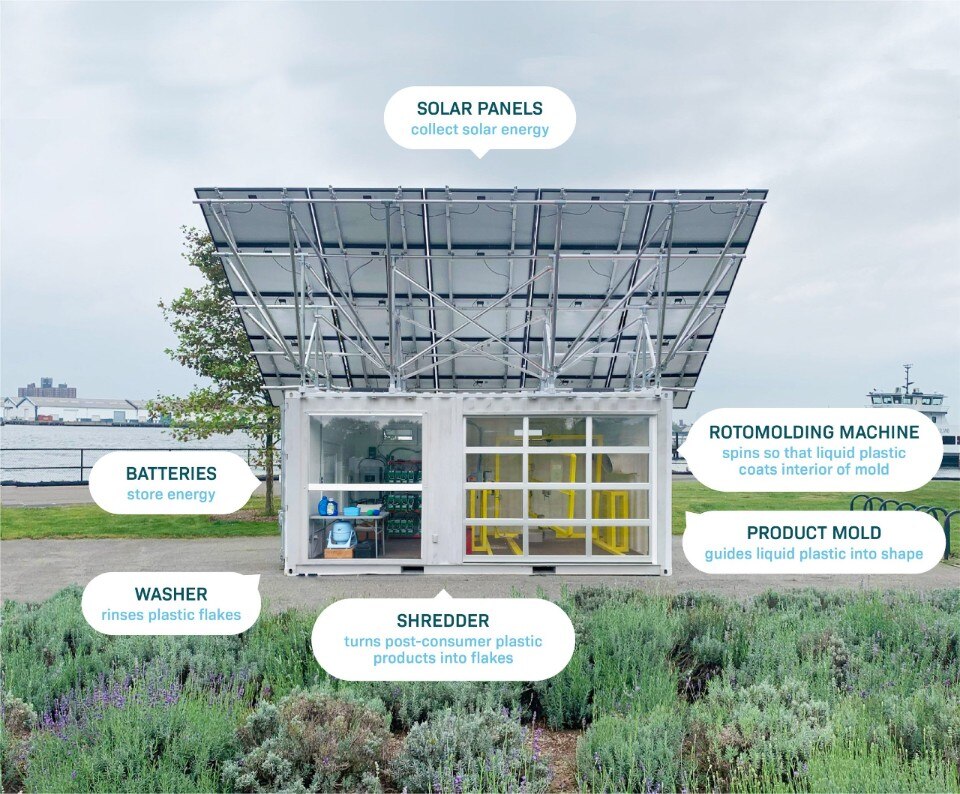 To use the factory, citizens must bring in used, clean plastic and put it into a shredder. The shredded plastic is then fed into a machine that feeds it into a rotational molding machine. The machine uses heat and motion to melt and cool the plastic in preset molds. So far, the Governors Island factory has produced lamps and planters that have been resold to the public to fund future initiatives.
"We plan to grow our startup by selling the small products to citizens, the urban infrastructure products to cities, and the entire MicroFactory to communities or countries," said Barent Roth, co-founder of Circular Economy Manufacturing. "Every recycling center around the world could have an on-site MicroFactory that immediately converts single-use plastics into durable essential products."