In the center of San Andrés Duraznal, a city in northern Chiapas, Mexico, the firm T+E Arquitectos has completed an urban rehabilitation project carried out through a participatory design process. 
The architects conducted a social research process on the perception of public space for local residents before delivering the project, then continued the experiment with design workshops with residents in the planning phase.
The project consists of two plazas of different sizes and uses, separated by roads and property elevations. The space occupied by "La Plaza Cívica" was originally a concrete esplanade occasionally used for civic and social events, but most of the time occupied as a parking lot for municipal vehicles and a warehouse for materials and equipment. In contrast, the second park called "Parque Recreativo" was vacant land with no use and a slope of more than 10%.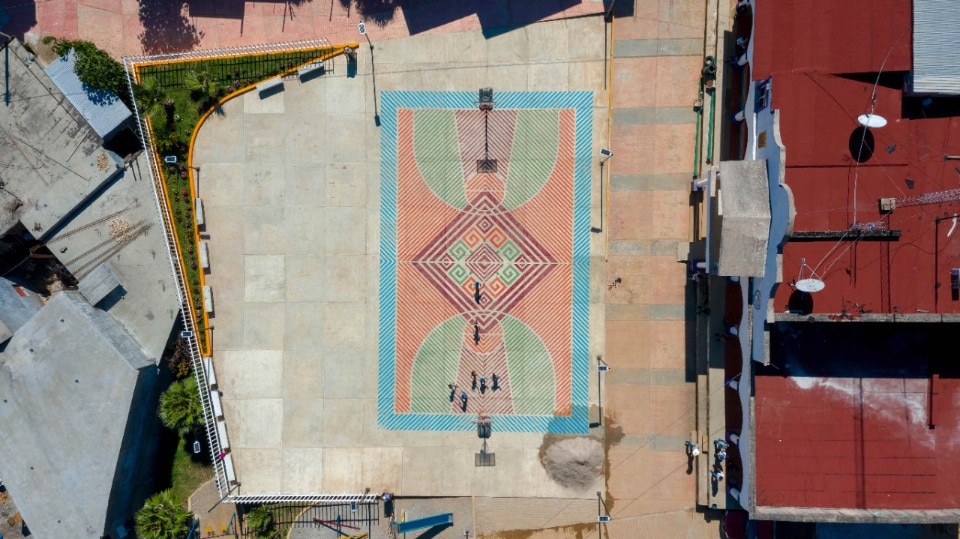 The existing physical conditions of the areas and the irregularities of the natural terrain led to a design strategy based on using the existing typography as a physical reference for the creation of a new natural landscape. While it was therefore decided not to lose its flat spatiality for "La Plaza Cívica" by using it for social and cultural events, the second plaza was instead developed by taking advantage of the existing unevenness through a grandstand with local stones.
The paving of the walkways was made with multicolored pebbles – an iconographic reference to traditional embroidery – while at the same time allowing the absorption of rainwater, which is filtered in a series of gutters built around the perimeter of the park.
The green areas, on the other hand, were designed to plant native trees and plants, such as peach trees, oaks, and pines. Pedestrian walkways were built on the road dividing the parks to connect the recreational park area with the forum area.