In the heart of the canton of Geneva, Switzerland, French architect Vincent Callebaut is designing an automobile-free eco-neighborhood with a 10,000-square-meter property dedicated to urban parkland.
Called The Greenhouses, the area still under study will accommodate public services shared with the surrounding urban fabric while allowing for the continuity of north-south soft mobility between the Renens station and the Swiss Federal Institute of Technology in Lausanne.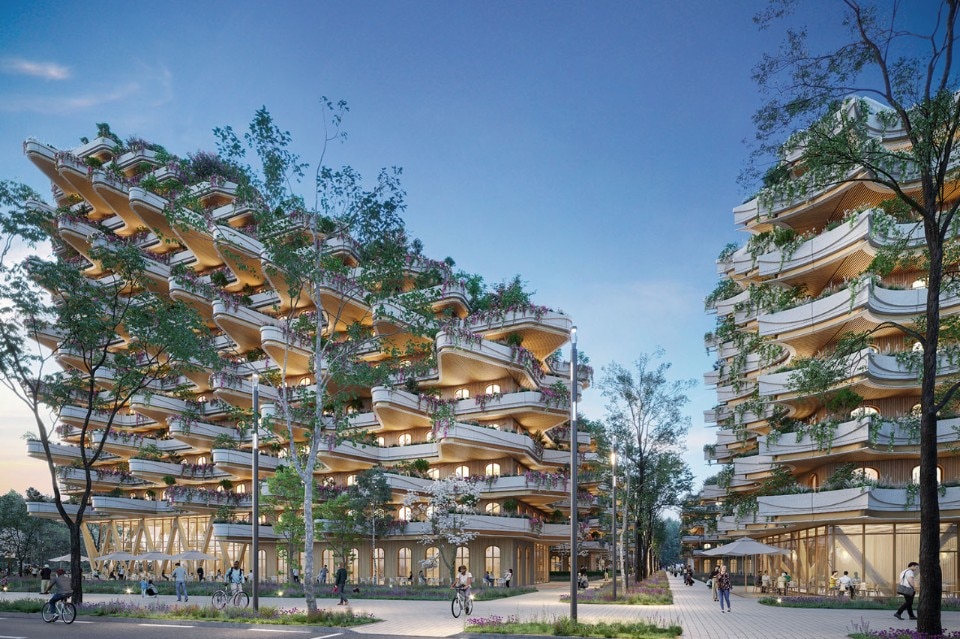 The project is based on a housing concept called "sky villas", a design mode through which all the advantages of city apartments are combined with the intimacy of an individual country villa with private garden.
The architecture thus offers future residents cascades of terraces and duplex balconies installed in a staggered manner. Spreading out gradually, this architecture sculpts and enlarges the view of the landscape. All apartments are also comb-oriented, systematically articulating the living areas toward the south and the lake and the sleeping areas toward the north.
On the buildings, rain chains choreograph the gravity flow of rainwater through landscaped balconies from green roofs to orchards in the ground. In the circular system, osmotic pumps in the basement also filter gray water from kitchens and bathrooms to provide a continuous supply of water for drip irrigation, cleaning, and toilets. The landscaped terraces include planters for growing plants and vegetable gardens as an extension of the living spaces.
This landscaping helps bioclimate, lowering the temperature by 3-5 degrees through evapotranspiration and filtering solar radiation. In addition, residents will be able to grow more than 30,000 plants and shrubs, removing 170 tons of CO2 from the atmosphere of Chavannes-Près-Renens each year.