Vienna-based PPAG Architects recently completed the expansion of a Steirereck am Pogusch restaurant, located in a wooded area in the rural village of Pogusch. Surrounded by farmland atop a mountain pass, the site originally housed the main restaurant, a kitchen, and living units for staff and guests. To expand the offerings, planners added a series of buildings intended to merge with the hillside and form a village-like development. The existing building, also renovated under the supervision of the architects, two corner greenhouses used in the growth of food used for catering were added.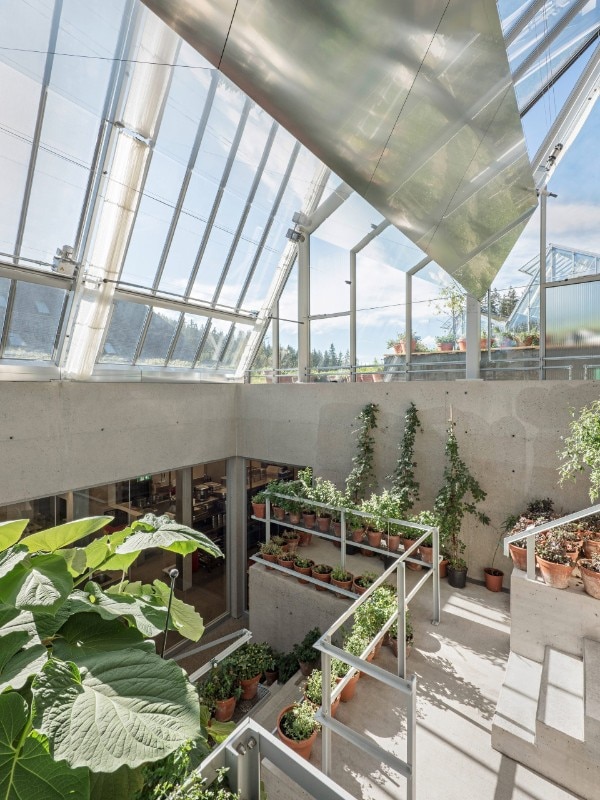 Central to the lot are the new glazed buildings, detailed by a shed-roofed bay section, thanks to which the interior can enjoy constant zenithal light and natural ventilation useful for plant growth. The staggered levels that slope down the hillside are then filled with seating areas and extensive plantings. While the first of these greenhouses is exclusively for growing fresh herbs and spices, the other serves as accommodation for the facility's guests.
In addition to these architectures, the studio designed a new building dedicated solely to the restaurant dining room, defined materially by expanded aluminum cladding. The other rooms on the site include a distillery, kitchens, staff areas and living quarters, as well as a smaller greenhouse containing a kitchen garden. In keeping with the restaurant's sustainability goals, energy and composting facilities were later added to the complex.