In the constellation of exhibitions to be seen these months in Venice in parallel with the Biennale, Fondazione Prada opened on May 20 "Everybody Talks About the Weather," an exhibition dedicated to the meanings of weather in visual art, a starting point for analyzing more broadly the issue of the current climate emergency. We had a chance to talk about it with curator Dieter Roelstraete. "The observation behind the exhibition project is the difficulty with which the world of contemporary manages to deal with the climate crisis," he explains: this is "even though it is probably the greatest existential threat humanity has ever faced in its 100,000-year history."

The climate crisis is a topic that artists, curators, and critics alike find difficult to talk about. "Partly because the problem is so complex, so huge, but also because the art world itself is somehow complicit in producing many of the problems that have produced the climate crisis."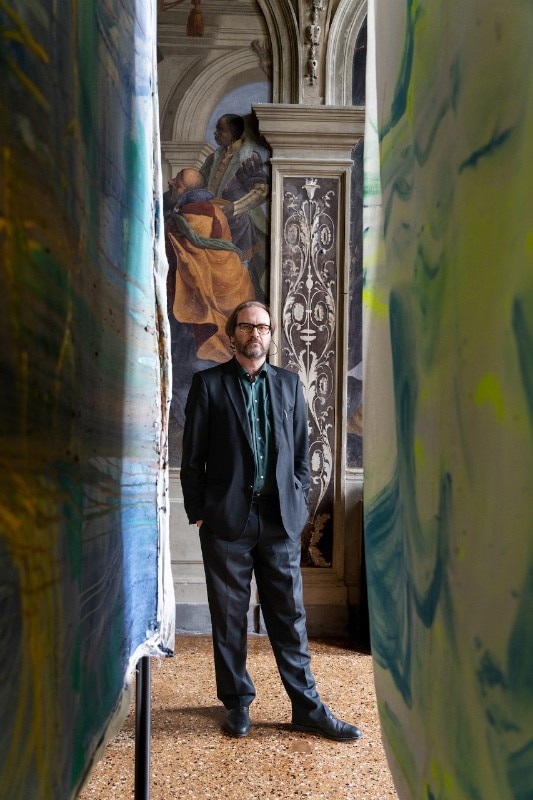 "So if it is so difficult to talk about the climate crisis, perhaps we can address it by talking about the weather, which everyone is constantly doing and has been doing all along. The very title of the exhibition is so universal that it is immediately accessible. Art historically has been about weather forever, artists have been painting clouds forever, as well as ice and rain. These literal, logical phenomena have a very deep history in art." Indeed, the exhibition route establishes an empirical equation between meteorology and climatology, creating a hybrid reading for the viewer of artwork and scientific data. The goal is to frame the environmental crisis and its undeniable impact on our lives through evoking, representing, and analyzing meteorological phenomena.
Plinio Nomellini, Sole e Brina, 1905-1910
 Anonimo veneto, La laguna ghiacciata alle Fondamenta Nuove, 1708 - 1709
Raqs Media Collective, Deep Breath (film stills), 2019/2022
Theaster Gates, The Flood (film still), 2023
Shuvinai Ashoona, Eeguuonaliaveeniq, 2013
Tiffany Sia, A Wet Finger in the Air (video stills), 2021
Jason Dodge, In Alvorada, in Brazil, Vera Junqueira wove wool yarn the color of night and the same length as the distance from the earth to above the weather
Anthony Gormley, HORIZON II, 2014
Dan Peterman, Plastic Horizon (w/distant weather event), 2014
Pae White, Kinked Rain/Gold, 2022
Yang Yongliang, Time Immemorial – Other Shore, 2016
Richard Onyango, Tsunami, 2005
Tsutomu Yamamoto, Interbeing cloud 10.04, 2010
Vija Celmins, Untitled (Sky), 1975
Beate Geissler & Oliver Sann, How Does the World End (For Others)? (detail),, 2022
Pieter Vermeersch, Untitled, 2023
Plinio Nomellini, Sole e Brina, 1905-1910
 Anonimo veneto, La laguna ghiacciata alle Fondamenta Nuove, 1708 - 1709
Raqs Media Collective, Deep Breath (film stills), 2019/2022
Theaster Gates, The Flood (film still), 2023
Shuvinai Ashoona, Eeguuonaliaveeniq, 2013
Tiffany Sia, A Wet Finger in the Air (video stills), 2021
Jason Dodge, In Alvorada, in Brazil, Vera Junqueira wove wool yarn the color of night and the same length as the distance from the earth to above the weather
Anthony Gormley, HORIZON II, 2014
Dan Peterman, Plastic Horizon (w/distant weather event), 2014
Pae White, Kinked Rain/Gold, 2022
Yang Yongliang, Time Immemorial – Other Shore, 2016
Richard Onyango, Tsunami, 2005
Tsutomu Yamamoto, Interbeing cloud 10.04, 2010
Vija Celmins, Untitled (Sky), 1975
Beate Geissler & Oliver Sann, How Does the World End (For Others)? (detail),, 2022
Pieter Vermeersch, Untitled, 2023
The halls of the Venetian palace house historical and contemporary artworks that reveal the artists' constant focus on "talking about the weather," from allegorical paintings and en plein air paintings to recent multimedia installations and transnational activism. Of course, most artists who do not speak directly about the climate issue are on display, but they are works that look at the change weather patterns have had on our history.

"There is, for example, a replica of a very famous painting by Claude Monet that, for a long time, we saw as a masterpiece of atmospheric manipulation," Roelstraete continues. "But more and more we are beginning to see how Monet was perhaps the first painter of atmospheric pollution. The same is true of Turner, who for a long time was considered a painter of atmospheres, fog and rain, but who is now increasingly being seen as the first witness to the impact of the industrial revolution on air quality in his native England."
A key aspect of the exhibition is the scientific information conveyed as an analogy to the work, seeking a balance between alarm and aesthetic pleasure. "When I proposed this exhibition, it was clear from the beginning that science would have to play an important role. A picture or drawing of a beautiful cloud may seem so incredibly innocent, but it's something we now have to take incredibly seriously. We could only secure this authority on the subject with a very solid scientific basis to anchor the exhibition to. Each work is accompanied by a generous sharing of scientific information that includes data, diagrams, maps. All of this information was collected by a group of Ca Foscari researchers, who helped shape the exhibition's information architecture. At the end of the exhibition, you can also find a library of more than 400 books, all the books that were referred to during the writing of the exhibition."

Alarmism doesn't always work. Sometimes an alarm allows people to sleep, whereas the power of art, in my view, is to address emotions more directly and capture people's attention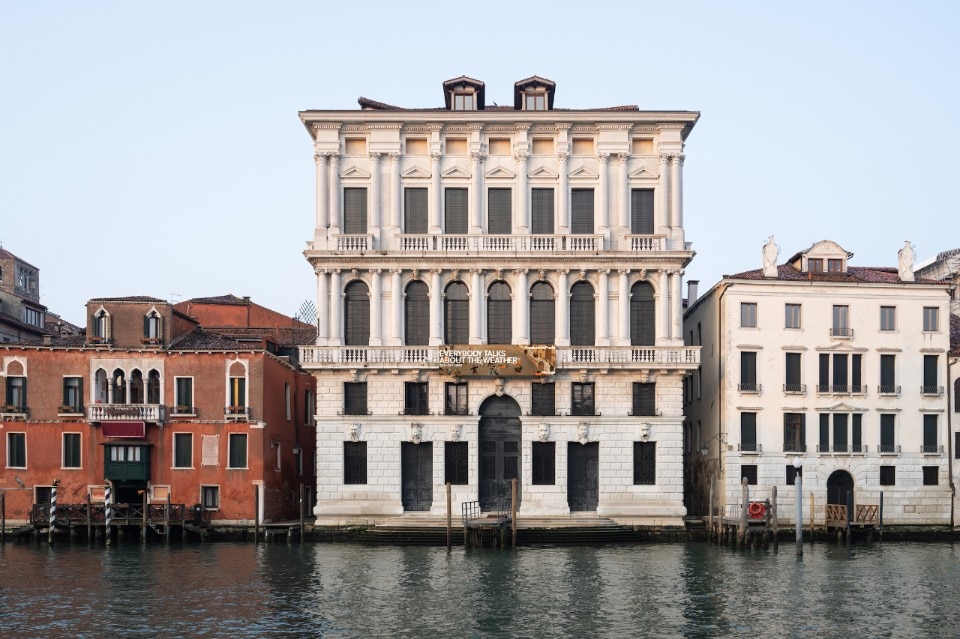 In designing the exhibition Roelstraete has followed among other texts the reflections of Indian writer and anthropologist Amitav Ghosh who, in his 2016 book The Great Derangement: Climate Change and the Unthinkable, described the failure of contemporary culture to adequately address the threat of climate change as a legitimate source for crafting high-profile content from a literary perspective.

"One of the challenges the scientific community has right now is a language that is typically distinct from a dominant alarmist register. But alarmism doesn't always work. Sometimes an alarm allows people to sleep, whereas the power of art, in my view, is to address emotions more directly and capture people's attention," the curator concludes. "And it's not the beauty of a kind of escapist fantasy, such as to look away from the problem, but to look at it with a new key and with hope."
Opening image: Richard Onyango Tsunami, 2005 Courtesy The Jean Pigozzi African Art Collection Photo: Maurice Aeschimann, Genève