The Dutch firm announced its recent winning of the competition to design the Hangzhou Oil Refinery Factory Park, a transformation of a former industrial district located along the southern end of China's Jing-Hang Canal, the longest artificial river in the world. Indeed, China is currently investing in the redevelopment of this waterway, translating this industrial infrastructure into a new social attraction along its 1,700 kilometers.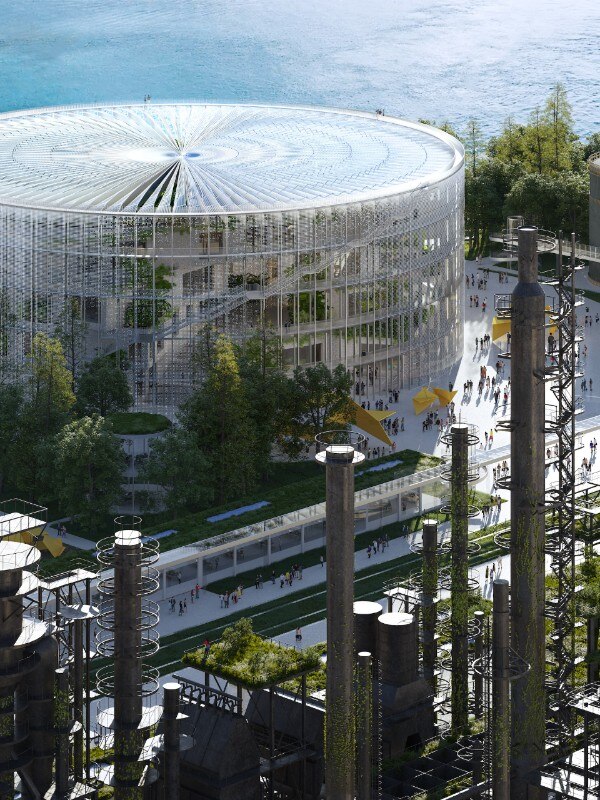 Hangzhou City is located at the southern end of the canal. The approximately 18-hectare study site was once occupied by an oil refinery. Now closed, most of the structures that occupied the site have been demolished, although a few large refinery buildings and some oil storage drums remain. The project envisions the reuse of the site's industrial archaeology to create a new cultural center as its central element, the Art and Sci-tech Centre – shaped as a cylindrical body, almost like a large-scale version of the silos that once dotted the site.  Offices, stores and a wide variety of cultural experiences will also be developed in the area.

This architecture project will be integrated with a landscape design by Openfabric, and both strongly integrate renewable energy sources to serve as an example of the transition from fossil fuels to sustainable energy. By turning every surface of the newly constructed buildings into a power generator, the park will also be contributing to the local power grid,  while it was energy-negative during its operation days.