Coinciding with the 17th International Architecture Exhibition at the Biennale di Venezia, the Giardini della Marinaressa now host Striatus Bridge, the prototype for a 3D printed concrete pedestrian bridge.
As one would expect from an architecture whose technological component is so prominent, the team of its authors is really crowded and diverse. The structural and construction design of the Striatus Bridge reflects the masonry expertise of the Block Research Group at Zurich's ETH, co-directed by Philippe Block and was given its parametric and robotic 3D printing related expression by CODE, the Computational Design Group within Zaha Hadid Architects, which is here represented by Shajay Bhooshan. To conclude, the Austrian start-up incremental3D has printed it with the concrete supplied by Holcim, which is the entire operation's sponsor and general manager.
The bridge exists for the moment in one to one scale and it can be crossed and tested, but it is exhibited on dry land. Its opening to the public is the occasion to get to know Bhooshan better. One of the founders of CODE, he is a typical profile of today's architectural world both for the diversification of his activities and for his multi-disciplinary skills. A member of Zaha Hadid Architects from 2007, he is also a valuable source of information on the current state of the British firm.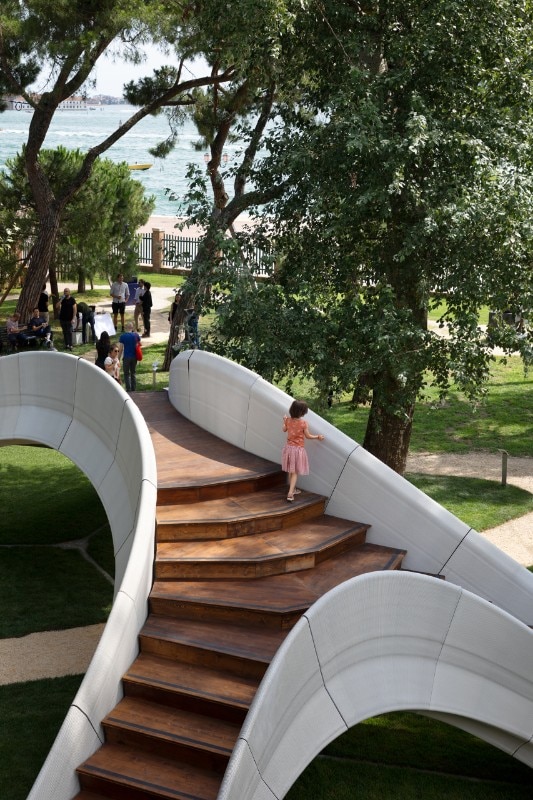 You work in an architectural firm as an expert of computational design. Which were the crucial steps in your training and career?
I started my study in India, at the TVBSHS (TVB School of Habitat Studies) in New Delhi. At the beginning of our century, the training program was still very similar to the one offered to 20th century's architects. A lot of emphasis was put on the modernist phase of Indian architecture, right after our independence, influenced by the works of Le Corbusier and Louis Kahn. It was crystal-clear, though, that a gap existed between this narrative, local traditions and the actual trajectories followed by the country's development in the following decades. Furthermore, at the time I was already familiar with working sites as I was following my father, who was also an architect. This experience helped me get acquainted with construction techniques.
You later continued your training in London, where you met Patrik Schumacher.
Yes, my master at the AADRL (Architectural Association Design research Laboratory) allowed me to make my three main interests interact: technology, and in particular information technologies, a theoretical reflection on architecture and the attention to local construction techniques. In London I met Schumacher, from whom I learned that there are no issues and challenges that architecture can't make its own. Meanwhile at the A.A. I was developing my skills in the field of computer graphics, and more general in the field of geometry. Also at the A.A. I met Philippe Block, who's now the director of my PhD thesis at Zurich's ETH. Today I have the chance to work simultaneously on several fronts: in the professional world at Zaha Hadid Architects, at the A.A. where I teach and at the ETH where I write my thesis.
You are one of the founders of CODE. How was this branch of Zaha Hadid Architects born and how does it function today?
Shortly after the end of my studies at the A.A. Schumacher invited me to join Zaha Hadid Architects, to start a research group there. At the beginning this was mostly about re-organizing the firm's digital archives, but over time CODE has evolved and become what it is now. We focus on computational design, and we study technologies that are at least three to four years ahead of the current applications in the field of construction and within Zaha Hadid Architects. In short, our task is to trigger a relentless update of the solutions adopted by the firm. Zaha Hadid was often stigmatized for her repetition of a single style, but our reality is continuously evolving. We are a very flexible firm, and we are open to the bottom-up suggestions coming from the new generations that join us. My generation, CODE's generation, is defining a new set of representational tools, and a new network of consultants and suppliers, different and more up-to-date than the previous generation, that is the one of the MAXXI. CODE is a very small group within a 500-people office, but we also somehow aim at being the "new Bauhaus", at reshuffling the game's rules.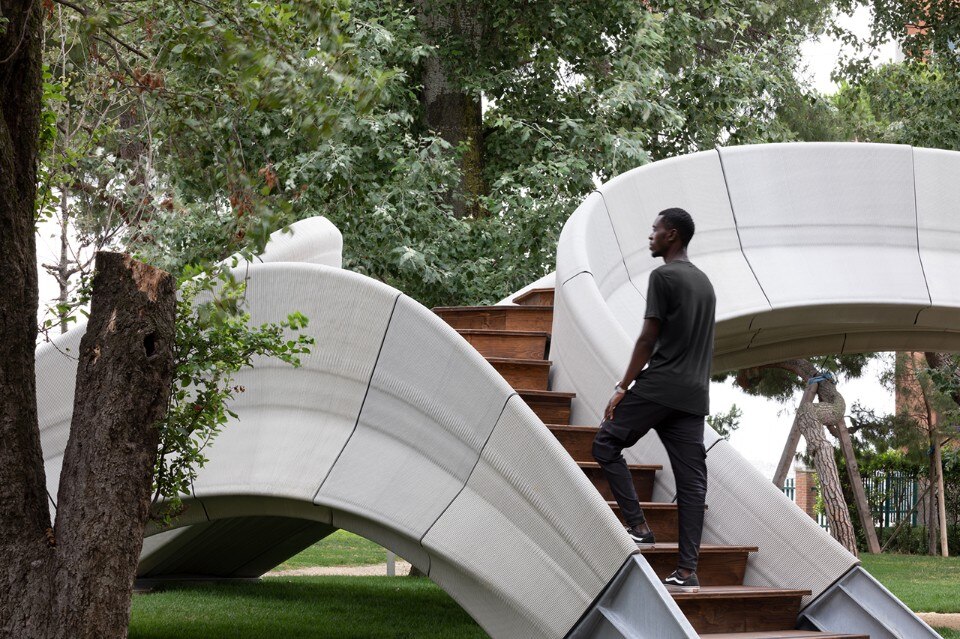 I would talk about Striatus Bridge precisely starting from an issue of style. During your presentation to the press you have stressed several times that its curvy shapes are anything but whimsical. On the contrary, they are necessary to improve the printing process and structural qualities of the bridge.
Exactly. Striatus Bridge doesn't stem from the "napkin sketch" made by an architect, which engineers and other specialists later deal with in order to make it work. From Zaha Hadid Architects we took criticism to our architecture's exuberant trademark language very seriously. It is important to explain that this shapes don't just exist for their own sake, but they are the logical transcription of our experimental approach in the three dimensions of the built environment. Striatus Bridge is paradigmatic of how this architectural language can prove to be necessary both during production, because 3D printing is more adapted to curved shapes, and on a structural plan, as it optimizes the distribution of structural loads. Basically, we are searching for a language that is common to architecture, to structural engineering and to the field of computer graphics, a language that can enhance the qualities of all the disciplines working on the project.
You insist a lot on a multi-disciplinary approach being a basic requirement for a contemporary project.
Yes, and I believe that the case of Striatus Bridge shows the appropriateness of this approach. This has been a full-fledged experience of integrated architecture, which has involved teams of experts from different fields and coming from various parts of the world. Despite the additional challenges due to the pandemic, we have been able to come up with a project that I consider very convincing. It is convincing because it addresses at the same time issues of style, environmental issues – as its optimized shapes allow to use less material, and social issues – as its very rapid construction time make it ideal to respond to building stock shortages currently existing in several regions of the world. Striatus Bridge is a sort of "holistic package". In my opinion, it perfectly shows the level of maturity and complexity reached by the reflection path set by Hadid many decades ago, a continued over the years by her firm and by CODE.