This article was originally published on the supplement of Domus 1036, June 2019
Since the 1930s, and more intensely after World War II, a myriad of ski stations have been founded, colonising Europe's mountains and welcoming the millions of sports newbies produced by the economic boom. Camouflaged, futuristic and entirely pedestrian, the purpose-built resort Avoriaz in Haute-Savoie, France was the brainchild of the ski champion Jean Vuarnet. Designed by Jacques Labro and inaugurated in 1967, it is one of the most significant examples of an era of strong morphological, typological and aesthetic experimentation with the high-altitude city.
Contrariwise, and understandably so, lowland towns able to boast among their tourist attractions an actual man-made mountain are much harder to find. The Monte Stella park in Milan, a hill built of war-time rubble, is a fairly minute and isolated example. The provocative proposal by Jakob Tigges to transform the derelict Tempelhof airport in Berlin into The Berg (2009), the biggest artificial elevation in the world, fortunately remained crystallised in a rendering.
The project by BIG known as CopenHill at the Amager Bakke incinerator in Copenhagen constitutes in a certain sense an unexpected rebirth of the urban-mountain tradition. In the ultra-flat country of Denmark, which does not rise more than 172 metres above sea level, the office of Bjarke Ingels built a gigantic waste-to-energy incinerator whose roof is a single, broad slope with a 180-degree turn. It could be dismissed as just a large volume with a steep roof had it not been programmed to be a miniature Scandinavian Zermatt.
At the CopenHill, in no particular order, it is possible to ski for half a kilometre and go back up to the top by elevator or ski-lift; climb an 86-metre vertical wall (a world record); take walks along the sides of the piste, where a park designed by Sla Architects simulates the vegetation of an untamed slope, yet features spaces suited for the street-fitness use of joggers and other sportspeople; and finally, rest at the panoramic cafe after the exertion of a day's athletic activities. Much more than its shape, structure or greenery that will soon cover the facade by cascading from modular aluminium planters, it is the pre-arrangement to host such functions that makes CopenHill a legitimate member of the artificial-mountain category.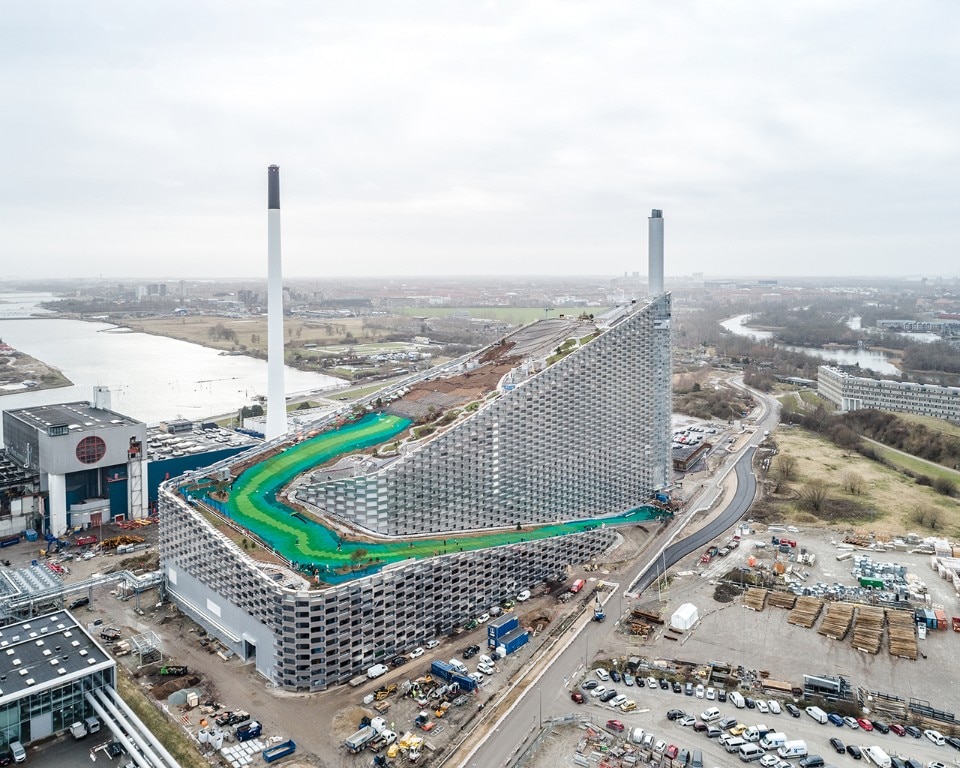 The experiment conducted by BIG belongs to a more general contemporary tendency to give cities integrated new programmes that used to be designed as inaccessible, fenced-in areas. Recent practices have made formerly unusable spaces open to the public. See the 2013 skate park created by the skateboarding architect Søren Nordal Enevoldsen in Roskilde, Denmark: what began as a drainage-canal project turned into a multifunctional recreation area. But CopenHill is still an exceptional case for the really daring juxtaposition of its two main functions (garbage incinerator and sports centre) and for its iconic potential.
The chimney-stack became part of Europe's urban iconography in the early 1900s, when England suddenly turned industrial. Representations show the horizon populated by menacing snorkels, producers of deadly fumes. Ever since, the smokestack has been a tolerated but not appreciated element, a presence perceived as necessary but detrimental, only accepted as a symbol when its function is lost, extinguished and turned into a compact and easily maintained piece of cultural heritage from the past. Of how many old factories is nothing left today but a chimney-stack? CopenHill rehabilitates the smokestack as an object in our collective imagination, because it associates it with a building that needs and wants to be good, which is how it is insistently communicated. Its exhaust pipe is a friendly pipe that emits carbon dioxide, of course, but only the minimal indispensable amount to produce the energy needed by hundreds of thousands of people, the same ones who will be able to have fun on the Amager Bakke plant's slopes, lined as they are with colourful, performance-enhancing carpets of Neveplast.
As a contemporary monument to a green city, CopenHill is perhaps the most memorable architectural project by Bjarke Ingels to date. It is still being completed, for strong winds are making planting difficult, but it is already competing with Copenhagen's hundred-year-old Little Mermaid statue sculpted by Edvard Eriksen for the role of the most popular tourist attraction of all Denmark.
Project:

CopenHill

Location:

Copenhagen

Program:

Incinerator

Architects:

BIG-Bjarke Ingels Group

Project leaders:

Jesper Boye Andersen, Claus Hermansen

Structural engineering:

Moe Consulting Engineers; Ramboli Group

Landscape design:

SIa Architects

Site area:

41,000 sqm

Completion:

2017