Design and Cats. Andrea Branzi at the Circle is the first in a series of appointments that Michele De Lucchi and his firm - AMDL Circle - are organising in the wake of the period of forced isolation in order to find new ideas and inspiration. The exhibition forms part of the study that the Milanese firm is carrying forward regarding the evolution of space dedicated to work, hospitality and refreshment, which are seen as fluid environments that favour human relations and exchanges. The first step is the presentation of objects by Andrea Branzi. collected by Michele De Lucchi over the course of their long friendship.
Branzi and De Lucchi teach together, they have travelled together, and they have shared research, alchemy and experiences. On Michele De Lucchi's desk in the Angera studio sits an enamelled ceramic brain from a series of Still Lifes by his friend.  It is an object that is both disturbing and fascinating. It makes you want to touch it. The brain observes the architect as he draws, writes or takes part in video-calls with Milan or the rest of the world.
At Andrea Branzi's desk in his studio, which is also his home, he works, draws and eats, illuminated by a Tolomeo desk lamp.  An enamelled brain and a desk lamp. An exchange of objects which is also an exchange of friendship, ideas and inspiration.
On the occasion of the exhibition, I pay a visit to Andrea Branzi, who discusses objects with understated irony, at the same time elaborating a detailed examination of reality. Like a cat, he takes his time and focuses on his main interests: puppets and collages, as well as teaching, architecture without design, and much more.
Let's begin with the title of the exhibition, which you have named Design and cats.

(He laughs). Our friendship began many years ago, when Michele gave me a kitten as a way of thanking me for the times he stayed with us before he had a base in Milan. At the time we had a dog, a mongrel that was criminally insane, but the kitten immediately took a stance and the two animals became the best of friends. We called her Finestrina, and she was a delight.
The exhibition brings together a number of your important works that Michele has decided to collect and to show, so that they may serve as inspiration for visitors.

Architects do not usually exchange objects. Michele's collection is very particular, and put together with great care. These private exchanges are to be encouraged, as they lend a value to objects and to life that goes beyond professional relationships. These are objects that we love, because they have a soul and create a magical and sacred space that centres around friendship.
Although in different ways, both you and Michele place a great, almost magical, value on objects, which assume a meaning that goes beyond their function. The exhibition also includes "Branzi's brain", which normally sits on Michele's desk.

The brain was made here in Milan, and formed part of my study into the interior, the insides, that which lies within. I created the brains, and I also made extensive use of x-rays, for example applying them to lamps, like shades, from which hands or bones emerged. I have always been interested in using anthropomorphic messages. My attitude is to create objects that are almost always toys as well, and this is what Michele has collected. He also had this tendency. I remember that he had created a series of lamps that looked like puppets. [These were the Marionette lamps, designed for Produzione Privata in 2001, Ed.]. I also recently completed an illustrated collection of puppets, made up of ninety-eight collages of Pinocchios that I created during the time spent in lockdown.
Speaking of Pinocchio, the exhibition also includes the dancer Pinocchio that Michele has in his studio in Milan, alongside his desk. He is very fond of it and no-one dares go near out of fear of knocking it over. Where does that puppet come from?

From a piece of wood! (this from Nicoletta) [Nicoletta Morozzi, Andrea Branzi's wife, the head of the fashion department at NABA, Ed.]. Pinocchio is a metaphor, a continuous metamorphosis. He is a character that is very dear to me, and often re-emerges in my work. Collodi wrote a novel of ferocious cruelty. It is a story of the Apennines, of darkness, cold, misery and violence. It is almost unthinkable that it is given to children to read. Pinocchio is hanged, the donkey is drowned, and there are elderly people beating each other up... Yet the novel is of an unimaginable modernity, it starts on page 1 with a lead character, then on the next page the lead is taken by another, and then yet another.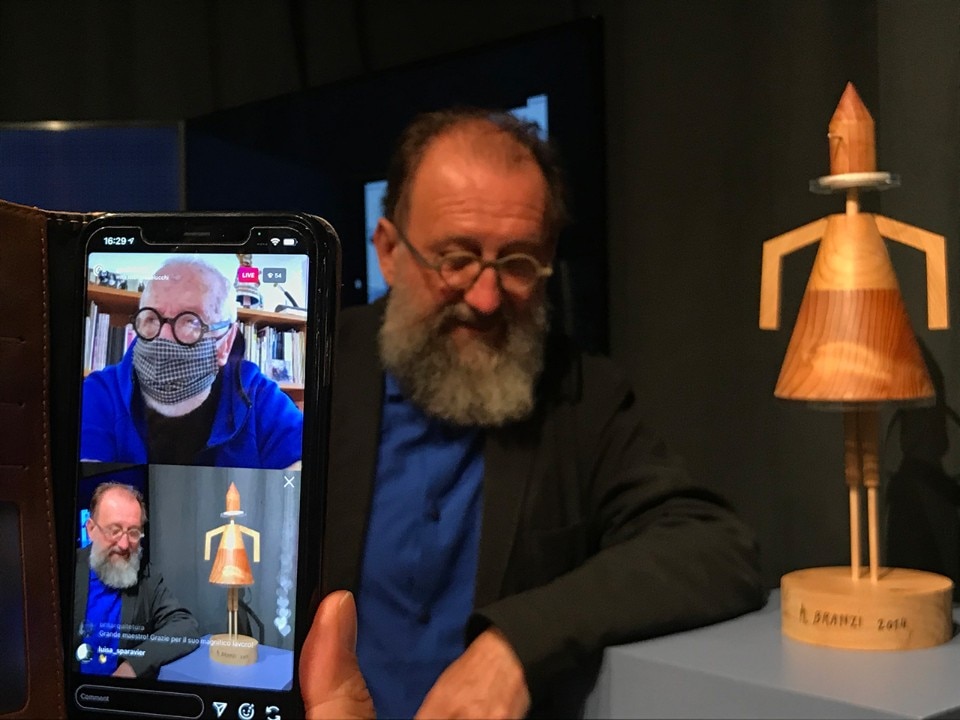 I read that you like Pinocchio because he is Tuscan and has "an implacable tendency to lie"…

Yes, absolutely! Years ago, I had the opportunity to translate it into scenography. Karole Armitage, an American choreographer and dancer, had asked me what was the potential relationship between Pinocchio and Machiavelli. I thought the idea was brilliant. Machiavelli cultivated an idea of inventing lies and creating false ideas. He hid the truth in the midst of a mass of lies. Inspired by her question, I came up with the proposal of creating a more Machiavellian Pinocchio. In the end, Collodi closes with Pinocchio becoming a boy, but we know that things then ended differently, with people becoming puppets.
Do you mean that people are once again at the mercy of events and, even in artistic expression, like in Metaphysics, humankind has returned to a role as a public puppet?

Certainly. If we consider that twenty years after Pinocchio, in literature, in Italian art, with the Futurists and with De Chirico, humankind became a machine, a puppet, a helpless witness of time. With Collodi, a puppet becomes a man, but history has seen humankind return to being puppets. It is an inverse path. Pinocchio never gives up; he inspires reflection and is always contemporary.
The months spent in lockdown were productive for you, from an artistic point of view. The exhibition also includes the Drawings of faces that you produced, including Faccia di catrame (Tar face) and Faccia di Coronavirus (Coronavirus face).

Yes. And I also returned to my Pinocchios. I begin with cut-outs of images that I find on the internet, and I add something three-dimensional, a small amulet that changes the meaning, and then I draw the nose. Thus Giotto, Masaccio, Giacometti, Ottone Rosai, Picasso, Bacon all become Pinocchios. There is always a process of transformation, of continuous metamorphosis.
These reference to art from the past, to Duchamp's readymades, to Dada collages, can also be found in your Dolmen seen in the exhibition, installations that are like architectures that blend the modern and the primitive.

They are a compresence of modernity and the past, interchangeable. In the current era, "animal" forms of behaviour are re-emerging. Even the famous avant-garde thinkers studied this phenomenon, considering Darwin's laws to be reversible. If humankind evolved from monkeys, then it can return to its animal condition, seen as the utmost in freedom. Bacon's gorilla, like Kurt Schwitters's the Murzbau, are the origin of this trend. Humankind is anguished by its environment.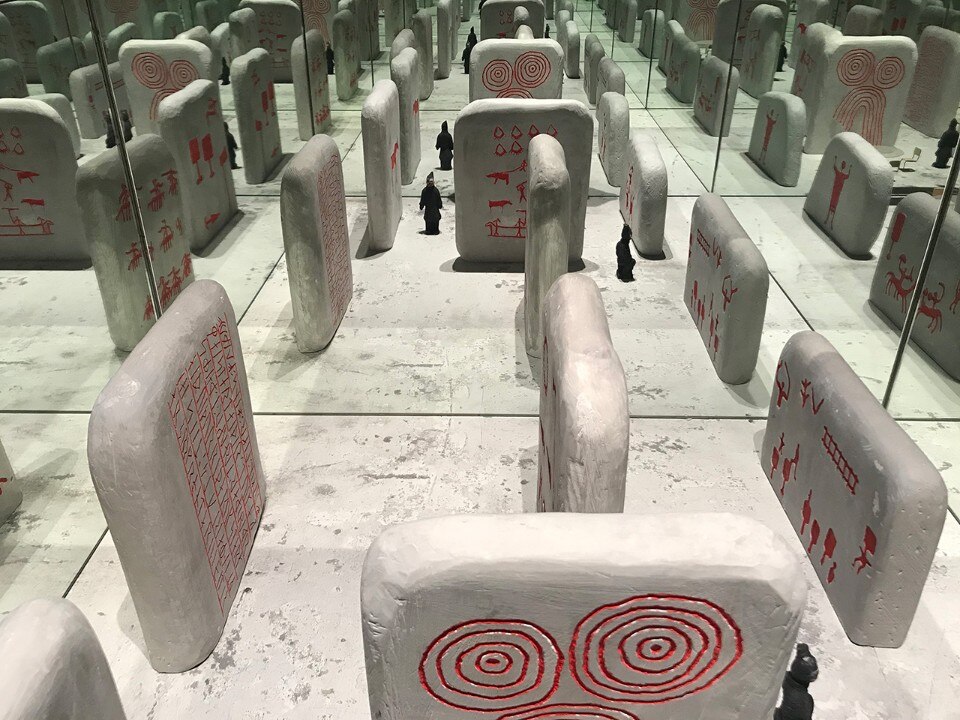 You even see the Grandi Legni as installations, rather than works of art. Do they have any meaning beyond architecture and design, even though they are design themselves?

There is no function in my work other than literary, than a reference to images of ancient or contemporary art. They are created with contaminations of a range of techniques, but all of my work is without any precise direction, it is a narration. Even with the series on Pinocchio, Pinocchio himself has little role. It is dedicated to him but does not explain him. Rather it examines this idea of a kind of metempsychosis and transformation; the existence, even spontaneous, of animals that closely resemble Pinocchio in terms of human condition.
In effect, I liked one of your statements in which you say that even the Still lifes, such as the ceramic Brain, were aimed at provoking reflection on complex thoughts, such as life and death, but also on the mediocrity of vegetables.

I said that? Ha ha, interesting, very interesting!
You also said that you are more interested in what we forget than what we remember.

That's right. I even created my own exhibitions entitled Amnesias, including some of vases. One of these is in the exhibition. Thinking back, one always learns something. The theme of amnesia leads to a reflection on the brain, and at times I have wondered what its purpose is. With the Amnesias vases, I challenged the culture of memory, of the architecture of memory, the re-proposing of styles. I disagreed with these ideas, and I was interested in the idea of working on amnesia. Everyone has their own memory, but at times it is also important to not remember. For example, I have no memory, like many people. It is not a pathological condition; it is just that I think memory would be a great burden for me.
But removed from their function, objects can bring things to mind, can't they?

Well, I do the exact opposite. It's a form of liberation. In fact, I'm already thinking about how to liberate myself from all these Pinocchios! It is also a way to be creative. Fellini also used absence of memory as a form of creativity.  8 1/2 is based entirely on the fact that no-one has any idea what to do, and this creates a condition of great freedom and creativity. On the other hand, there are those who heavily elaborate their memories, and have great intuition. They are different techniques, not that they differ so much in substance, but amnesia leaves no trace. Obviously, the downside is that I need assistants to tell me what I have to remember!
For years you have been reaching at the Politecnico di Milano with Michele De Lucchi. How do you see teaching nowadays?

Michele and I have been following the courses together for years. The first lessons were due, and we had absolutely no idea what to do. Then, for example, we decided to work on half-light, and things took off. However, the procedure has never been to teach the students, but rather to learn from them, in other words creating self-taught people. We work on the idea of overturning roles and providing stimulation. A teacher should always encourage, even with idiots or dopes, they should always tell them to keep going, that it is interesting... until at a certain point a connection is made and they manage to create a scenario. It is a pedagogical approach that we learn from a very young age. Children are all artists. Only a very small percentage actually become professional artists, but they are all artists. Children are the demonstration that anyone can learn to be creative. On the contrary, the academic world maintains an incorrect view of the world that is based on certainties.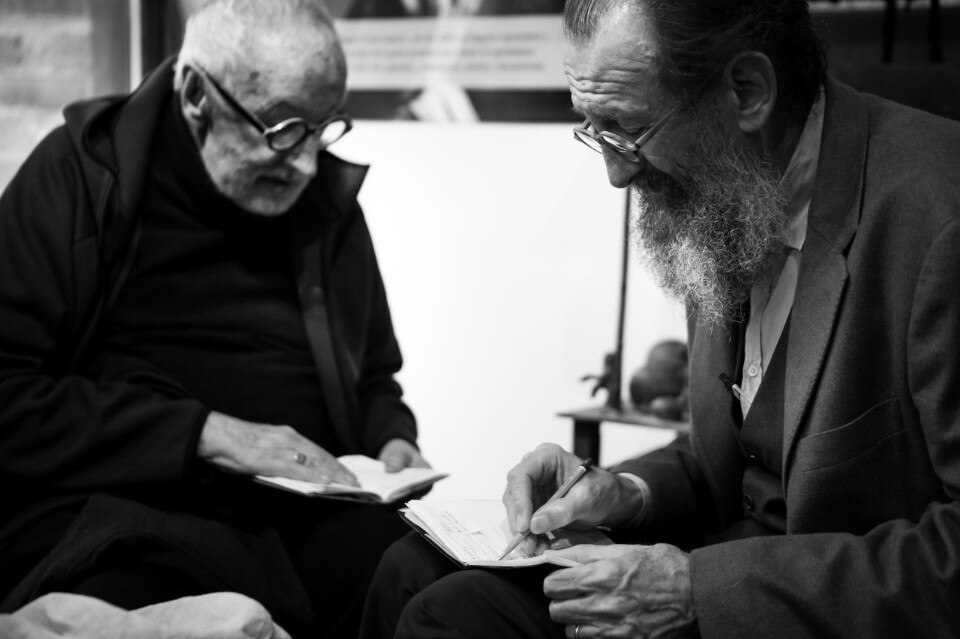 So, you like teaching when teaching involves creating dialogue?

Yes, very much so. But I get angry with students who mimic my work, and there is always someone who falls into this trap. It is serious, it causes the ruin of entire generations. I have always told students that they have to teach me, I have nothing to say. At the beginning they say, "he's crazy, he'll ruin us", but then great things emerge. We have fun pitting them against each other: Michele follows half of them, and I deal with the other half, and they have to try and be the best! Their work demonstrates the different approaches of oriental and western culture. What also emerges is the great sensitivity that the female students have, and the creativity of the female intellect, despite the history of design, characterised by serious shortfalls, is generally very male-dominated. The predominance of new female designers will be one of the most important factors in design culture.
Massimo Vignelli also strived to highlight the role of his wife Lella, who played a complementary role in his work but initially was given little recognition. Vignelli claimed that Lella's sensitivity was very important in designing.

There are very evident shortfalls in western culture. One is that little room is given to women, both in art and also in the world of design. The other is the absence among teachers of people of different ethnic backgrounds, such as Afro-Americans, who bring to the world of design their strong identity, their intelligence, their vitality and a sensitivity that differs from that of the west.
In an issue of Domus from 1982, you spoke of a system of office furniture designed by Sottsass and De Lucchi, and of the evolution of workspace. You wrote that you dreamed of living life with a concept of time similar to that of a cat, without any hurry to do things, always moving with great wisdom, enjoying things without the stress of deadlines or appointments. Here we are with cats again!

I wrote that if we could curl up or be half-lying down like animals, we would live and work better. These were my first ideas on the office seen as a comfortable space, not as a system but as a complex of activities. These ideas later formed part of the Citizen Office project with Michele, James Irvine and Ettore for Vitra. We imagined a workplace made up of intervals, where one can lie down, in a state that is apparently disorganised, from a rationalistic point of view, but which is open to relationships, because office work is characterised by flows, external consultants, visitors and clients. We proposed models of spaces that were very untraditional and experimental, not easily defined. They were reflections stemming from a philosophy that was not particularly functionalist.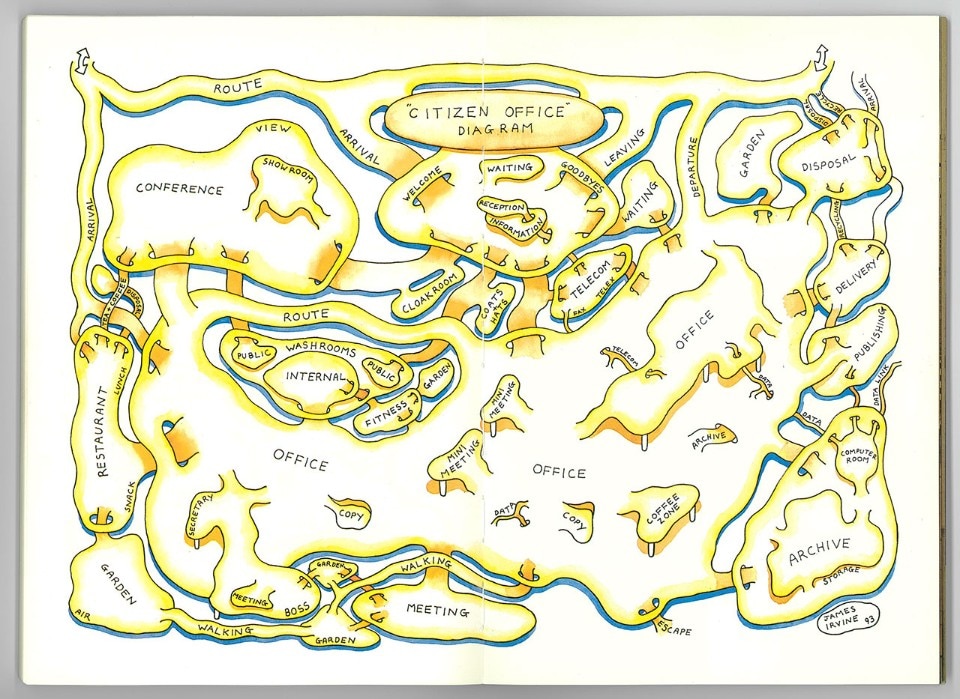 It was an article from 1982, but Michele De Lucchi and Circle still focus their studies on the workplace as a fluid space. This is why they encourage these moments of encounter in the firm, in order to have continuous stimulus, human exchange, where machines can do what they were made to do and humans can dedicate their time to more fruitful intellectual exchanges...

In fact, in Citizen Office, we envisaged more seating, sofas and places of rest, but these experiments were not well received at the time, also because the catalogue and documentation was produced by Vitra and translated into German, and so did not receive so much attention.
In a review by Sottsass of your book "La casa Calda", in which you proposed the designing of a civilisation in search of an emotional aspect to domestic objects, Sottsass wrote that it was a complicated book, but that he admired it because his words made him look more intelligent and intelligible.

(He laughs). It was a great relationship, very particular.
You have said that you never read writings on architecture and design, claiming your favourite books to include Pinocchio, naturally, The ashes of Gramschi by Pasolini, Dead souls by Gogol, Journey to the end of the night by Celine, the poetry of Saba and Georgics by Virgil. Do you recognise yourself in this selection?

Yes, absolutely.
Would you add anything else?

Ferdydurke, by Witold Gombrowicz, a Polish writer. [ A story of social suffering, of the conflict between humankind and its environment, as well as its immaturity, Ed.].
At the 2014 International Architecture Exhibition in Venice you noted an expressive constant: the return to neo-organicity, perhaps because in the midst of total unease, designers sought comfort and balance in nature... is 2020 also characterised by a constant?

I would no longer cite organinicity. We could say that architecture seen as such, therefore as urban planning, as functional organisation, has disappeared. The only thing produced, in terms of design tactics, are visual exceptions rather than spaces. For example, the area of Milan surrounding Piazza Gae Aulenti consists of visual exceptions, of interruptions in urban space that are made to astound. What we have today are cities without architecture, with in some way is a radical slogan. We currently move in spaces to which we are indifferent. Nowadays, window dressers are more important than urban planners.
What is more important these days, appearances, the facade?

This makes me laugh because it was an idea that I began to consider in 1966, when I graduated from the University of Florence. I would come out with this type of theory and the students would go crazy. The work of Kevin Lynch, The Image of the City, had a great influence on my work when I was a student. He spoke of the perception of urban space through memory tunnels, and explained that the city, or rather the idea of the city, is made up of bars, news-stands, benches and telephone boxes, in other words of a universe of objects that make up the urban scenario; the rest, instead, the facades, are not remembered. Once I tried an experiment, at the domus Academy. I found that there wasn't a single student that remembered how many floors and windows the building they lived in had.
People don't look at architecture anymore, space is occupied entirely by cars, by information on objects. There is this myriad of messages. This is typical of the current situation in design, which moves in a totally disinterested context. Nowadays in Via Monte Napoleone, no-one looks at the beautiful period facades, because they never look up from the shop windows. Looking up is an important matter. Architecture has become a design and constructive process that only concerns matters of real estate, with internal space no longer the subject of design.
Over recent decades we have seen a process of defunctionalisation of architecture, and what was once an office is turned into a bank, and then a museum, and then a restaurant. There is a continuous shifting of the internal function of architecture, and this also creates contamination, the continuous desecration of the functional order of the city. Current architecture interests me greatly, but because of these transformations, without sense, in a fluid manner, in some way without design. Without architecture. I am interested in design without architecture. (He stops to think, amused).
And what about design, objects? You said that while many years ago there were just twenty designers in Milan who were sought out by industry, now there are thousands of voices, and no-one remembers the songs.

There is little singing around, but there are a multitude of voices and those few are no longer as important. But this aspect is also interesting. We will see.

Together we leaf through the ninety-eight collages of Pinocchios. Everyone is there: Bacon, Chagall, Matisse, and even Michael Jackson, Machiavelli and Tutankhamen. I say goodbye to Andrea Branzi, who smiles kindly and goes back to curl up in his drawings, in a time that flows evenly, like that of a cat. Who knows what the wooden dancer Pinocchio will say to visitors of the little exhibition.
Michele De Lucchi while doing the live Instagram of the exhibition with Andrea Branzi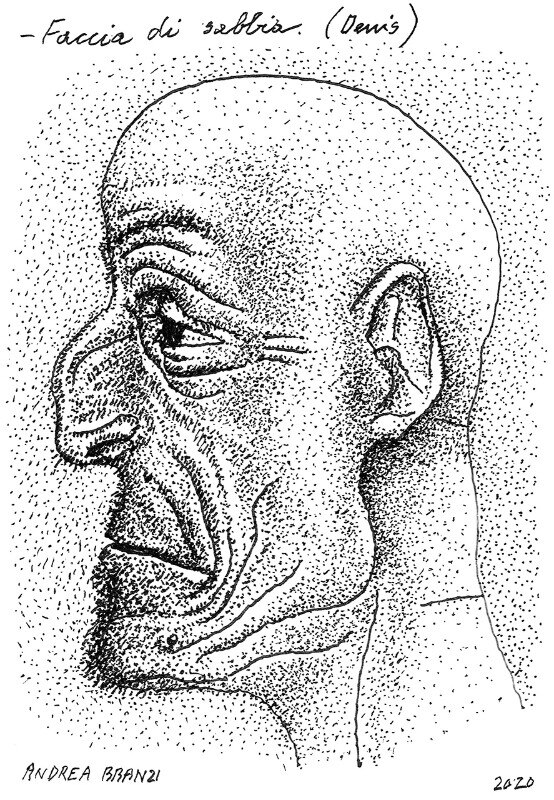 Andrea Branzi, Sand Face, Series "Portraits", 2020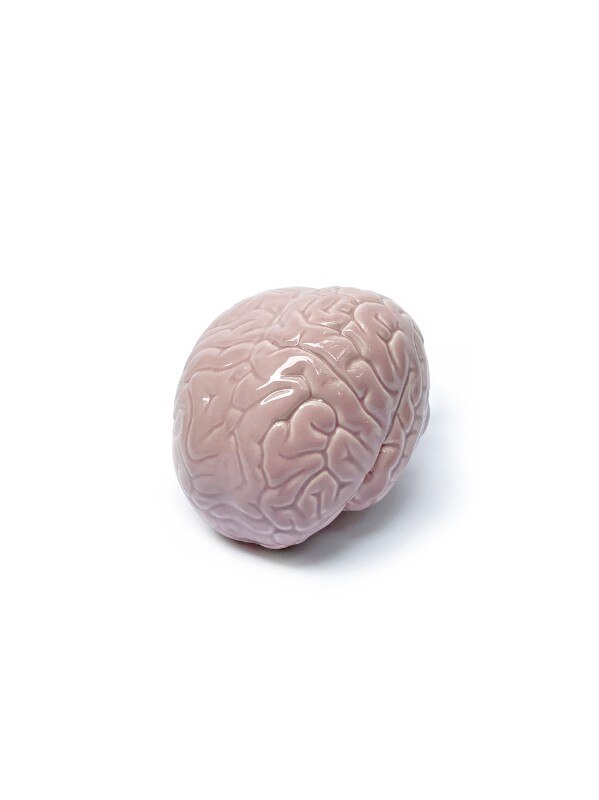 Andrea Branzi, Brain, from the Nature Morte collection, 2011
Andrea Branzi, flower vase, from the Amnesie collection, 1991
Andrea Branzi, Dolmen 10, 2104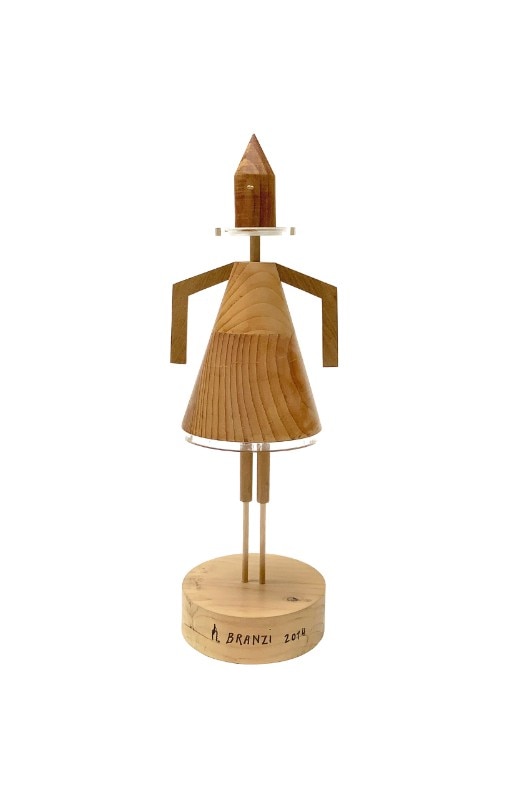 Andrea Branzi, Dancing Pinocchio, 2012
Opening image: Andrea Branzi, Design e Gatti, 2020, collage on print; work realized starting from a photograph by Fabio Bortot
Exhibition:

Design e Gatti. Andrea Branzi at the Circle

Location:

Milan

Address:

Studio Michele De Lucchi e AMDL Circle, Via Varese 15

Opening dates:

28 September - 9 October 2020

Opening hours:

15.00 - 18.00