In TV and in the cinema industry, it's called "reboot": you take a cult movie or show and redo it from scratch. Something similar is happening with redesigning iconic items from the past, from sneakers to game consoles to cars. It happened with the Beetle, now it's Defender's turn. Land Rover's most famous off-road vehicle, a symbol of the 80s, is a particular case, being itself developed from the original Land Rover series launched at the Amsterdam Motor Show in 1948. The last batch of that series was produced in 2016. Now it's the turn of a revised model, which traces a line between the original design and the new trends: it's an off-road vehicle which under many angles looks like a modern SUV. Land Rover stresses on the heritage, saying that "sturdiness is at the heart of the new Defender which, with its unmistakable profile, optimal proportions, and robust modularity of the interior, marries the spirit of adventure that has been part of the DNA Land Rover for more than 70 years". The new Defender's high thresholds, low overhangs and external spare wheel confirm its off-road vocation. But the new design is characterized by simple, refined surfaces, and a strong emphasis on horizontal elements.
Gerry McGovern, Chief Design Officer, Land Rover says: "The new Defender respects the past but is not a prisoner of it. This is a Defender for a new era. Its unique personality is accentuated by its characteristic profile and optimal proportions, making it desirable and capable - a fascinating 4x4 that wears its design and design integrity with uncompromising commitment".
The new Defender is also heavily customizable, with two versions, six different setups and four different accessory packs, while the interiors architecture is defined as "modular" and "constructivist". An innovative foldable seatback lets up to three people sit in the front of the cabin. There are three interior coulor schemes to choose from.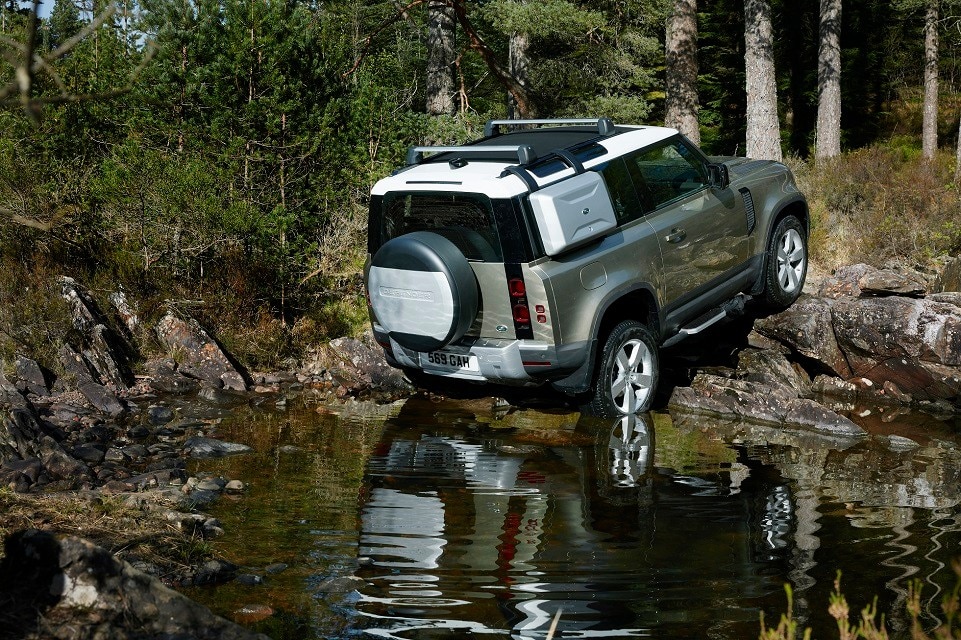 This is also the first Land Rover vehicle ever which comes with a satin protective film as a factory option. "The overall impression is of an elemental design, yet this clean reductive approach is underpinned by sophisticated surfacing of the highest quality", concludes McGovern.