The success of Apple's wireless earphones seems unstoppable. There were 16 million pairs sold in 2017, 28 million this year, and further growth is forecast for 2019 (55 million) with sales doubling by 2021 (110 million). Nonetheless, it seems that even a winning team can be changed. Apple has a dual update ready for its earphones. The first change is nothing sensational. As highlighted by the analyst Ming-Chi Kuo, one of the most respected Apple experts, next year will see a step forward which will raise the Airpods to the level of the most famous headphones. First of all, active noise-cancellation will be added, a characteristic which has become practically essential for high-end models. Another modification will be water-resistance, enabling them to be used while practising sport, and the analyst also predicts a sensor which will allow heart-rate measurement, as well as wireless charging. In other words, if all the above is confirmed, the 2019 version will no longer be a simple pair of earphones, but an all-round device which will cost more than the current 179 euros (159 dollars in the United States).

Apple Airpods (2016)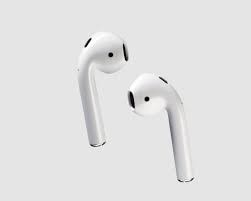 Apple Airpods (2016)
Apple Airpods (2016)
Apple Airpods (2016)
Apple Airpods (2016)
Apple Airpods (2016)
Apple Airpods (2016)
Apple Airpods (2016)
However, for 2020, Kuo predicts much more: a radical change from a design point of view. There are two reasons why judging this prediction is not easy. First of all, the analyst gives no further details regarding his prediction, and secondly, it is hard to imagine Apple changing a classic. When they were launched in 2016, the AirPods represented a clear break with tradition. They reflected the shape of the 2012 EarPods, removing the wire and fitting them with a sensor that detects when they are being worn or when they are removed. The real innovation however was their highly ergonomic shape that allows them to sit firmly in the ear even while walking, without the use of the (irritating) in-ear rubber bulbs or other attachments. It was an idea which changed the design of earphones, and one which was picked up on by other brands.  

Brand:

Apple

Product:

AirPods

Category:

Wireless Earbuds

Year:

2016