Architect and photographer Leon Krige has been photographing Johannesburg's buildings, particularly the modernist and industrial fabric of its inner city, since the 1980's, following their abandonment and their new inhabitation. (In)visible city revisited is a series of nocturnal city images taken from the rooftops of apartment blocks. The painfully slow exposures that make up each image capture the transience of figures in the city, the spectrum of light, and marks that reveal the city's signs of age. The images' apparently touristic panorama style is unsettled by tiny, intimate details of a subtly changed reality, which looks a bit like a modernist city but in fact is damaged and above all, lived.

Hannah le Roux: What are the technical as well as human challenges of photographing Johannesburg's inner city?
Leon Krige: The photographs are made up of multiple high resolution photographs. Each frame takes 25 to 30 seconds, and there are between up to 48 frames in each photograph. I take and focus check each photo manually. I often park in Doornfontein. Normally I zone in on a quarter of the city and get to know it for about half a year. Occasionally I walk into a dodgy night club and I'm the only white face there. There's an intrigue with the city and a love of it, like the figure in Frank Miller's Sin City who jumps across the rooftops like a cat and talks about his love affair with the city. This city has good and evil and that's an attraction. There are times when I've had close encounters with the dark side that were very scary, and it takes a couple of months to build up courage to go back. Being on the rooftop means that you're safe while you're up there, but the transition of getting there and getting out can present a serious challenge. In the early days the rooftops were occupied according to a governed system and the people there were not afraid. Now the city is free, but its' free to everyone, so when you get easy access to a building its usually dangerous.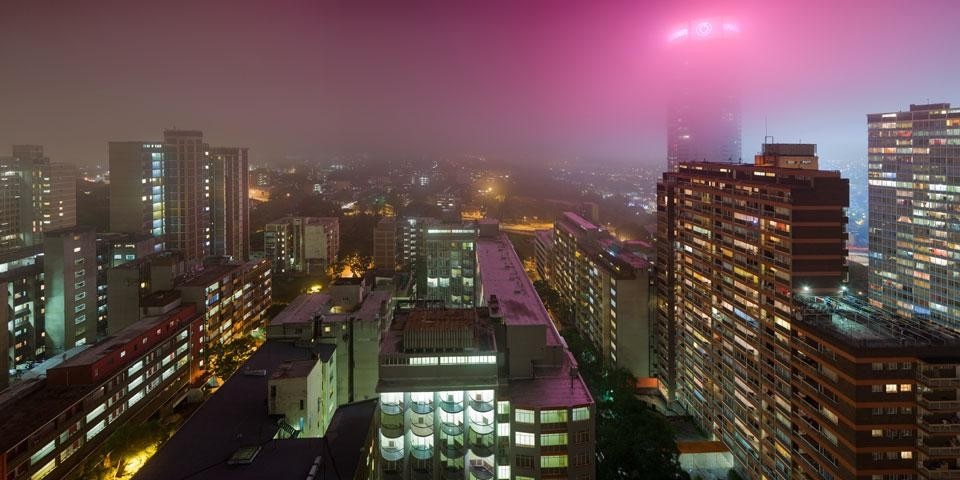 How has the city changed and how have you responded to those changes in your approach?
The photographs shift a lot in the last five years. There was a period where they almost just stood still, where I kept documenting with the old square format that, like the way the city was planned, like the history we come from, which became a trap. They had a kind of boxed-in quality. Once in a while I would start sweeping with the camera, just having fun, doing something unpredictable. A breakthrough for me was when I started printing on really old paper that was messed up. I remember when I showed these prints to David Goldblatt two years ago he was horrified at the technical quality of the series, because his own photographs are totally pristine. I realized that was an era that at some point I had just abandoned. At some point the paper became more interesting because like the city, it was messed up. There were buildings missing, there were things not in place, people were hard and rugged, we'd all been bumped around by surviving here. The old paper became a way of expressing that lack of preciousness but still with an incredible richness.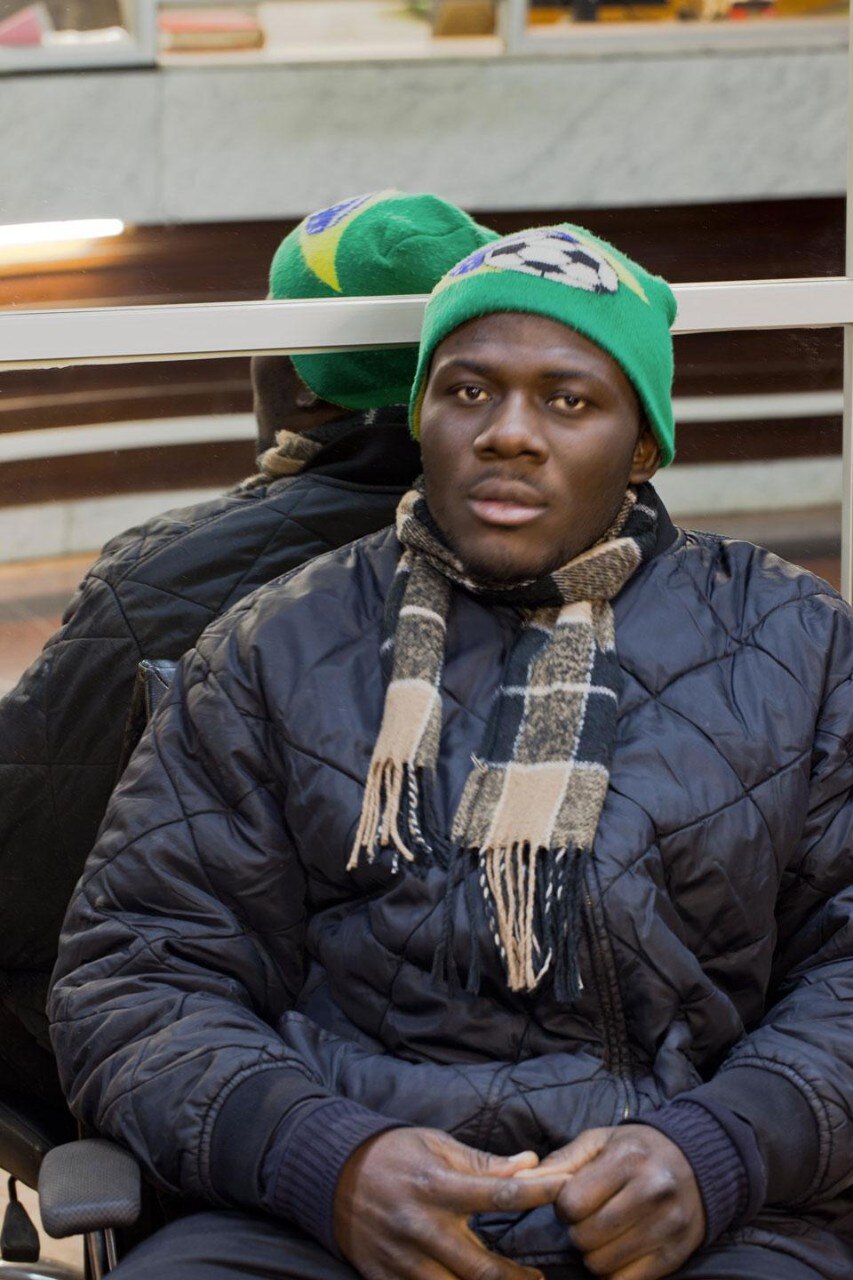 You have shot this series largely from rooftops. Why this site and what unexpected insights has it given you on the city?
I wanted to do a body of work that defined a viewpoint. I did a sketch where I saw the city as a forest that I go back to when things get too complex and you can't understand it. When you are in the middle of the trees you might feel like you're in a forest but it's difficult to see it. Because we think in plan, the obvious thing is to go to the top of the forest. There's a point when you're too high up that you become removed, you only see this postcard image. You then realize that you have to climb around the tree to find the right branch where you engage with the city but you also have the overview. For instance, in the image called Noord Street, there's a ledge with a broken fluorescent tube where the security guards are too scared to walk, but it reveals this incredible beauty. On close scrutiny you see cardboard and cloth on top of roofs where the homeless hide from police at night. When I took the shot I didn't see the detail, only when I processed the image. The time it takes to shoot captures this extreme resolution. The camera should not disturb what is there but it should reveal layers that the eye does not see.
At some point the paper became more interesting because like the city, it was messed up. There were buildings missing, there were things not in place, people were hard and rugged, we'd all been bumped around by surviving here

There are no recognisable people in the photographs. There might be at best a silhouette or figure.
I think its an interesting comment. People who are there are incidental in a certain way. But I particularly want to do a series of the security guards below. Not their portraits per se but how they are arranged, how they gather themselves in parts of the city. Because I'm so exposed its a big risk. I love a high vantage, but want to work at closer range. Exactly the same method of panorama because it offers a sense of being there, that sense of being in the space. That's the reason they're printed so large.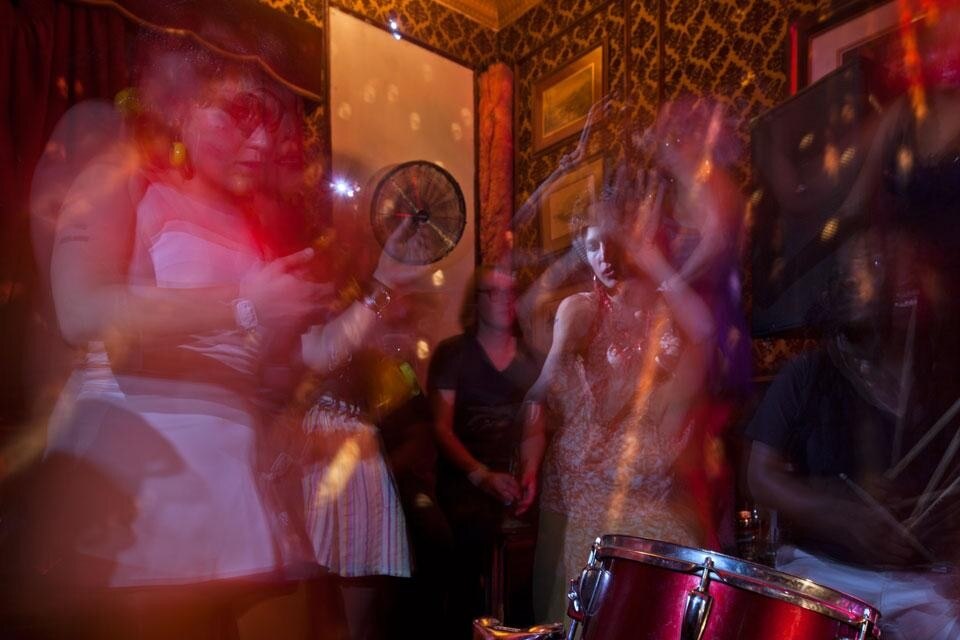 Can you explain your approach to printing this work and how that relates back to the context that it documents?
I've spoken about the city and the analogy between printing on older paper and new paper. There's a similarity with the way LP records were flawed with scratches and background noises but they still represent music at a level that is extremely close to the way we experience it. When CD's started happening everyone said it was perfect because there was no background noise, but somehow it eliminated the human nature of music and its taken twenty five years for CD's to start becoming more musical. The process of darkroom film and analogue and black and white is the same. It's flawed with scratches on the negatives and things that might go wrong with film and chemicals but there's a side to it that is warm and human. In these old papers that are messed up there's a very rich layer. So although it might lack contrast they have incredible amounts of subtle tones in the shadows. The new prints are all on archival digital paper, but what I'm getting at is that the early digital papers had only one option which is a very straightforward white paper on colour ink. Since then they've developed in the same ways that CD's have in the last twenty years. Today the digital paper I select with my printer has surface and tonal options like older paper, but its very fragile. By spending time on process and selection it starts revealing detail in the same way as older papers.