"In 1954, the Swedish government ordered the construction of the world's largest particle accelerator. The facility was complete in 1969, located deep below the pastoral countryside of Mälaröarna. The local population called this marvel of technology The Loop. These are its strange tales."
This is the bizarre backstory that introduces Simon Stålenhag's art book Tales From The Loop, which inspired the homonymous 8-episode anthology series recently released by Amazon Prime Video. The illustrations share the same spirit and themes, and each episode takes its inspiration from a different illustration and tries to build a sci-fi plot around it. There are Swedish rural landscape in which you can spot bizarre technology devices from a past-future: these objects look way more innovative than the surrounding landscape (Swedish '70s and '80s) but they look extremely old, rusty, antiquated, almost abandoned. Relics from the future.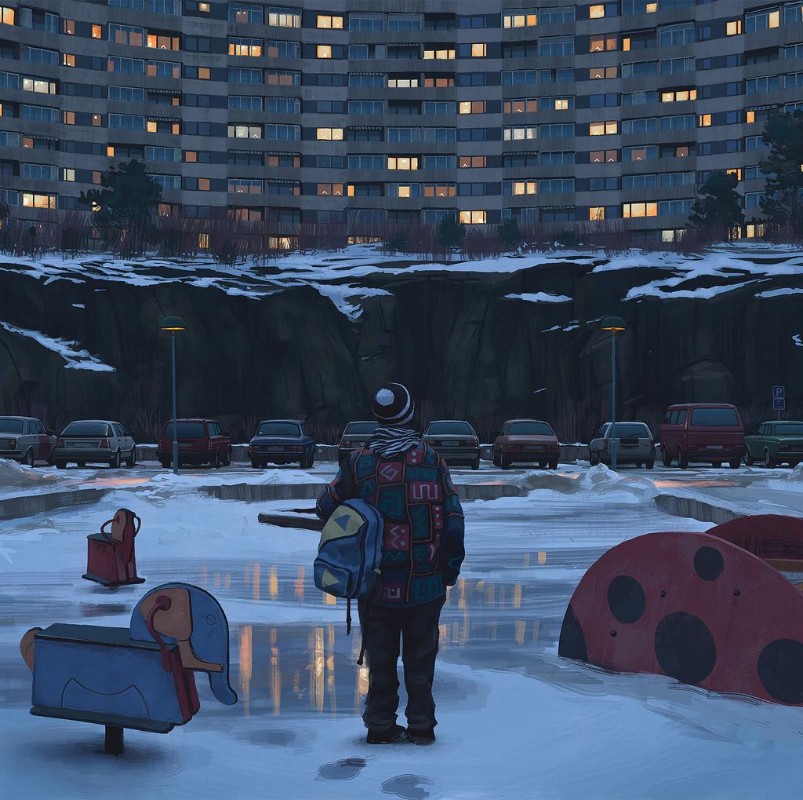 Tales From The Loop is certainly the first TV series based on an art book. It's an exercise in showing the passion for science-fiction. Since it is an anthology series, each episode tells a different story with different characters who all come from the town above the particle accelerator. Every episode deals with a different aspect of what we dream, fear and expect from the most unrestrained future: alternate dimensions, time travels, premonitions… if sci-fi cinema has often exploited design in order to give more credibility to its futuristic stories, in Tales From The Loop, it's design that is using science fiction in order to gain credibility. This isn't like Black Mirror, where every episode has its own style and, in certain cases, is set in a different world. Here, everything starts from that strange mixture of concern, desperation, solitude and failure that characterizes those illustrations that sometime are falsely happy and sometime overtly gloomy.
That of Simon Stålenhag's is the history of a self-made man and hard-earned success. In 2015, he had become so popular among his fan base thanks to his illustrations that he decided to start a Kickstarter campaign in order to publish a book. 321,000 dollars were collected, and once he published his book, it soon became a bestseller. In the following 5 years, he published 2 more books: Things From The Flood and The Electric Slate. Simon Stålenhag was even contacted for some promotional artworks, like the one for No Man's Sky, another video game in which landscapes play a key role, and the first video game to feature an infinite number of planets because they're being generated algorithmically.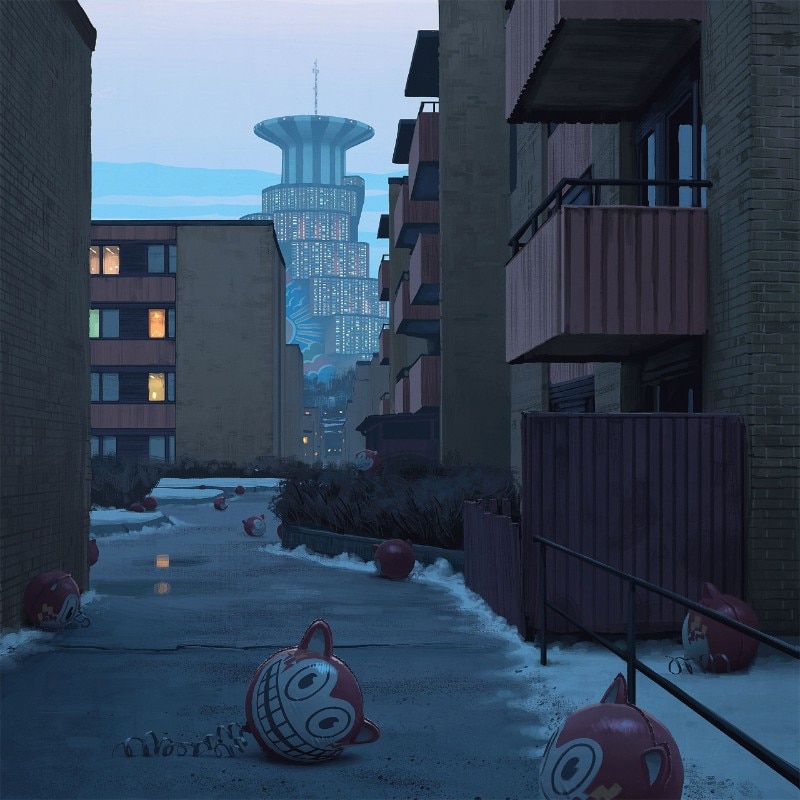 The reason why these illustrations were turned into a tv series (but also into a role-playing game and a board game, once again thanks to Kickstarter) is because Stålenhag perfectly mixes Stranger Things' '80s nostalgia with the passion for industrial design that permeates the contemporary science-fiction world. "The part of the pictures I worked hardest on was actually bending the science-fictional elements so that the landscape and the people and the clothing and everything was, in a way, the real stuff, the stuff that exists, which was stuff from my own life and my childhood growing up." In his illustrations, he pays the same amount of attention to spaceships and cables, Mercedes and Saab cars, jackets and diners.
The rural landscapes, which aren't the usual setting for a sci-fi product, become the places where technological waste reigns supreme. As if the city, which is the place of modernization and innovation, abandoned its waste in the countryside just to make it rust.
None of this is told, but everything is hinted. The rural simplicity and the vast, cold, alienating Swedish landscapes are combined with bizarre devices that look friendly but at the same time capable of doing something awful. These devices seem to look like humongous T-rexes or empathic, loyal dogs. Stålenhag's illustrations are a perfect source of inspiration because here, what you see is as important as what is being hinted. How we've come to this scene, what brought these devices here, what were they used for in the past, what's their relationship with the locals.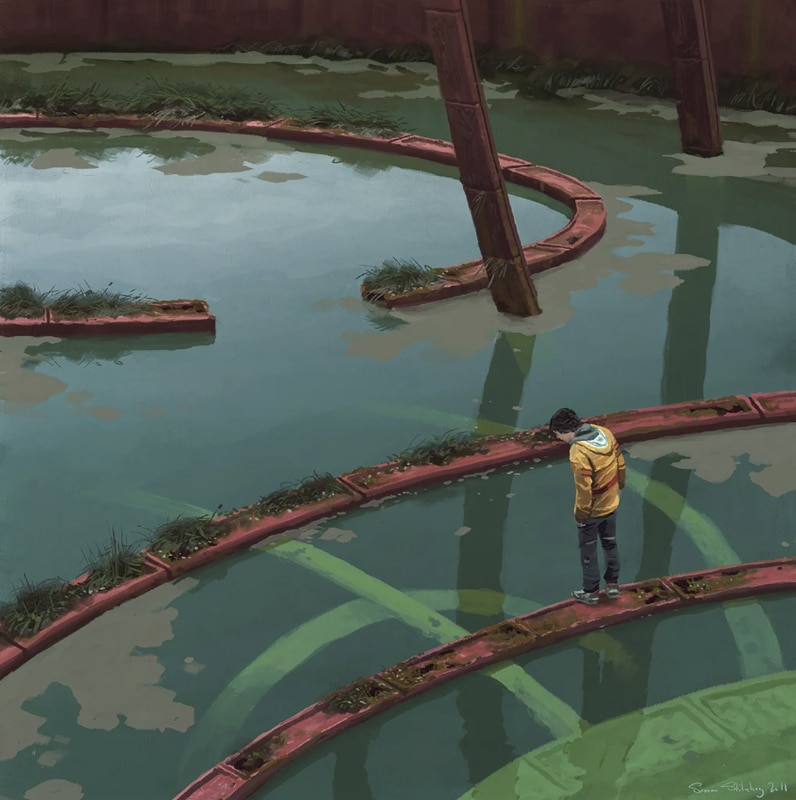 Technology is almost always bigger than the human element, and it lives the landscape by dominating it – but its design is much more refined than we would expect.  All the objects are bonded by the same coherent lines, they all have a homogenous design, as if they were produced by the same factory, or at least they seem to be based on the same technological principles. Their design delivers a specific idea of the future, a future which stands on strong utilitarian and commercial grounds (it's easy to understand that these objects had specific purposes) but does not want to integrate in the surrounding nature, clashing with its colours and shapes. Just like wind turbines popping up in the windiest areas, these elements emerge even when they are sleeping giants, abandoned sailing ships reconquered by nature.
Not by chance, Simon Stålenhag had started his career in the video game sector before making it big with his art and becoming a full-time illustrator. When he still used to publish his works only online, he was a video game designer: he designed robots and hovercrafts, and he didn't have the means to explore his childhood and that part of his life and country that his now so important in his way of conceiving science fiction.
Amazon's series isn't set in Sweden, even though it tries to recreate similar landscapes, and most importantly the atmosphere of solitude that permeates these places (Scandinavian '60s televisions and rotary dial phones were shipped to America directly from Sweden, in order to add them among the furnishings) – however, it masterly captures the most paradoxical and unexpected aspects of these surprising and at the same time extremely humane tales.