Homes are getting smarter and more connected. This wasn't a sudden shift, but a prolonged and layered process still ongoing. New devices are gradually joining our smart homes: thermostat, lights, locks, doorbell or air purifier. Home appliances upgrade with wifi connections. The home fills up with sensors, lives in the cloud. It evolves: it is not a project dropped from above, but an adaptation to the era of IoT. With a great revolution ongoing, the revolution of audio.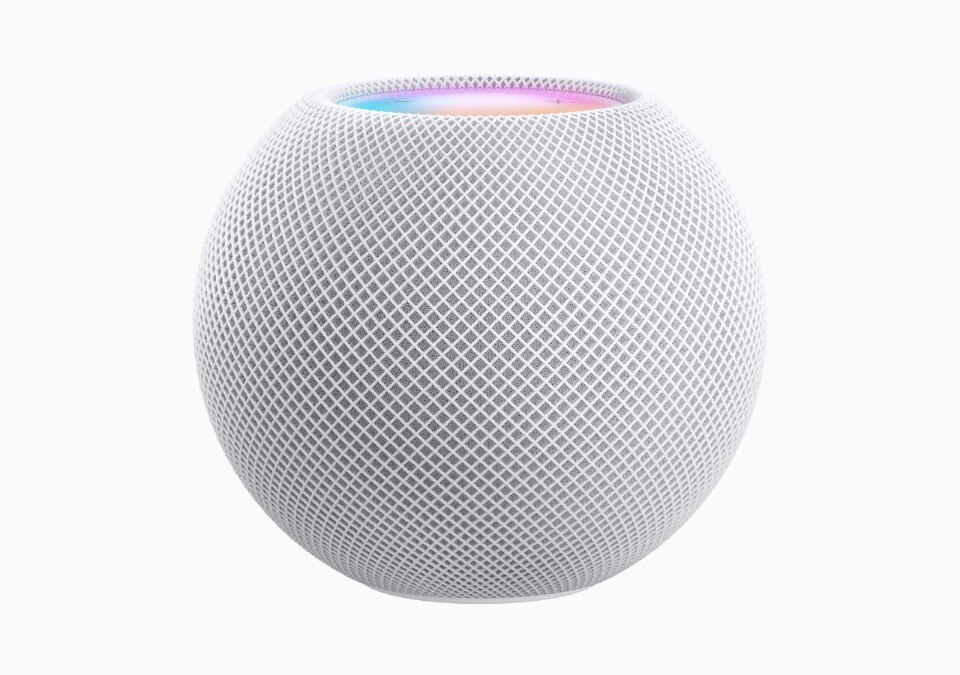 Strange and unexpected as it sounds, we've started talking to houses. The center of our interaction with the connected home is a speaker with a voice assistant, which adjusts the intensity of the lighting, plays our favourite podcast or sets the timer when add spaghetti to boiling water. If smartphones stand as symbols of a life always connected and on the move, smart speakers are the new home hearth. And Siri is a constant.
What HomePod is and why this one is called "mini"
In November 2020, Apple launched its new smart speaker, called HomePod mini, a smaller, more affordable heir to the original HomePod, which launched in 2017 for $349 and is now discontinued. Initially available in dark gray and white in the U.S., U.K., France, Germany, Australia, Hong Kong and other countries, three new HomePod minis colored in blue, yellow and orange were added this fall. And availability in Austria, New Zealand, Ireland and Italy was announced.
And so Siri has begun to speak in Italian into living rooms.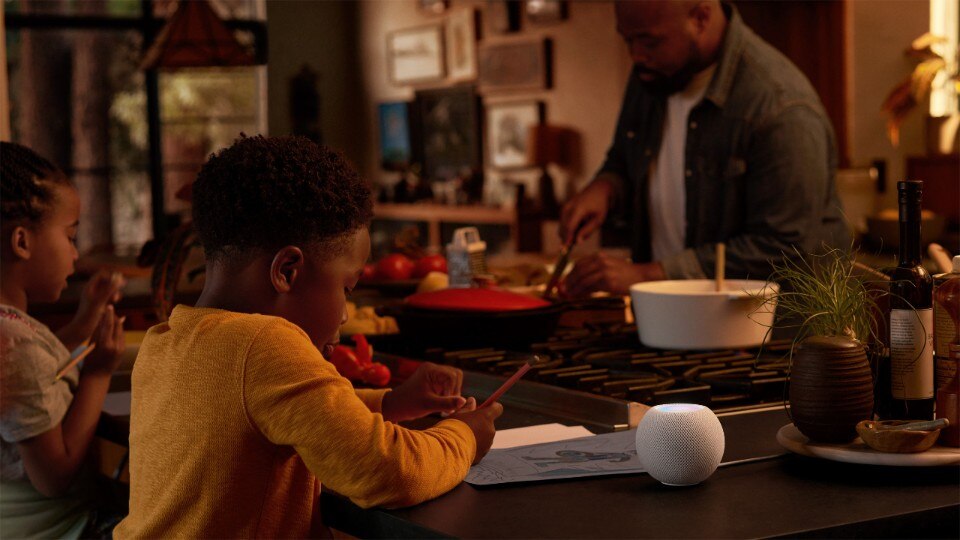 Look and specs
As large as a fist, and perfectly spherical except for the base and the touch panel on top, which lights up with a wave of LEDs when the speaker is activated, HomePod mini is covered in colored fabric, obtained up to 90% from recycled plastic, and is powered through a common USB-C port. Inside are four microphones, a driver and two passive radiators. And the intelligence of Apple's S5 chip.
Aesthetically, it's not too different from many other smart speakers out there. Maybe just a little more fancy. A choice that makes sense on the one hand, because it joins an established aesthetic. A pity, because we always expect "one more thing" when Apple is involved.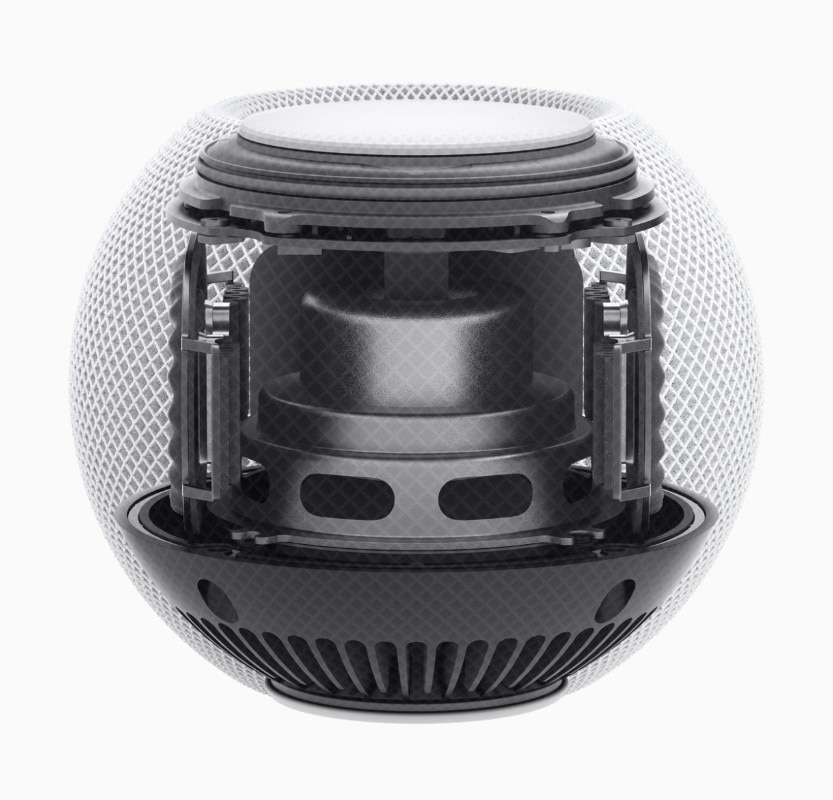 Once installed, HomePod mini "lands" on iPhone's Control Center and Home app - the latter is Apple's digital hub for smart home control. Here you can not only manage the settings of the smart speaker, but also create different "scenes" - the pre-configured ones are "goodnight" and "I'm leaving the house" - and automations for connected smart devices. In this regard, it is worth noting that the list of compatible devices is really short, if you compare it with what competitors offer, and you can just forget about managing the smart bulbs you bought on Wish from your new HomePod mini. On the upside, there's compatibility with established names like Philips Hue, Netatmo, Nanoleaf and others.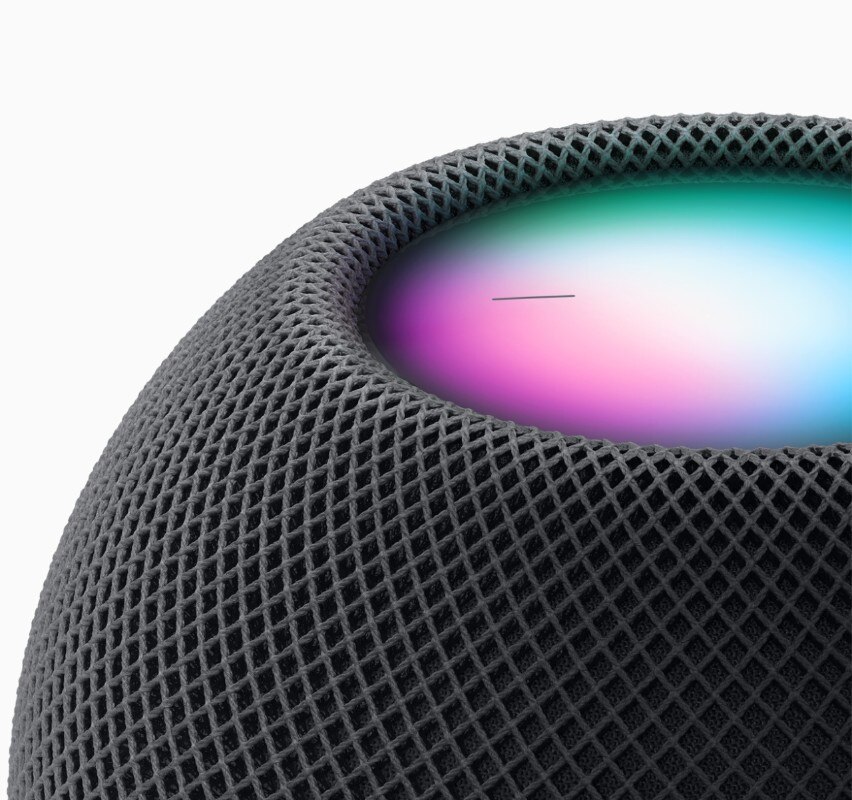 How does HomePod Mini sound when used to listen to music? In summary, better than the vast majority of speakers of this size, with a 360-degree sound wave that reaches every corner of the room, bass that "holds" even at high volume but doesn't fade away when you turn the volume down, and clear and fairly distinct trebles. At the same time, it doesn't sound as good as other speakers in the same price range.
But HomePod mini isn't like "others," because it's Apple. This is not meant to be an uncritical judgment, but the starting point if you are trying to understand the real value of this product, that lies in how it integrates in your life as an Apple user. 
What's a smart speaker according to Apple
HomePod mini is the key for Apple to enter our homes. Qualitatively well cared for, simple to install and positioned under the psychological threshold of one hundred dollars / euro, it is easy to predict the success where Cupertino devices already abound. Among the functions, there is a system called Intercom, which acts as a communicator between the rooms of the house where there a HomePod mini is installed, and reaches out for family members on their iPhone or Apple Watch. Think about if someone's in the garden, or has gone grocery shopping.  
But you can also use it to make phone calls, to text using Whatsapp, to ask for traffic information and find your keys, or the iPhone you left who knows where, using the integrated FindMy functionality.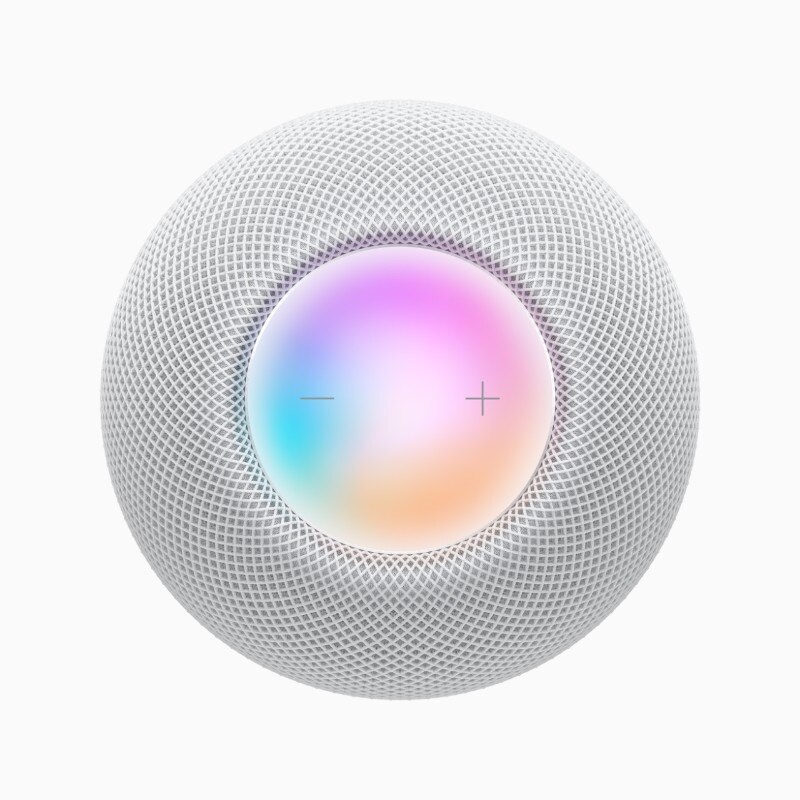 Let it play some music!
HomePod mini is a healthy carrier of Apple Music, the anti-Spotify launched by the Californian company six years ago now. To listen to music, you're unlikely to use any other app than that, which also has a reduced-price plan for the smart speaker. But probably those who aren't already subscribers will give it a thought for their iPhones too, ditching competitor services.
The HomePod can also be used to listen to radio stations and some optimized music streaming apps like Deezer, but Apple Music integration is really deep and makes everything easier. The same goes for podcasts, with Apple's eponymous app. 
Using the multiroom capability, music and podcasts can be played simultaneously on multiple devices, even in different rooms. And it was a nice surprise to discover that HomePod mini integrates seamlessly with Sonos wireless speakers, going on to form an even more complex, detailed, immersive, three-dimensional sound that can be customized in any room.
Optimized to work with Apple TV and iPhone
Prior to the launch of HomePod and then HomePod mini, Apple was already in homes with Apple TV. Both device lineups were designed to complement each other. HomePod mini is a great companion to the latest Apple TV 4K. In addition to acting as a voice remote - just a "Hey, Siri, I want to see Foundation" to launch the series inspired by the saga by Isaac Asimov - it can function as an audio output, even stereo using a pair of HomePods mini - a solution that is also a clever alternative to buying a soundbar.
Thanks to its proximity sensor, HomePod mini also interacts with iPhones. Pulling the phone over the smart speaker will invoke a screen showing details of the music playing at home. From there, you can expand the playback to Sonos devices, for example, to another Homepod mini, or simply put on a pair of Airpods and leave the house without actually ever interrupting the listening experience.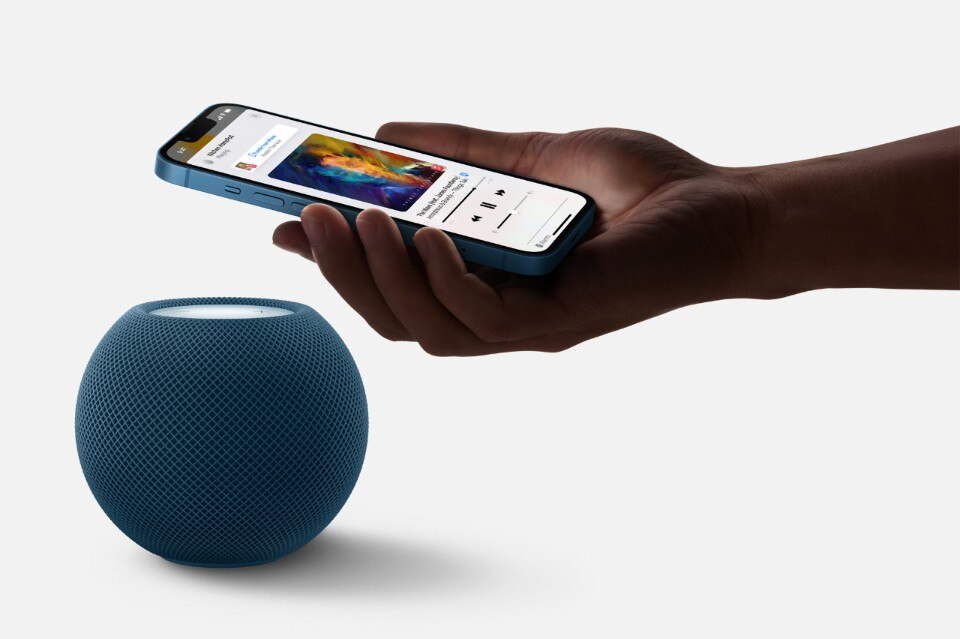 This is a good example of the HomePod's potential to reshape the flow of certain experiences. In the future, we hope to see more of this. As in the case of alarm clocks, which remain scattered between those on personal iPhones and the speaker, or all the times that calling Siri turned on the iPad and not the HomePod. This, however, leads straight to a crucial issue, which is also Siri's bildungsroman. 
Apple's personal assistant went from being the voice that whispered to you in the AirPods to a new life as the living room's matador. With some predictable identity crises.
Siri takes the stage
A device like the HomePod mini can't help but face the way we dwell. And we inhabit in many different ways and with perhaps irreconcilable needs. In short: for the single person who lives alone and perhaps works from home most of the time - a scenario that in the cities of the pandemic era sounds very normal - HomePod mini could ideally become a sort of destktop Airpods.
Using it to listen to the appointments of the day or the latest notes written and saved on iCloud, or more simply thanks to the ability to call and text without touching the phone, could involve a substantial reduction of the daily screen time.
We were used to having life inside the iPhone, and now the iPhone is reflected in our personal space par excellence: the house where we live alone.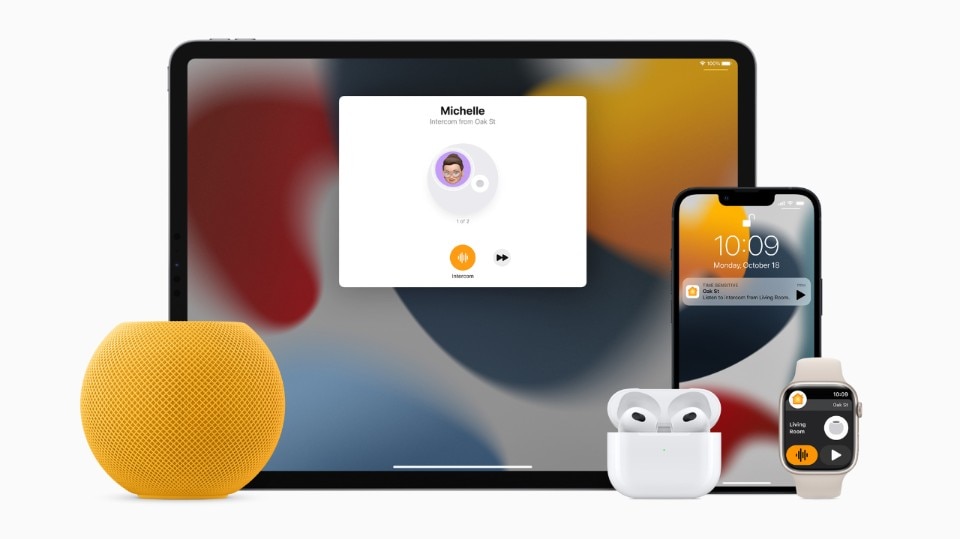 Otherwise it happens in a family, where you have to reconcile communal living with individual needs. A scenario that will find different accommodations and approaches for every room in which a HomePod mini is present.
It is different again in a shared house, an eventuality that is quite common in the world's big cities, often overlooked when the big brands communicate their innovations.
In part, a practical solution to shared use of such a device comes from the skill HomePod already has to associate English-speaker voices with precise people, and those people with their identities and data in the cloud. 
But in the waltz of interactions and occasions, the multiplication of roles Siri has after it dropped into the home environment still seems a bit awkward. Not so much for privacy, to which Apple is always very attentive, but precisely in the modulation of different usage opportunities, or multiple perspectives, involving the ambition that machines should offer us increasingly tailored solutions.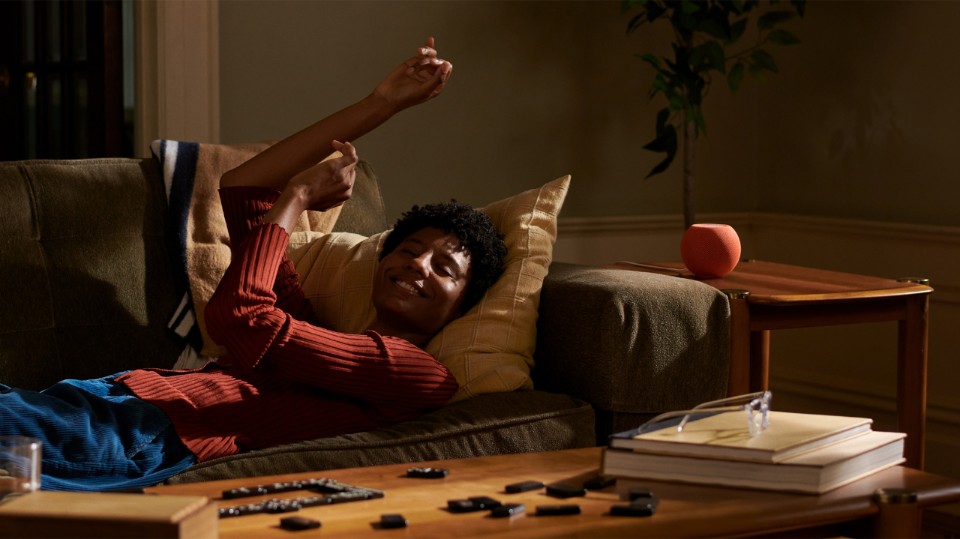 As mentioned at the outset, the smart home concept - and therefore the very idea of home -, far from being a project carved in stone, is in the whirlwind of constant evolution. And the arrival of HomePod poses new challenges. This goes from the use of the device to make phone calls - which in fact resurrects the concept of a landline, but without attesting it formally - to the accessing personal calendars, to the disturbing chance that my roommate at 3am might play unwanted music on the speaker I keep on my bedside table, to the futuristic prospect that tomorrow, as I step into the living room, lights will automatically adjust to my mood.
All that's certain for now is that Siri will enter more and more homes. Let's see how it will change it. 
All images: courtesy of Apple.
HomePod mini is available in Apple physical and digital stores.