When BMW first contacted him, Renzo Vitale was in New York, working on an avant-garde art installation. "It was a fragmented pyramid, with music designed through a complex algorithm," he recalls. "We were performing naked in this pyramid… we were painted all black, and immersed in a non-Newtonian fluid". The Munich-based company, however, was not interested in the artist – not at the time, at least. Nor were they interested in the musician. "They wanted me for my scientific background". In fact, Renzo Vitale is a combination of art and science – he's an artist and composer, and holds a PhD in acoustical engineering. He initially refused the offer. "I couldn't see myself working in an office".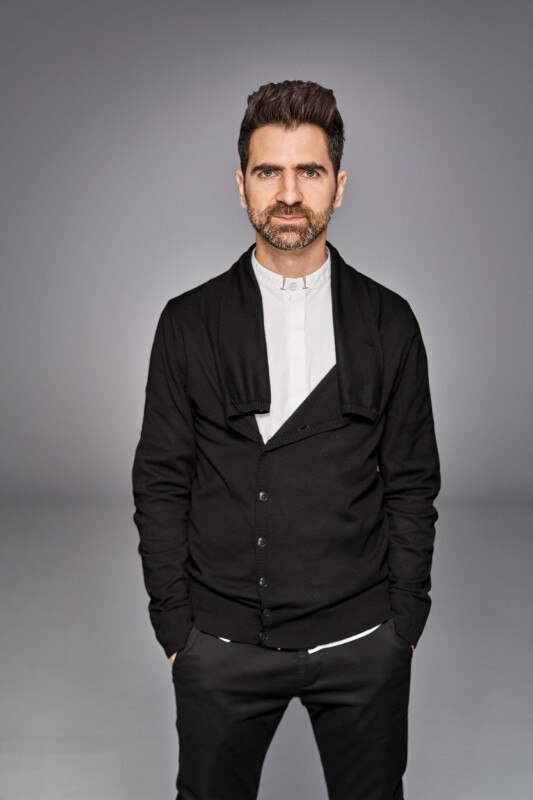 Having landed like an alien in such a big company, Renzo Vitale is now the visionary that a world experiencing incredible acceleration like the automotive industry needs. When he joined BMW five years ago, his job was to work on the cause-and-effect relationships of noise in component design. Today, he's doing almost the opposite: instead of making cars quieter, his job is to make electric cars noisier – now, when going under 30 or 40 kph, they are so quiet that the law requires them to be noisier. "Sound is also information, not just noise. The challenge is for it to fit elegantly and unobtrusively into the environment, but in such a way that it can be heard by people – sound can save lives".
How important is silence? 
Silence is the starting point of any musical creation. I like to talk about aesthetic silence, which is what we try to give to the vehicle – before we have sound, we have to create silence. In fact, we have succeeded to do that in electric vehicles. Outside, we have the same goals: we are aware of the noise that cars have brought into ourcities, and silence is a sustainable element that has to be designed as such.
BMW Vision M Next, acceleration with boost
Many of us experienced silence in the city during the lockdown. Do you miss that silence? 
In Munich, I have a bunch of hidden places where I know I can find silence. Silence is good for everyone. It would not be a bad thing to design silence zones in the cities as well. 
Should we demand more silence from our cities?
This leads us to reflect on the desires of individuals and the needs of communities. At the beginning of the 20th century in New York, doctor Julia Barnett Rice founded the Society for the Suppression of Unnecessary Noise. There were no vehicles as we know them yet, and the noise was caused by the sirens of ships approaching Manhattan and carriages driving through the streets. This noise suppression is something that acoustic engineering also deals with, but in the construction of new buildings and roads it is hardly ever a priority – mainly because of money issues.
So we resort to noise-cancelling headphones...
I also like to quote John Cage, who lived on Sixth Avenue in New York and always kept his window open because he loved the sound of traffic. Even in the early 20th century in Italy there was a lot of acoustic research into the wonder that the machine brings us.

The advent of electric cars kind of closes the circle.
Exactly. They will bring wellbeing and also another element – expressiveness, composition. Electric cars are a white canvas for composers to create sounds that we haven't heard yet. And the car will become a super-intelligent performance art installation, in which the driver is a performer. This is fundamental for me, because as a musician I know what it means to perform music on stage, I know the power of the performance of music on individuals. The car gives millions of drivers the opportunity to express themselves through the control of the pedal or the steering wheel. In the future, we will offer different types of sound so that people can express themselves as they wish.
From a creative point of view, how does it feel to manage all this – the sound of the cities of the future?
For me, to bring people closer to the world of sound is a great opportunity as well as a mix of responsibility and privilege. And I'm aware of the added value I've brought to this work, because before I came all they wanted was a sound that identified the car and met the legal requirements. And I, who before joining BMW acted very much as an artist and as a researcher in architecture, saw it as a challenge. I saw a series of conceptual and aesthetic aspects in it. It was also an educational challenge, because we have a duty to help people to be creative.

Did anything or anyone inspire you?
Since I was a young boy, I have always looked for nonmainstream contexts. When I was 16 or 17, I met Michelangelo Lupone, who runs the Music Research Centre in Rome, which still organizes wonderful and extremely contemporary concerts, and these were contexts where there were about 20 people at most, and philosophers, engineers, composers, and artists sat around a table and observed sound from different perspectives. That's what I tried to do – to look at sound from different perspectives. My references have distant roots and different contexts. For me, I refer to people who have gone beyond a single discipline, such as Iannis Xenakis, an architect and engineer, but also a composer. As he did, I use curves to create sounds.
What does this mean?
I like to translate the curves of the car -  the rim or the seat or the back of the car – by bringing them into the sound generation algorithms just like Xenakis, who designed the Philips pavilion together with Le Corbusier by using hyperbolic paraboloids that are identical to those used for the cellos in his work Metastaseis. But music is only part of the inspiration. For the latest sounds I created together with Hans Zimmer Itook inspiration from many works, for example those of Olafur Eliasson or James Turrell – artists who impressed me with their language.
What inspiration did you take from them?
Turrell is an artist who uses light to make us understand what it means to see. The first time I saw one of his works, it was an almost miraculous experience. And so, I wondered how you could make a listener aware of what it means to listen, to perform, to interpret.

And what about Eliasson? Did you also "dedicate" a sound to him?
The sound of the car starting, which has a special meaning. Because when you start an electric car you don't hear anything, and that's because nothing actually happens. But also based on the customers' feedback, we created an ignition sound that I made together with Hans Zimmer. 
How is working with Zimmer?
It's like this – I come to his studio with a concept to present, and then we develop it together. In this case, we started from Eliasson's Wirbelwerk, which is on display in Munich and is a spiral with many fragments of glass and based on a hyperbolic element, which starts from an origin and opens up like a cone. We interpreted the formal evolution of the work on the basis of two elements. The first is the materiality of the process. There is a lot of glass in the work, just as there is a lot of transparency in our electric cars. We rubbed glass cylinders against guitar strings to get a kind of asound powder. And then there is a second, more conceptual element: the cone-shaped opening becomes a chorus of women starting in unison and opening towards a chord;a translation of form into sound. The conceptual implication, for me, is that the ignition was also a new way of interpreting this electric world and of looking to the future, with female voices in contrast to such a masculine world as the automotive industry.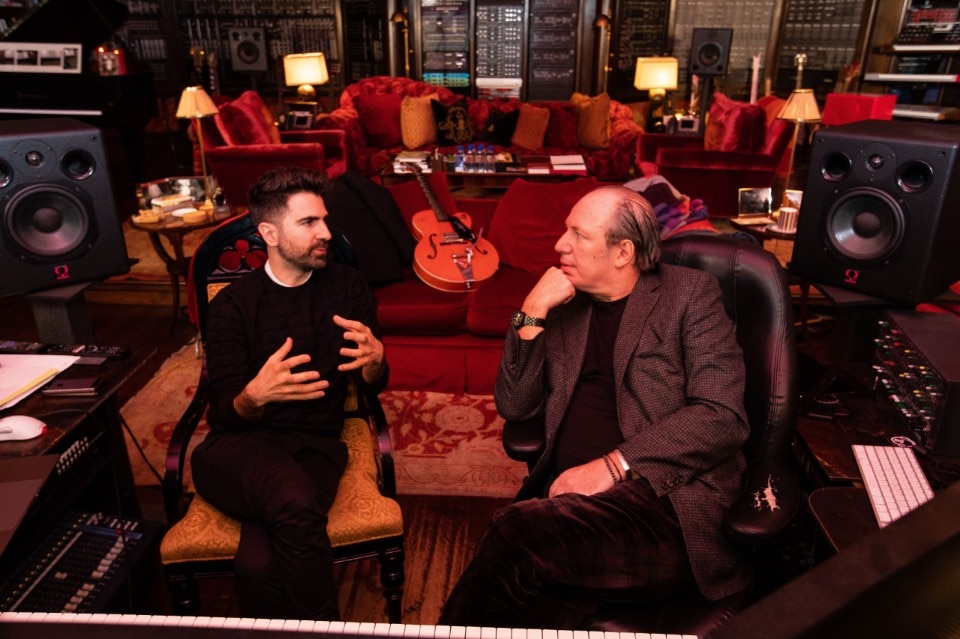 Let's go back to the call you received when you were in New York. At first, you wanted to say no. What made you change your mind?
The possibility of working on cars, which I think are super-complex performance art installations. And then understanding how you can design installations on a level far beyond what us artists can provide. And then I thought about the platform that BMW could offer to themes that I was interested in and that seemed light years away.
How did it go?
I tiptoed in, covering a role that I could easily fit but which wasn't the one I wanted. It was very, very hard at first, especially when they pointed out that they had hired me as an engineer and not as an artist. A cold shower. 
Did you think about quitting?
That's when I told myself "either you give up or you fight to introduce another philosophy". And I knew I had what it took to carry on the challenge. At the same time, I was involved in a group put together by the German Ministry of Finance and composed of a hundred minds from the design, music, and art world. We met three times a year to identify possible sectors in which to invest. And one thing we often talked about was how to bring creativity into a business context.
Vehicle start sound
A breath of fresh air. How long did it take for things to change?
I saw the results after three or four years, and the turning point here at BMW came last year, so the fifth year. Now BMW supports me in many projects – like the new platform that I launched. It's an event where musical experiments with artificial intelligence and augmented machines take place. BMW offered me the platform, and I asked that we don't talk about the brand and the product. I want us to be a stage for discussion and openness. Today I am proud of my company, which has embraced the vision I propose.