A lover of slowness and banal, in his photographic project "Portrait of a Landscape" – on display at the Swiss Architecture Museum in Basel until September 16 – artist Pierre-Philippe Hofmann looks at the Swiss public space. 
Thought as a "representative panorama" of Switzerland, the project is, from many points of view, a simple research on the theme of normality and the ordinary. An approach that Hofmann had already adopted in his series of photographs entitled Lieux communs ("common places", in French) in 2003. Then his curiosity had led him to investigate the plural identity of Belgium, where he collected fragments and trivial peculiarities found in the landscape, making him feel "like a sponge absorbing a liquid".

In "Portrait of a Landscape" Hofmann, whose family comes from Olten, a town in the Canton of Solothurn, has decided "to work on a territory that is not much bigger than Belgium, but made of different communities and languages as well". After identifying ten divergent lines from Älggi Alp, the geographical center of the country, the artist decided to walk across Switzerland, up to the outermost borders, following the lines he had traced on the map, for a total of about 2700 km. "On my way, approximately every kilometer – I've put my HD-cam on a tripod and filmed one minute", he affirms. Crossing different landscapes - from the Alps to the Swiss plateau – and taking care to avoid "remarkable places" and continually varying his point of view, the artist collected over 2700 shots, capturing his own version of the country's identity.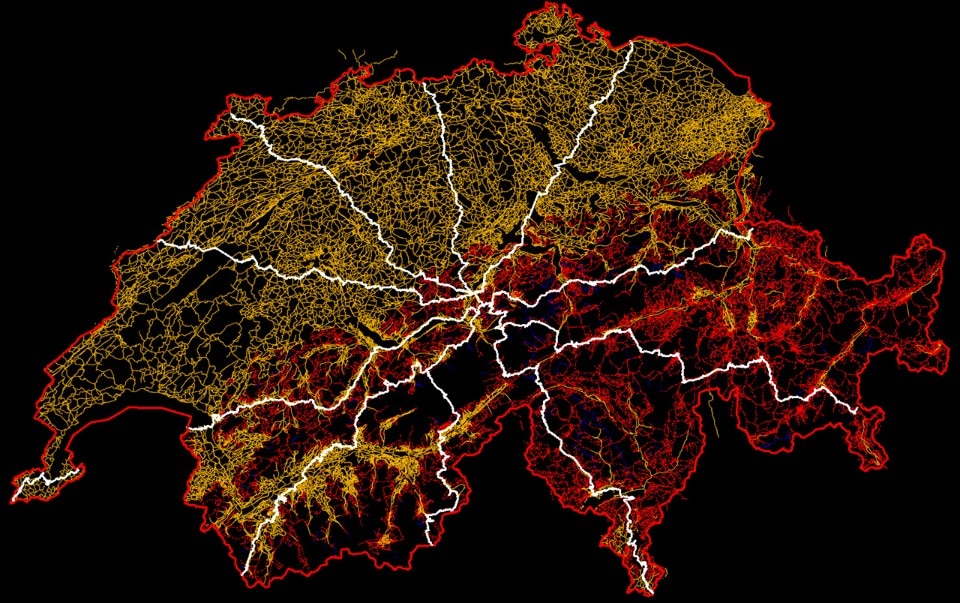 The exhibition at the Swiss Architecture Museum in Basel, which consists of a video installation projected on dozens of screens, plays with the fragmentary aspect of the collection and recomposes it by creating a large kaleidoscope. For a subjective portrait of Switzerland, far from traditional clichés.
Title:

"Portrait of a Landscape"

Exhibition dates:

July 7th – September 16th 2018

Venue:

S AM Swiss Architecture Museum

Address:

Steinenberg 7, Basel, Switzerland