Paper, pencil and imagination. Prototypes designed with computers and models transformed into physical supports, shaped by hand using a clay that can be moulded like kids' play-doh. This is how a new motorcycle is made, roughly speaking. It takes anywhere between two and four years to go from the design stage to industrial manufacturing but, for some time now, things have been changing radically, thanks to a technology that is new to the average person but well-known to the research and development centres of large-scale companies. This is 3D printing, an application that, in addition to changing the way we think about motorcycles, will revolutionise the lives of motorcyclists in the future. Let's see how. 
The Vanguards? At Borgo Panigale
Let's step back for a moment, just so our grandmas can understand: what's a 3D printer? It's a device that transforms a three-dimensional design into a physical product, thanks to a jet that sprays, one layer after another, a solid substance. As of today, the 3D printers most available on the market use a plastic resin that when heated becomes malleable and then hardens quickly. At an industrial level manufacturers have been using these for some years now in creating their prototypes and engine parts. The reason? "3D technology," explains Simone Di Piazza, Head of Vehicle Design and R&D Services at Ducati, "is currently used during the development of new projects to verify CAD (a design software) models before launching production equipment. It also allows us to have assembly trials and in many cases even performance tests. It permits us," Di Piazza continues, "to conduct design testing even before making the definitive parts. We save on expensive production modifications and cut back on the number of tests on the actual models."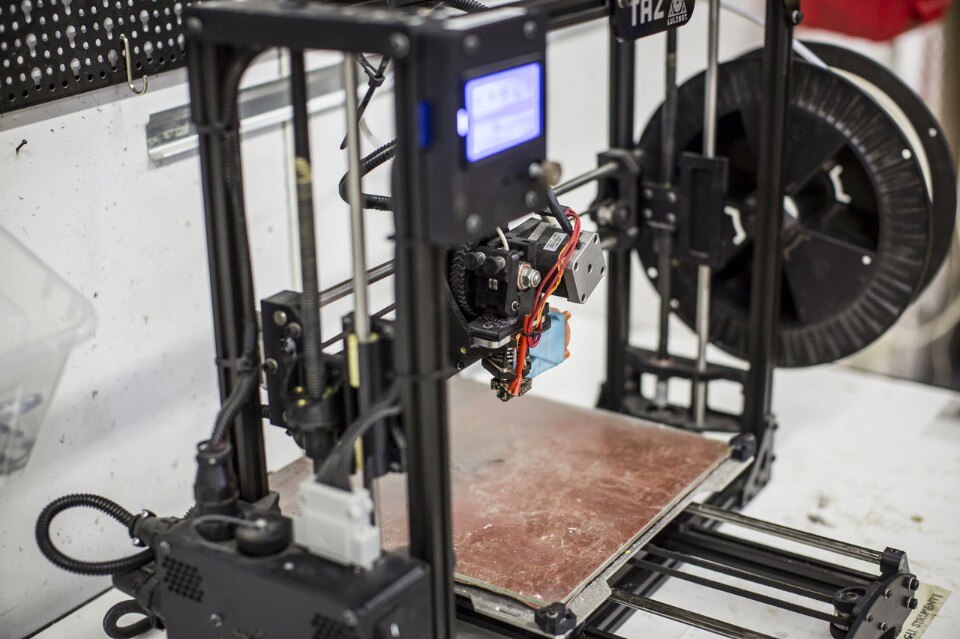 A 3D printer Kentstrapper Galileo: here – in miniature – is the object that is revolutionising the way in which motorcycles are designed. Photo Marcello Mannoni
At Borgo Panigale, where 3D printers have been used since 1998, they've embraced the spirit of a technology that, though costly in the initial stage (industrial printers are quite expensive), allows them to save – and even to make mistakes. If, in fact, a model made in 3D doesn't work, it can be reprinted easily, with costs that are decidedly inferior with respect to the past, when prototyping was done with other methods, at times completely entrusted to manual labour.
Though costly in the initial stage 3D technology allows them to save and even to make mistakes
Kawasaki as well uses this technology on a regular basis: "Our division has two kinds of 3D printers," according to the engineers at Akashi, "one uses SLA technology (that is, Stereolithography, a technique that allows users to create single 3D objects with liquid resins starting directly from digital data elaborated by a software) and the other uses FDM (that is, Fused Deposition Modeling, an additive manufacturing technology using fused materials like resin or metal to give shape to an object). The difference between the two is that the SLA printer creates smoother surfaces whereas the FDM is harder and more resistant to heat. We use the former to check the design of the parts and the latter on performance tests."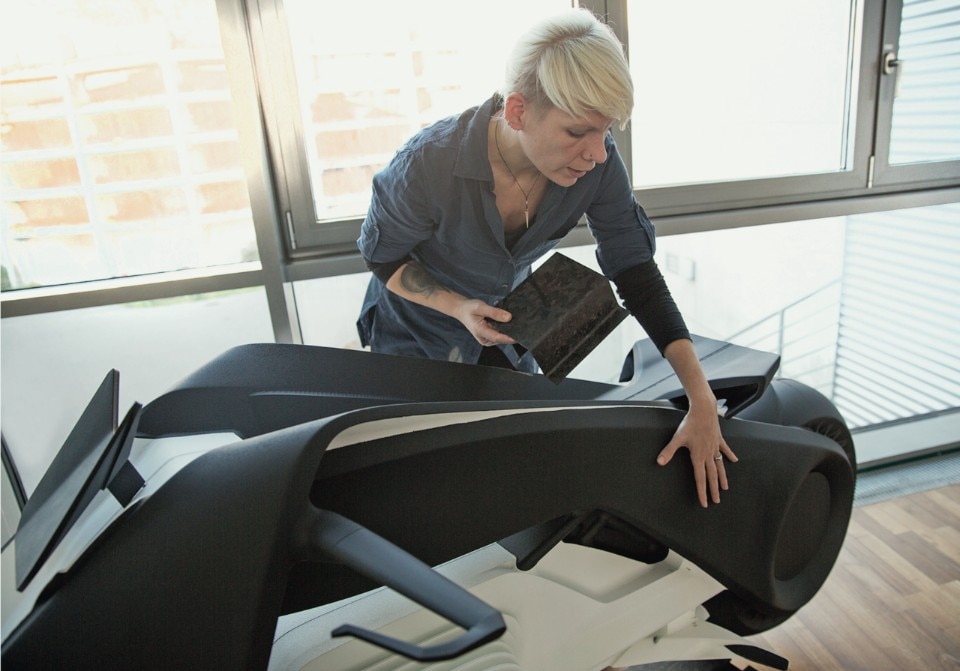 the Vision Next 100, the BMW motorcycle of the future with "self balancing" system and no need for a kickstand
Virgin Territory
In short, 3D printing helps to save time and money and to shorten project gestation. This leads to greater reactivity on the part of Research and Development divisions in creating new products and a greater ability to satisfy new market requests. But 3D printing is still virgin territory, all to explore, where the confine between industrial secrets and the constant discovery of limits is blurred. In a certain sense, it was like talking about the Internet back in 1985: the potentials were there, and they were certainly overwhelming, but you needed to find the right alchemy to make it all work. It's no coincidence that we asked two motorcycle manufacturing giants – Honda and Yamaha – if and how they would use 3D technology. But, in keeping with quintessential Japanese discretion, their reply was a courteous "No comment". However, from their reply, we detect unshakable confidence in technology, but also a hint of uncertainty regarding the next big thing from the motorcycle industry.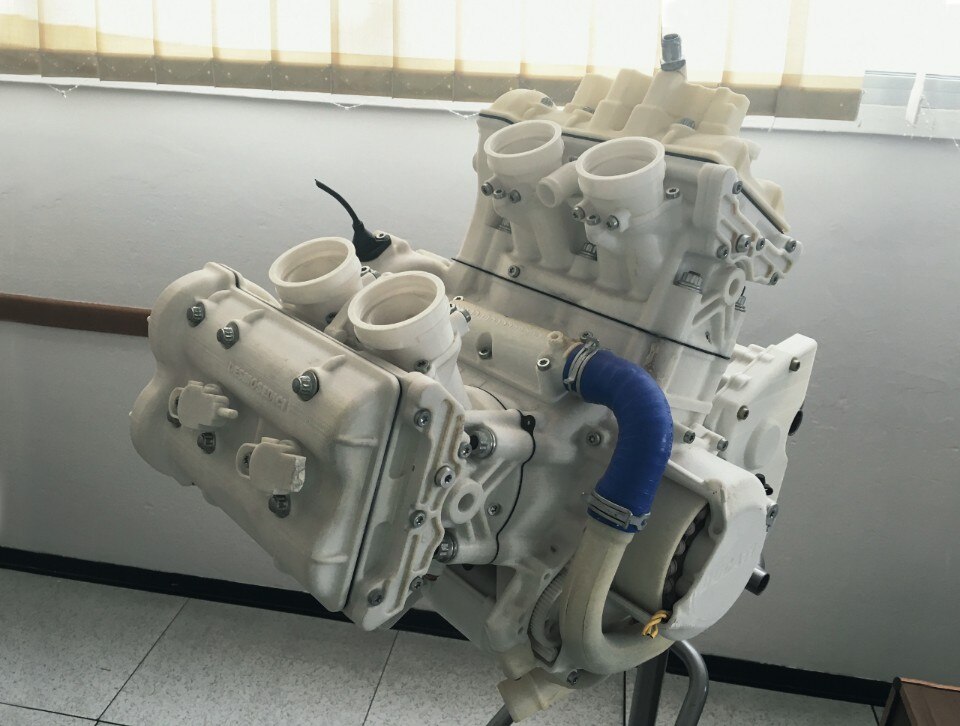 In Suzuki, for example, where 3D printing has been used regularly for the past seven years, this technology is applied to the development not only of exterior parts but also of complex 3D designs: "We think future developments can also concern actual frame building," according to the Design office at Hamamatsu. But there's a risk: "As of today, the only problem with 3D printers is that the material is very expensive and can't be recycled." In KTM-Husqvarna, where their belief in technology is so great their Svartpilen and Vitpilen prototype was made in 3D, the designers prefer a coexistence of digital and analogue technology: "It's still too early to say farewell to clay, to manual labour, which still holds great advantages."
In a certain sense, it was like talking about the Internet back in 1985: the potentials were there, and they were certainly overwhelming, but you needed to find the right alchemy to make it all work
A few kilometres north of Mattighofen, at the BMW headquarters, engineers from the Motorrad division are also involved in the discourse: "At BMW we've been using this technique for some engine parts and initial development stages, but there's still a long way to go as regards printing technology and the materials involved," states Jörg Ploss, Head of Advanced Technology Development for the Munich manufacturer. "Advantages with respect to clay aren't really in terms of time but in precision: a 3D prototype offers greater stability and can be designed with incredibly thin layers of material," he continues. "But on an industrial and large-scale level," Ploss states, "it's not competitive with respect to traditional procedures."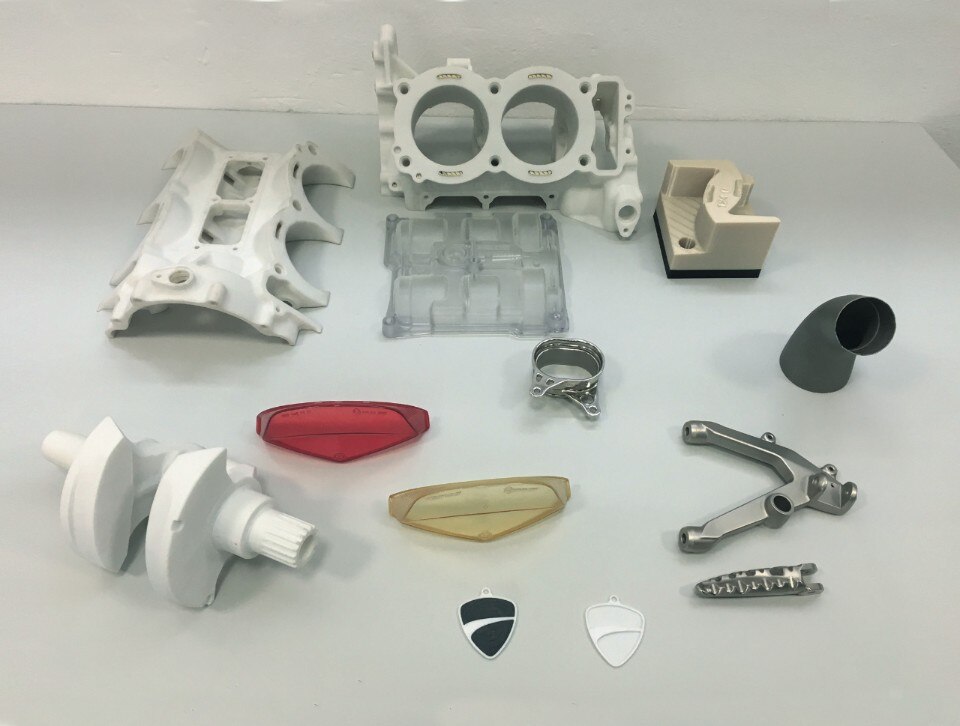 Some parts made with the same technology by the Borgo Panigale manufacturer
The Sector's Future
The revolution is yet to be written, just as in the future we'll have high-performance 3D printers at affordable prices in our homes (or maybe in those of our grandkids). "It can't be ruled out that in the future we may be able to build replacement parts by using rapid prototyping," claims Di Piazza (Ducati), "the most suitable technology much be chosen to obtain components with technical features equivalent to those of original equipment parts. From a very futuristic perspective, it may be possible to sell a client the 3D model of an accessory and have it printed without the logistic costs related to managing and distributing the actual parts." Another opinion comes from Munich: "Technology, when it'll be available to everyone, will open up to the aftermarket and the customisation field. But we'll safeguard our patents and would never give our end customers the technical specs of a frame or rear-view window."
Author:

Marco Gentili

Magazine:

Dueruote

Issue:

#149 October 2017