The Graham Foundation is pleased to present a new commission by artist David Hartt: in the forest, a multipart installation at Foundation's Madlener House galleries, coinciding with the 2017 Chicago Architecture Biennial and Expo Chicago. Borrowing its title from a chapter of Claude Lévi-Strauss' 1955 memoir Tristes Tropiques, in the forest continues Hartt's investigation into the relationship between ideology, architecture, and the environment. Consisting of a film, a suite of photographs, and a series of sculptures, the installation revisits architect Moshe Safdie's unfinished 1968 Habitat Puerto Rico project through a contemporary lens.

In Puerto Rico, the experimental housing development was designed to provide 800 low-cost dwelling units for moderate-income families in a system of stacked prefabricated concrete modules cascading down an undeveloped hill in the densely populated Hato Rey neighborhood of San Juan. Consistent with Moshe Safdie's approach to other Habitat developments, Habitat Puerto Rico was designed to provide inhabitants with a sense of community, privacy, and access to green space, where each unit had a private garden and views of the city.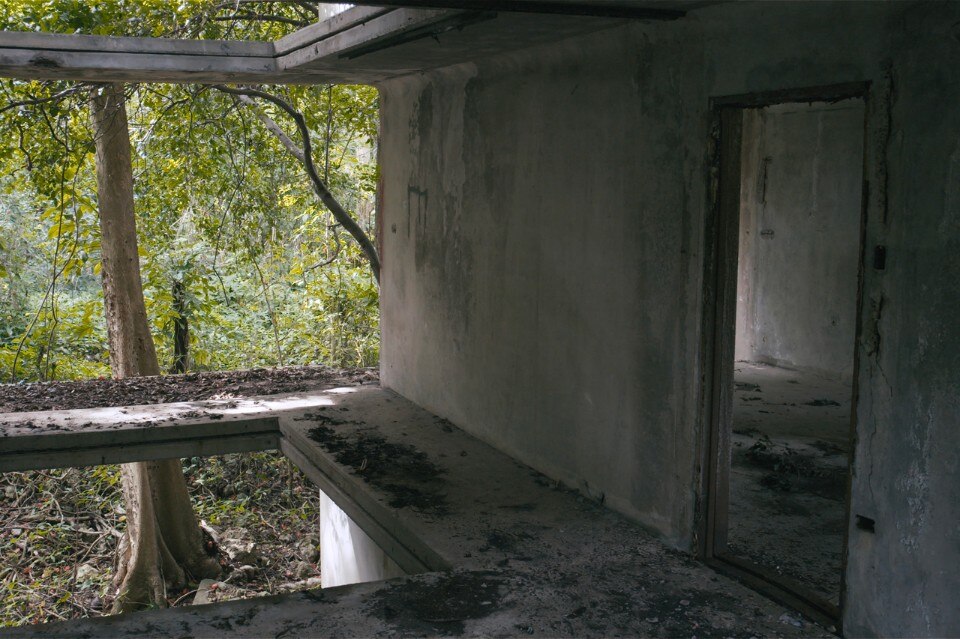 Central to David Hartt's exhibition is a meditative film that captures the remains of Safdie's project. Featuring long takes of the weathered modules surrounded by the encroaching jungle, and environmental recordings layered with a composition by electronic musician Karl Fousek, Hartt's piece offers a study of this unrealized experimental project – and the optimism from which it was conceived – recontextualized within the political and economic struggles of contemporary Puerto Rico.

14 September 2017 – 6 January 2018
David Hartt: in the forest
Graham Foundation
Madlener House
4 West Burton Place, Chicago