Lumen, an immersive, interactive installation by Jenny Sabin Studio, is on view in MoMA PS1's courtyard through 4 September. Winner of The Museum of Modern Art and MoMA PS1's annual Young Architects Program, this year's structure evolves over the course of t he day, with responsive textiles that display subtle color in sunlight and emit glowing light after sundown. Lumen serves as the setting for the 20th season of "Warm Up", MoMA PS1's pioneering outdoor music series, incorporating a custom lighting program to complement these vibrant, popular events.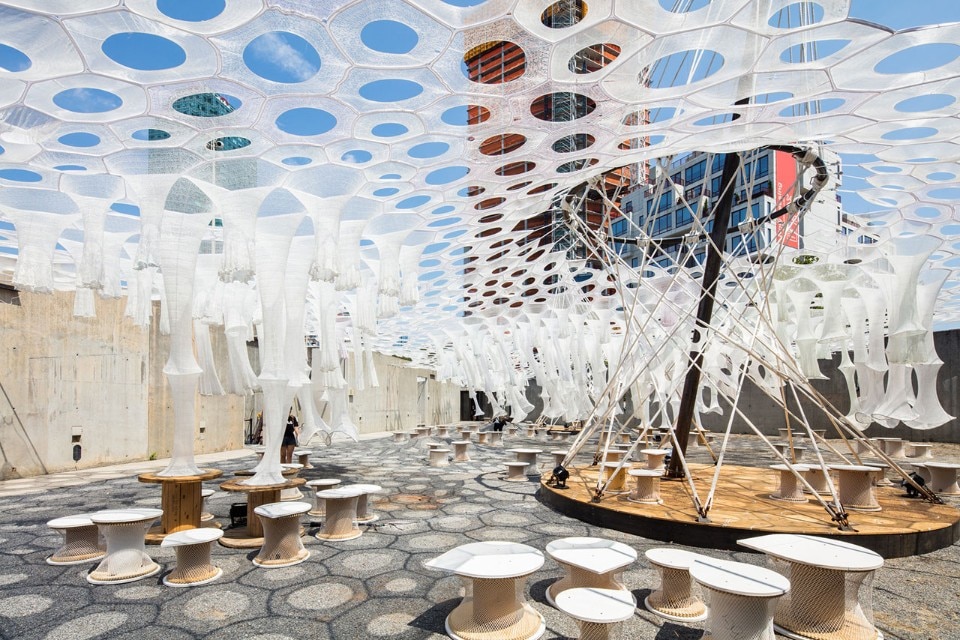 Made of over 1,000,000 yards of digitally knitted and robotically woven fiber, Lumen features two large-scale canopies with 1,500 cellular components and 250 hanging tubular structures t hat create opportunities for visitors to interact with the work. The design incorporates 100 robotically woven recycled spool stools and a misting system that responds to visitors' proximity to produce a refreshing micro-climate. Socially and environmentally responsive, Lumen's adaptive architecture is inspired by collective levity, play, and interaction as the structure transforms throughout the day and night, responding to the density of bodies, heat, and sunlight. The result of collaboration across disci plines, Lumen applies insights and theories from biology, materials science, mathematics, and engineering – integrating high-performing, formfitting and adaptive materials into a structure where code, pattern, human interaction, environment, geometry, and matter operate together.
The other finalists for this year's MoMA PS1 Young Architects Program were Bureau Spectacular (Jimenez Lai and Joanna Grant), Ania Jaworska, Office of III (Sean Canty, Ryan Golenberg, and Stephanie Lin), and SCHAUM/SHIEH (Rosalyne Shieh and Troy Schaum). An exhibition of the five finalists' proposed projects will be on view at The Museum of Modern Art over the summer, organized by Sean Anderson, Associate Curator, with Arièle Dionne-Krosnick, curatorial assistant, Department of Architecture and Design, The Museum of Modern Art.

until 4 September 2017
Lumen
Young Architects Program 2017
MoMA PS1
Architect: Jenny Sabin Studio
Design Team: Jenny E. Sabin, Principal and lead architectural designer Dillon Pranger, Project lead and manager Jordan Berta (content coordination), Diego Garcia Blanco, Elie Boutros, Daniel Villegas Cruz, Omar Dairi, Ale jandro Garcia, Andres Gutierrez, Jingyang Liu Leo (senior research associate), Mark Lien, Jasmine Liu, Andrew Moorman, Christopher Morse, Bennett Norman, Marwan Omar, Sasson Rafailov, Steve Ren, David Rosenwasser, Danny Salamoun (production lead), Aishwary a Sreenivas, Raksarat Vorasucha
Engineering design: Clayton Binkley & Kristen Strobel, Arup