With green architecture in mind, the idea of "Green Ladder" is a combination of bamboo ladders – a popular equipment made by bamboo – a traditional material in Vietnam. These bamboo units were assembled in Vietnam and transferred to Australia.
Bamboo is the "green steel" of 21st-century. It is an extremely fast-growing species of giant grass, grows abundantly, quickly and cheaply in Vietnam, where canes cost as little as a dollar each.
The structural elements are linked together to form a porous but robust grid-like frame, supporting the planter pots inserted in-between. The pavilion acts as a physical link connecting visitors and nature. Ultimately becomes more than form, function and beauty, but a catalyst between human and nature.
The project contributes to raise people's awareness of greenery and nature in the urban context, particularly Vietnam, where green spaces have become more and more scarce.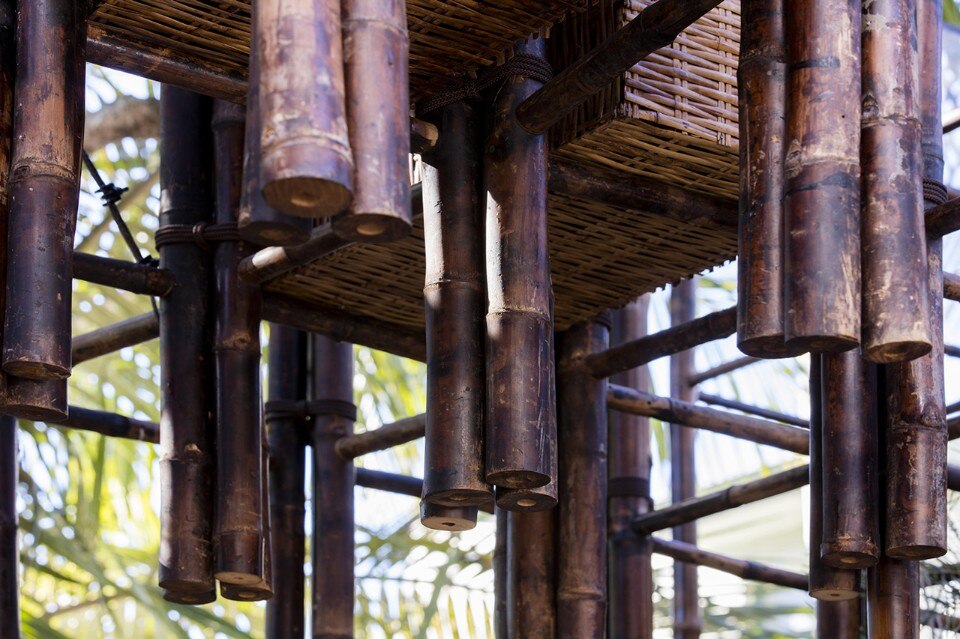 Green Ladder, Sydney
Architects: Vo Trong Nghia Architects
Design Team: Vo Trong Nghia, Kosuke Nishijima, Victor Llavata, Pham Huu Hoang, Tran Vo Kien, Micheal Moran
Contractor: Wind and Water House JSC
Client: Sherman contemporary Art foundation (SCAF)
Site Area: 20 sqm
Completion: 2016