Save the Children Italia Onlus' pavilion at Expo has been designed by Argot ou La Maison Mobile as a proper "village", a domestic and welcoming environment which designs the space of an ideal place of the world where the Ong usually operates.
A sequence of rooms without walls and barriers but in conversation with the surroundings and the other pavillions.
A space that is permeable and open, where the external landscape is an integral part of the internal world, such as the territory is a strong part of the life of families and communities in the countries where Save the Children works.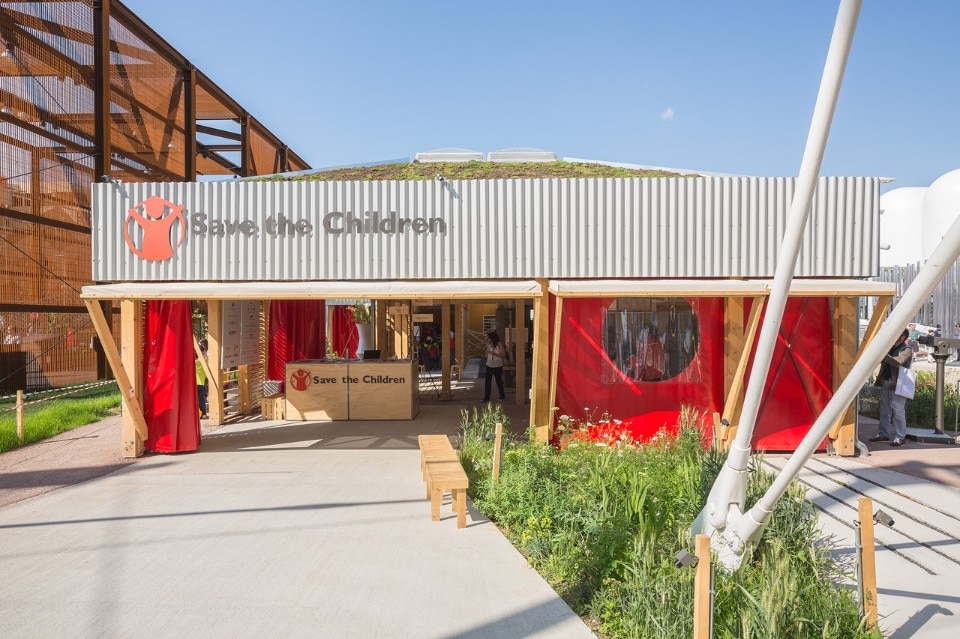 The pavilion has been conceived starting from a research of simple materials as wood and metal sheet, together with a floor made by concrete and soil, with the aim to remind the warmth and colours of far away territories. A village where we can also find the theme of "self-production": the panels for the facade, made of fir wood and bamboos, have been made through a workshop with foreigner kids who are part of the program Civico Zero.
The project of the outdoor landscape has been created to welcome, to guide, to entertain and to educate the public: vegetal experiences that bring stories with them, cereals of ancient origins, trees and a small vegetable garden, to recall the community allotments that are very important about the ONG's programs.

Argot ou La Maison Mobile, Save The Children Pavilion, Expo Milano 2015. Photo © Delfino Sisto Legnani
Argot ou La Maison Mobile, Save The Children Pavilion, Expo Milano 2015. Photo © Delfino Sisto Legnani
Argot ou La Maison Mobile, Save The Children Pavilion, Expo Milano 2015. Photo © Delfino Sisto Legnani
Argot ou La Maison Mobile, Save The Children Pavilion, Expo Milano 2015. Photo © Delfino Sisto Legnani
Argot ou La Maison Mobile, PSave The Children Pavilion, Expo Milano 2015. Photo © Marco Menghi
Argot ou La Maison Mobile, Save The Children Pavilion, Expo Milano 2015. Photo © Marco Menghi
Argot ou La Maison Mobile, Save The Children Pavilion, Expo Milano 2015. Photo © Marco Menghi
Argot ou La Maison Mobile, Save The Children Pavilion, Expo Milano 2015. Photo © Delfino Sisto Legnani
4 Plan
Argot ou La Maison Mobile, PSave The Children Pavilion, Expo Milano 2015. Plan
5 Pro Sez
Argot ou La Maison Mobile, Save The Children Pavilion, Expo Milano 2015. Elevations
section_1_20 clean
Save The Children Pavilion, Expo Milano 2015. Section
150212_sezione dettaglio 1_20 completo A1 Orizzontale (1)
Save The Children Pavilion, Expo Milano 2015. Section

Save The Children Pavilion, Expo Milano 2015
Architects: Argot ou La Maison Mobile
Exhibition Design: Argot ou La Maison Mobile, Mezzo Atelier, h+
Workshop curated by Argot ou La Maison Mobile, Mezzo Atelier
Lamdscape: Melania Bugiani
Art direction: h+ 
Completion: 2015