The Riva Toys Experience collection consists of 5 Riva Legends: two cult motorboats, Ariston and Aquarama, two more recent classics, Aquariva and Rivarama, and the only wheeled model ever produced, the Riva truck, used to cross the countryside far and wide carrying the motorboats.

Each toy, manufactured and hand finished in Italy, doesn't use glue nor any other fastener and it's chemical free.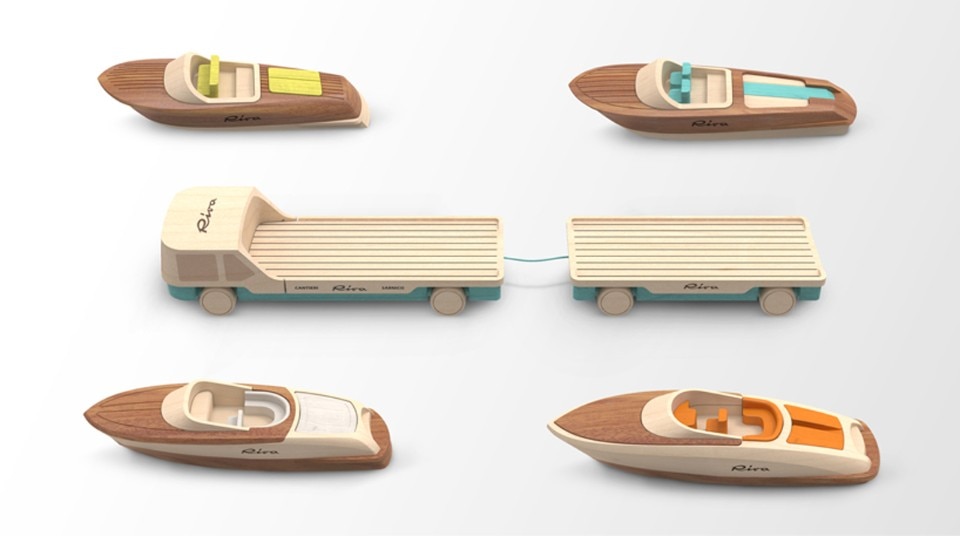 As every expert shipbuilder knows, the soul of a boat comes from the raw materials used to make it. That's why Riva selected only top-notch controlled woods, likewise used in the original motorboats: African mahogany, ash wood and Italian maple.
The toy boats are not mere scaled replicas of the originals: Madeindreams job was to identify what really defines the boats and synthesize the most crucial aesthetic features into a product that could speak to both children and adults.

Riva Toys Experience
Design: Madeindreams
Creative Director: Emanuele Laviosa
Lead Industrial Designer: Alberto Tonini
Product Designers: Michele Radice Fossati, Roberto Montrasio, Nataliya Chernakova
Graphic Designer: Nataliya Chernakova