Designed by the San Francisco‐based experimental design firm Future Cities Lab (FCL), Lightswarm, is a stunning facade installation of 430 individual modules, employing sound sensors and LED lights to produce a spectacular light show in a state of perpetual flux.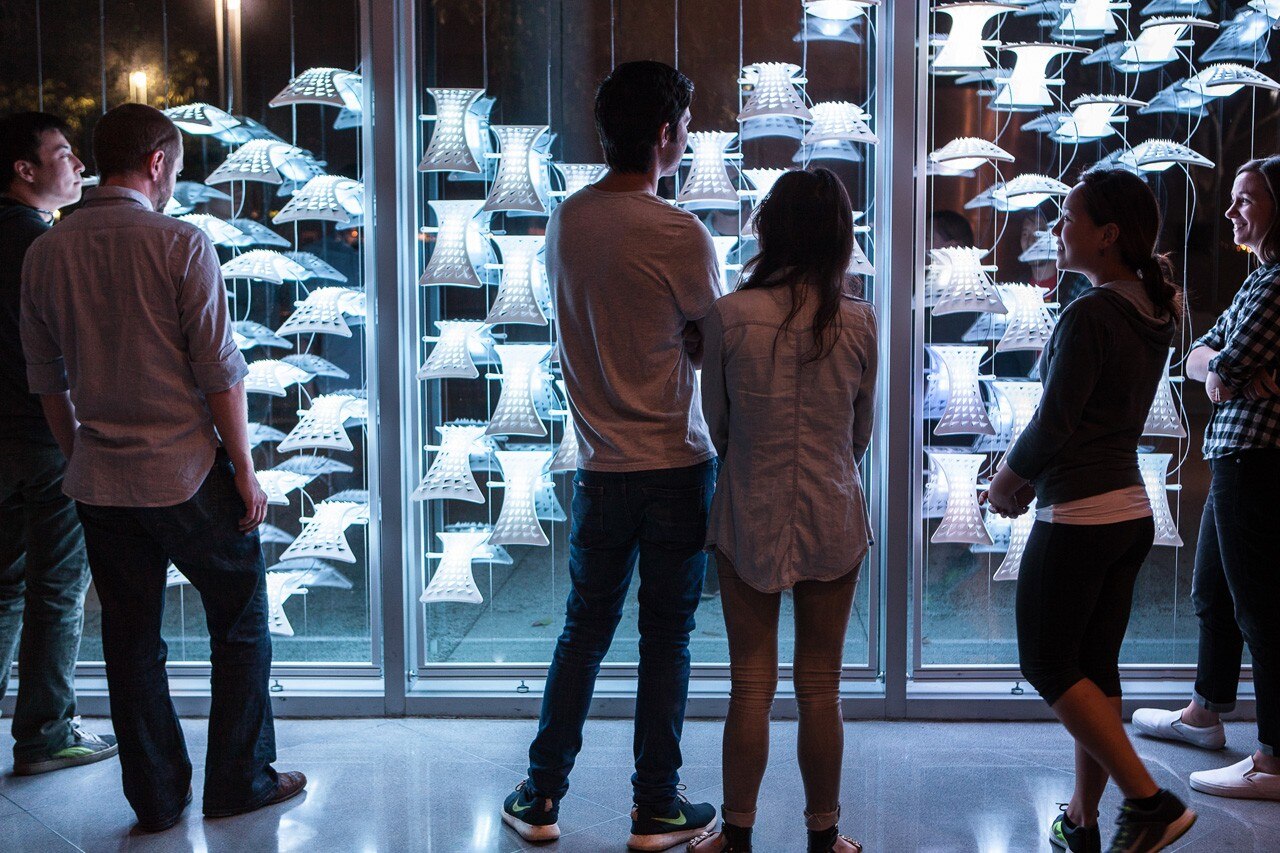 Responding to sounds gathered from YBCA's interior space, Yerba Buena Gardens and the surrounding urban environment, this site-specific artwork activates the south facing glass façade of YBCA's Grand Lobby with playful patterns of light reminiscent of a swarm of flying birds. During the day, filtered sunlight produces ever-changing flickers of light and shadow, while in the evening the façade is transformed into a dynamic electro-luminescent composition that activates the glass wall.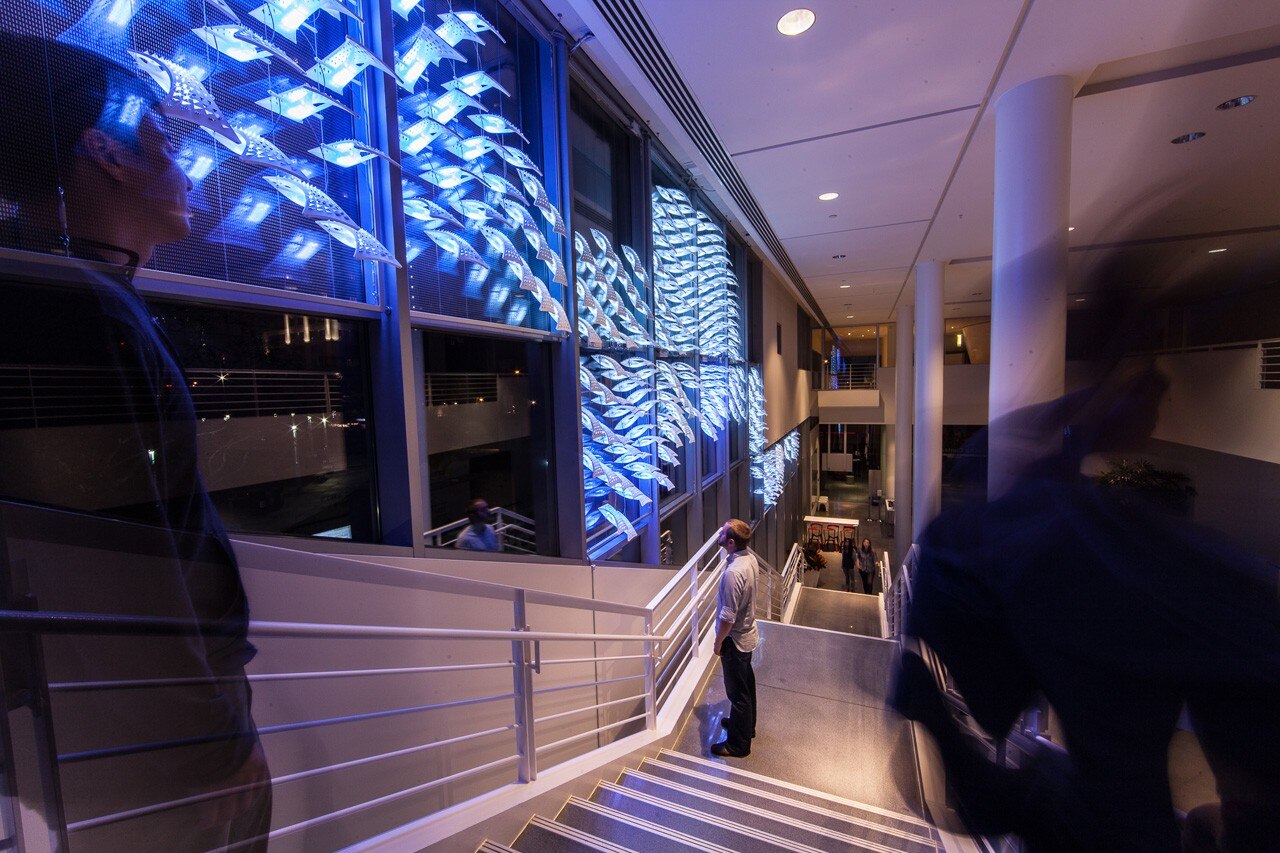 Sound sensing "spiders," attached directly to individual glass panels in the Grand Lobby, transform the façade into what the artists call "urban sensors – instruments to sense the city, visualize its auditory pulse, and amplify its latent energies into cascades of swarming light."
Real-time data collected from these audio transmitters drive the direction and color of the swarming algorithm, which generates patterns of streaming light. The result is an artificially intelligent facade: a smart surface that can sense, compute, respond and interact with its surroundings. Lightswarm's unique suspended light modules individually change their intensity and color. Each module was created from 3D printed components, custom electronic elements, addressable LED strips, and laser-cut skins made out of recyclable PET plastic and synthetic paper.
This work is an exemplary display of Future Cities Lab's particular interest in liminal spaces and location, as the glass wall allows for multiple views and perspectives on this ever-changing installation.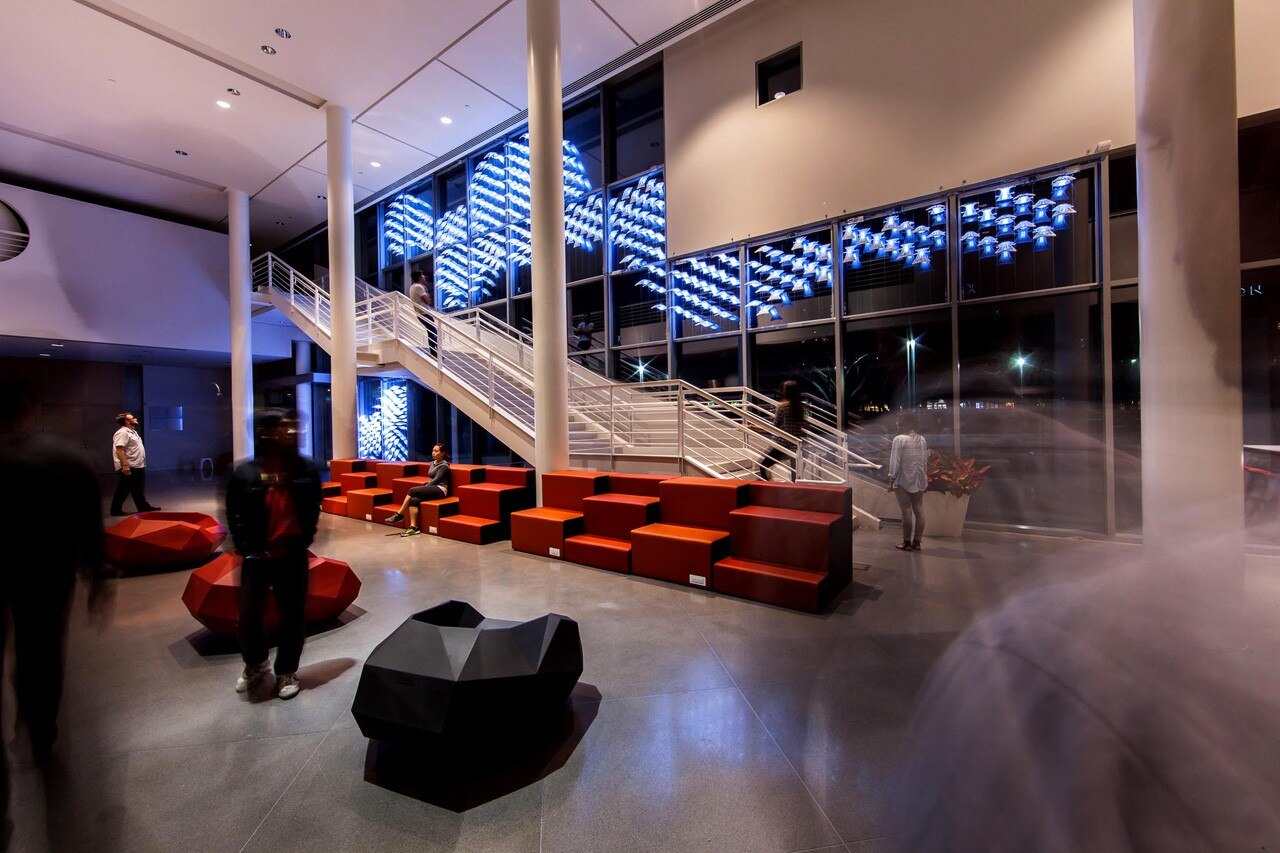 through October 2016
Future Cities Lab: Lightswarm
Yerba Buena Center for the Arts
701 Mission Street
San Francisco

Lightswarm is made possible through the generous support of the Yerba Buena Community Benefit District's Community Benefit Fund