Forests play a complex role in our cultural imagination.
Whether hosting archaic Bacchanals or advanced material research; when referred to as pristine natural sites or when organized as factories, they maintain the ambivalence of being both tangible environments, slowly developing over time, and abstract sites of production, shaped by the relentless cycles of the economy.
Forests are also the ultimate source of wood, and the flow of wooden materials, products, and things traces cyclic processes through which nature is being domesticated just to come back and conquer cities again, ones in which the objects we use on a daily basis simultaneously embody the extreme rationalization of forest environments and their hidden, often irrational ramifications.
The exhibition "Wood: the cyclical nature of materials, sites, and ideas" explores the links between wood in design and architecture and the economic, political, natural and cultural cycles that surround its production, circulation and consumption.
It opens by tracing the omnipresence of wood in our lives, from the smallest to the planetary scale; it then highlights the cycles of decline and return of forests around the world, and proceed by offering reflections on the many functions they play in the development of markets, the construction of identities, and the hosting of experiments. Finally, visitors are confronted by an excursion into the inherently uncanny nature of forests.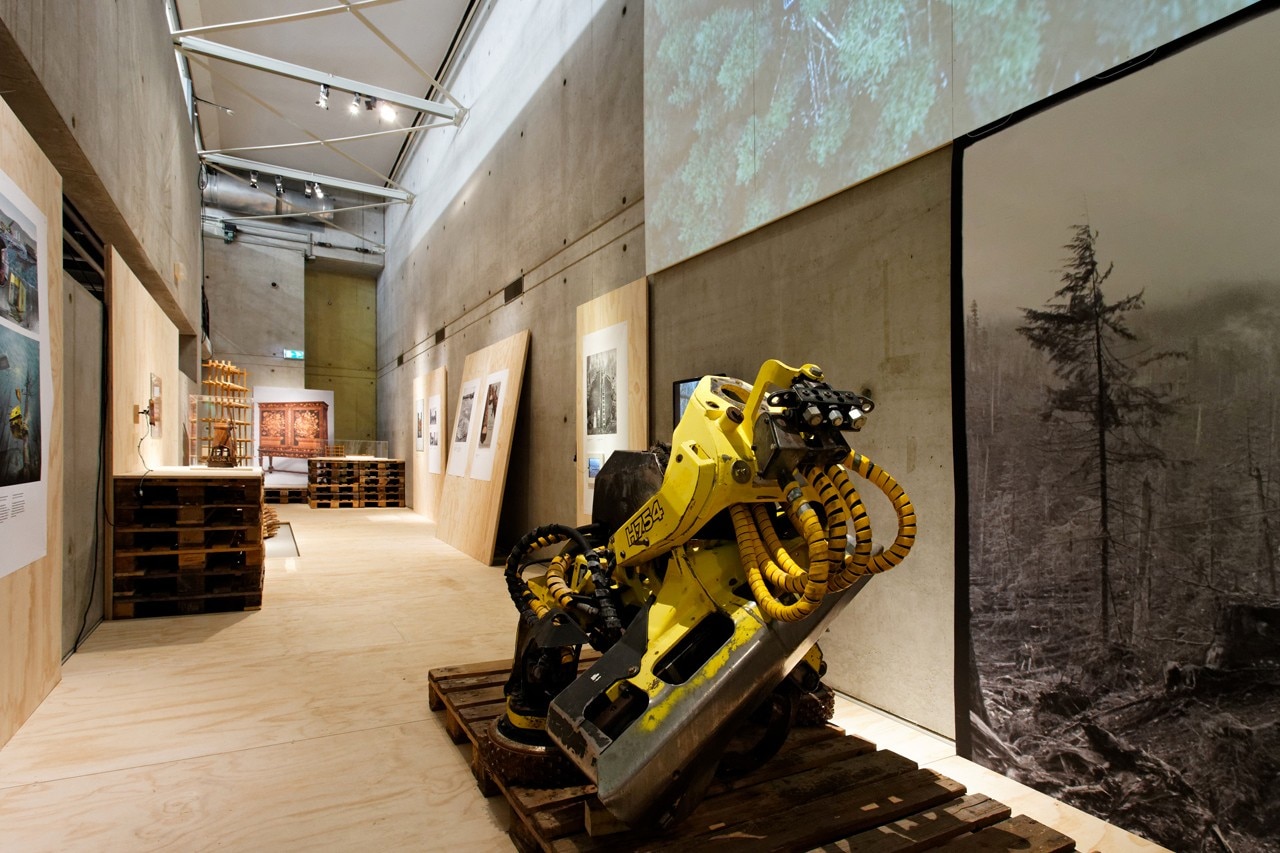 The exhibition showcases works by Aldo Bakker, Charles & Ray Eames, Ludwig Hilberseimer, Chris Kabel, Claus Mattheck, Lukas Oleniuk, Lex Pott, Cedric Price, SeARCH, Hendrik Wijdeveld, James Wines, Peter Zumthor, and others.
"Wood: the cyclical nature of materials, sites, and ideas" is curated by Dan Handel and designed by Jannetje in't Veld & Toon Koehorst. The exhibition includes works from the collections of Het Nieuwe Instituut, the Canadian Centre for Architecture (CCA), Delft University of Technology, Rilksmusem, Tropenmuseum and Museum Boijmans van Beuningen.
"Wood: the cyclical nature of materials, sites, and ideas", Het Nieuwe Instituut, Rotterdam
Left: Hans Hildenbrand, WW1 wooden trenches. Right: Lex Pott, Fragments of Nature
SOM, section of the Weyerhaeuser headquarters building, c. 1970
XIR227240
Tournai Workshop, Woodcutter, c.1465

until August 10, 2014
Wood: the cyclical nature of materials, sites, and ideas
curated by Dan Handel
designed by Jannetje in't Veld & Toon Koehorst
Het Nieuwe Instituut
Museumpark 25, Rotterdam