In Grabouw, South Africa, Ukuqala2, a team of architecture students from the University of Stuttgart alongside local foundation Thembalitsha , built a house for Village of Hope using traditional and recycled materials. A project of parent organisation Thembalitsha, Village of Hope assists children both directly and indirectly affected by HIV.

Using sustainable and local materials, students worked with the local community to build a house for volunteer workers during their stay at Grabouw. "The local climate and environmental protection were especially important to us," state the members of Ukuqala2, "and we decided to use traditional and natural local materials such as clay, straw and wood, in combination with recycled materials."

The house for Village of Hope draws from local construction, where two-story houses form a series of public spaces between them. Communally used spaces are located in the ground floor, while private rooms are located in the first floor, accessible by an outer staircase. Connecting both rooms, a large, light-filled hallway doubles as a lounge space.

Because of high temperatures in the area, the house features a double roof which allows air to circulate in between two layers. The lower layer is composed of recycled plastic bottles and breathable foil, while the upper layer is sloped, offering protection from the rain during the monsoon months. The outer clay walls are 30 cm thick, contributing to a comfortable temperature inside the house.
Work in the house took half a year, while the construction process, in collaboration with the community, was developed during the course of six weeks. This was the second year of the program that partners University of Stuttgart students with Thembalitsha in Grabouw, which in 2012 also built a membrane shading roof for the local kindergarten facility.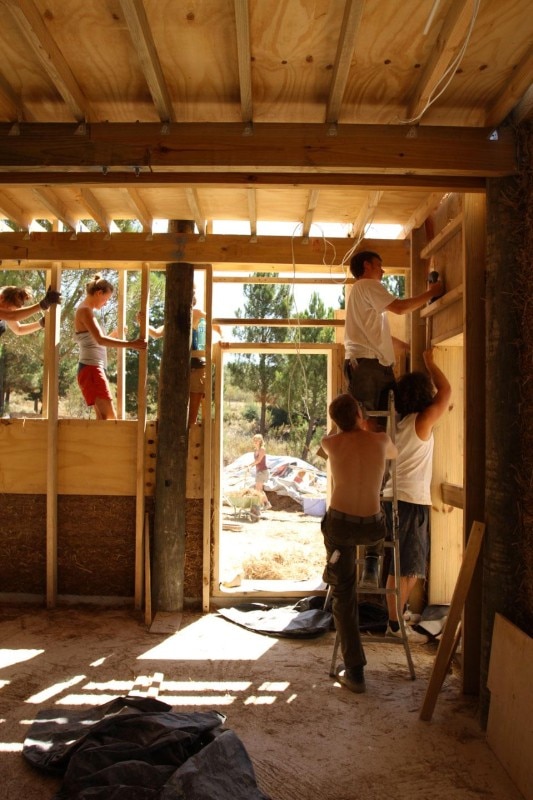 Ukuqala 2: House for Village of Hope, Grabouw, South Africa
Team : University of Stuttgart architecture students, Thembalitsha, local community members
Location : Grabouw, Cape Town, South Africa
Completion : 2012