Spanish art collective Luzinterruptus has recently completed a new installation in Madrid, Spain. The night before 12 October, a day which marks the celebration of the national day of Spain (Fiesta Nacional Española), the collective took to the street to create a small urban river, where a small naval fleet of 214 illuminated paper boats carried the government's latest political program, ending in a mass of wet and unreadable paper.

"Despite the economic recession," explain Luzinterruptus, the national day "is celebrated with great pomp and deployment of media." Madrid is "adorned with large flags and flowers, while the living forces and good citizens, dressed themselves in their best finery to witness the many military parades."

In an effort that is an ironic contribution to the beautification of the city taking day on the night preceding the celebration, Luzinterruptus went out on the streets with 20 buckets filled with detergent and water, creating a small water path in a central street of their neighbourhood. This small river ended up in a sewer, and carried in it a fleet of small paper boats built with the electoral program of the People's Party (Partido Popular), which currently governs the country.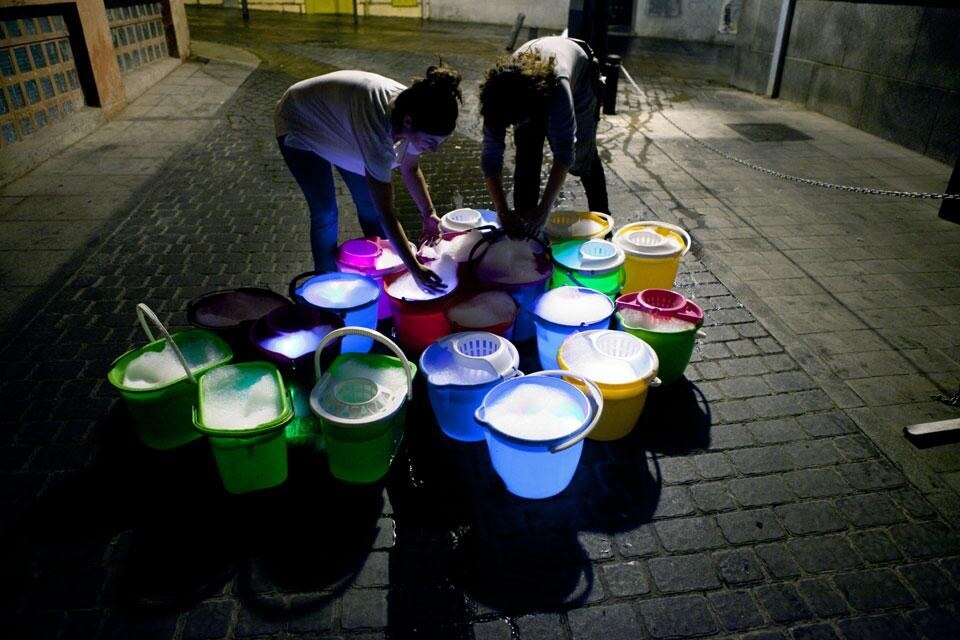 The Fleet of unfilfilled election promises was composed of 214 illuminated boats, manufactured out of the political program entitled What Spain needs. Here, according to Luzinterruptus, "you can find hundreds of beautiful promises, which it seems to us, there has never been any intention to fulfill. Our small naval fleet ended up becoming a simple metaphor of wet and unreadable paper, that, once the installation was complete, we picked up and deposited into paper recycling containers."

Luzinterruptus: A fleet of unfulfilled promises
Time of installation: 4 hours
Damages: none
Exhibition time: 3 hours