Slovenian studio Ofis Architects have recently completed a student housing complex on the edge of Parc La Vilette, in Paris's 19th district. Located in a narrow site (11 metres by 200 metres), the complex is bordered by a tram route and a football field. The long volume of the 11 floor building is divided into two parts connected by a narrow bridge, under which there is a garden. Program distribution includes a technical space in the basement, shared programs in the ground floor, and student apartments in the upper nine floors.

A rational and modular layout allows for 192 student studios, aligned along the Eastern façade. All studios have the same size, containing the same elements to optimize design and construction: an entrance, bathroom, wardrobe, kitchenette, working space and a bed. Each apartment has a balcony overlooking the street. They are randomly oriented to diversify the views and rhythm of the façade, creating the impression of "shifted baskets", which allow for a dynamic façade, while simultaneously breaking down the scale and proportion of the building.

The building is energy efficient to accommodate the city's sustainable development efforts. Rooms are cross ventilated and generously exposed throughout the apartment. External corridors and glass staircases also promote natural lighting in the common circulation.Ventilation is controlled by double flow mechanical ventilation, providing clean air in every apartment with an optimum temperature throughout the year. The incoming air also reuses heat. The roof is covered with 300 square metres of photovoltaic panels to generate electricity. Rainwater is harvested on site in a basin pool used for watering outdoor green spaces.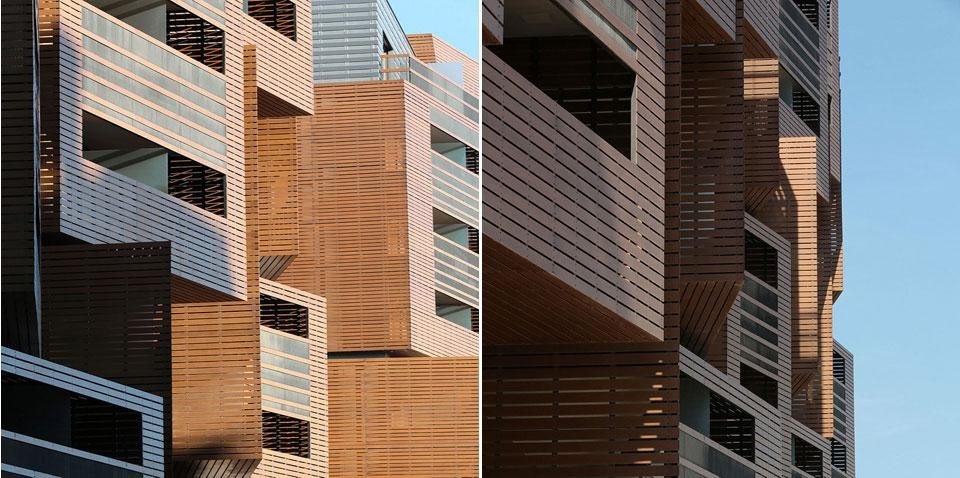 Ofis: Basket Apartments
Architect: Ofis
Team:Rok Oman, Spela Videcnik
Robert Janez, Janez Martincic, Andrej Gregoric, Janja del Linz, Louis Geiswiller, Hyunggyu Kim, Chaewan Shin, Jaehyun Kim, Erin Durno, Javier Carrera, Giuliana Fimmano, Jolien Maes, Lin Wei
Structural engineering: INTEGRALE 4; PERSONA Bruno
Mechanical engineering, sustainalbe development: Cabinet MTC; Cyril GANVERT
Completion: 2012
Client: Regie Immobiliere de la Ville de Paris
Site area: 1981 mq
Study area: 35 mq
Built area: 931 m2
Surface: 8,500 mq
Materials: concrete, glass, metal, plaster, OSB