Paris-based studio GA Architecture's Giuseppe Grisafi and Patrizia Anania have recently designed a small school complex in the French city of Lens. The project is divided in two levels: a kindergarten on the ground floor, and an elementary school on the first floor. Running parallel to the main road, two patios run across the building, allowing physical and visual access to the garden in the building's recreational courtyard.

A piazza acts as the school's main entrance, and, effectively protected by a brise-soleil structure, becomes a location for interactions and pauses. The two patios allow for effective ventilation during the summer. The façade is animated by a circular motif in windows and portholes.

Once inside, the complex's complete transparency allows for a multitude of perspectives. The volume unravels horizontally, in a non-invasive strategy which allows it to interweave with the surrounding urban fabric. "The ceiling appears as a green ribbon, signaling the presence of vegetation", state the architects. "From the surrounding apartment towers, this ribbon acts as a fifth, green façade".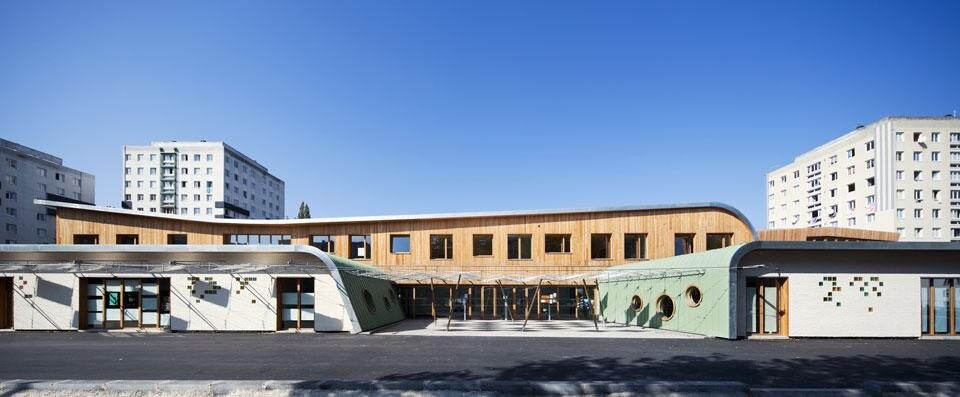 The ground floor façades are clad in white plaster, featuring, at intervals, a series of coloured glass insertions. The first floor façades are clad in non-treated wood.

"The green ceiling covers most of the building's surface, evoking the soft profile of a hill", the architects point out. "This new landscape softens the impact of the building on the site, as if it were a continuation of the ground floor". The school complex is composed of 5 kindergarten classrooms, 9 elementary school classrooms, a multipurpose room, a computer room, a library and a cafeteria.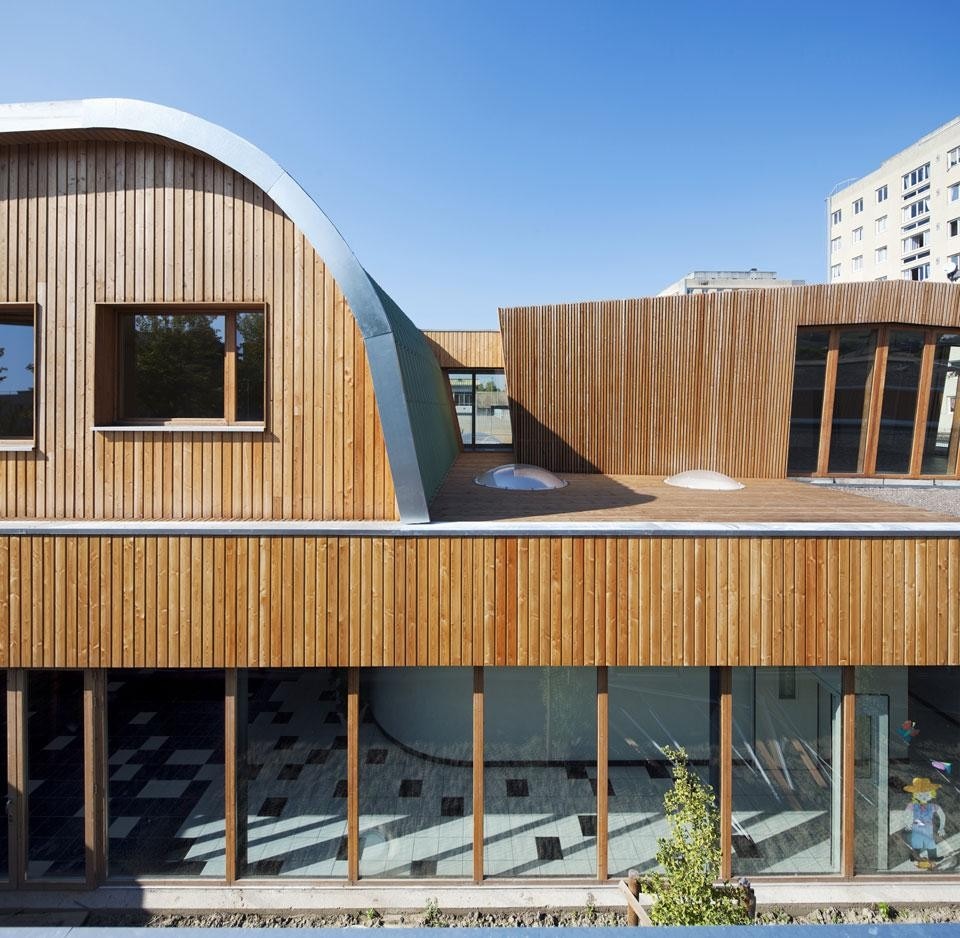 GA Architecture: Lapierre school complex
Architects: Giuseppe Grisafi and Patrizia Anania
Client: Lens Municipality
Consultants: OTE Ingénierie – structure, foundations, building economy, BETR – kitchen specialist, Agence Florence Mercier Paesagista
Completion: September 2012
Area: 3,582 square metres