A new community of makers, without those distinctions of class creating an arrogant barrier between craftsmen and artists. (Walter Gropius, 1919)
Often identified through the years as a style, Bauhaus has first of all been a school, operating in Germany between 1919 and 1933. It was founded in 1919 in Weimar to merge the local Academy of Fine Arts with the School for Applied Arts created by architect Henri Van de Velde in 1906.The original mission of Bauhaus was to sew the existing division between art and applied arts, arts and craftsmanship. A new vision of Gesamtkunstwerk, the total work of art, should have gathered "a new community of makers, without those distinctions of class creating an arrogant barrier between craftsmen and artists", as Walter Gropius, the first director of the school, wrote in April 1919.
A total innovation in both teaching methodology and contents characterized a three-and–a-half years study program, through a transversal approach to arts and production. Starting from artistic practices and an acquisition of notions on fundamental human needs, students would then tackle the subject of industrial production — something that should have obtained again an otherwise lost quality, and something students should have drawn a new and common language from.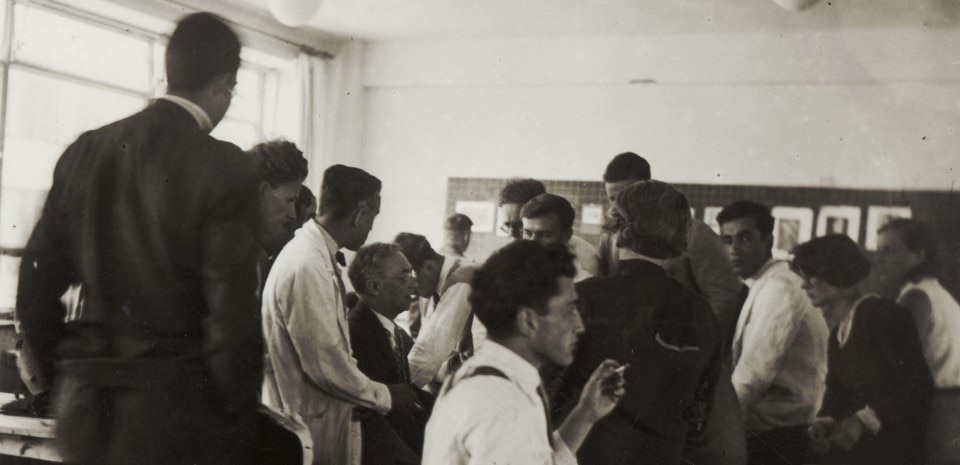 A preparatory course, or Vorkurs, initially taught by painter Johannes Itten, aimed to introduce students to such cross-disciplinary framework thuds releasing their creativity. Primary shapes and colors, surfaces and volumes, materials and their interaction: the Bauhaus program would then articulate in different workshops, spanning through a wide multiplicity of fields, from painting and sculpture to textile and metal design, furniture and graphic design. Since the early years of the school, artists such as Paul Klee, Oskar Schlemmer, Vassily Kandisnky were part of the teaching staff, joining architects and craftsmanship experts.
Different phases in the development of Bauhaus practices corresponded to different attitudes towards teching methodologies and  social approach of the school; historians have connected such differences in positioning to the influences of  German Expressionism, Deutscher Werkbund, New Objectivity (Neue Sachlichkeit) and Neoplasticism. until 1923, when Itten used to hold the Vorkurs, the approach was rather mystical, oriented to the Arts, on craftsmanship as an artistic practice, on interior and behavioral labor of the students on themselves.
When Hungarian artist Lászlò Moholy-Nagy succeeded Itten at the course — and lead the metal design workshop as well — new aesthetics prevailed, less close to Expressionism and more essential, closer to Constructivism and New Objectivity. In this period, many experimentations were started on self-supporting structures (with Joseph Albers) and mass production became the core of both reflection and practice of the school. This was the period where architectural historian Kenneth Frampton would identify the origin of those elements that were later considered as Bauhaus style: in the field of graphic design and communication, the iconic typeface by Herbert Bayer without capitals was created; the furniture design workshop directed by architect and designer Marcel Breuer experimented from 1926 the use of metallic tubular structures for chairs and tables.
Architecture as well witnessed evolutions and contrasts within the Bauhaus research: the Sommerfeld house (1922) by Walter Gropius and Adolf Meyer, made of stacked wooden logs, was contrasted by the experimental house conceived by Muche and  Meyer for the first Bauhaus exhibition (1923), minimal and mechanized as much as possible; other projects aligned to this latter approach, the Serienhäuser concept by Gropius — that would later become the Bauhaus teachers' houses in Dessau (1926) — or his study for a total theater (Totaltheater) from 1927.
In 1925, for political reasons, Bauhaus had been forced to move to Dessau: there, Gropius deisgned the famous new Bauhaus building, and inside its new and innovative workshops the production of works and objects would reach its highest pace. Only in 1927 a proper Architecture section of the Bauhaus was created, directed  by Swiss architect Hannes Meyer: opening in fact a new phase in Bauhaus history, Meyer shifted towards an increased methodological strictness, and in 1928 — after the resignation of Gropius — he became the director of the entire  school. This last phase of Bauhaus witnessed a radicalization of its positioning, with higher attention shown to social values of production rather than aesthetical ones. Architecture was referred to as construction and a more relevant role in its study was given to disciplines such as ergonomics, economics and building technology; German architect and urbanist Ludwig Hilbersheimer and Dutch architect Mart Stam finally joined the teaching staff.
In 1932 nonetheless, the local and national political pressure would finally hit the  school, and the Bauhaus Dessau was forced to close. Ludwig Mies Van der Rohe directed one less season of a privately-run Bauhaus in Berlin, that was likewise lead to a closure by 1933.
Bauhaus had nonetheless become a cultural and stylistic reference at a global scale, and its legacy was in fact kept alive through different experiences: Lászlò Moholy-Nagy, after emigrating to Chicago, would found there in 1937 a New Bauhaus, that would become in 1949 the Institute of Design of IIT; a new evolution would be then represented, in postwar years , by the School of Ulm (Hochschule für Gestaltung, 1953-68), directed by Max Bill, and later by Tomás Maldonado.