Together, Apart is the first phase of a "continuous construction" process experimented by Davidson Rafailidis architectural studio on an early 20th century brick building located on a 40 x 8 m lot in Buffalo, New York. The project responds to a new city zoning that encourages high-density construction and promotes the design of heterogeneous, mixed-use spaces serving a wide range of users.
Already the "home" of a number of different businesses throughout the 20th century and subject to expansion in 1940, the building continues its transformation with Davidson Rafailidis' vision. The architects were asked to design a cat café for a local entrepreneur.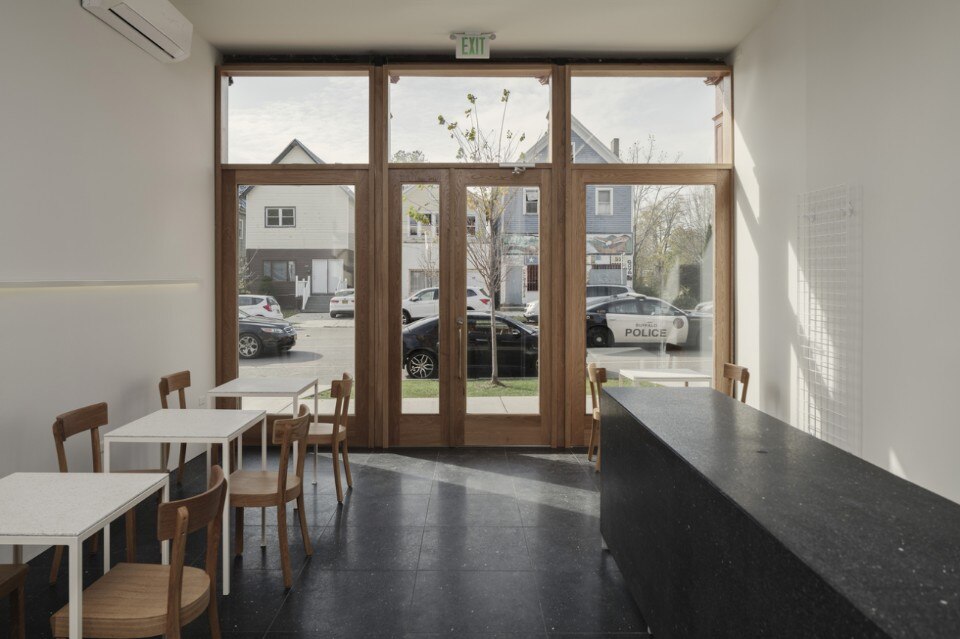 Cat cafés offer a unique typology given health regulations that demand air-tight separation between animals and food preparation. This requirement allowed the designers to expand their research into designing partitioned spaces supporting programmatic flexibility, yet encouraging togetherness and community-making.
"The richness in how spaces might be shared, and how different programs could co-exist with a lot of density and visibility, is really exciting to us" says Stephanie Davidson.
The need for separation is solved by dividing the longitudinal body of the building through a series of zig-zag transparent partitions. This ensures double access and allows both parts to function independently.
The street entrance leads directly to the café and kitchen, where coffee and pastries are served and prepared; the rear entrance opens onto the patio, or better the "catio" defined by a brick wall that echoes the jagged shape of the glass partition inside, where the cats live and interact with guests and their potential new owners.
The unity of the space is defined by the continuity of the furnishings and finishes: the kitchen counter, the long terraced benches, the light design, the windows, as well as the flooring extending seamlessly into both sides of the building.
Together, Apart could therefore easily accommodate other dualistic scenarios where division is necessary but not absolute, such as laptop/non-laptop workspaces, the possibility of a talking/silent environment, smokers/non-smokers area, or the timely situation of Covid antibody carriers and noncarriers.
The spatial adaptability of Together, Apart is further reflected in Davidson Rafailidis' long-term vision for the lot over time: the building is structurally prepared to accommodate new levels and new scenarios. In collaboration with the owner, the studio sees this renovation as the first in a series of new mixed-use structures that will animate the lot over time, depending on the availability of funds and the specific needs of the owner and the community, in a process of "continuous construction".
In this sense, the goal of the project becomes to achieve both maximum density and formal heterogeneity. "The idea is to combine formally dissimilar volumes, like Brancusi's Adam and Eve sculpture, to accomplish something we're really committed to—offering spaces that are very specific, even idiosyncratic but not tied to a single program" says Davidson.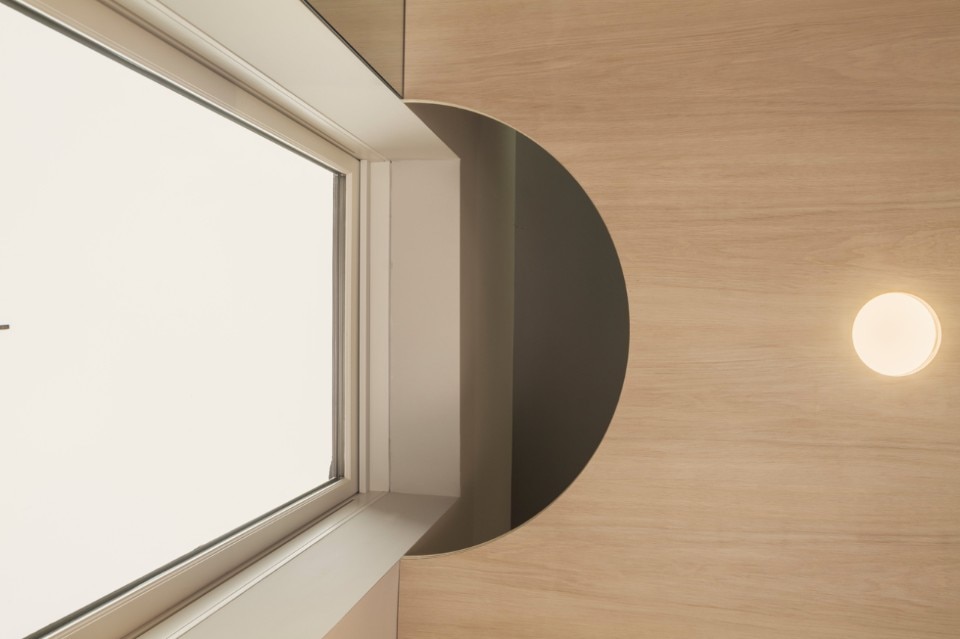 Project:

Together, Apart

Program:

Cat Café

Architects:

Davidson Rafailidis

Project team:

Stephanie Davidson, Georg Rafailidis, Alyssa Seguin

Location:

Buffalo, NY