This article was originally published on Domus 1071, September 2022.
As far back as I can remember, I've always tended to look for a small hole to go and hide in. It doesn't have to be a real hole. It just has to be somewhere sheltered from other people, a corner of the house where there's no one else. When I was a kid, it might have been under a bed or a spot on the balcony. The important thing is that I, and only I, am the inhabitant of that space.
I don't think I'm actually looking for a hiding place. I've never cared about not being found, much less that someone might be seeking me. But what I have always liked is disappearing. Disappearing and knowing that I'm being thought of. Disappearing from the world and knowing that someone, with me in mind, is holding the other end of the thread. All I have to do is pull the thread, and I can come out of my labyrinth.
I can't really say what drives me in this tension. Whether it's an urge to dissolve or, conversely, a vertiginous sense of freedom. What is certain is that writing has very much to do with all of this. Writing for me has always been the inconsequent, stubborn act of digging a hole in a sheet of paper, lowering myself into it and letting the words out. And knowing that somebody somewhere in the world – now or in two months or in ten years – will lean their heads over those words and read them with something resembling care. That care, that being together even if we're far apart, compensates for all the solitude I'm obliged to endure by disappearing.
What no one suspects walking around the house is that there's another world under the floor.
I think this is why I loved one small Dutch house so much. It's in Amsterdam, in the Zuid neighbourhood on the south side of the city. I've been going there for years, staying a few days at a time, and I like to think that I'll continue to do so every time I go back. It's a one-storey house along a canal, a few hundred metres from Beatrix Park, on the other side of which is Amsterdam Zuid rail station. In front of the door there's a bench, and behind the door there's a hall. To the right, at street level, there's a small study, then a room with a sofa, an armchair and some bookshelves. The rest of the house consists of a kitchen where you can only stand, a tiny terrace of a few square metres, and a box room with a table in the middle that makes it a dining room.
Outside, on the other side of the shutters, people walk or cycle by. You hear voices growing louder as they approach, turning into words, and then fading to sounds again once they've gone past. What no one suspects walking around the house is that there's another world under the floor. A stairway in a corner of the living room leads down below. It's not another floor or a cellar either. It's essentially a hidden world where you instinctively stoop your head, even though, strictly speaking, the ceiling is high enough for you to stand upright.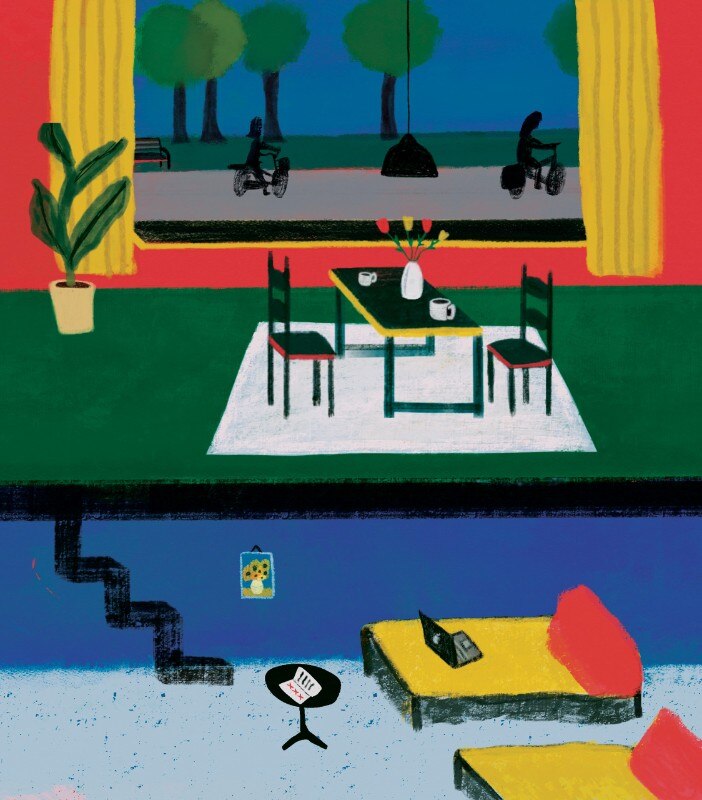 There are two adjoining spaces, two single beds, low bookcases and a whiff of damp that makes the place feel like a den. It's below street level and there are no windows: it's the perfect bunker. I think I've spent some of the happiest moments of my life there. It's one of the few places where I've written lying on a bed with the computer on my stomach, the computer containing a brief essay in which I was trying to understand why Van Gogh went mad in his final years. I told myself it may have been because, after crossing the bridge that joined art and life every day for years by painting but also living, he had chosen to transfer himself entirely into his canvases. He had decided – or at least this was my impression from the letters he wrote to his brother Theo – that painting was better than living, that only in painting could he find some sort of peace. And I concluded that that peace, that kind of impossible peace, was madness. When he cut off his ear and immediately proceeded to paint a self-portrait, the final threshold had been crossed.
But the reason why I felt so good in that den beneath Amsterdam-Zuid was that on the floor above there was Marina. It was the presence of a friend that made that hole I used to squeeze into a place where I could disappear and be happy to hide from the sight of the world. While I was lying on the bed typing, Marina was living her life upstairs in the official world, so to speak. She would go out to do the shopping, take her bike and go to read in the park, or listen to music sitting in the armchair.
The stairs connecting the two universes were ultimately the most important part of the house.
At lunchtime and dinnertime, I would poke my head out and climb up from the basement, and we would sit at the table to eat. Afterwards, I would disappear again, descend into the underworld, stretch out on a bed and move back into words. The stairs connecting the two universes were ultimately the most important part of the house. I would disappear instinctively and, in a sense, in that disappearance I could exist at last – in the things I wrote. Yet it was fundamental to walk up those few steps twice a day, sit at the table, speak about this and that or even stay silent. And, after that, to walk back down those few steps and return below. But without giving into the temptation to move down there entirely and remain in writing forever.
Still today, whenever the world pains me and my instinct is to open the trap door of a story and disappear inside it, I think of that house in Amsterdam. I'm moved by the sound – from within my memory – of Marina's heels walking above or her voice at the hole saying, "Ready to eat?" It's like hearing a voice after thinking I'd lost my way forever.