If there is something in trends or mass cultural phenomena we could all be interested in, that would be having a chance to grasp the origins of such phenomena in real time, being able to open a window on their making-of, instead of just having to consume their results, hearing at most some retrospective account biased by their success or failure. A rare occasion indeed, a unicorn of criticism that could actually show up in Alessandro Mendini's Domus in December 1984 (issue 656): Bruno Munari, by then a living legend of the Italian good design era, commented with Rosa Maria Rinaldi on the furnishings from the 50s chosen for a house that had been designed by Marcel Breuer. In doing so, he shared with us an unrepeatable observation point on a taste that at the time was taking the form of vintage culture — once circulating within Italian design culture as modernariato — on why certain styles had imposed themselves in the preceding years, and on the shaping of the concept of taste itself, by then far removed from the semantic taxonomies of the Encyclopédie Française and ready to establish in the media and in common culture as a mass idea.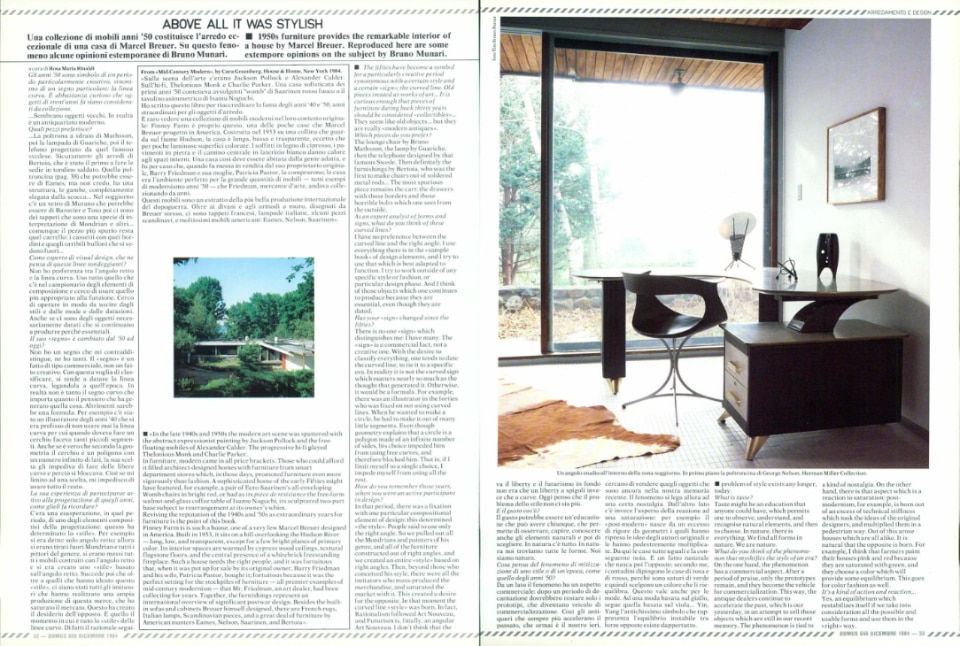 Above all it was stylish
The fifties have become a symbol fora particularly creative period synonymous with a certain style and a certain "sign"; the curved line. Old pieces treated as works of art... It is curious enough that pieces of furniture dating back thirty years should be considered "collectibles"... 
They seem like old objects... but they are really "modem antiques".    Which pieces do you prefer?
The lounge chair by Bruno Mathsson, the lamp by Guariche, then the telephone designed by that famous Swede. Then definitely the furnishings by Bertoia, who was the first to make chairs out of soldered metal rods... The most spurious piece remains the cart: the drawers with those borders and those horrible bolts which one sees from the outside.
As an expert analyst of forms and signs, what do you think of these curved lines?
I have no preference between the curved line and the right angle. I use everything there is in the "sample book" of design elements, and I try to use that which is best adapted to function. 1try to work outside of any specific style or fashion, or particular design phase. And I think of those objects which one continues to produce because they are essential, even though they are dated.
Has your "sign" changed since the fifties? 
There is no one "sign" which distinguishes me: I have many. The "sign" is a commercial fact, not a creative one. With the desire to classify everything, one tends to date the curved line, to tie it to a specific era. In reality it is not the curved sign which matters nearly so much as the thought that generated it. Otherwise, it would be a formula. For example, there was an illustrator in the forties who was fixed on not using curved lines. When he wanted to make a circle, he had to make it out of many little segments. Even though geometry explains that a circle is a polygon made of an infinite number of sides, his choice impeded him from using free curves, and therefore blocked him. That is, if I limit myself to a single choice, I impede myself from using all the rest.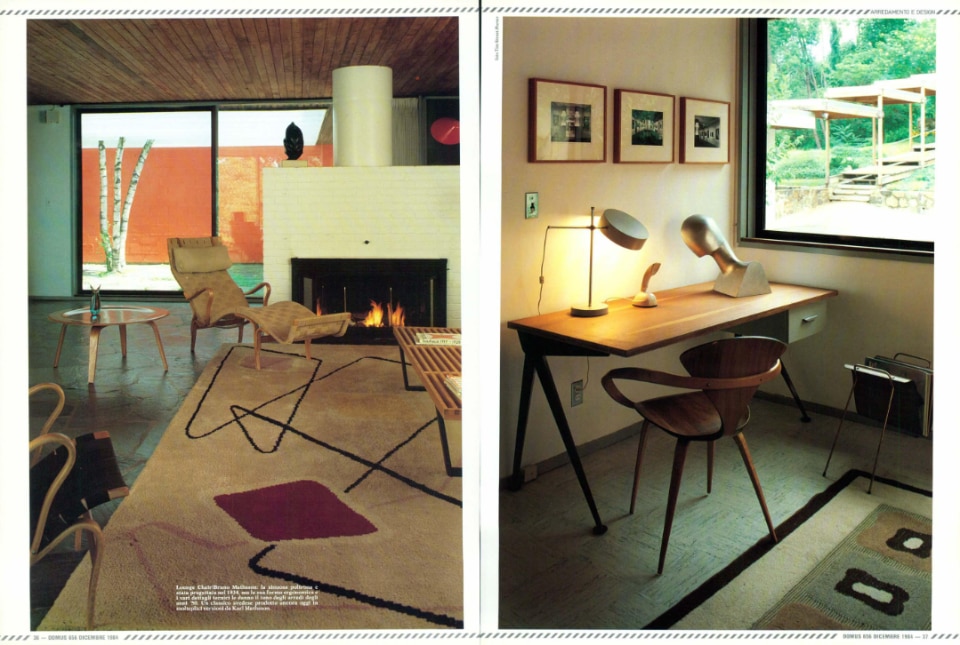 How do you remember those years, when you were an active participant in design? 
In that period, there was a fixation with one particular compositional element of design: this determined "the style". People said to use only the right angle. So we pulled out all the Mondrians and painters of his genre, and all of the furniture constructed out of right angles, and we created an entire "style" based on right angles. Then, beyond those who conceived his style, there were all the imitators who mass-produced the merchandise, and saturated the market with it. This created a desire for the opposite. In that moment the curved line "style" was born. In fact, Rationalism followed Art Nouveau, and Futurism is, finally, an angular Art Nouveau. I don't think that the problem of style exists any longer, today.
What is taste? 
Taste might be an education that anyone could have, which permits one to observe, understand, and recognise natural elements, and then to choose. In nature, there is everything. We find all forms in nature. We are nature.
What do you think of the phenomenon that mythifies the style of an era? 
On the one hand, the phenomenon has a commercial aspect. After a period of praise, only the prototypes remain, and they become the vehicle for commercialization. This way, the antique dealers continue to accelerate the past, which is our yesterday, in an attempt to sell those objects which are still in our recent memory. The phenomenon is tied to a kind of nostalgia. On the other hand, there is that aspect which is a reaction to saturation: postmodernism, for example, is born out of an excess of technical stiffness which took the ideas of the original designers, and multiplied them in a pedestrian way. Out of this arose houses which are all alike. It is natural that the opposite is born. For example, I think that farmers paint their houses pink and red because they are saturated with green, and they choose a color which will provide some equilibrium. This goes for color fashion as well.
It's a kind of action and reaction... 
Yes, an equilibrium which restabilizes itself if we take into consideration all the possible and usable forms and use them in the "right" way.
From Mid-Century Modern, by Cara Greenberg, House & Home, New York 1984
"In the late 1940s and 1950s the modem art scene was spattered with the abstract expressionist painting by Jackson Pollock and the free-floating mobiles of Alexander Calder. The progressive hi-fi played Thelonious Monk and Charlie Parker. In furniture, modern came in all price brackets. Those who could afford it filled architect-designed homes with furniture from smart department stoics which, in those days, promoted furniture even more vigorously than fashion. A sophisticated home of the early Fifties might have featured, for example, a pair of Eero Saarinen's all-enveloping Womb chairs in bright red, or had as its pièce de resistance the free-form walnut-and-glass coffee table of Isamu Noguchi, its sculptured two-part base subject to rearrangement at its owner's whim.

Reviving the reputation of the 1940s and '50s as extraordinary years for furniture is the point of this book. Finney Farm is is such a house, one of a very few Marcel Breuer designed in America. Built in 1953, it sits on a hill overlooking the Hudson River — long, low, and transparent, except for a few bright planes of primary color. Its interior spaces are warmed by cypress wood ceilings, textural flagstone floors, and the central presence of a whitebrick freestanding fireplace. Such a house needs the right people, and it was fortuitous that, when it was put up for sale by its original owner, Barry Friedman and his wife, Patricia Pastor, bought it; fortuitous because it was the perfect setting for the stockpiles of furniture — all premier examples of mid-century modernism — that Mr. Friedman, an art dealer, had been collecting for years. Together, the furnishings represent an international overview of significant postwar design. Besides the builtin sofas and cabinets Breuer himself designed, there are French rugs, Italian lamps, Scandinavian pieces, and a great deal of furniture by American masters Eames, Nelson, Saarinen, and Bertoia".
Article by Rosa Maria Rinaldi