Where once stood the old zoo of Milan, the ArkiZoic installation comes to life, combining mythical past and future, in a present populated by fantastic creatures.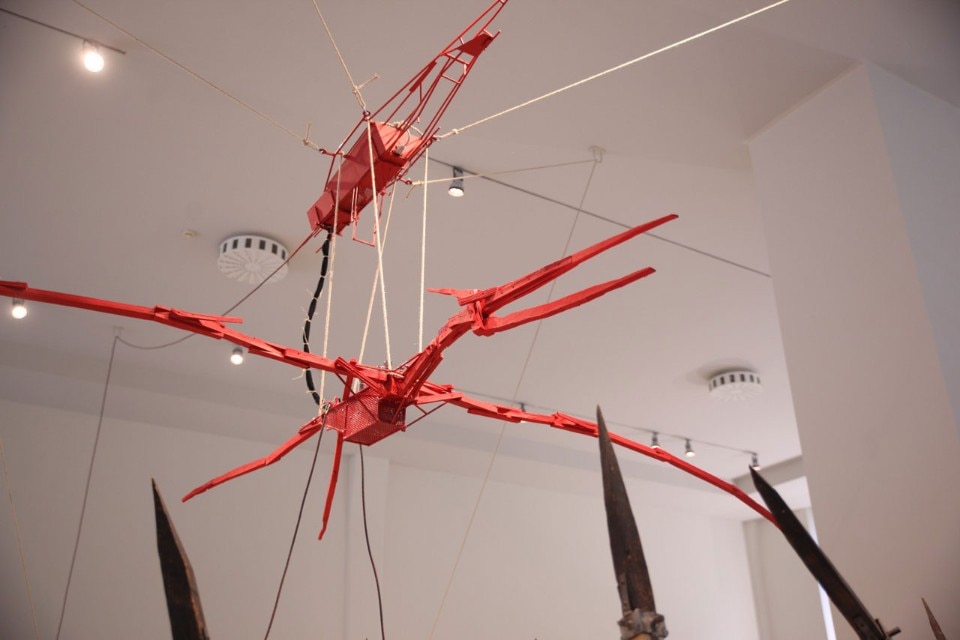 During Milan Design Week, Spazio Giovannoni hosted "ArkiZoic Project II - 7297", the latest immersive installation by Atelier Forte, with archaic appearances and soundscapes. After the Mesozoic and Cenozoic Duilio Forte imagines the Archizoic, which combines mythical past and mythology. The rules of ArkiZoic? Put the soul in your opera, use mathematics and nature geometry, use the heuristic method, give stature to accidental events and mistakes, use drawings as emotional sketches. The figure suspended in the room is part of the Ptero series, a red wood reproduction of a Pteranodon, similar to the one exhibited at the Museum of Natural History in Milan. This particular pterosaur lived in South America 70 million years ago in the Cretaceous era and here it metaphorically flew above us to combine past and present in a parallel, timeless dimension.
The exhibition was made in collaboration with M10 Maruice Dotta and Elisabetta Bonacina. The electronic amplifier is by Federico Busetto, sound design is by Rocco Giovannoni and Marco Spaggiari (B. Croma). 
Title:

ArkiZoic Project II – 7297

Artist:

Duilio Forte / Atelier Forte

Gallery:

Spazio Giovannoni

Address:

via Enrico Stendhal 35, Milan

Venue:

Milan Design Week 2018