The exhibition in the former Fabbrica Sassetti, a new venue opened by the Fondazione Kenta that hosts one of the two Alcova's headquarters, seems to follow a line that joins the virtual world with reality but also collective, multiple and complex speculation of great force. Thanks to its many interconnected spaces, this venue offers an immersive experience: the confine between inner and outer no longer exists, and the visual collimations between the different levels provide both visual and conceptual richness.
Giorgio Alverà, one of the founders of the Fondazione Kenta, proposes a synthesiser that self-generates music by creating sound patterns that disappear once performed. As he himself calls it, his act is similar to that of a gardener planting seeds, and what we hear is the plant growing.
In the courtyard at the entrance, Sjoerd Ter Borg, with the project Aesthetics of Exclusion, Botanica Variegata, creates a taxonomy of vegetal species based on their online presence: over 10,000 photos on Instagram were analysed through an algorithm classifying them on the basis of the relevance between their botanical origin and their photographic context. The winning plants were displayed in the installation, ready to be newly photographed outside their original context, creating a homogenising loop that inverts the initial procedure.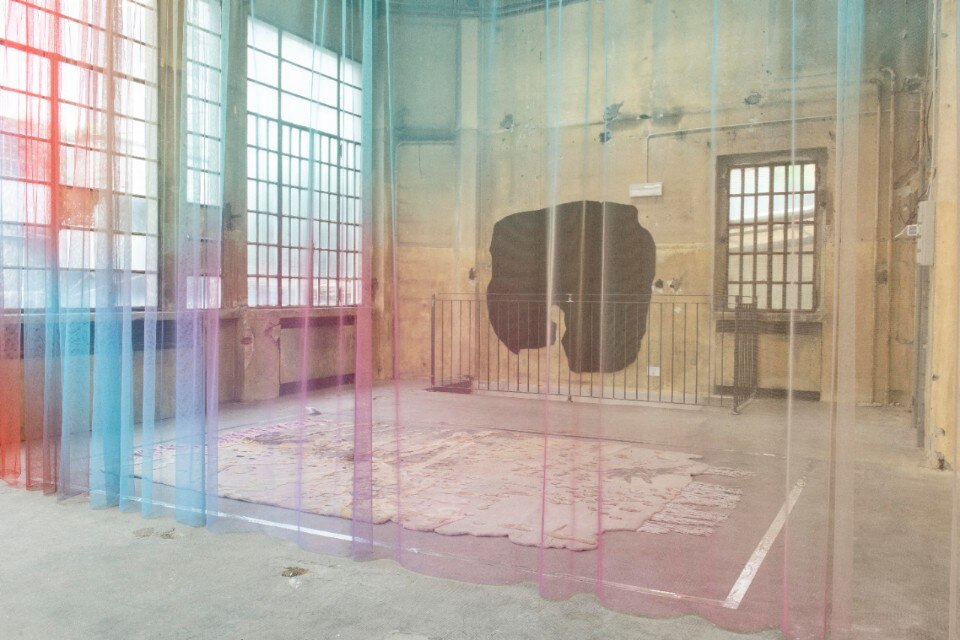 The same accommodating inclination towards the distinction between what is real and what is virtual is expressed by Dissolving Views. A transdisciplinary installation where, through different types of media – like fixed or moving images, space, sound, volume, objects – fifteen designers attempt to express the constant transformation of matter. The one by Morphing is a true manifesto of a fluid and free design approach.
The same feeling of fluidity imbues the room on the upper floor where the installation by Justin Morin, composed of very thin curtains in patterned tulle, creates an oneiric atmosphere à la Brit Marling and virtual rooms that define the pertinence of the works by the designers, allowing overall visual continuity.
The colour gradient of the tulle by Morin almost seems to have been conceived together with the work by Bloc studio, who with three new series of objects in marble made in collaboration with Federica Elmo, Odd Matter and Studiopepe, brings a classic element like marble into another dimension, freely handling form, colour and matter. The revisitation of the Roman triclinium by Cookies x GHL with their Rocking Daybed transforms the otium of classicism into the culture of boredom and of scrolling with "the inviting acceptance of environmental slavery and of social media that distinguish our generation".
Set Design:

Alcova

Curatorial Team:

Valentina Ciuffi, Joseph Grima, Alice Stori Liechtenstein (Alcova Sassetti), Martina Muzi, Matteo Maggi, Andrea Guarinoni, Georgia Cranstoun, Lola Sackville-West.

Where:

Fondazione Kenta, via Filippo Sassetti 31, Milan

When:

9th-14th April 2019

Venue:

Fuorisalone 2019