This article was originally published on Domus Paper, April 2019

Before she started wearing the oversize white-framed eyeglasses (now an inimitable fashion statement), Rossana Orlandi used to sport a tiny wire-rimmed pair like Camillo Benso, the Count of Cavour. "My lashes were too long, and they swept against the lenses. My eyes are too big and perhaps too curious," she explains.
In 2002, this kaleidoscopic gallery owner transformed an old Milanese tie factory into a kingdom of design with a talent hatchery and a vine-covered pergola. Now it's 2019, and she has a new mission: "a better world." Shod in polka-dot sneakers, she proceeds to elaborate very seriously from her perch in a comfortable armchair: "Design will save us. Or is it better to say, designers will save us?"

Barbie Dolls, Chris Jordan
32,000 Barbies correspond to the number of elective breast implant surgeries performed each month in the United States in 2006

Barbie Dolls, Chris Jordan
Blue, Chris Jordan
78,000 plastic water bottles represent 1/10,000 of the estimated number of people in the world who do not have access to drinking water. To enclose the complete statistics it would take 10,000 prints of this work which, placed next to each other, would occupy a space of 16 km.

Blue
Running the Numbers by Chris Jordan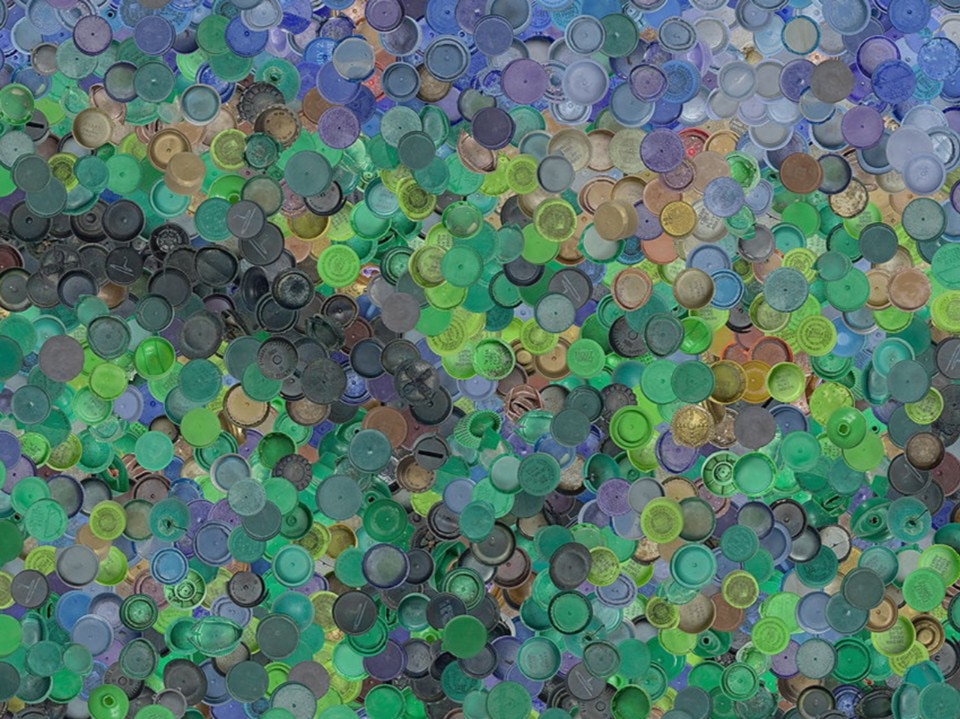 Caps Seurat, Chris Jordan. Detail
It represents 400,000 plastic caps that correspond to the number of plastic bottles consumed every minute in the United States.

Caps Seurat
Georges Seurat - Un dimanche après-midi à l'île de la Grande Jatte

Over the Moon, Chris Jordan, Detail
It shows 29,000 credit cards, equivalent to the average number of people who declared bankruptcy in the United States in 2010 each week.

Overt the Moon, Chris Jordan
Guiltless plastic - Ro Plastic Priza
Rossana Orlandi's gallery

Rossana Orlandi's gallery, courtyard
Via Matteo Bandello 14/16, Milan

Spazio Rossana Orlandi, entrance
Via Matteo Bandello 14/16, Milan

Her virtuous, ambitious intentions motivated her to organise the first international Ro Plastic Prize (the two letters being her initials). As part of the Guiltless Plastic initiative she launched last year, Ro calls upon the design community, especially its young members, to rise to the challenge of plastic pollution. Submissions closed on 10 March.
"I have received over 300 entries from all corners of the world – Turkey, New Zealand, Australia, Brazil, Canada and China, besides Europe. It's a nice surprise. I think we need to stop thinking of climate change as a problem of the future. We need to solve it in the present. We have taken up arms to fight a creative, generational battle. Plastic in itself is not to blame; it can become a resource full of possibilities and potential. The real problem is wrong usage. With this contest, I'd like to stimulate and incentivise young people, but not only them, to concentrate on the immense possibilities of recycled plastic. It is an invitation to study, really study, and apply yourself. We want to instigate a return to Nature."   
Open to everybody without age limits, the prize is divided into four categories. "Home Textiles" is for recycled synthetic fabrics without glue or chemical pollutants. "Packaging Solutions" is for newly invented reusable containers. Design is a category for proposals aimed at reintroducing plastic into daily life. "Isn't it absurd that only two per cent of plastic is turned into something new?" she asks.
The fourth category is Conscious Innovation Projects, where social responsibility is a crucial element of innovation. Participants can be individuals or organisations interested in experimenting and inventing. The jury will not only evaluate the project in its final result, but especially the process it entails.
"Say, did we ever call back that boy from Western India?" she enquires with one of the ten members of her staff, all under 35. "I like working with people my own age," she jokes, gracefully raising her voice to be heard in the next room. She is referring to Haaziq Kazi, a 12-year-old native of the city of Pune, India.
After having conceived and designed a 40-metre ship 12 metres wide and 25 metres tall that cleans plastic out of the oceans by means of a system of vacuuming pumps, he is now looking for sponsors that will help him build it. "We'd like to invite him to the gallery. He's a real idealist. Don't you think he's what design needs? We'd like to involve Greta Thunberg, too."
Thunberg is a 15-year-old Swedish activist and a candidate for the Children's Climate Prize. Every Friday, she misses classes to sit next to her placard outside the Parliament in Stockholm to protest inaction on climate change.
"We just might need to start from the education students receive. We need to involve schools, especially design institutes. That could create a virtuous circle in learning and avoid the witch-hunt for bad materials. We need to embrace design's potential, I mean both designers and companies must recognise the impact it can have. It's true that we are part of the problem, and now we need to be part of the solution."

The Ro Plastic Prize will be awarded during the Milan Furniture Fair at the Da Vinci museum, two blocks away from Orlando's fashionable shop and gallery. Parallel to the contest event, Orlandi is presenting an exposition of unique pieces made from recycled plastic. Called "Ro Plastic-Master's Pieces", it will be hosted at the Railway Pavilion of the Museo Nazionale Scienza e Tecnologia Leonardo da Vinci.    
"We invited artists, designers and architects to interpret for the first time in their life a project that we could sell at an auction," she explains, muting an insistently squealing phone. "There will be Patricia Urquiola, Formafantasma, Nacho Carbonell, Barnaba Fornasetti, Piet Hein Eek, Piero Lissoni and many others." Trying to remember their names (something she admits being bad at), she talks about friends and professionals in the design field who characterise and influence her multifaceted art-business approach.
"I do not want designers with just one vision, but different points of view. I have been doing this job for years now, so I like to see their thought evolving and transforming. That's what I'm looking for in the contest, in artists and designers. It's what has always interested me. It consoles me to know that there is not one single future, but that diverse worlds are on the way."

Prize:

Ro Plastic Prize

Venue:

Museum of Science and Technology

Address:

Via San Vittore 21, Milan

Date:

10th April 2019
Exhibition title:

Plastic-Master's Pieces

Venue:

Railway Pavilion of the Museum of Science and Technology

Address:

Via San Vittore 21, Milan

Opening dates:

9th-14th April 2019 (Milan Design Week)
Exhibition:

exhibition of the finalist projects of the Ro Plastic Prize

Venue:

garden of Rossana Orlandi Gallery

Address:

via Matteo Bandello 14, Milan

Opening dates:

9th-14th April 2019 (Milan Design Week)