Casa Klinker is a holiday apartment for a family living abroad, that is located on the top floor of an Art Nouveau building in the Barcelona's Born district. Barcelona-based duo of Italian architects Matteo Colombo and Andrea Serboli were asked to renovate it after a terrible explosion that destroyed the interior of the newly renovated apartment by the owner , an interior designer. Faced with a limited budget, the architects have chosen to keep the layout of the apartment and the distribution of the systems unchanged.
The high ceilings, the mouldings, the plaster on the walls and the floors typical of the period Catalan houses, are elements that are maintained, integrated and enhanced in the new project through the dispassionate use of colour and the definition of the furniture.

The central area of the apartment is literally plunged in colour: the ceiling, the microcement flooring and the kitchen furniture as well as the desk and the shelves of the studio are painted in brick. The result is a mass of colour that stands out as the heart of the apartment and as the ordering space for the other rooms in the house.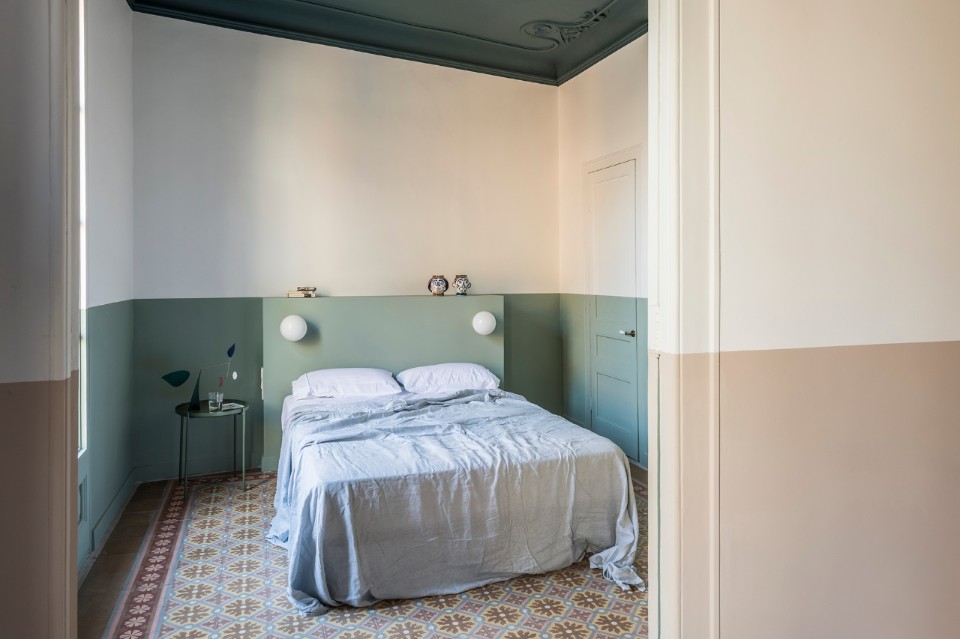 Outside this brick-coloured block, the richly decorated ceilings are painted with intense tones, while a band of colours - different for each room and combined with the shades of the tile floors - runs along the walls of the house, goes up on to the doors, the windows and the wardrobes, giving horizontality and continuity to the high rooms. 
In the main bedroom the fringe of colour is converted into volume: a headboard of the bed equipped with lights, switches, sockets and storage space.