The value of beauty and the edifying influence it can exert are the subjects of the first retrospective dedicated to work by Stefan Sagmeister (1962, Bregenz, Austria) and Jessica Walsh (1986, New York). Under the curatorship of Maya Dvash, "Sagmeister & Walsh: A Retrospective" is now underway at the Holon Design Museum just outside Tel Aviv until 20 October 2018. Six years ago, Stefan Sagmeister held a legendary exhibition titled "The Happy Show", organised by the Institute of Contemporary Art at the University of Pennsylvania in 2012. There, he condensed a ten-year investigation of ideas and typographic experiments by which to promote human happiness. Now, the creative agency Sagmeister & Walsh, founded in 2012 by the Austrian graphic designer and the American graphic designer, is revisiting the same elusive, subjective and emotional theme with a healthy dose of the inventiveness and provocativeness that has made their visual communication projects famous.
"The concept of beauty has had a bad reputation for hundreds of years," said Sagmeister during the press conference that opened the exhibition in June. "Most respectable designers claim to not be interested in it. The shift in the psychological perception of beauty has prompted a decrease in finding beauty in the design of everyday sightings such as cities, architecture and graphics. The goal of bringing pieces of 'The Beauty Show' to the Design Museum Holon is to prove to the visitor that beauty is not a surface strategy, but a central part of what it means to be human." For Sagmeister & Walsh, beauty is a crucial aim of the design process, meaning results must be seducing to the eye and conceptually rich. With their explorations, they wish to show cultural traits, unveil the humanity of our feelings and bring to light our prejudices.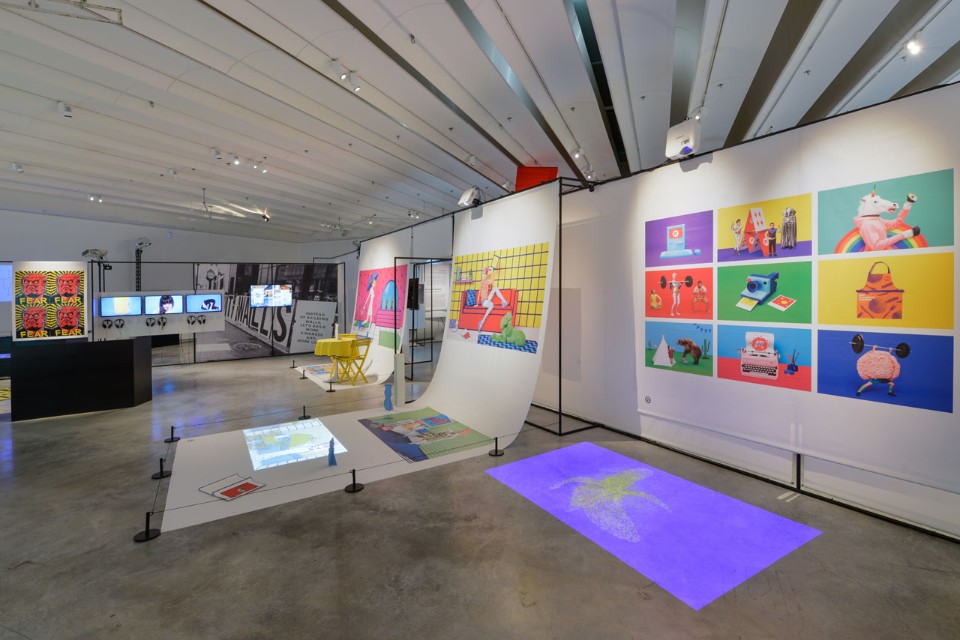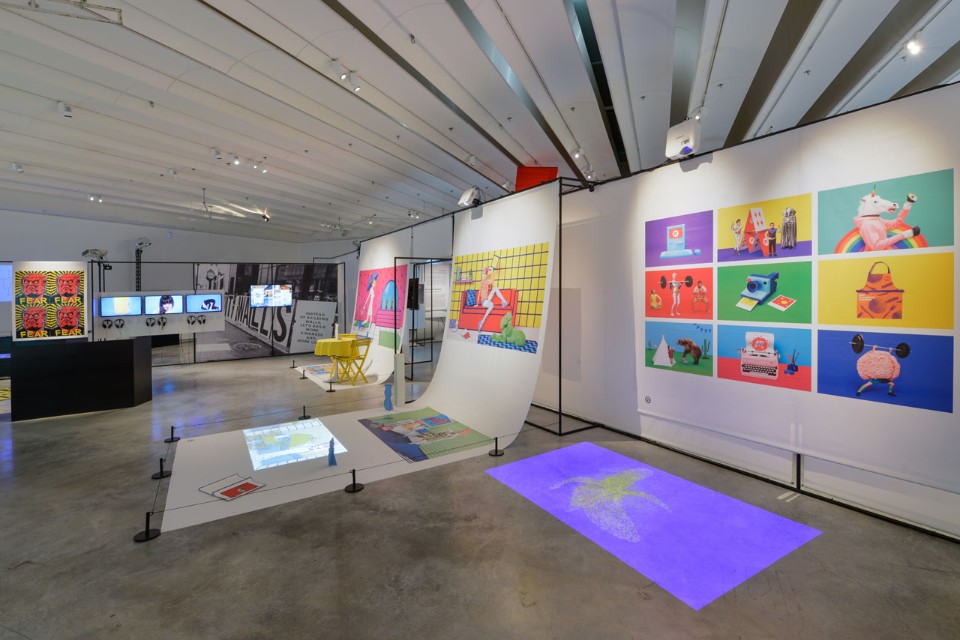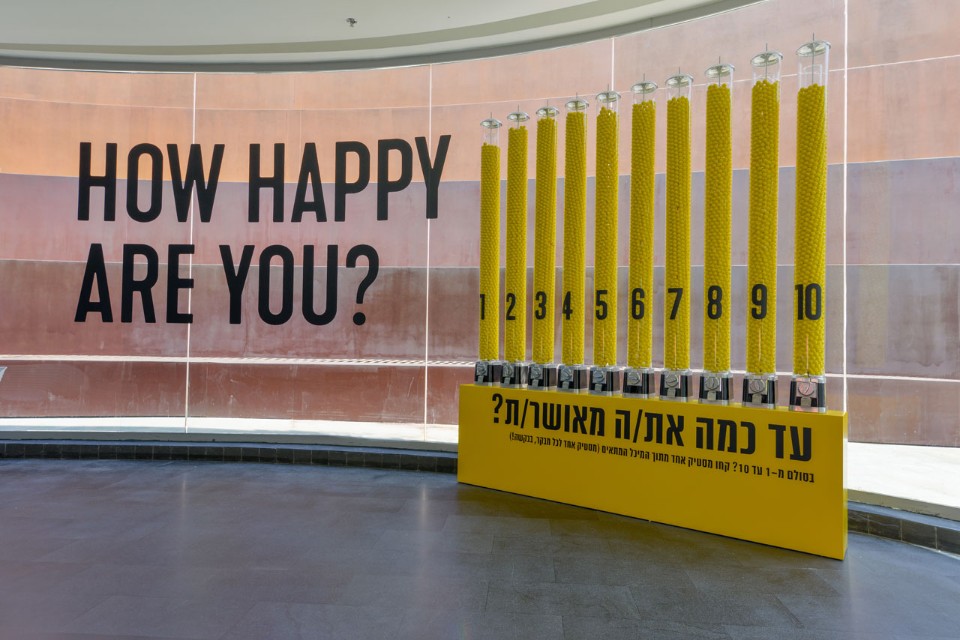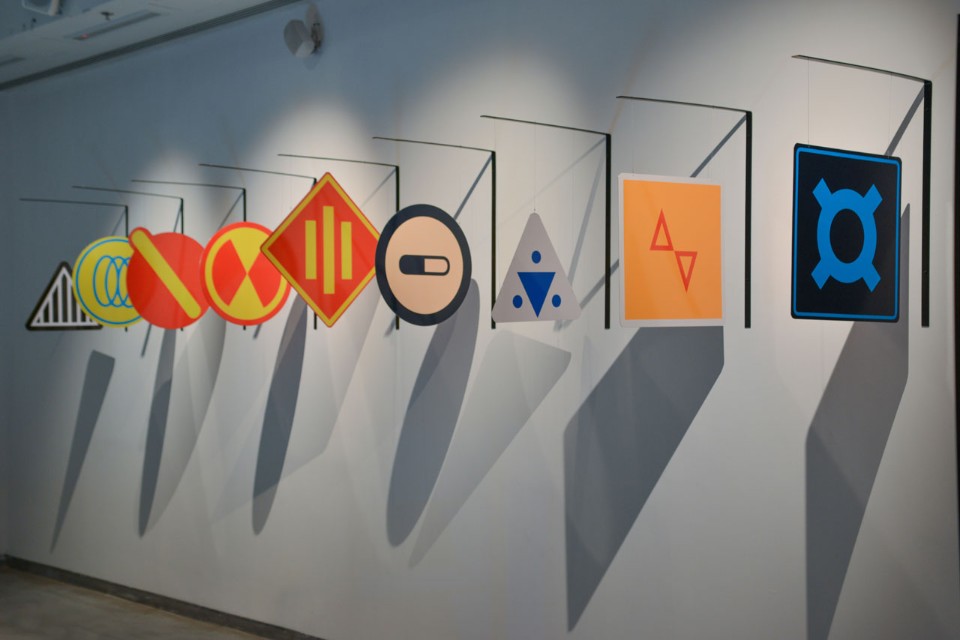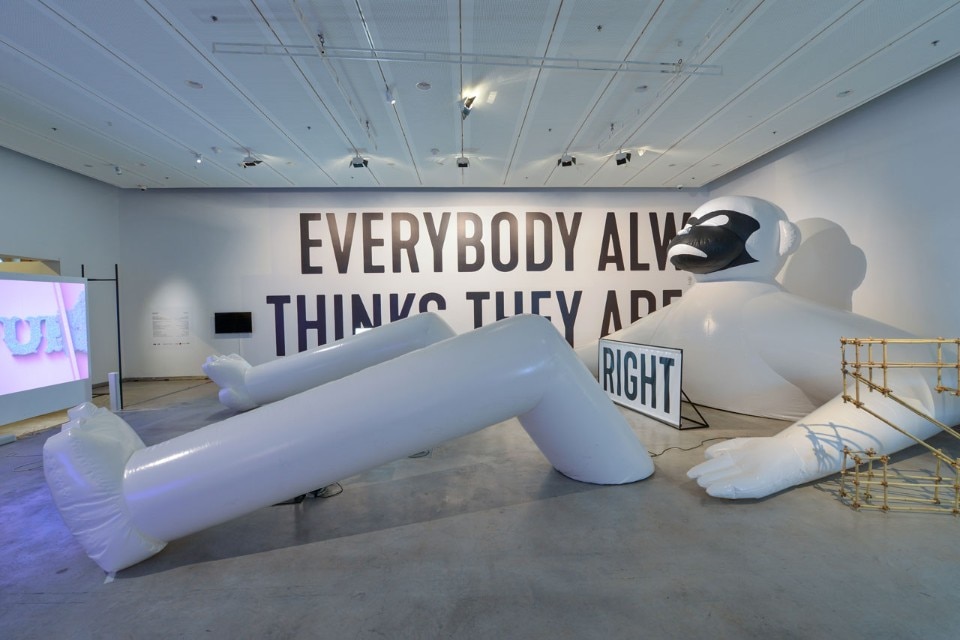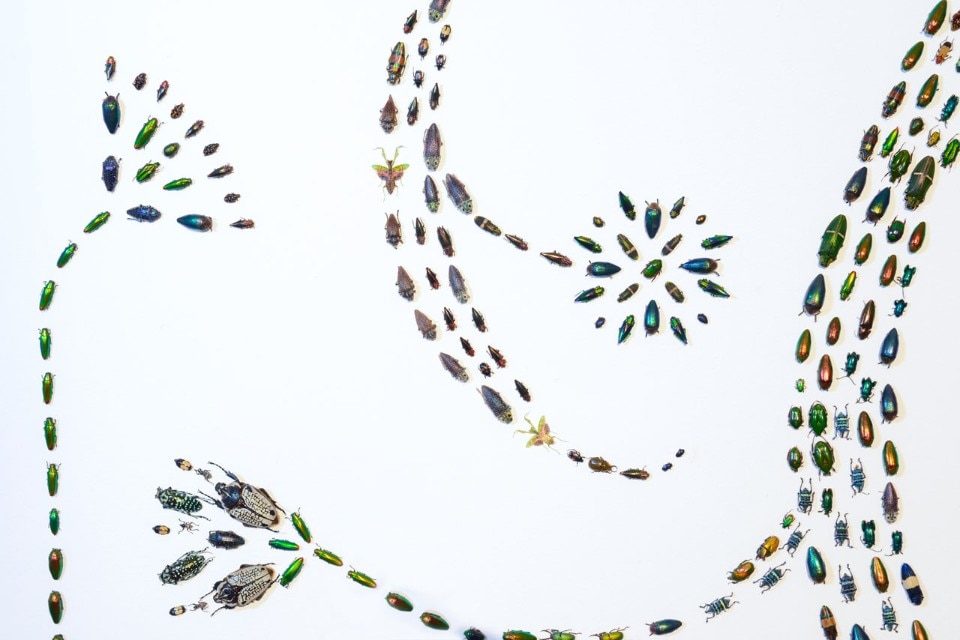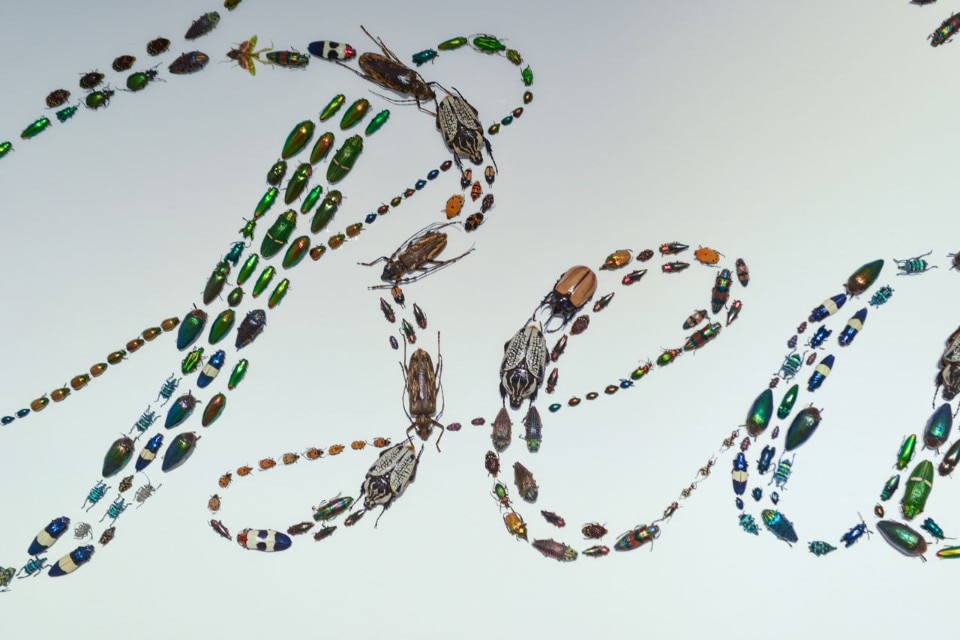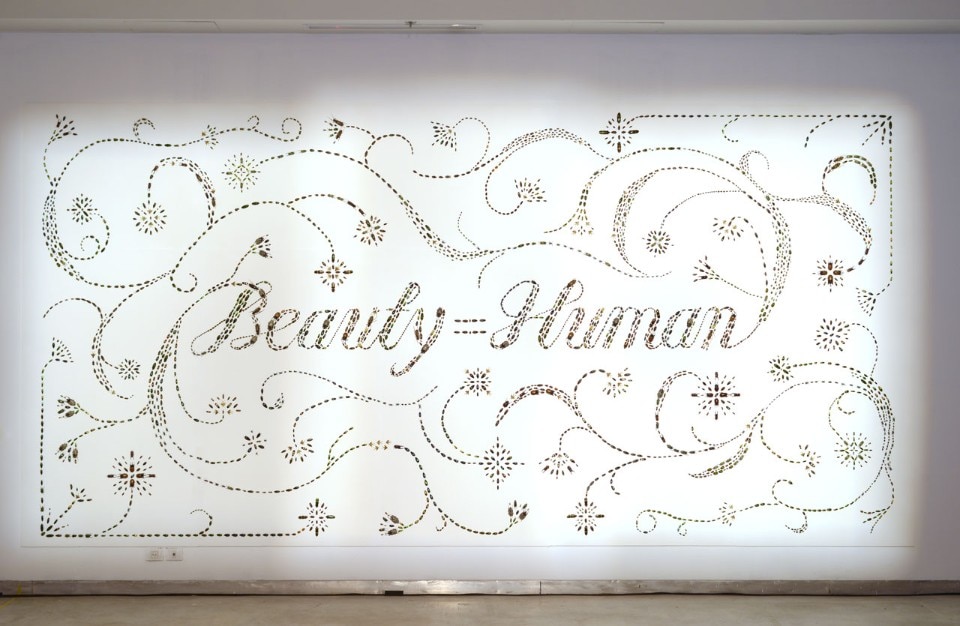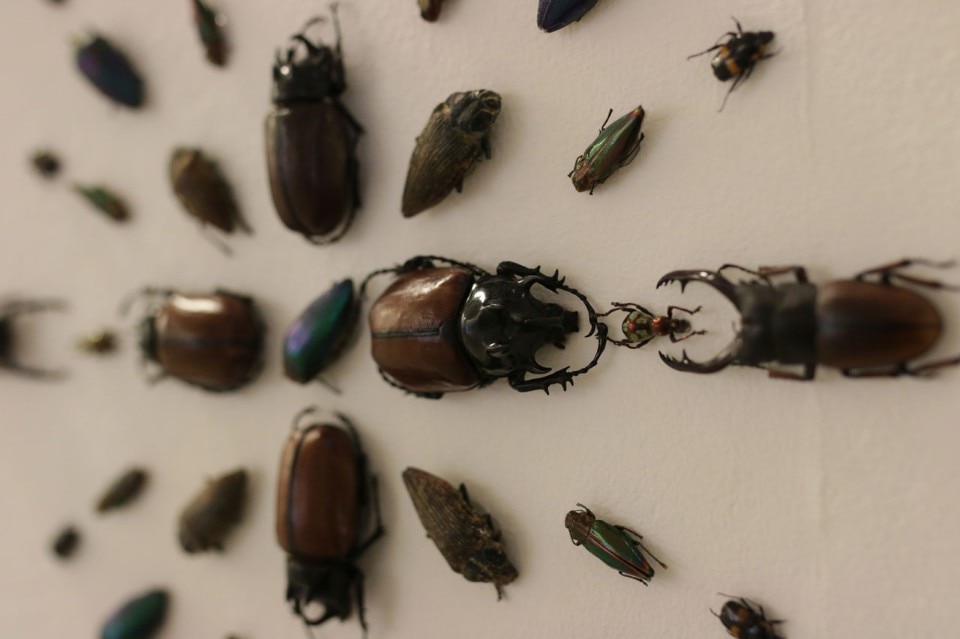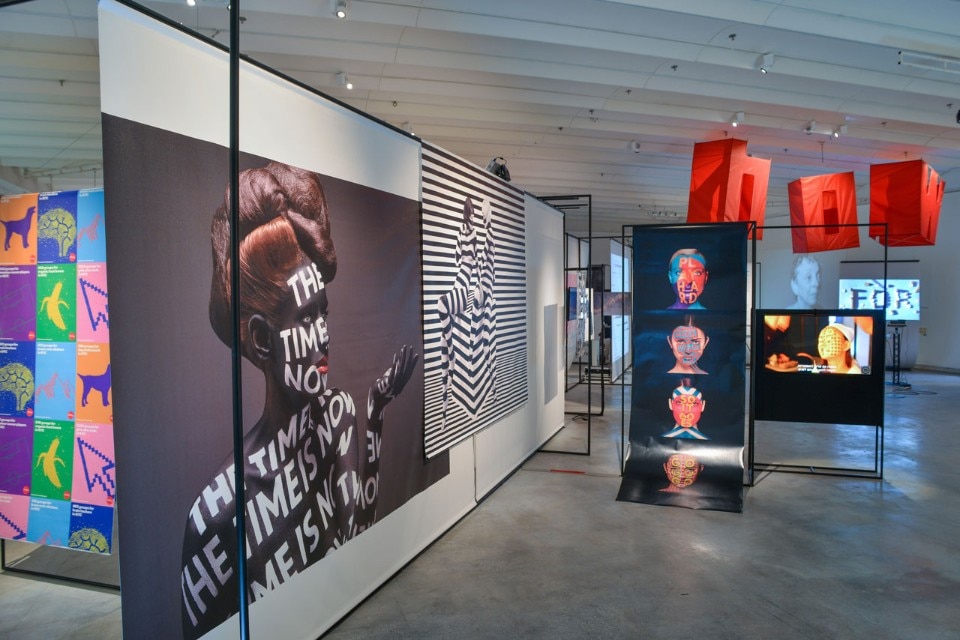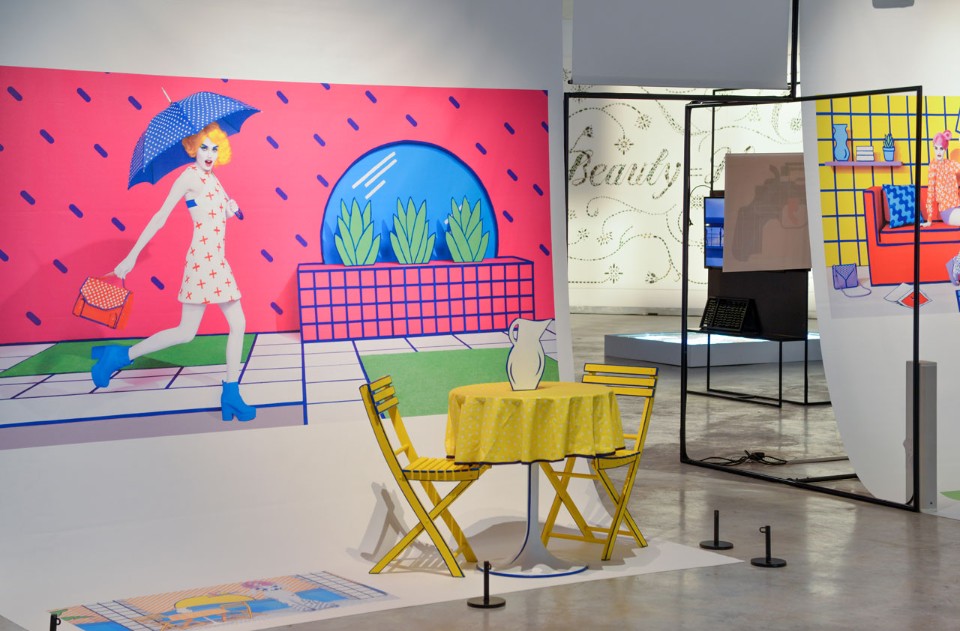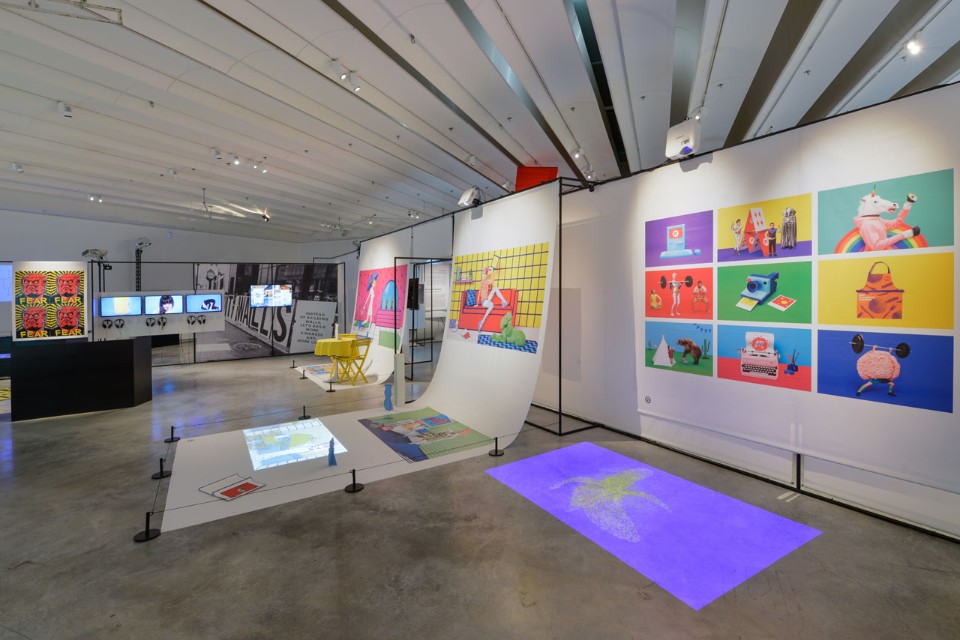 Overview of the Upper Gallery. Photo Shay Ben Efraim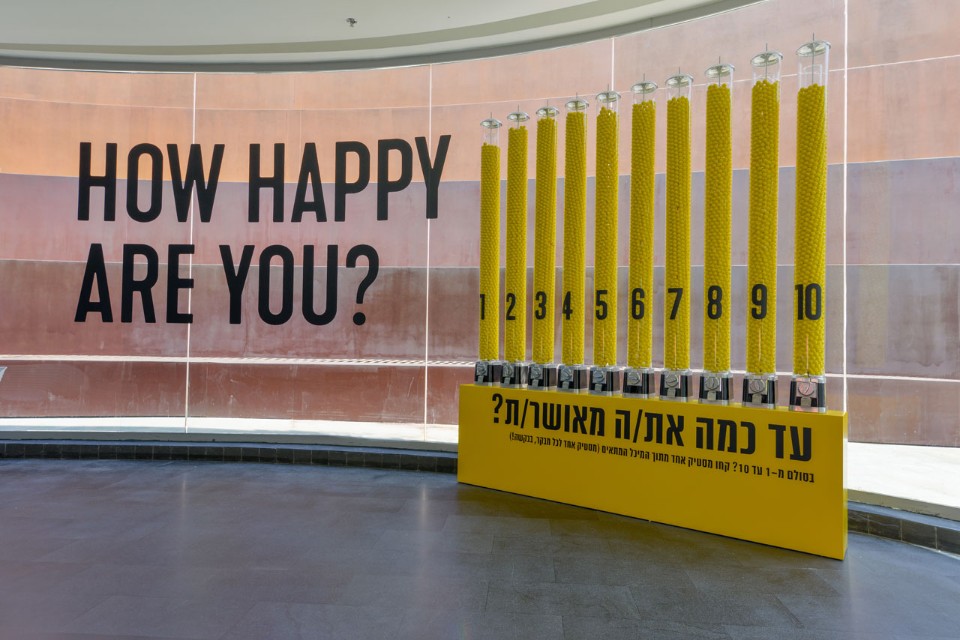 How Happy Are You, 2012. Photo Shay Ben Efraim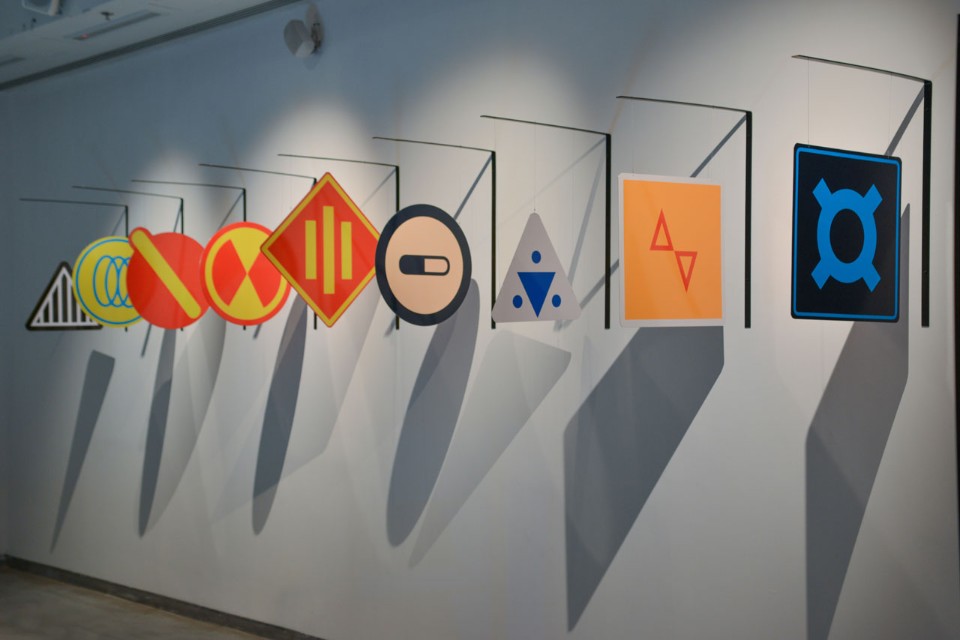 Traffic to Nowhere, 2014. Photo Shay Ben Efraim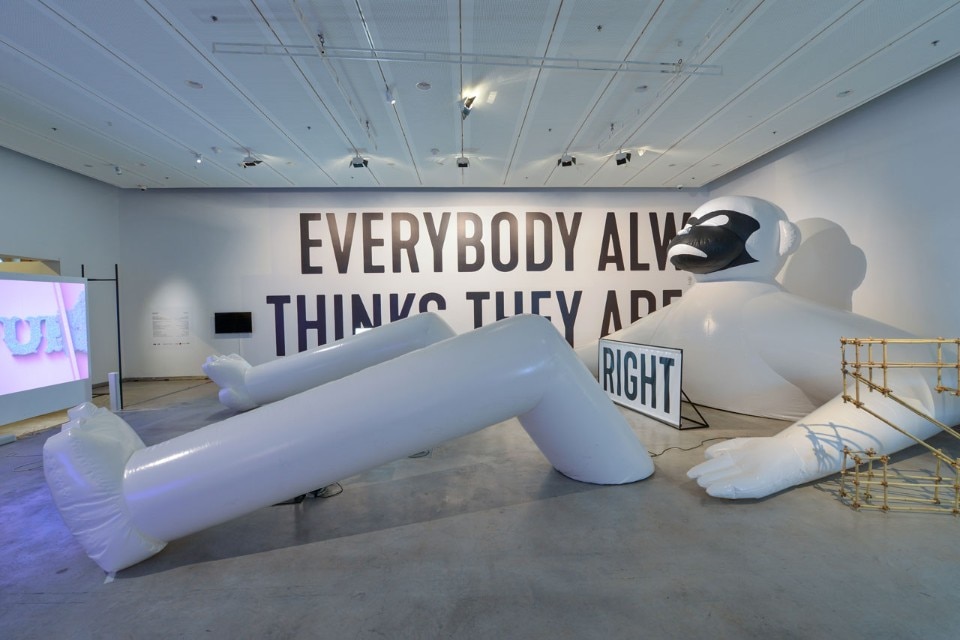 Everybody Always Thinks They Are Right, 2006. Photo Shay Ben Efraim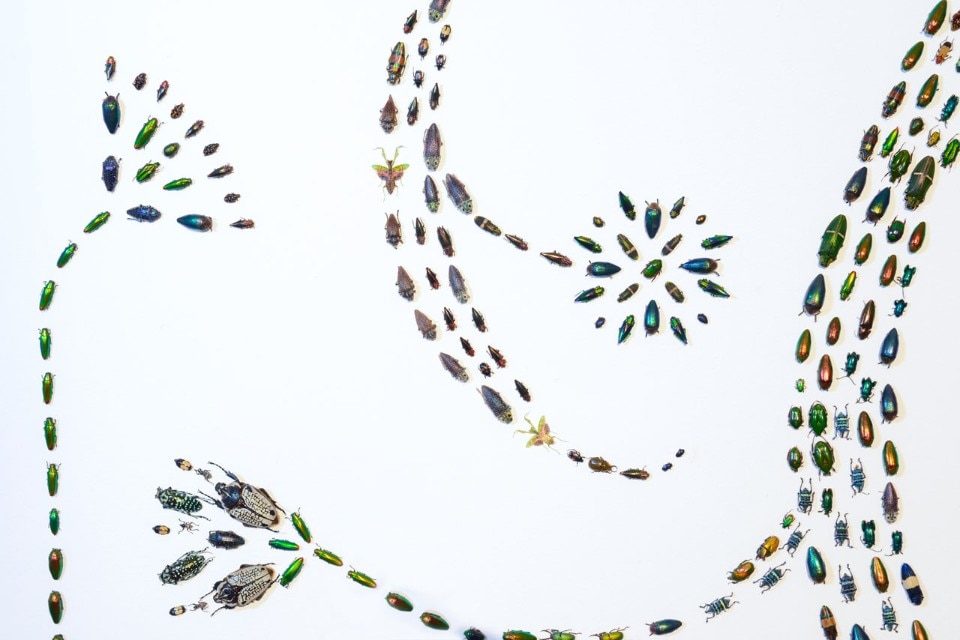 A Detail from the work Beauty = Human, 2018. Photo Shay Ben Efraim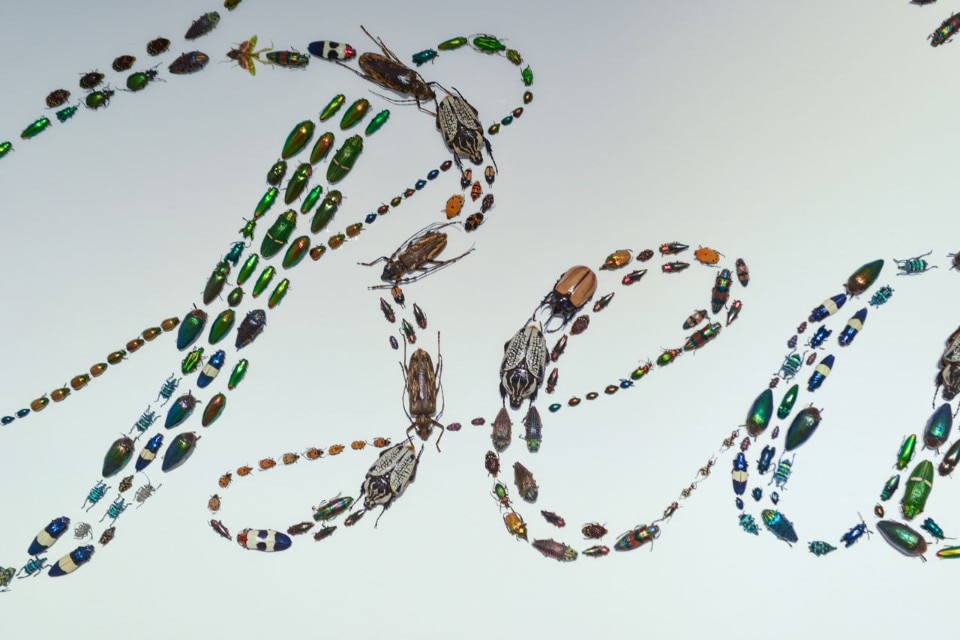 A Detail from the work Beauty = Human, 2018. Photo Shay Ben Efraim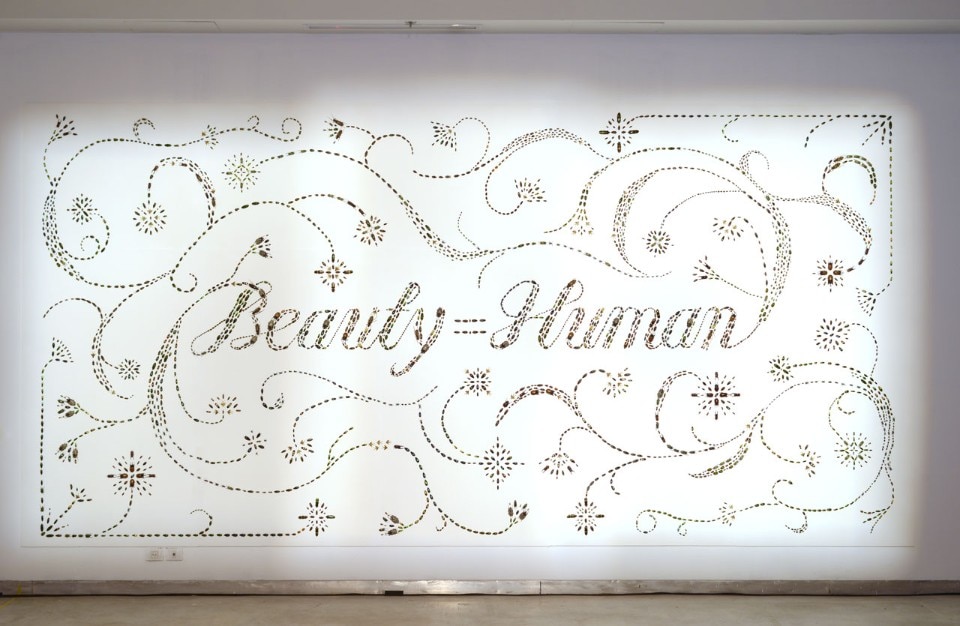 Beauty = Human, 2018. Photo Shay Ben Efraim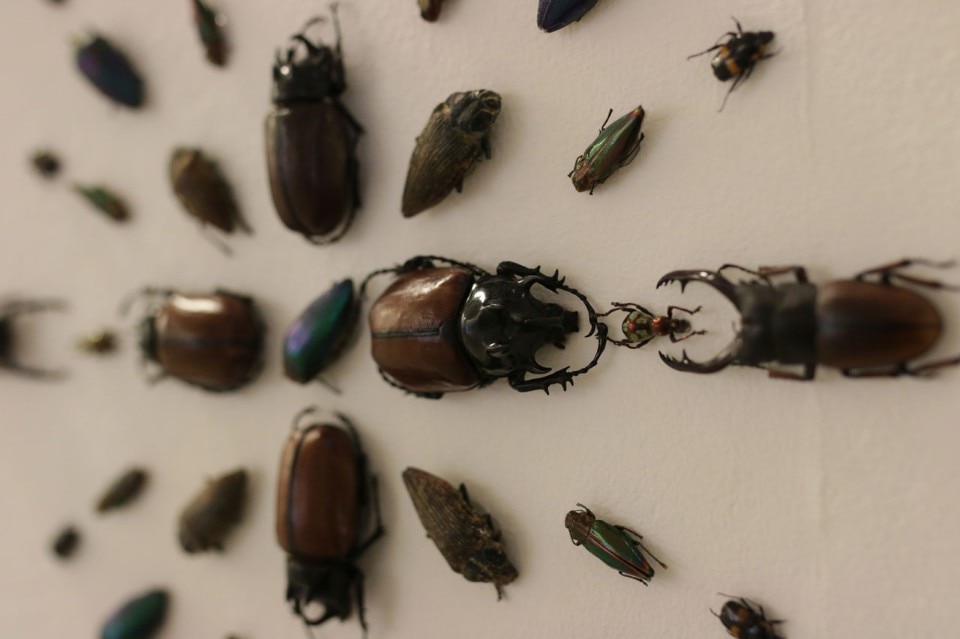 Close Up of Beauty = Human, 2018. Photo Shay Ben Efraim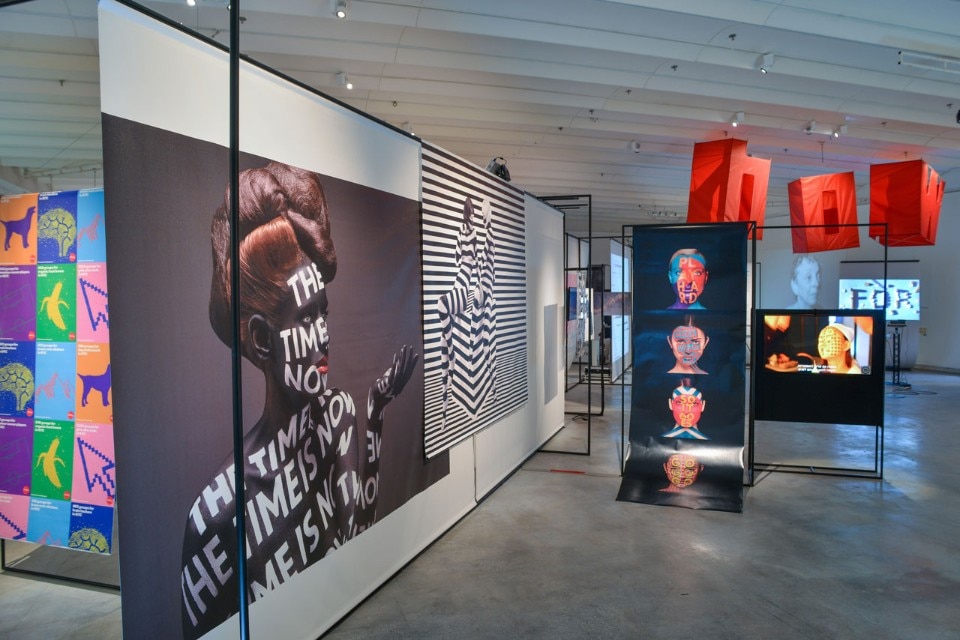 Aizone, FW 2015. Photo Shay Ben Efraim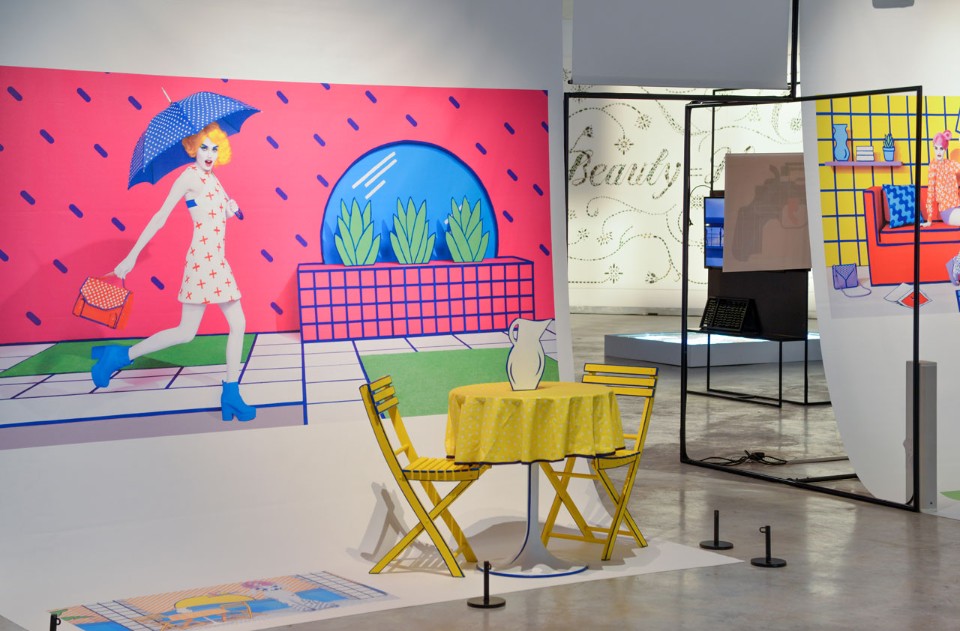 Aizone 09-14, 2014, Art Reproduction for the Exhibition Shir Hadi. Photo Shay Ben Efraim
From a distance, the site-specific installation Beauty = Human, specially conceived for the Israeli museum, looks like a calligraphic exercise written on the wall. From close up, we discover that the cursive letters and flourishes are composed of 10,000 beetles of different shapes, colours and sizes. They are indigenous non-threatened species gathered in France. It is an exercise in focusing that turns the tables on the stereotype of insects being disgusting. It underlines the aesthetic potential inherent in all things, and shows us how the perception of beauty can help us change our point of view and become a guide that favours our acceptance of the world.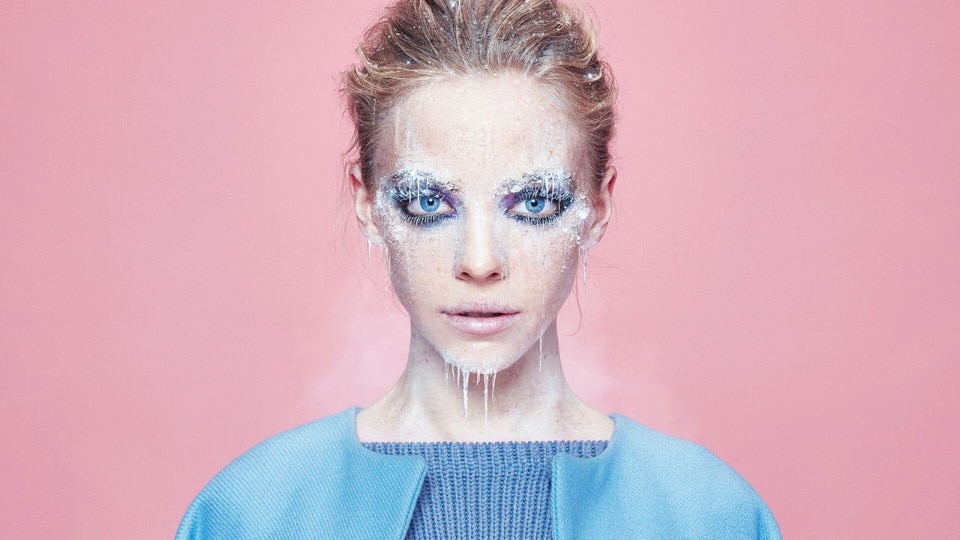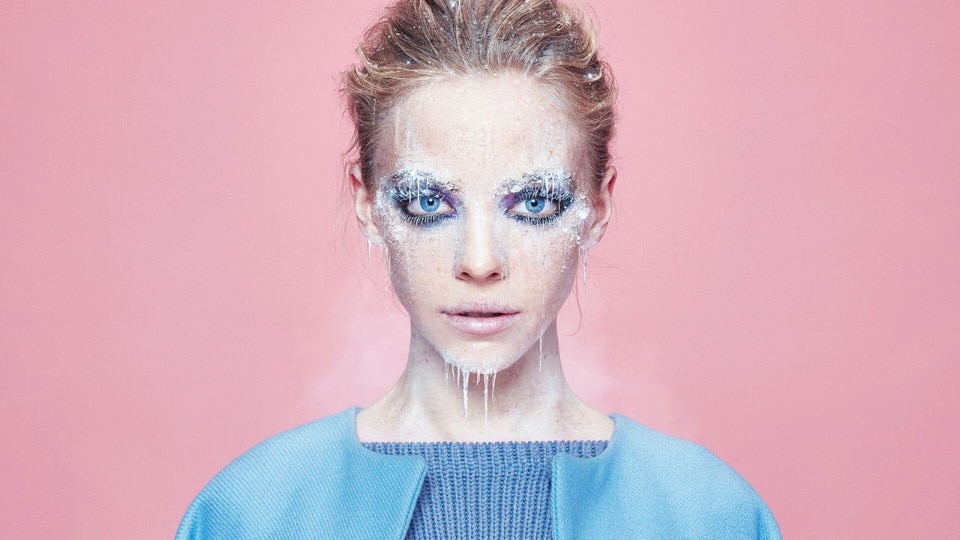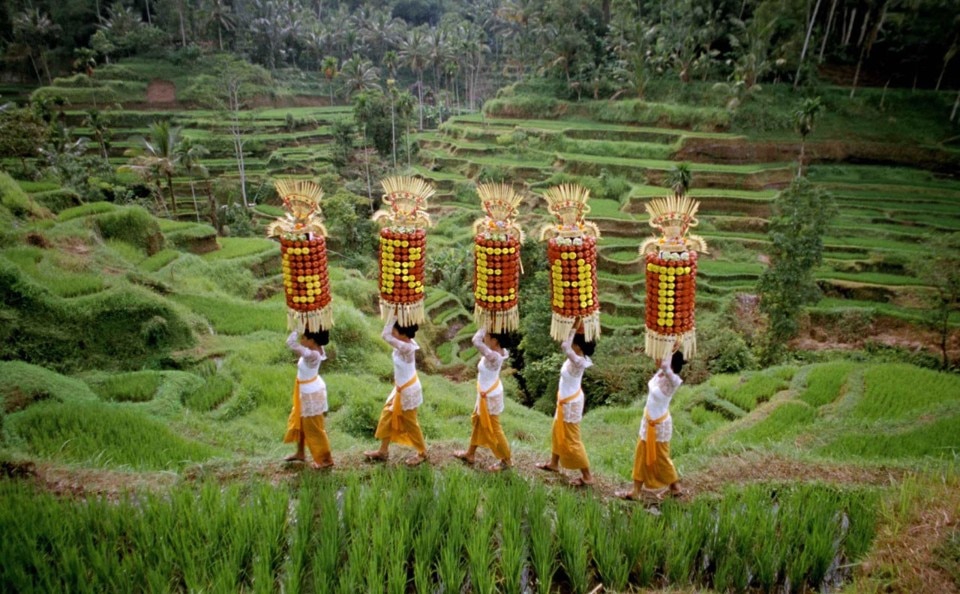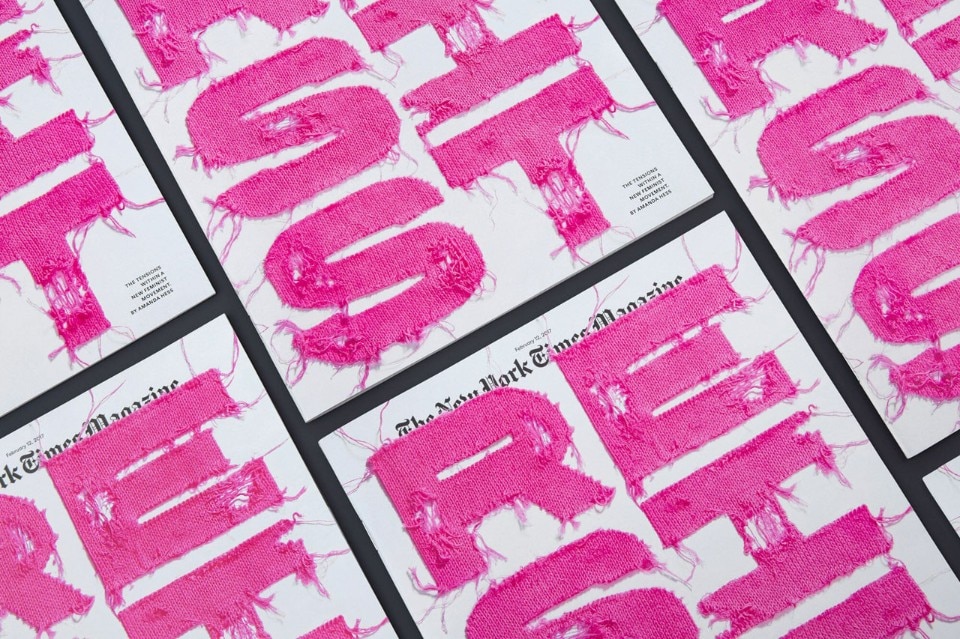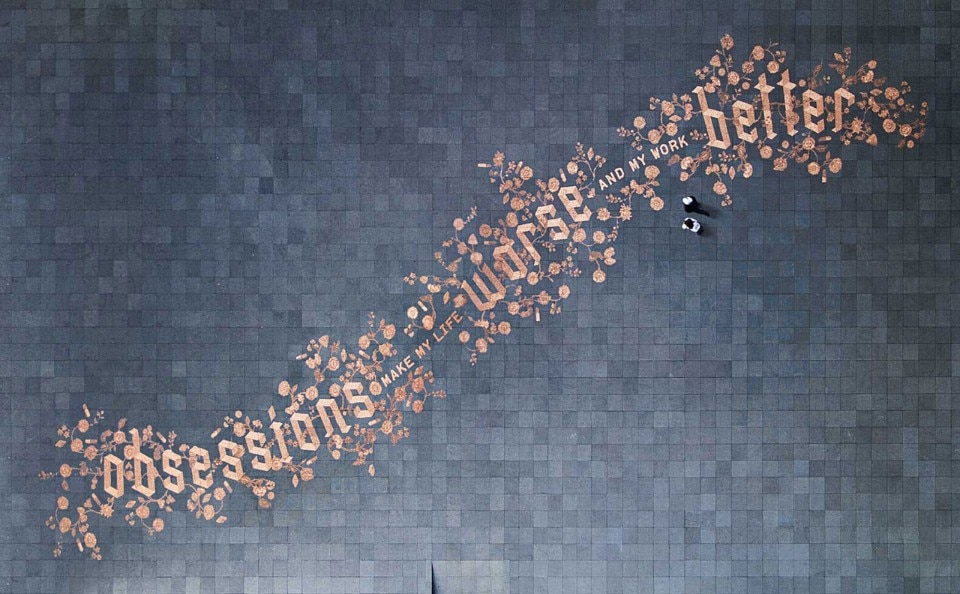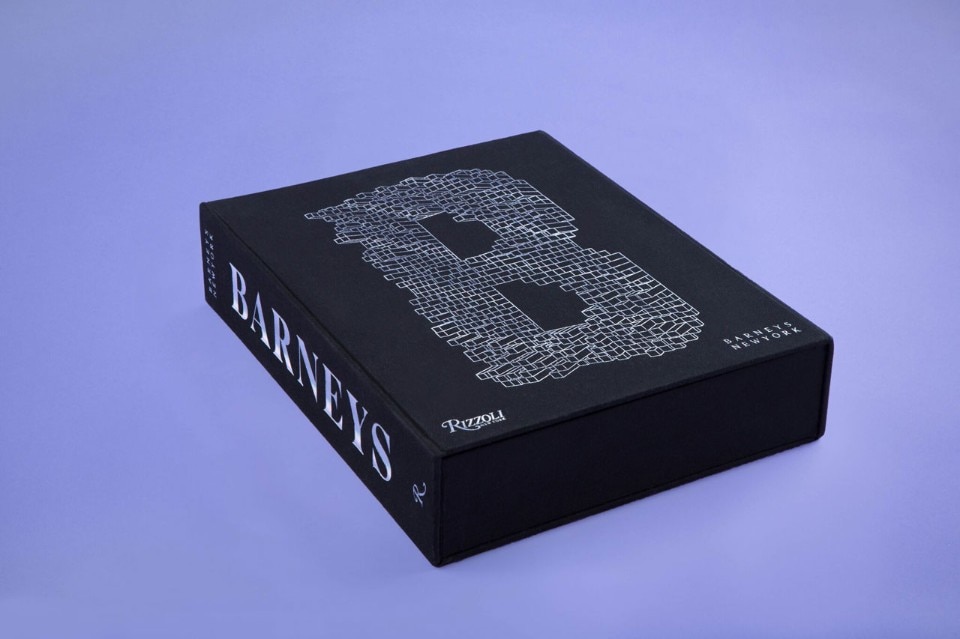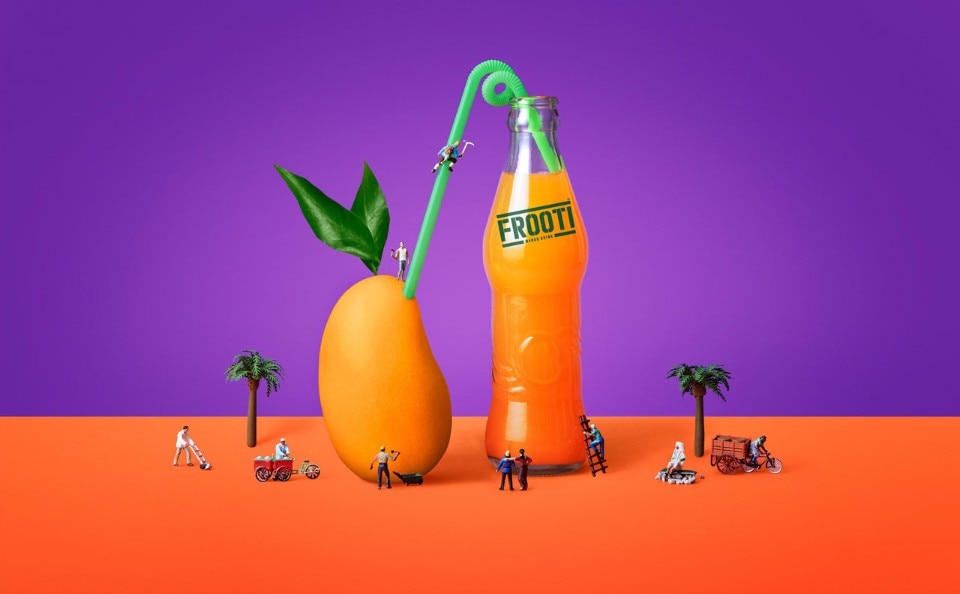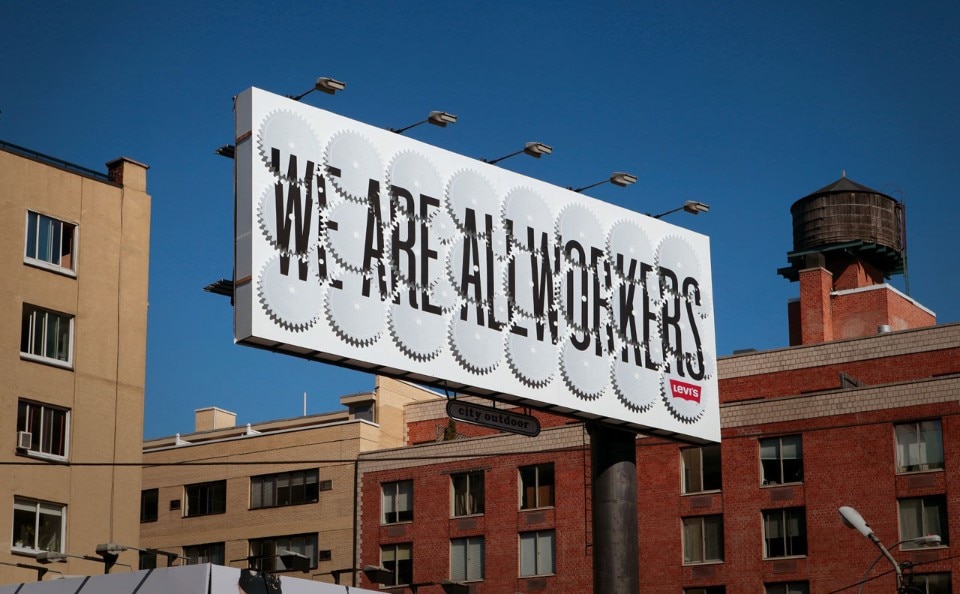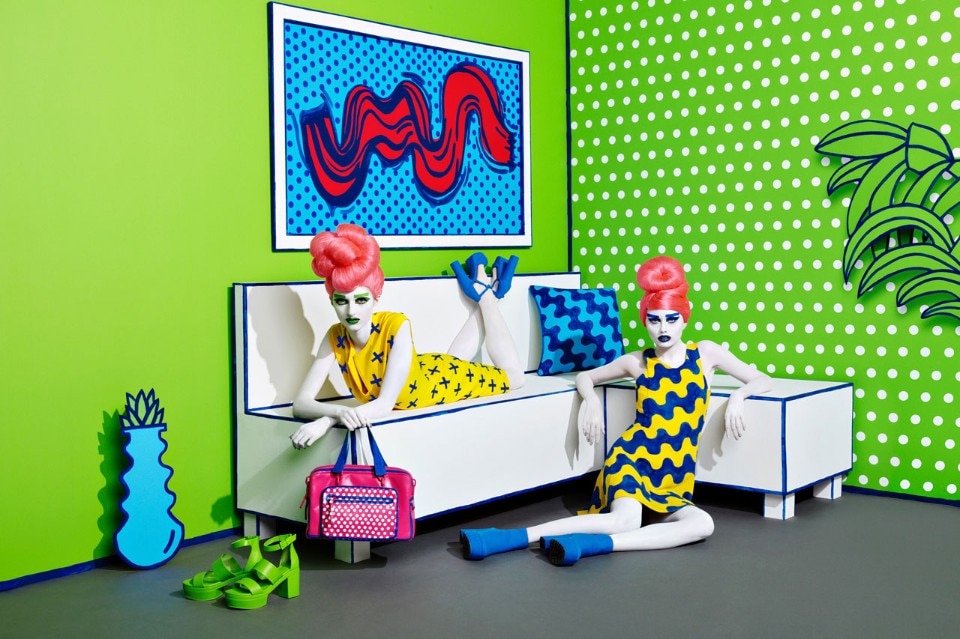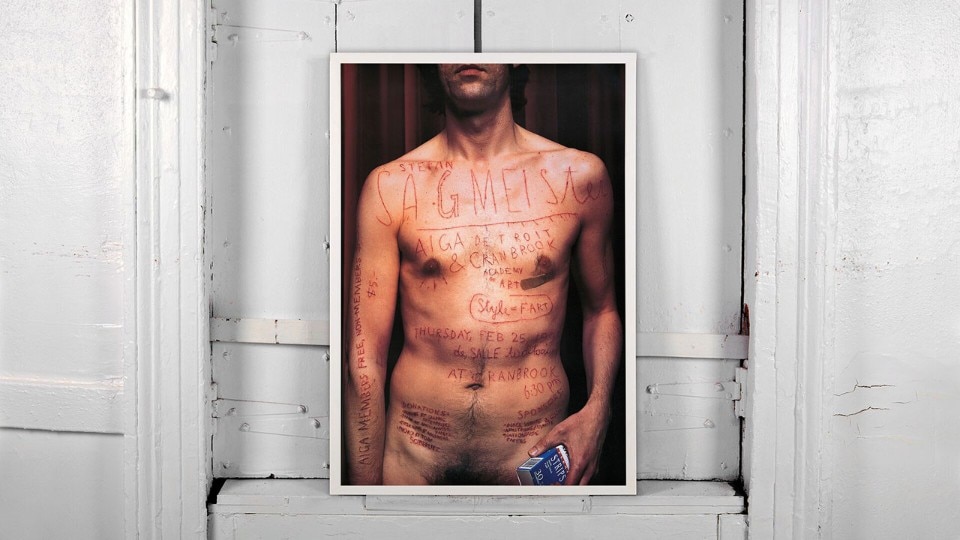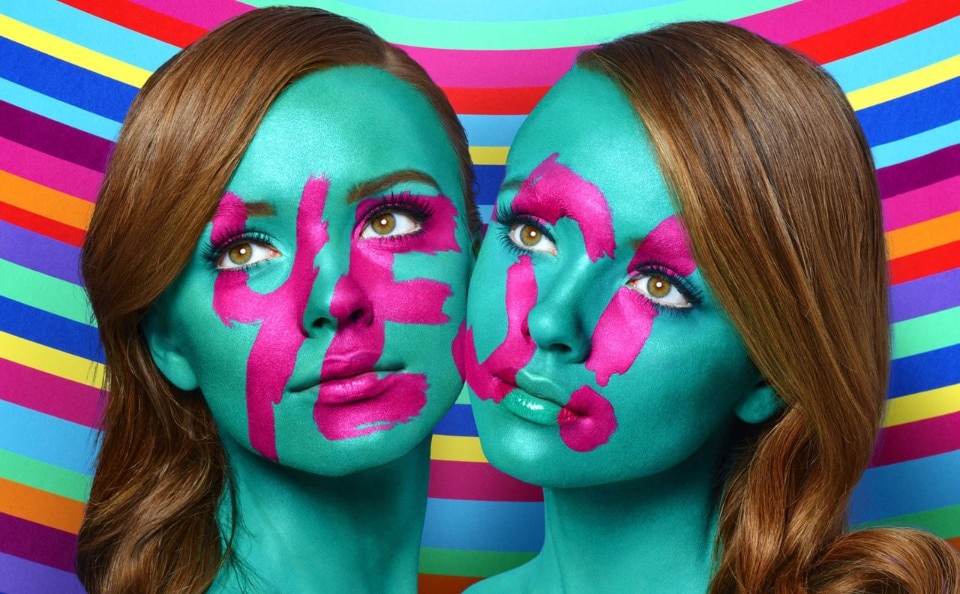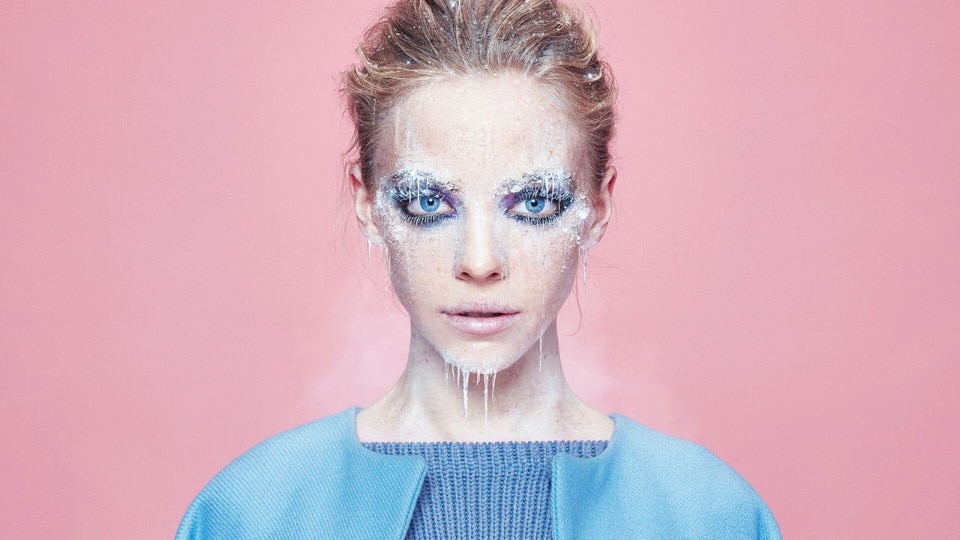 Milly. Photo Henry Hargeaves & Aron Filkey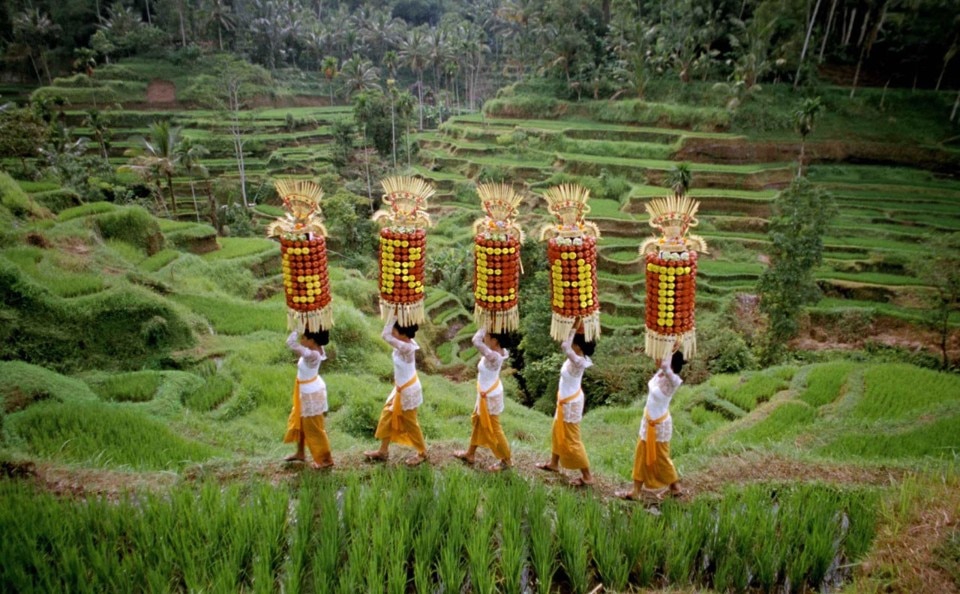 Standard Chartered Commercial. Photo courtesy by Studio Sagmeister & Walsh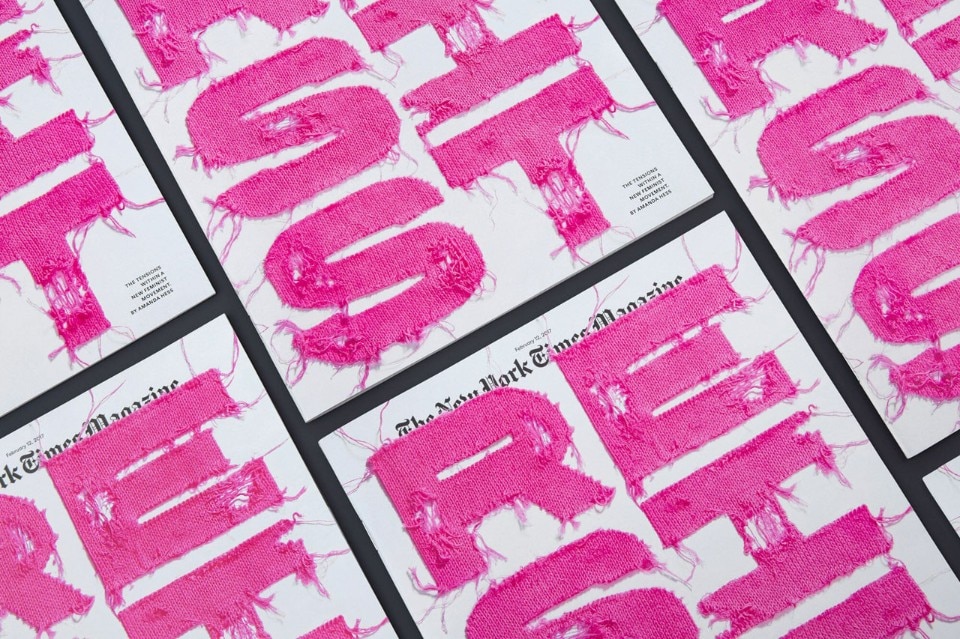 NY Times Magazine – Resist. Photo Aron Filkey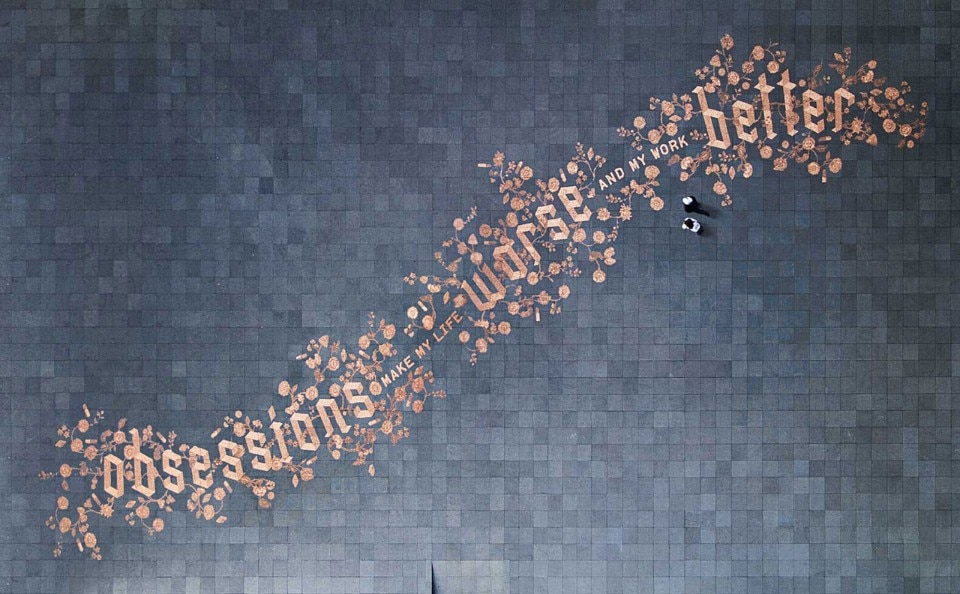 Obsessions Make My Life Worse And My Work Better. Photo Jens Rehr
No Filter. Photo Sarah Hopp & Emily Simms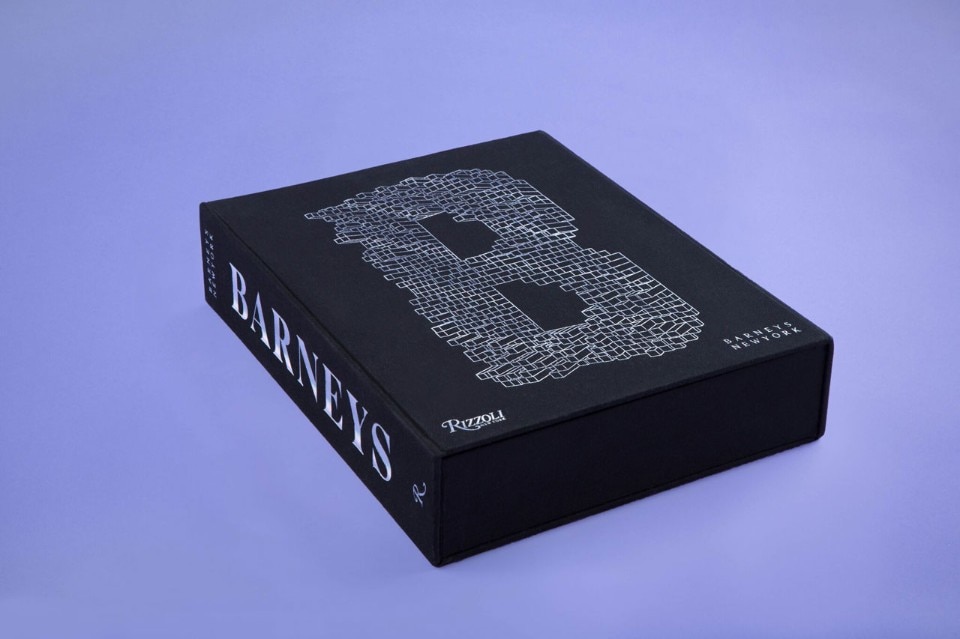 Barneys Book. Courtesy of Studio Sagmeister & Walsh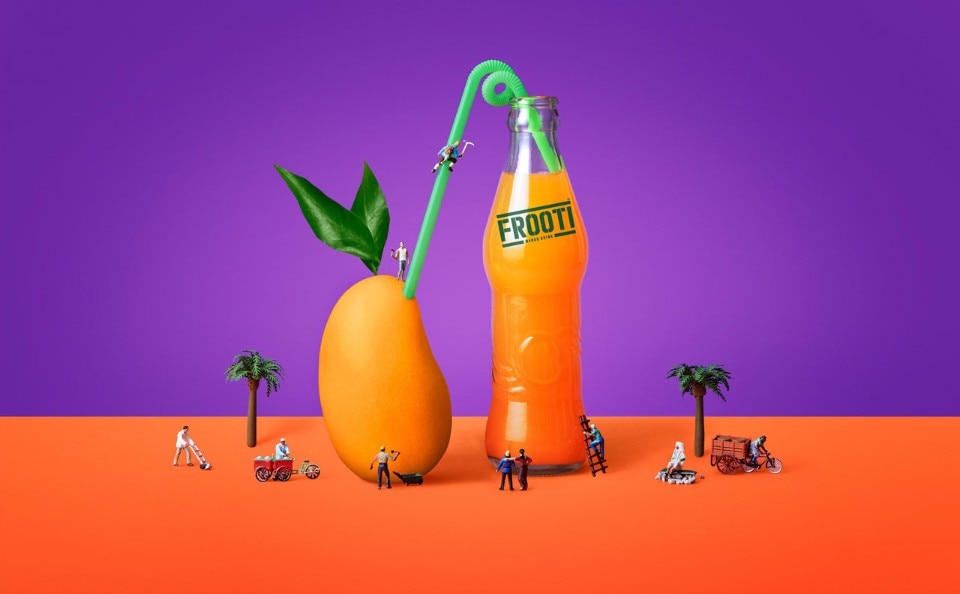 Frooti. Photo Henry Hargreaves, Scott Carthy & Marion Luttenberger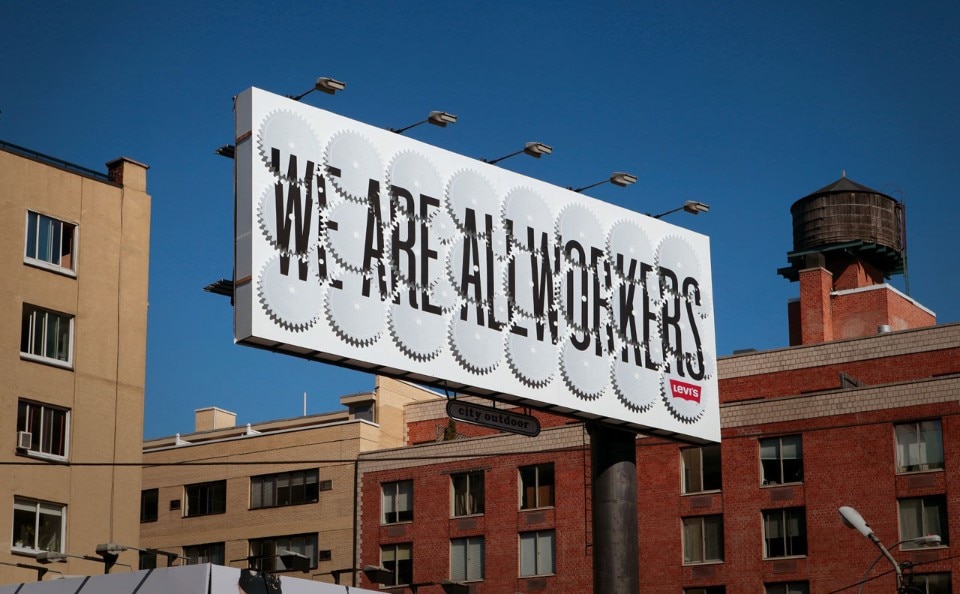 Levi's Billboard. Courtesy of Studio Sagmeister & Walsh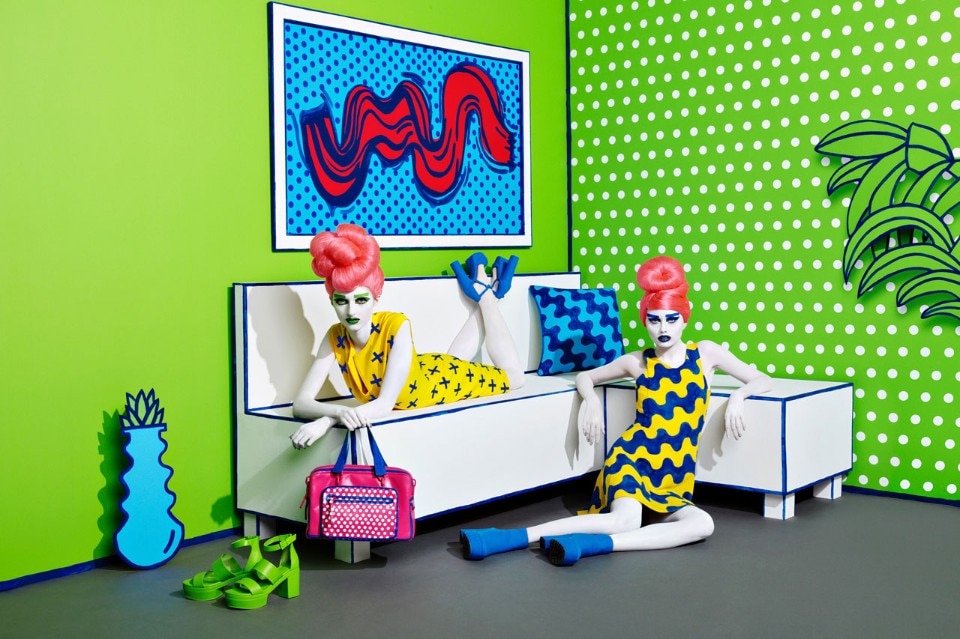 Aizone Campaign FW15. Photo Stephanie Gonot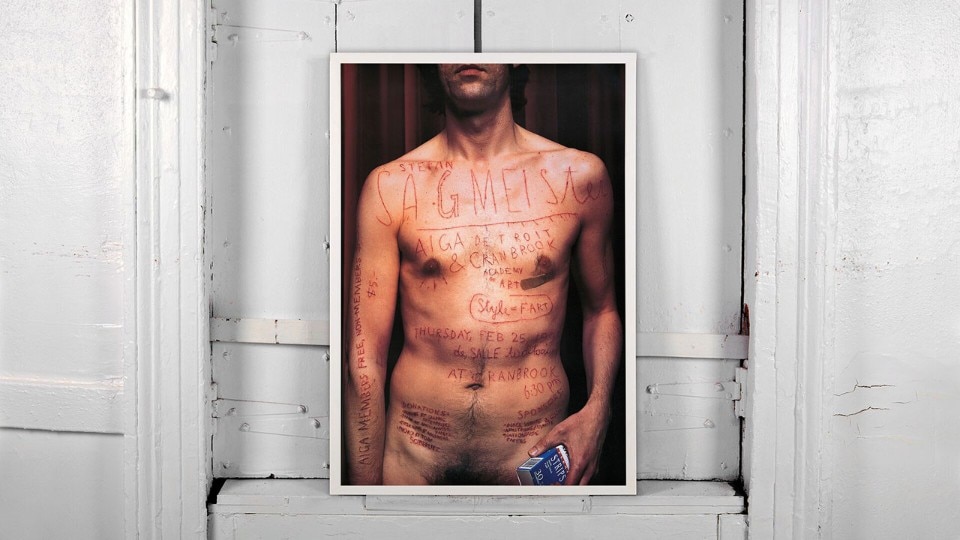 AIGA Detroit. Photo Tom Schierlitz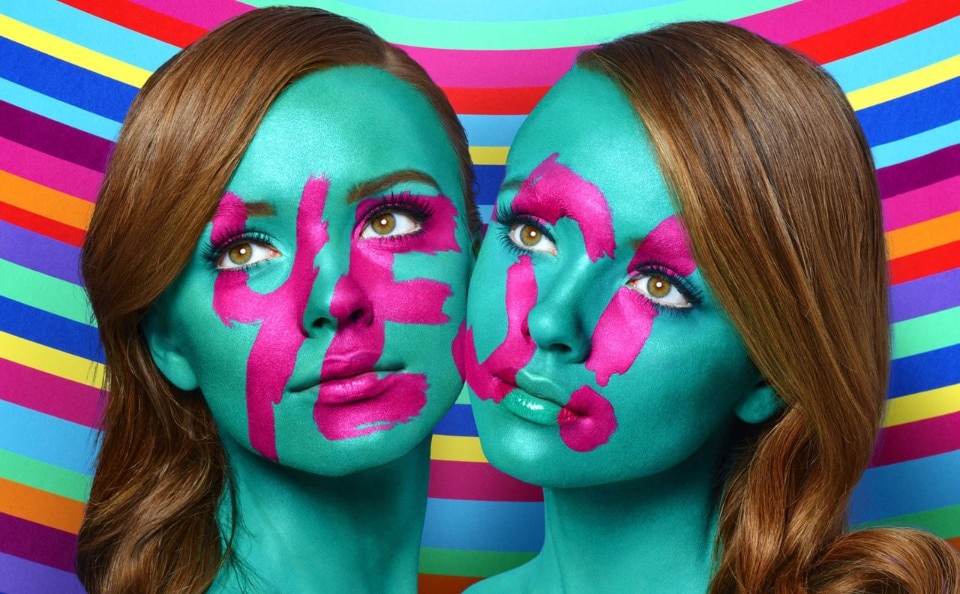 Aizone 09-14. Photo Henry Hargreaves
Escorted by this key of interpretation, the exhibition route turns into an opportunity to review an anthology of 70 pieces of work by the firm: corporate identity, posters, advertising campaigns, installations and self-commissions. Divided in five sections – "The Representation of Emotions", "Creating Worlds", "References & Quotations", "Letters as Images" and "Representing the Body" – the nucleus of the exhibition is made up of the many icons that have distinguished and defined Sagmeister's graphic design work since the 1990s. There is the Lou Reed Poster (1996), the AIGA Detroit Poster (1999) for the American Institute of Graphic Arts, made for a lecture at Cranbrook College near Detroit. Sagmeister sought to visually convey the pain that accompanies design projects. He asked an intern to carve all the text onto his own torso with an X-Acto knife and photograph the result. There is the packaging of a CD and DVD set for Once in a Lifetime (2003) by Talking Heads; and the 15 different covers of Sagmeister's diary-based book Things I Have Learned In My Life So Far (2008). The more recent work on display is by the duo Sagmeister and Walsh, including the giant gumball dispenser How Happy Are You? made for "The Happy Show" in 2012; Aizone, the fall-winter 2015 advertising campaign for Aizone, an upmarket Lebanese department store; Resist (2017) a cover for The New York Times Magazine made with pink knitted letters in reference to the women's marches following Donald Trump's inauguration; and pictures of the installation Beauty = Function currently on view at the Venice Architecture Biennale in the Austrian pavilion.
Work from the portfolio of Jessica Walsh is shown. This includes the successful graphic-design project 40 Days of Dating (2013), a sentimental analysis and one of many self-commissioned projects that regard her relationship with her friend Timothy Goodman, himself an illustrator and graphic designer. The two created a multimedia transposition of their dating impressions.
The work seen at "Sagmeister & Walsh: A Retrospective" are first-hand experiences that often put into play corporeal experiments, tongue-in-cheek body art as an expressive medium. Their design method is highly personal, and organically blends handcrafted set designs with meticulously post-produced computer graphics. The balance between analogue and digital technology shows off their technical skill in crossing specialised sectors. It is a declaration of intent regarding the need for aesthetic requirements and its equivalence to a new functionalism of the 21st century.

Exhibition title:

Sagmeister & Walsh: A Retrospective

Opening dates:

6 June – 20 October 2018

Venue:

Design Museum Holon

Curators:

Maya Dvash, Stav Axenfeld (Associate Curator)